I am not an exhibitionist or a hippie. Neither am I a prude. What I am is a busy, drama-free mom with no time or money to waste. Worldwide, breastmilk is and has always been the most popular and preferred way to feed a human infant, just like every other mammal feeding their offspring. I gasp at how our modern society has very stark images and opinions of what is normal or proper. Nearly naked teens in clothing advertisements, sure why not. Clubwear that shows everything but the uterus, very hip (pun intended). Breasts dripping out of swimsuits. Duh, it's hot on the beach. A 'got milk' add from daily farmer, brilliant advertising! A mama discretely feeding her new babe on a park bench. How gross and inappropriate! Wait-what?! Part of these reactions is steeped in how current American culture objectifies and values women based on external appearances, with misplaced ideas of beauty. All women are created beautiful, whether as wives, sisters, mothers, or babies, they are designed to be nurturing people of great worth.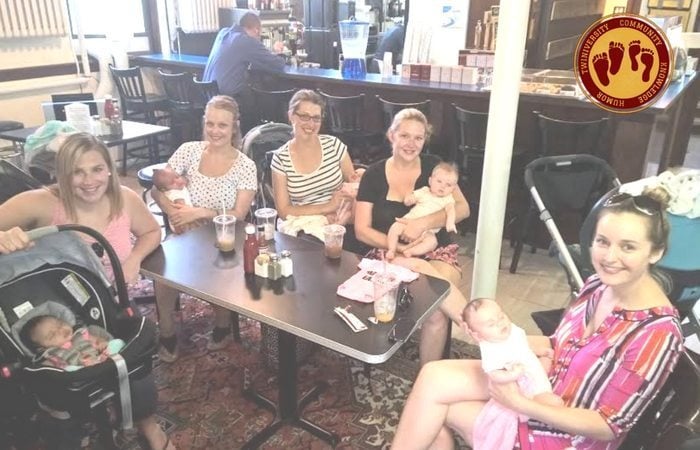 My Local Baby Gang: The Early Days
One of the greatest God-given things ever to women is totally portable, always the right temperature and amount, feeding a baby for free device, which is the mammalian breast. Umm I have never been one to pass up something for free (hee-hee). But feeding twins? Outside of the house? Ok I will admit this can be a bit daunting before the 3 month 'stop-the-insanity-so-I-can-shower' mark. But really, after that it is totally doable. Without public nudity doable. I have done it. My baby gang has done it, strength in numbers girls!. We are not always in the position to need to do it, but when we are it is so easy and drama-less. Much less so than changing twin cloth diaper blowouts. (my mom agrees).
Here is my list of things to add to the diaper bag if you plan to breastfeed in public:
1. A nursing coverup/large scarf/muslin (privacy and for infant focus)
2. Pacifiers (teethers, baby snacks, other age appropriate silencers)
3. Powered formula in bottle (For emergencies. Hey, I am a nurse)
4. A container of water (for hydration, mixing)
5. Manual pump (if you have one)
6. Blowup or travel pillow (for propping)
7. Hand sanitizer
To start, dress yourself in clothing that is easily accessible. Basically avoid the one piece outfits unless you plan on being seen in your undies. They make breastfeeding bras, tops, and covers, but really common sense prevails here. Boston weather warrants wearing scarves/layers a good portion of the year so they double for privacy and help minimize infant distraction while feeding, win-win. In warmer climates you can opt for a flowy tank with a cotton/muslin scarf or cardigan. Bonus is the shelf life of the everyday top and scarf will be longer than any specialty item purchase!
Next is the how. For me, it was easier and safer to feed one at a time (envisioning one rolling off the edge of a park bench was too much) and pacify the other if needed. Usually when it is getting close to a feed and we are out and about, I start scanning the horizon for a nice semi-private, low-key sitting area to park the stroller and unload. Sure, one could attempt to feed in the middle South Station but with too many distractions, noises, health and safety issues; why oh why?! Once I find my spot, I clean my hands and position whatever gear I will be using before I unharness a babe, and make sure the other is close by. I also check that my valuables (phone, purse, etc.) are within reach.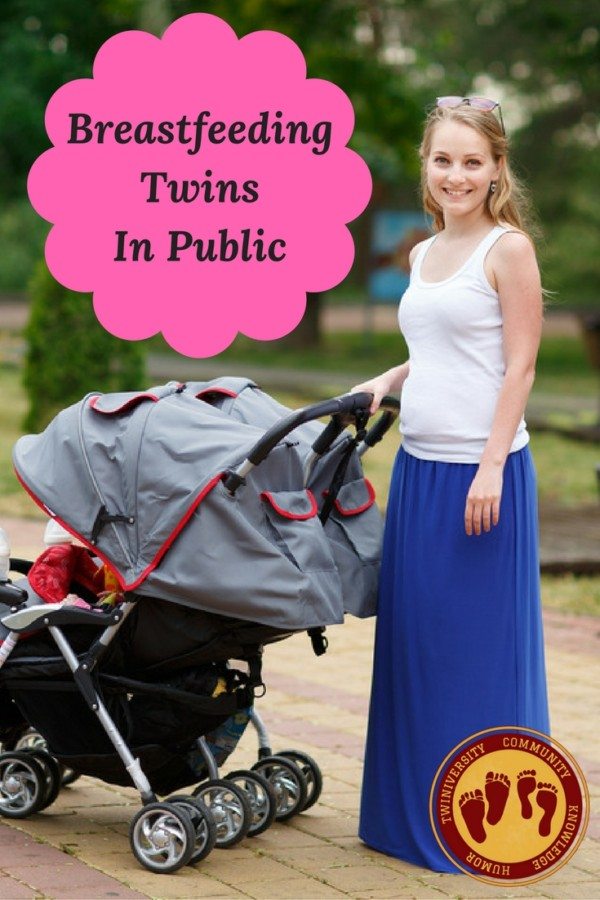 No bottle warmer needed!
Most people won't even notice, except for the normal 'are they twins' looks and comments. I mean, people do MUCH crazier things in public (makeouts, fights, drunkenness, screaming at kids, urinating). Once I fed in a restaurant booth. The server didn't even look down! The key is to act natural, not anxious and crazed like you are stealing a baby instead of feeding one. To help relax, you can try eating, drinking, listening to music or talking to a friend on the phone because when you relax, the baby will relax and get down to business. Even then, some babies will eat less when in different locations, but usually enough for satiety. You can always use the manual pump afterward if you will be out for a while and are uncomfortable, or to bottle feed baby #2 should you need to.
As the American population in general moves from a primarily formula fed to breastfed generation, it is becoming more commonplace. There will always be the indecent exposure outcries or rogue articles suggesting mothers put away their breasts and stay in their homes, but the best way to silence these are to not give squeaky wheels grease. All in all I am very proud of the modern mama for standing up for what is right (pumping time/space at work, etc.) and for society slowly responding with such things as the cropping up of 'pumping/feeding booths' at ballparks and airports. Take full advantage of these options with the mentality of 'use it or lose it'. I sincerely look forward to when breast feeders will be getting a 'strong work, Mom' look from society instead!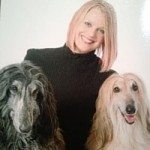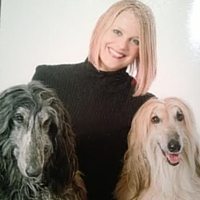 Josie Kramer Rodriguez is Midwestern born and raised. She is a full time nursing director in Boston with a master's degree in nursing and an MBA in healthcare management. She is a full time wife to a soccer fanatic, and a full time mom of 14 month old twin boys, an adopted 8 year old girl from India, and 2 Afghan Hounds. She has owned, showed, bred and loved Afghans for 18+ years. Her free time is spent hosting women's bible study, brushing dogs, volunteering at The Well Coffee House, and attending her baby-gang's playgroups. Follow her on Facebook in 'The Chronicles of Bostonia'.
---
Related Articles
---
The rate of twin births has risen 79 percent over the last three decades, and continues to increase. A mom of fraternal twins and a national guru on having two, Natalie Diaz launched Twiniversity, a supportive website with advice from the twin-trenches.
What to Do When You're Having Two is the definitive how-to guide to parenting twins, covering how to make a Birth Plan checklist, sticking to one sleep schedule, managing double-duty breastfeeding, stocking up on all the necessary gear, building one-on-one relationships with each child, and more.
Accessible and informative, What to Do When You're Having Two is the must-have manual for all parents of twins.
---
Whether you're a twin parent in the big city surrounded by scores of resources, or a triplet parent out in the country with no one around for miles — our multiples parenting forums are for YOU! Sign up for FREE and connect with people who are just like you — parents of multiples looking for advice, parenting tips, or even just people to chat with who will understand what you're going through. Our forums are open to people all over the world and we offer scads of specialty rooms to find others who are going through the exact same thing as you. Check it out today!
---
Twiniversity is the #1 source for parents of multiples and we are growing faster every day!
Find us all over the web:
Or contact us by email at community@twiniversity.com