On March 3rd, 2017 Nintendo's groundbreaking Switch console ($299) will be in a store near you. Yes, get ready for the lines to LITERALLY wrap around the block. Fans of Sonic, Mario, Skylanders and ZELDA (!) will be lining up be some of the first to play this outstanding console.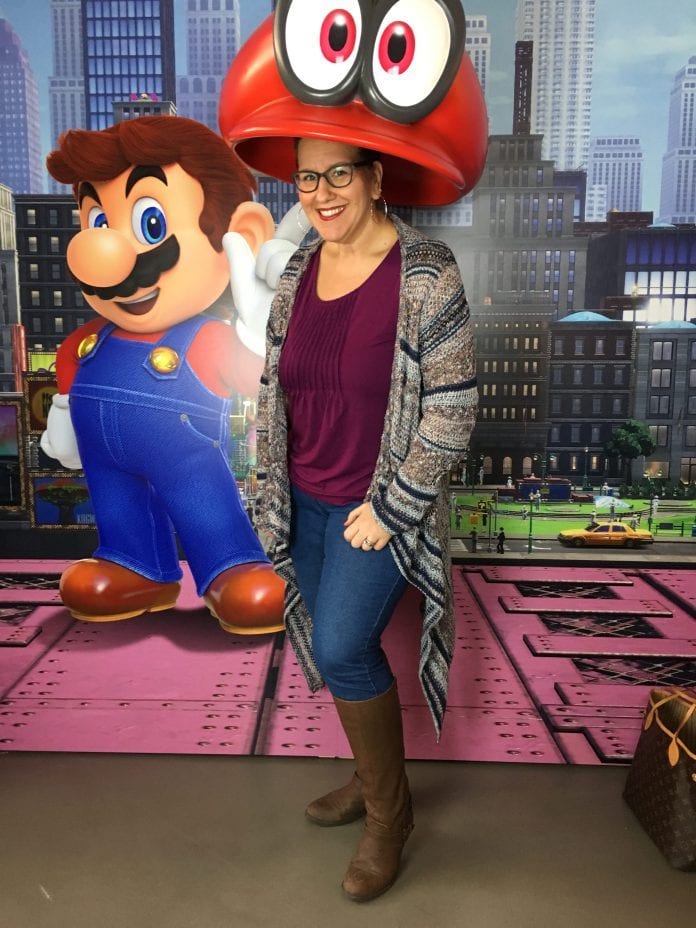 Whats the big deal? Get ready to be introduced to a revolutionary hybrid gaming system. Not only will the Nintendo Switch act a traditional console, but also a portable one as well, like their Gameboy. Yup. You read that right. From your living room, to your friend's house, to the diner, all without skipping a beat!
Why moms will love it!
You will get quickly transported back in time (if you were a gamer) with their Sonic Mania game. You can teach the twins how we used it do it in the "olden times", as my twins call it. Sonic is brought back in classic form with 2D gameplay that will make you giddy with nostalgia.
Moms will also LOVE LOVE LOVE it because it's going to get your kids off the couch and in motion. With titles like Just Dance 2017 and a guaranteed family favorite ARMS, instead of fighting over too much screen time, you'll be fighting with your washing machine since it won't be able to keep up with the laundry from your sweaty kids. These games are a work out and SO MUCH FUN!!!

Kids will love it because…
It's NINTENDO! Mario Kart 8, Legend of Zelda: Breath of the Wild, Splatoon, in addition to nice assortment of other titles, your kids will be thrilled with the action, adventure, classic gaming style that is genuine to Nintendo.
So what is really so special about the Nintendo Switch?
The console is actually a 6.2 inch tablet which can be docked and played on any television set. The table can played undocked for 2.5-6 hours depending on the game.
The Joycon (game controls) connect to the tablet (and also charge there) and act as controls when using it in portable mode, but can also be removed and act like the Wii remotes
32GB of storage will give ya plenty of room for everyone's saved games in the house and can still be expanded with Micro SDXC cards.
A headphone jack in addition to internal speakers will make this a truly all in one device.
Is there a downside to Nintendo Switch?
No streaming services will be included with this console, unlike Nintendo's previous Wii and WiiU.
The battery life, although massive for the amazing graphics it juices up, won't get ya far if you don't remember to charge it.
The Joycons don't have independent batteries so, once again, remembering to charge 'em up will have to be on your to-do list!
Take a look at some of the video we captured at the Nintendo Switch unveiling event here in NYC!
So what's the verdict?
Yup, this mama will be waiting on line (I hope it doesn't rain) for the latest in the Nintendo line up! I'll see you on the dance floor!
Yup! This mama DOES play games!
For full details, please check out the Nintendo Switch and visit a store near you to pick one up yourself!
---
The rate of twin births has risen 79 percent over the last three decades, and continues to increase. A mom of fraternal twins and a national guru on having two, Natalie Diaz launched Twiniversity, a supportive website with advice from the twin-trenches.
What to Do When You're Having Two is the definitive how-to guide to parenting twins, covering how to make a Birth Plan checklist, sticking to one sleep schedule, managing double-duty breastfeeding, stocking up on all the necessary gear, building one-on-one relationships with each child, and more.
Accessible and informative, What to Do When You're Having Two is the must-have manual for all parents of twins.
---
Whether you're a twin parent in the big city surrounded by scores of resources, or a triplet parent out in the country with no one around for miles — our multiples parenting forums are for YOU! Sign up for FREE and connect with people who are just like you — parents of multiples looking for advice, parenting tips, or even just people to chat with who will understand what you're going through. Our forums are open to people all over the world and we offer scads of specialty rooms to find others who are going through the exact same thing as you. Check it out today!
---
Twiniversity is the #1 source for parents of multiples and we are growing faster every day!
Find us all over the web: