Diaper Bag For Twins, like the Girl Scouts, the motto for all twin parents should always be "Be Prepared". Any parent of multiples can tell you that preparation and planning your day can make all the difference between chaos and calm. To help you on your way to multiple parenting success, we've organized a list of what your diaper bag should contain so you too can "Be Prepared".
(This post, and most posts on Twiniversity, contain affiliate links.)
What is the best diaper bag for twins?
Many families get overwhelmed when thinking about purchasing a diaper bag for twins. Backpack? Side body? Shoulder bag? Which one? When we were writing our post about how to pick the best diaper bag for twins, we went directly to our readers who helped us source quite a list. If you would like to check out what the Twiniversity mom thought was the Best Diaper Bag For Twins click here.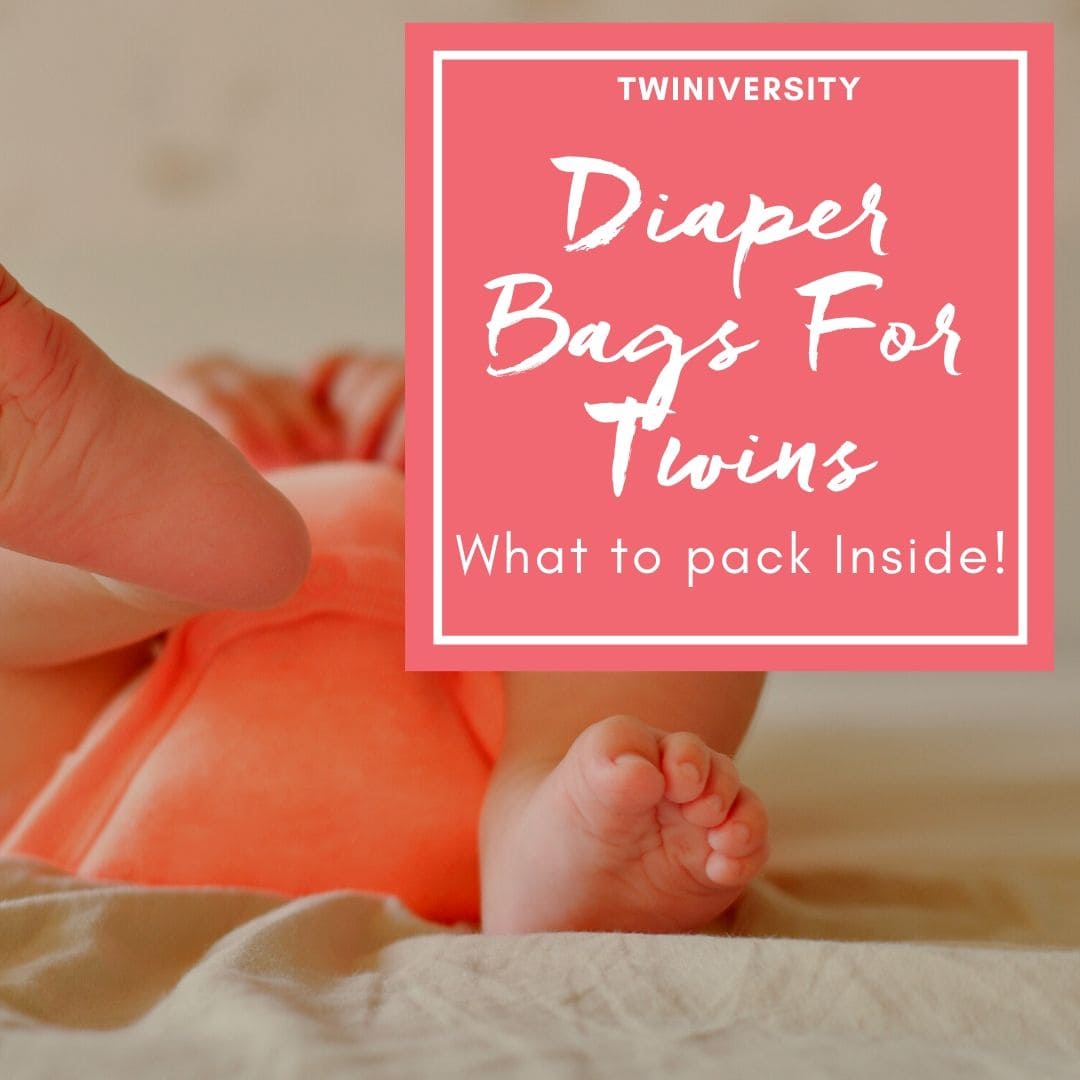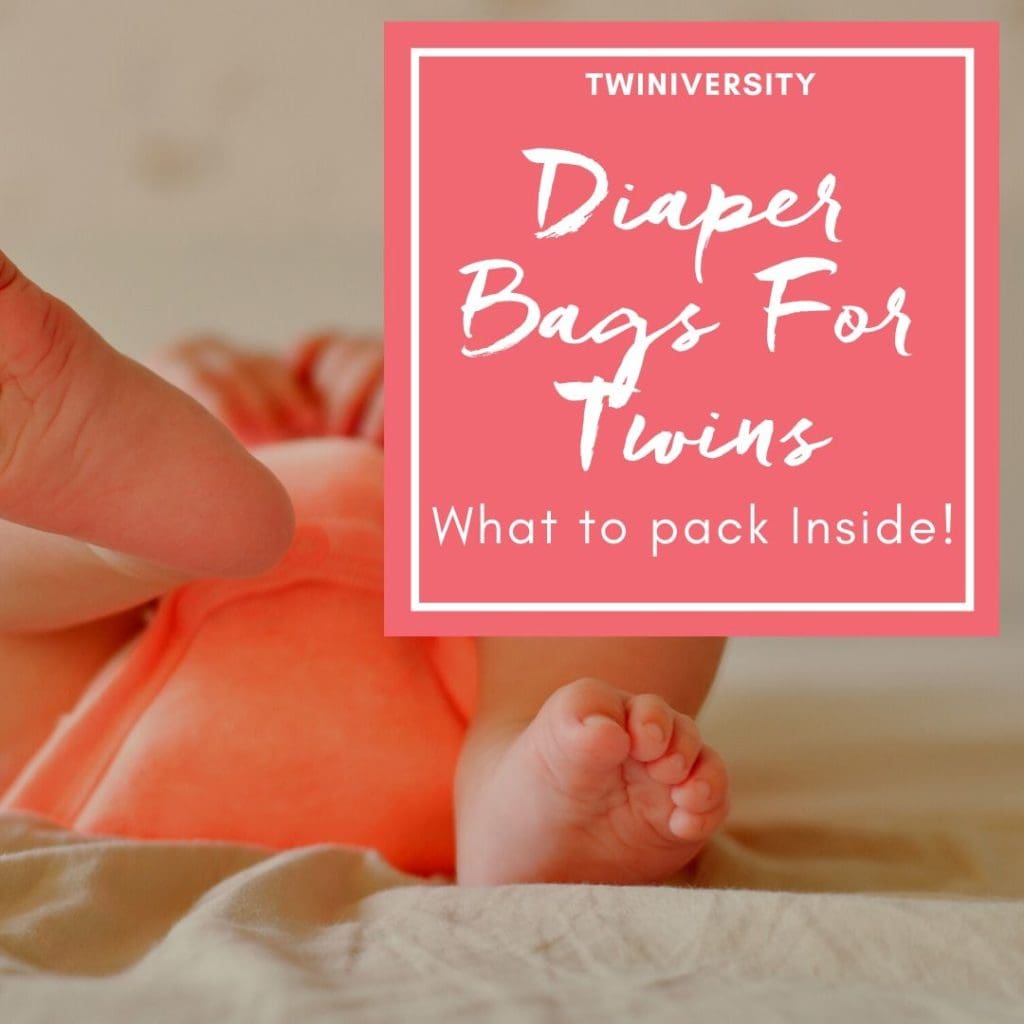 What should I look for in a diaper bag?
Diaper bags for Twins should have insulated bottle pockets, large capacity diaper storage area, stroller straps, water resistant to handle spills, and maybe a changing pad! A diaper bag for twins should also be able to be worn by any gender or age of folks in your family. Consider the style and considering who will be using it. Will grandpa really want to walk around town with a hot pink diaper bag? Probably not.
Should I get a diaper bag or backpack?
This is a very personal choice. There is no RIGHT answer here, but we can give you a tip. Before you make this decision on your twins diaper bag, think about what you might be using now. If you carry a typical shoulder bag on a regular basis, you'd be used to that, but think about this, as your twins get older, they will get super mobile and will you have an easy time holding two little hands with that shoulder bag, or will it slide off? Many parents of twins opt for a cross body or a backpack just for the hands free-ness that a bag like that will provide. So think about now, but think about the future too. Many parents chimed in on this topic when we wrote the post Best Diaper Bag For Twins so check it out.


Can I use a purse as a diaper bag?
If you are a creature of habit you might be looking to convert your everyday purse into a diaper bag, and true, while there are inserts that you can put into a purse to make it a bit more organized (click here for one on Amazon) but in all sincerity, that might work for a singleton, but when packing a diaper bag for twins, it won't be so easy. The odds your purse is big enough, is slim.
How do you pack a diaper bag for twins?
Your daily diaper bag for twins should contain:
one diaper per baby for every two hours that you will be out (plus four extra just in case)
baby wipes in a closed package (Kirkland/Costco make the best portable wipes)
at least one set of clothing for each kiddo in a gallon Ziploc bag (in case of a liquid spill)
a portable changing pad or changing station kit
diaper cream (get a travel size just for your diaper bag)
a few garbage bags (the small bags for dog poop are fantastic for this)
an extra shirt for you! (we always forget about us, don't we?)
2 light baby blankets
enough formula bottles to give each baby 1 extra feeding, just in case you can't get home in time for the next feeding
if you're breastfeeding, pack along some extra breast pads
pacifiers, plus a spare or two (Dr. Brown's Pacifier & Bottle Wipes wouldn't be such a bad idea either)
enough baby food for one and a half servings per baby, PLUS a baby spoon for each baby
first aid kit (antibiotic spray, band-aids, a packet of Advil for you, $20 cash, and insurance card copies for you and the twins, along with emergency phone numbers. You can get a somewhat complete first aid kit called Diaper Bag Buddy if you like for your diaper bag for twins)
a few toys for the road!
What do you need for twins newborns?
When you are picking what to pack in your diaper bag for twins, you should refer to the list above for the basics, but always remember to modify sizes as the twins get bigger. Many folks forget to move a size up in their diaper bag for twins as they get older. Don't be one of those parents who have to squeeze their tiny thighs in a onesie that's one size too small.
Yes, I know, this seems like a lot for one diaper bag, but remember, you do have two babies! Also, when shopping for your diaper bag, you don't ALWAYS have to go the conventional route. A backpack works just as well as a traditional diaper bag. There are a lot of backpack style diaper bags on the market today, which is super helpful when you have twins.
How many diapers do you need for twins?
Depending on how long you're planning to be out, Twiniversity recommends at least two diapers PER HOUR that you'll be out. Yes, this is a cautious number, you won't be using that many, but it's better to be safe than sorry.
Whether you're a driving family or a walking family, having an extra set of everything in your car and/or your stroller will really come in handy one day. Trust us! Keep a stash tucked away for emergencies, filled with…
FOR YOUR TRUNK
2 sets of baby clothing
4-8 diapers
package of wipes
extra shoes (if they are wearing shoes)
1 roll of paper towels
shirt and pants for you, in case of "protein spill" on the road
snack bar/pack of dried fruit (for you)
small garbage bags
Diaper Bag For Twins: What should be in your stroller basket
your stroller rain cover (don't just take it with if you think you'll need it)
a poncho for you (how can you push a stroller AND hold an umbrella?)
a bottle of water or two
a pump to fill a flat (if you have air-filled tires)
1 set of baby clothes (1-piece pajama)
1 t-shirt that can fit either parent
2 extra diapers
a handful of wipes in a Ziploc baggie
snack bar for you!
* Remember to change the size of your kids' clothing as they grow.
As time goes on you'll start to figure out what you really need in your diaper bag for twins and what you might want to add that's not even on our list. Whatever you pack, make sure you really LOVE your diaper bag. If you don't love it, sell it and get a new one. It should be large enough to fit everything you need, be easy to carry, and have enough pockets for everything you need. Have no regrets because you'll be using this diaper bag for twins for at least three years (yes, you'll still use it for a while after they are potty trained to carry extra clothes in case of accidents!)
---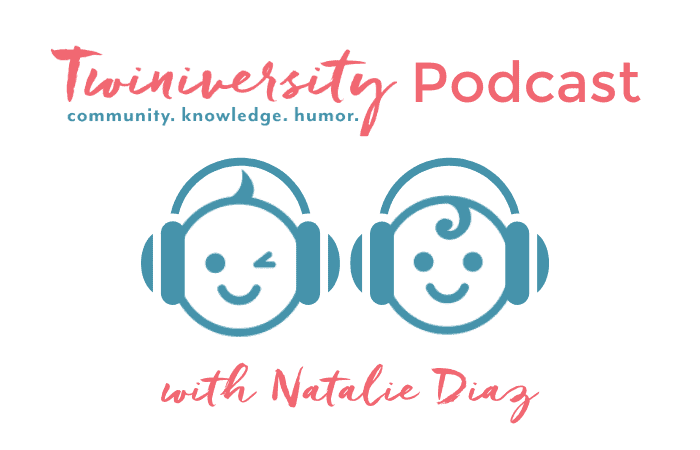 Download the Twiniversity Podcast for FREE – Click here to listen now!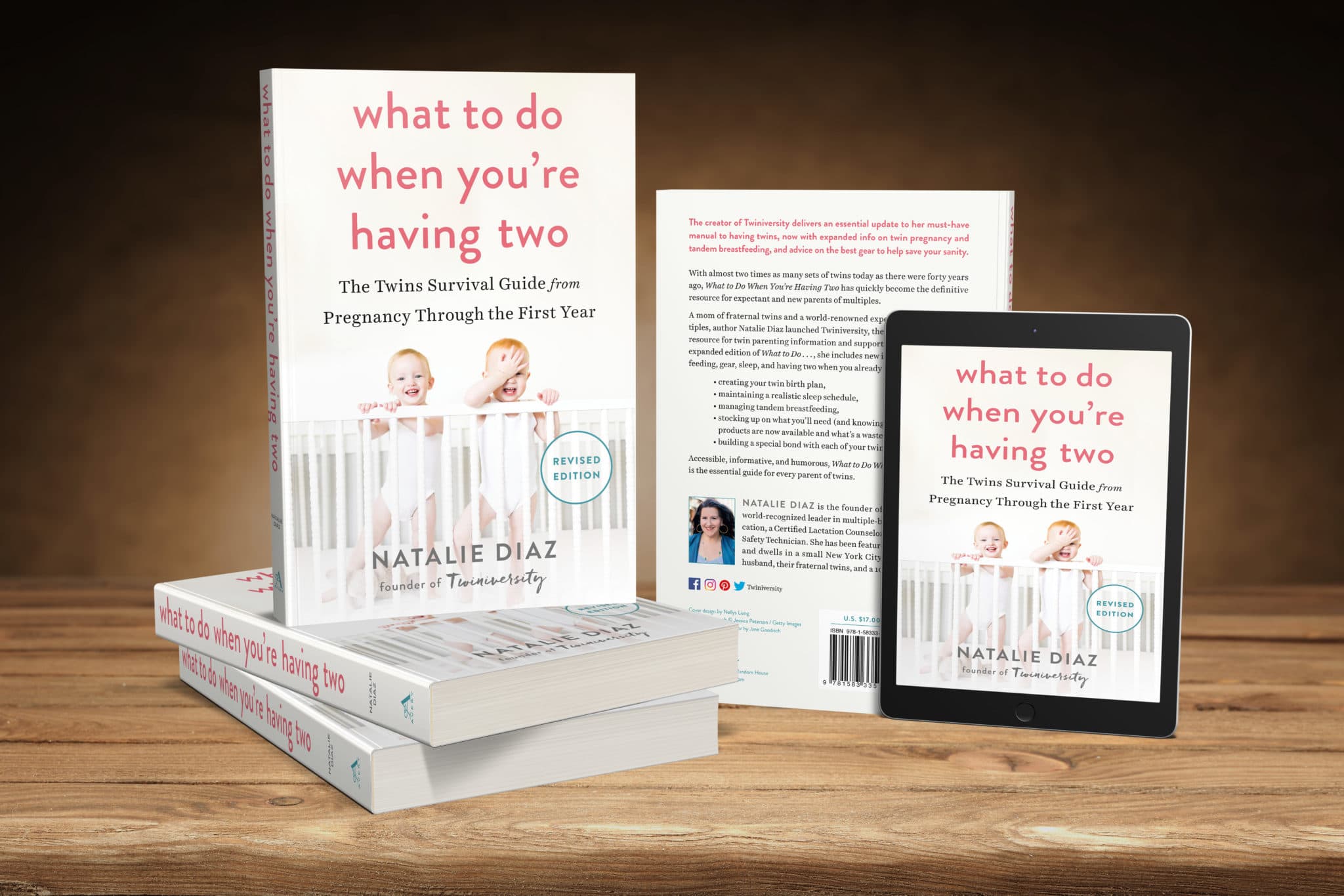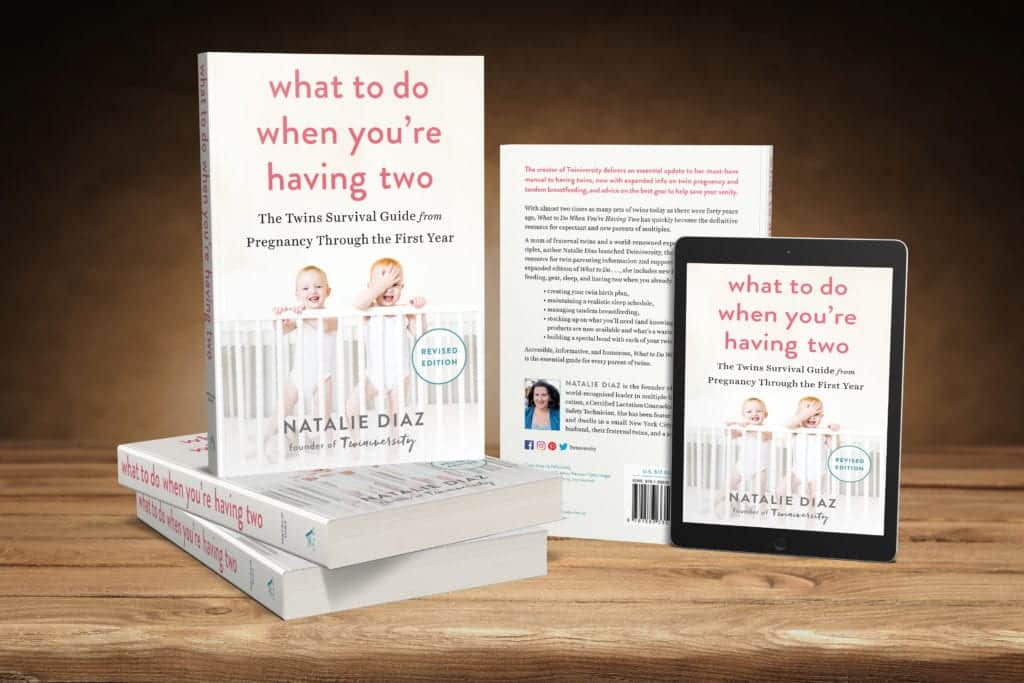 In What to Do When You're Having Two: The Twins Survival Guide from Pregnancy Through the First Year, national twins guru and founder of Twiniversity (and twin mom herself!) Natalie Diaz provides a no-holds-barred resource about life with twins, from pregnancy and birth all the way through your duo's first year of life. BUY NOW
Take a Twiniversity class to get ready for your twins arrival!