Like the Girl Scouts, the motto for all twin parents should always be "Be Prepared". Any parent of multiples can tell you that preparation and planning your day can make all the difference between chaos and calm. To help you on your way to multiple parenting success, we've organized a list of what your diaper bag should contain so you too can "Be Prepared".
How to Pack a Diaper Bag for Twins
Your daily diaper bag should contain:
one diaper per baby for every two hours that you will be out (plus four extra just in case)
baby wipes in a closed package (Kirkland/Costco make the best portable wipes)
at least one set of clothing for each kiddo in a gallon Ziploc bag (in case of a liquid spill)
a portable changing pad or changing station kit
diaper cream (get a travel size just for your diaper bag)
a few garbage bags (the small bags for dog poop are fantastic for this)
an extra shirt for you! (we always forget about us, don't we?)
2 light baby blankets
enough formula bottles to give each baby 1 extra feeding, just in case you can't get home in time for the next feeding
if you're breastfeeding, pack along some extra breast pads
pacifiers, plus a spare or two (Dr. Brown's Pacifier & Bottle Wipes wouldn't be such a bad idea either)
enough baby food for one and a half servings per baby, PLUS a baby spoon for each baby
first aid kit (antibiotic spray, band-aids, packet of Advil for you, $20 cash and insurance card copies for you and the twins, along with emergency phone numbers. You can get a somewhat complete first aid kit called Diaper Bag Buddy if  you like)
hand sanitizer and more hand sanitizer
a few toys for the road!
Yes, I know, this seems like a lot for one diaper bag, but remember, you do have two babies! Also, when shopping for your diaper bag, you don't ALWAYS have to go the conventional route. A backpack works just as well as a traditional diaper bag. There are a lot of backpack style diaper bags on the market today, which is super helpful when you have twins.
Whether you're a driving family or a walking family, having an extra set of everything in your car and/or your stroller will really come in handy one day. Trust us! Keep a stash tucked away for emergencies, filled with…
FOR YOUR TRUNK
2 sets of baby clothing
4-8 diapers
package of wipes
extra shoes (if they are wearing shoes)
1 roll of paper towels
shirt and pants for you, in case of "protein spill" on the road
snack bar/pack of dried fruit (for you)
small garbage bags
FOR YOUR STROLLER BASKET
your stroller rain cover (don't just take it with if you think you'll need it)
a poncho for you (how can you push a stroller AND hold an umbrella?)
a bottle of water or two
a pump to fill a flat (if you have air-filled tires)
1 set of baby clothes (1-piece pajama)
1 t-shirt that can fit either parent
2 extra diapers
a handful of wipes in a Ziploc baggie
snack bar for you!
* Remember to change the size of your kids' clothing as they grow.
As time goes on you'll start to figure out what you really need and what you might want to add that's not even on our list. Whatever you pack, make sure you really LOVE your diaper bag. If you don't love it, sell it and get a new one. It should be large enough to fit everything you need, be easy to carry, and have enough pockets for everything you need. Have no regrets because you'll be using this diaper bag for at least three years (yes, you'll still use it for a while after they are potty trained to carry extra clothes in case of accidents!)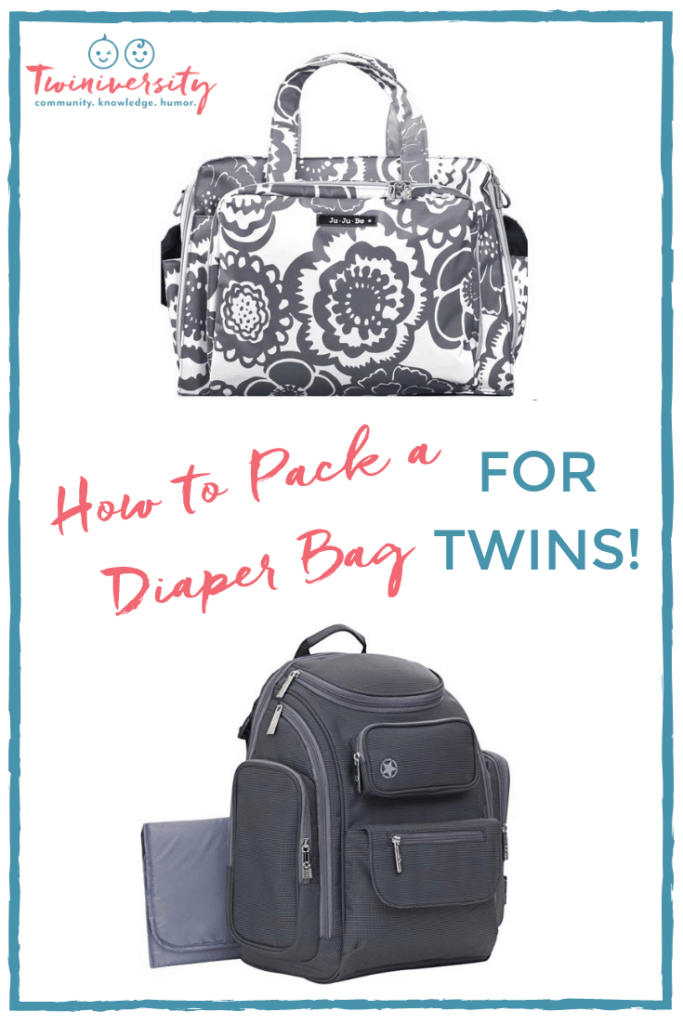 ---

Got twins? Us too! The Twiniversity Podcast with Natalie Diaz is created by parents of twins FOR parents of twins, from expecting times through the teenage years and everything in between. This podcast is all about parenting twins, offering plenty of tips, parenting hacks, and of course, humor. Just know that we are laughing WITH you every step of the way.
---

Are you looking to connect with an experienced parent of multiples who has been in your shoes? Do you want to feel supported, guided, and heard as a new parent of multiples*?
Or, do you love offering advice and tips to new parents of multiples*? Would you love to support, guide and listen to a soon-to-be or new parent the way you wish someone was there for you?
If you said, "YES!" to any of those questions, then the Twiniversity Parent-to-Parent Mentorship Program is perfect for YOU!
We are looking for parents of multiples from around the globe who want to be matched up with a parent mentor, or who want to BE a parent mentor. We'll be matching up moms with moms and dads with dads from all over the world to get personal support in this crazy life of multiples parenting!! All you have to do is complete a simple application form and we'll do the matchmaking! And the best part? The program is totally FREE! There are no fees to take part in this program.
---

The rate of twin births has risen 79 percent over the last three decades, and continues to increase. A mom of fraternal twins and a national guru on having two, Natalie Diaz launched Twiniversity, a supportive website with advice from the twin-trenches.
What to Do When You're Having Two is the definitive how-to guide to parenting twins, covering how to make a Birth Plan checklist, sticking to one sleep schedule, managing double-duty breastfeeding, stocking up on all the necessary gear, building one-on-one relationships with each child, and more.
Accessible and informative, What to Do When You're Having Two is the must-have manual for all parents of twins.