Learn 5 tips to get organized with twins from the infant stage to school days, including tips on color coding, labeling, and storage.
We've got a great article on getting organized with twins, plus details on one of our favorite brands that you should know about… Mabel's Labels.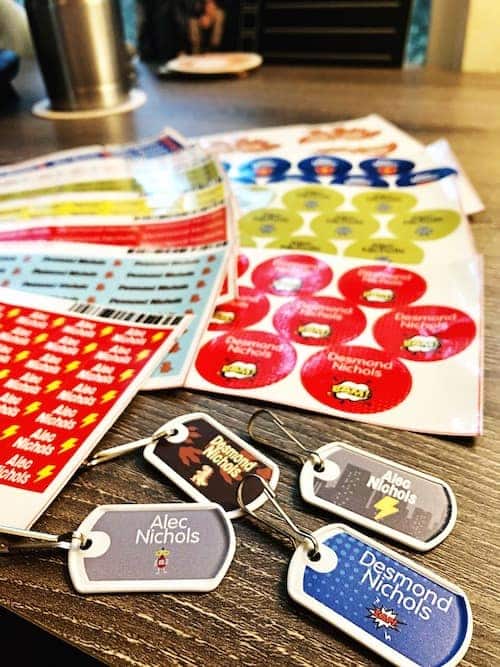 Mabel's Labels has been a staple in Twiniversity Mom Squad homes for YEARS! And for good reason. Not only are they extremely durable and functional, but they're super cute and customizable. If you're tired of items getting lost at school, confused between twins, or fought about amongst your children, you need Mabel's Labels in your life!
Mabel's Labels is the best-known brand of durable labels for families, and their growing line of products features baby bottle labels, school supply labels, allergy and medical alert products, sports labels, household labels, and seasonal items.
Mabel's Labels are…
extremely durable
laundry safe
dishwasher safe
microwave safe
and they're 100% guaranteed!
COUPON CODE ALERT!
Take 15% off your order on the Mabel's Labels website with the code TWINIVERSITY.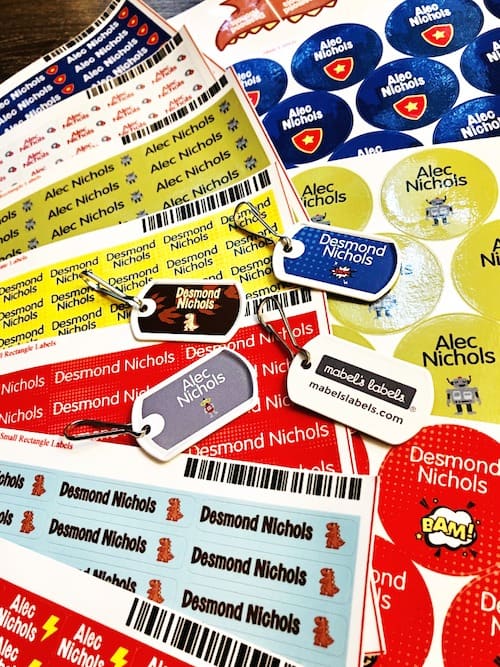 5 Tips to Get Organized with Twins
Color code your twins
Start color-coding your twins from day one. It will help everyone in your family to stay better organized and keep everything straight. At a glance, anyone in your family will know which item goes with which twin!
Choose commonly found colors such as blue, green, red, and pink. You'll find these colors are offered much more often in baby and kid products, whereas yellow and orange can be harder to come by.
You can color code as much or as little as you want. You can start out with baby bottles, pacifiers, sippy cups and other baby gear that you always need two of. As they get older it's helpful to color code jackets, shoes, backpacks, lunchboxes, and so on.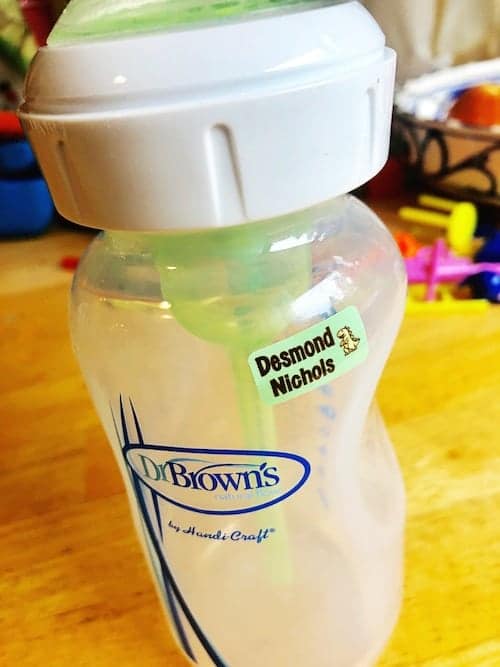 Label everything
Sometimes color coding isn't enough or it doesn't apply. That's when you want to bring in some washable, pre-printed labels. When your twinnies are babies, having labels for bottles is very helpful to make sure that each twin is getting the proper amount of food. If you're tandem bottle feeding it's very easy to accidentally confuse which bottle is for which baby, so slap a label on it and give yourself a break.
As your twins get older and enter daycare or preschool, they will definitely need labels for everything you bring in that building: lunchboxes, backpacks, jackets, water bottles, special medications, school supplies, etc. If you want to make sure that everything comes back to you at the end of the day, put a label on it! Your teacher will thank you.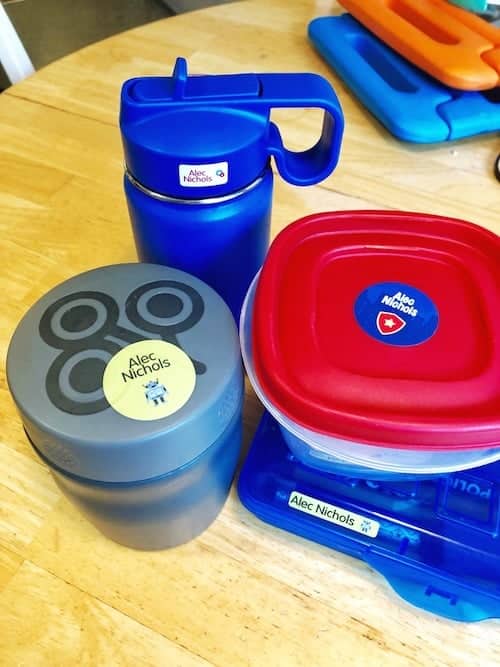 Cube storage
Utilizing cube storage for toys and games will give you great storage options and also let your twins get involved in cleanup time. You can find cube storage in square shapes, rectangles, and more at places like Target and IKEA. Invest in the heavy-duty fabric bins; they are a heftier cost upfront than the cheaper made lightweight fabric bins, but they will last longer and offer more stability for larger toys.
When your twins are little, label the cubes with pictures so they can start learning where things go. As they get older you can start adding words to the pictures, and eventually remove the pictures and leave just the words.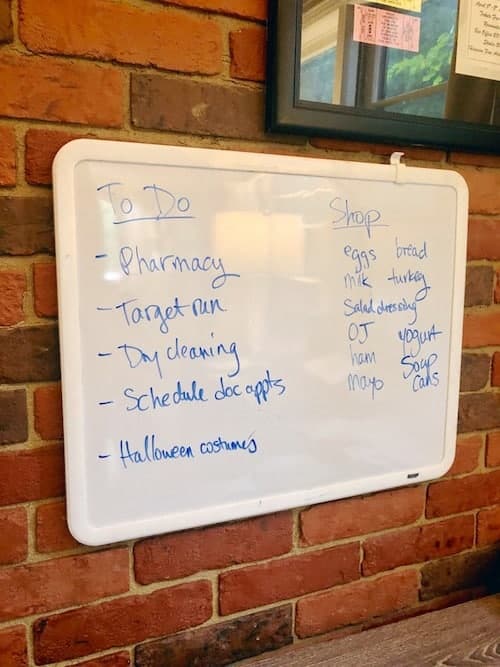 Dry-erase board and calendar
So many twin parents swear by the big dry-erase board and dry-erase monthly calendar. These two items serve very different but very important purposes.
A dry-erase monthly calendar gives you a central place to keep everyone in your family on the same page. Put it in a central part of your home where everyone will see it multiple times a day. This will be crucial as your kids get older and start getting involved in more activities, birthday parties, and events. It's also helpful to keep your partner in the loop on everything you're scheduling for the family, from annual physicals to family portraits.
A dry-erase board is for everything else. Think of it as a catch-all for the randomness that you need to keep track of and get done. To-do lists. Grocery items to pick up. "Don't forget!" alerts for everyone in the family. It all goes there.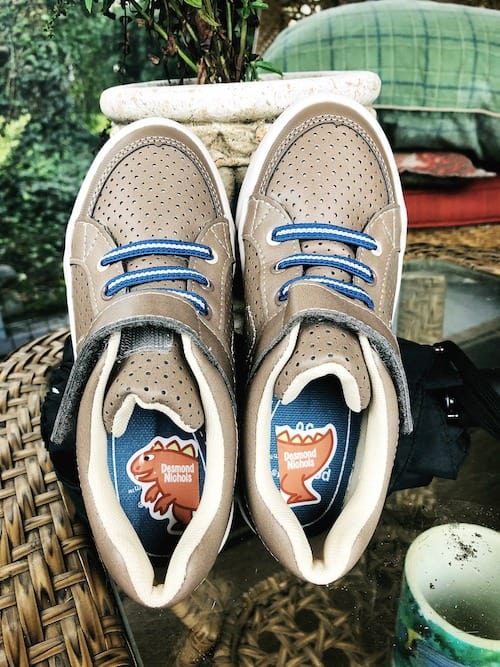 A place for everything
"A place for everything and everything in its place." That's how the saying goes… it sounds great, right? But what if you don't have enough space to give everything it's own place?
You need to get creative and utilize spaces that often go overlooked, such as under beds, over closet doors, and wall space to store extra items that don't have a home. Once you have your creative spaces set up, label where everything goes. Have your twins use these labels (photo or text) to put away items all over the house.
Start teaching your kids early that they shouldn't just be in charge of their own things — that as a family we help each other out. They can put away folded laundry, put the mail in the bin, and put books back on shelves.
Related Articles – 5 Tips to Get Organized with Twins