Are you looking for the best Halloween kids movies to stream this fall? Check out our awesome list and grab the popcorn because you're gonna love this!
Fall has officially arrived! This is the time of year for pumpkin spice (like it or not), fluffy knitted hats (even in the desert), leaf pile jumping, and spooky movies to watch with your kids. Fall is the kick-off to the much anticipated holiday season and we couldn't be more excited to help you get off on the right foot this year!
We've put together a list of the best Halloween kids movies you can stream to get you in the spirit.
Did you know we have TWO podcasts available to download? Go take a listen for FREE right now!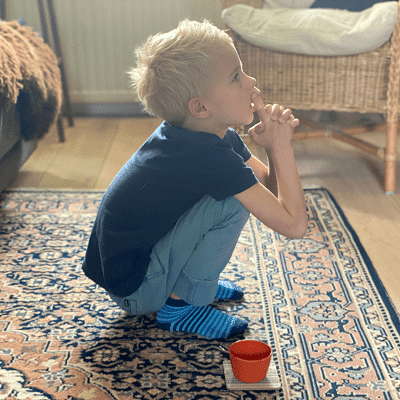 Best Halloween kids movies on Netflix (all ages)
Room on the Broom
If you're looking for the best Halloween kids movies for toddlers, you have to check out Room on the Broom. It's short, it's fun and your tiny twin toddlers will love it!
The Little Vampire
This movie is great for kids of all ages, making it one of the best Halloween kids movies on Netflix right now. The cartoon film makes the idea of vampires funny and entertaining, even for the littles kiddos.
Spookley the Square Pumpkin
A square pumpkin? WHAT?! See how this cartoon movie teaches kids it's okay to be different. With no scary images, you won't have to worry about nightmares after your twins watch this Halloween movie, even with the littlest twins.
Spooky Stories
Dreamworks' Spooky Stories features all your twins favorite characters from Monsters vs. Aliens and even Shrek. This movie is actually 3 separate tales which will be great for keeping your younger kids' attention.
Pregnant and nervous about bringing twins home from the hospital? Book a virtual postpartum strategy session with postpartum doula and twin mom Lauren Oak today!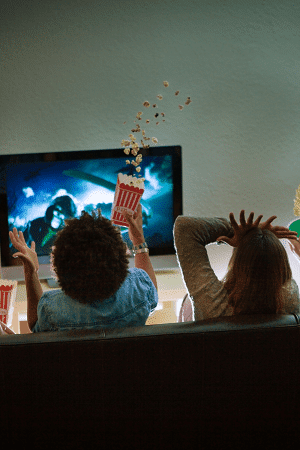 Best Halloween kids movies on Netflix (8 and up)
The Addams Family
This is a great one based on the classic 1960's TV show that your kids will love! It will make spooky Halloween fun for your twins in a way that a lot of other movies just can't. Highly recommend The Addams Family!
The Spooky Tale of Captain Underpants Hack-a-ween
If Your kids like Captain Underpants, they're going to love this! Based on the popular franchise, this 48-minute movie will keep your kiddos laughing about spooky Halloween just as you would expect.
Goosebumps 2: Haunted Halloween
See Halloween decorations come to life in this funny but spooky movie. It might be best for kids 8 or 9 and up, depending on your kids because there are a few jump scares in this one. Most parents report that their kids love it just as much as the first Goosebumps movie, if not more so.
All Hallows' Eve
If you have a tween or young teen who might be looking for the best kids Halloween movies but don't necessarily like to be scared, this one might fit the bill. In this film, Eve discovers she's a witch on her 18th birthday, which happens to be Halloween. Watch as she struggles to manage her new powers.
Did you know we offer FREE mentor matchups? Get in touch with our parent mentor coordinator to get matched with a mentor or mentee today!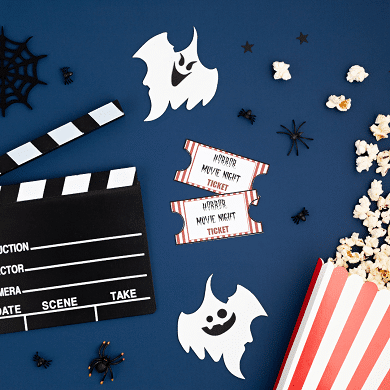 Best Halloween kids movies on Disney + (all ages)
Mickey's House of Villains
This Disney movie is made of up several classic cartoons featuring the Disney villain's your kids already know and love to hate on! They cleverly use these old shorts with new stories to create a fun, spooky Halloween film any kid will enjoy.
Struggling to figure out how to breastfeed twins? Book a virtual session with our founder and certified lactation consultant Natalie Diaz today!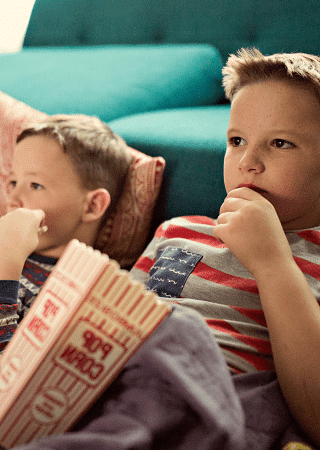 Best Halloween kids movies on Disney+ (8 and up)
Frankenweenie
Tim Burton knocks it out of the park with this one. It's everything you would expect. It might be a bit dark and creepy for the little ones, but the fact that most adults really like Frankenweenie makes it one of the best Halloween kids movies on this list, in my humble, Tim Burton fan opinion!
Coco
You haven't seen Coco yet? Well, what are you waiting for? This is one of the best Disney movies I've ever seen, and that's coming from a girl who remembers all the Disney classics word for word from childhood. The incredible costumes, endearing characters, and a beautiful ending that will leave you in tears make this the best Halloween movie for kids that you will probably watch again long after the season is over.
Twitches
Remember Tia and Tamara Mowry from Sister, Sister? They come together again in this Disney original tween and teen geared Halloween movie, realizing they are twins and possess magical powers. They work together to fight "the darkness" and save their home dimension. This movie has something for you and something for your kids.
Halloweentown
This is not only a Halloween movie but a franchise so if your kids love it, there are probably enough of them for you to get some serious alone time over the course of a week. It's great for tweens and teens because a 13-year-old girl finds out she's a witch and works with her grandmother to defeat evil in her home of Halloweentown.
Want to be the first to know about giveaways, deals, and more just for twin parents?
Sign up for the Twiniversity email list! Subscribe today to get emails about giveaways, events, weekly article roundups, and more! Pregnant with twins? We'll be sending you a weekly twin pregnancy email to keep you on track with your pregnancy to-do list! Click here to learn more…
Hocus Pocus
Max is a teenaged high schooler who accidentally performs a spell to bring back 3 sisters from 300 years ago and then works with his friends and a cat to outwit these witchy sisters. This movie will have you laughing at the sisters' shenanigans and it's just the right amount of spooky for most families to enjoy together. You won't want your kids to miss this one.
The Nightmare Before Christmas
Another Tim Burton classic knocks it out of the park. The cartoon movie is great for Halloween and Christmas, which is fantastic news because your kids will be looking for an excuse to watch it on repeat for a while. Jack Skellington wanders away from Halloweentown out of boredom for the same old frightful holiday and stumbles upon Christmastown. Watch as he learns about Christmas and brings the holiday back home with him.
Are looking for binge-worthy content? Check out our list of what twin moms are binge-watching today!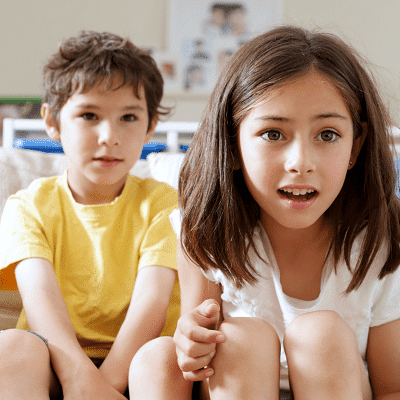 Best Halloween kids movies on Hulu (all ages)
Curious George: A Halloween Boofest
Curious George is an old favorite and this Halloween Movie will not disappoint your little ones. George is deep in preparations for this year's Boo festival when he learns about a headless scarecrow. As usual, his curiosity has him wanting to learn more about this creature and why he has no head.
Halloween Wars
While this is not a movie, but a series, it is something that the whole family can watch together. This show on the Food Network is a Halloween themed competition show. Over 4 episodes, the teams create some truly remarkable displays that will have your kiddos completely mesmerized!
Still looking for costume ideas for your twins? Check these fun ideas out for inspiration.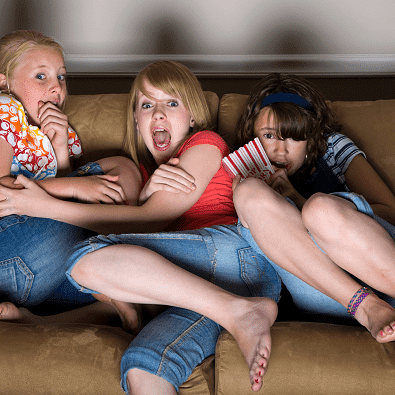 Best Halloween kids movies on Hulu (8 and up)
Monster House
In this animated scary movie, a boy is left in the care of a babysitter and her boyfriend. The boyfriend tells the boy and his friends a story about a real-life monster house on the road. It might be a bit scary for young kids, so you probably want to wait until your twins are at least 8 to give this one a try.
Coraline
Another animated film that the whole family will enjoy this Halloween. A girl moves to a new house with her parents and discovered a secret doorway to a different dimension that isn't quite what it seems. This dimension turns a bit dark and creepy so you probably want to wait until your kids are close to age 8 before letting them watch. It should also be noted that this movie is only available with the Starz add-on package.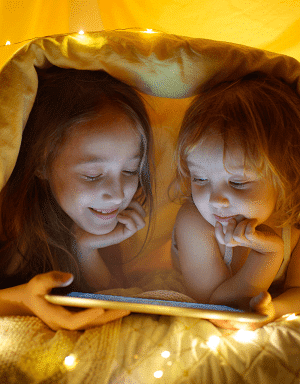 Best Halloween kids movies on other platforms that you need to see
Beetlejuice (Peacock)
By now, pretty much everyone on Earth has seen Beetlejuice. Whether you love it or hate it, your kids will probably beg to watch this Halloween classic. you can stream it on Peacock or find it on Freeform during the month of October.
Expecting twins? Take a Twiniversity expecting twins class
Ever wish there was an expecting twins class to get you ready for your twins? Well relax, there is! We offer Twiniversity classes in New York City, Chicago, Houston, and online, created exclusively for expecting and new parents of multiples. Click here to learn more…
Scary Godmother (Youtube)
This animated franchise has 2 movies based on a series. You can stream them on Youtube or catch them on the Cartoon Network. They are good for kids of all ages as we follow a young girl who goes trick-or-treating with her cousin who tries to scare her.
It's the Great Pumpkin, Charlie Brown
Okay, so this may technically be a show and not a movie, and maybe you can't actually stream it, but if you think we're going to put out a list of Halloween content and not include Charlie Brown, you're outta your mind. We just couldn't call this list complete without it. So, you have to actually catch it on your local ABC station or buy it as it isn't available for streaming ANYWHERE. I, for one, am in favor of buying the DVD. You can get the 50th deluxe edition of it here, or buy a special set that includes all 3 Charlie Brown holiday movies here. The special set includes Halloween, Thanksgiving, and my personal favorite Christmas!
Grab your popcorn and get the kids settled in for some of the best Halloween kids movies tonight!
Latest Posts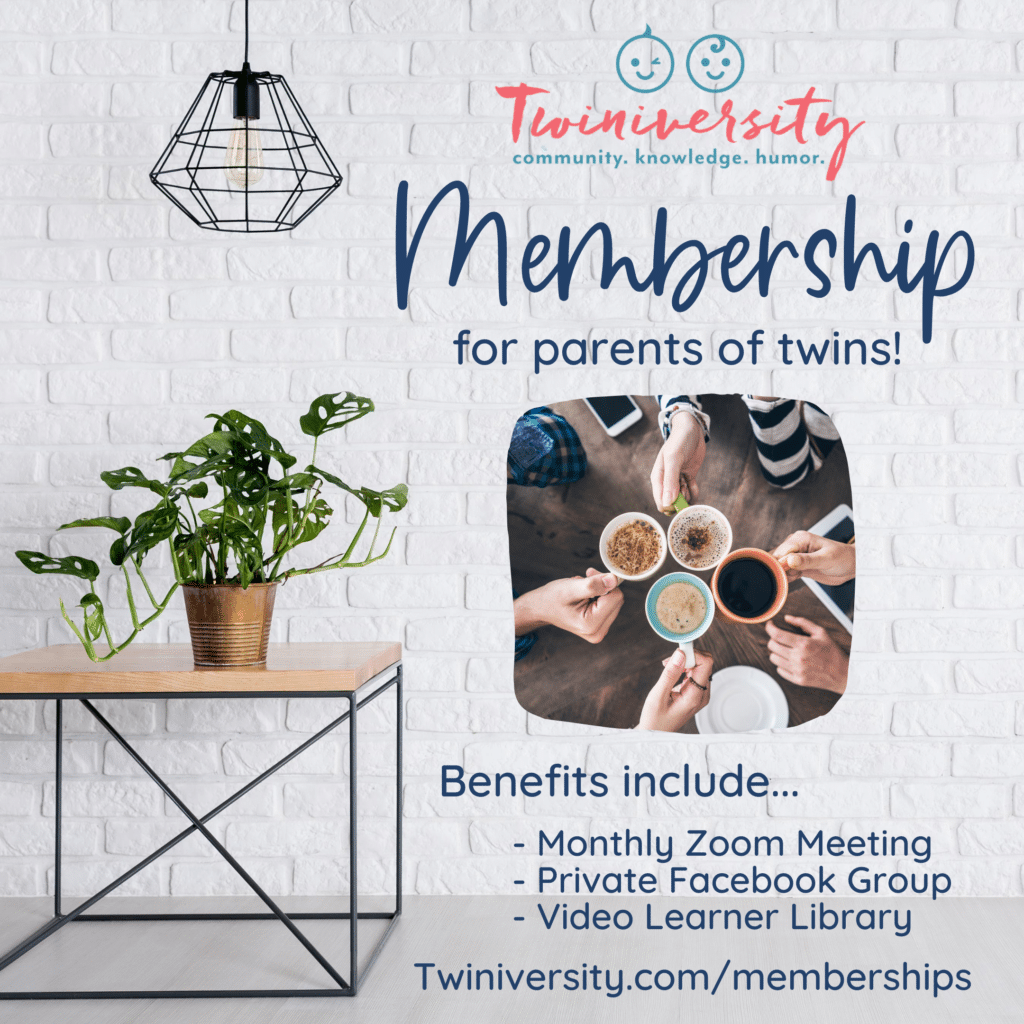 Need more support? Start a Twiniversity Membership
Want more from Twiniversity? Sign up today for a Twiniversity Membership! Choose from 2 levels starting at $6.99/month to connect with other parents of twins in a monthly Zoom twin club, build your twin parenting community in our private Facebook group, and expand your twin parent knowledge with our video learner library. Click here to learn more…