A child's first eye doctor visit is no cause for anxiety. But here at Twiniversity, we know navigating life with twins can be challenging already, without added stressors. So we spoke with an optometrist and twin mom, to give you some tips on preparing for your first kids' eye doctor exam.
By Dr. Sarah Moreau, O.D.
Most parents don't take their kids to a pediatric eye doctor until they're much older. Specifically because going to the eye doctor is usually associated with reading 20/20 on an eye chart. Many parents probably assume that their children should know how to read first. So most parents don't take their kids to a pediatric eye doctor unless something is wrong. However, the visual system is crucial to the overall development of a child and catching any visual issues early on can make a big difference. Below you will find my 5 tips for going to the kids' eye doctor that I wish all my patients knew.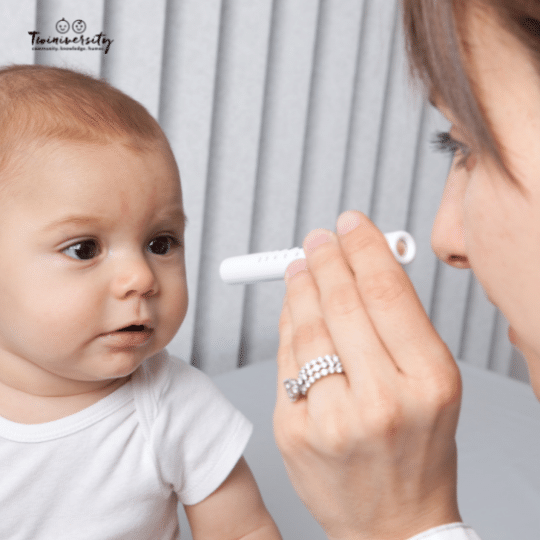 Find a kids' eye doctor for your twins early on, even if you don't think there are any problems
Children can experience a number of vision problems but exhibit few (if any) symptoms. If they've always seen a certain way, they don't know that it's abnormal and, therefore, won't complain. Even if you don't think there is anything wrong, it is important to have your twins' eyes examined.
There are two main types of eye disorders that can affect your child's vision.
Refractive and non-refractive errors
Refractive errors are seen in almost 20 percent of children and can include:
Myopia (nearsightedness)
Hyperopia (farsightedness)
Astigmatism (an abnormal curvature of the cornea)
Amblyopia (lazy eye)
Strabismus (crossed-eyes)
Refractive issues such as nearsightedness are increasingly common in young children. This is why early screening is so important.
Since many twins are born premature, they are already at risk for long-term health effects, such as vision problems. This includes retinopathy of prematurity or ROP.
ROP causes abnormal blood vessel development in the retina of the eyes. This often leads to vision loss. This is why the American Academy of Pediatrics recommends ROP screening for every infant born before 32 weeks. Screening includes an exam by a kids' eye doctor or ophthalmologist.
In addition to refractive errors, your pediatric eye doctor can also check for non-refractive errors. These include glaucoma, cataracts, and retinoblastoma. Premature birth can increase the chances of developing these conditions and an eye exam early on will help determine if your child needs glasses or other treatment.
Even if your twins weren't premature, the American Optometric Associate (AOA) recommends that children have their eyes examined at 6-12 months, 3 years, and again prior to entering Kindergarten.
When you're ready, find a provider that you're comfortable with and sticking with them as your children age. They will be able to monitor the visual development of your child and notice any changes year to year.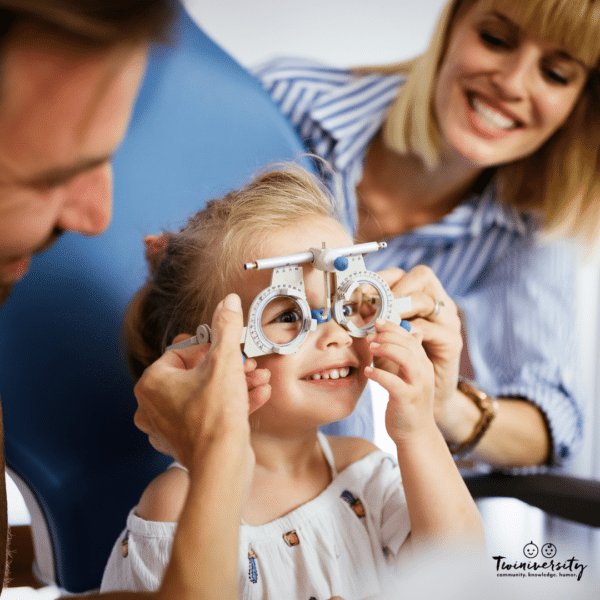 Find a pediatric eye doctor that specializes in working with kids
A kids' eye doctor exam is very different from an adult eye exam. You usually can't rely on the child's answers and need to find more objective ways of testing since they may be too young to understand. These skills take practice, which is why going to a pediatric eye doctor that regularly sees kids is so important. It's also important to find a provider that prioritizes developing a relationship with your child and makes the visit a positive experience. I recommend asking around for recommendations, either in a mom's group or at your child's school. Teachers usually are familiar with some local eye doctors that are good with kids.
You can also visit the American Association of Pediatric Ophthalmology and Strabismus (AAPOS) to find a kids' eye doctor near you who specializes in vision problems of children.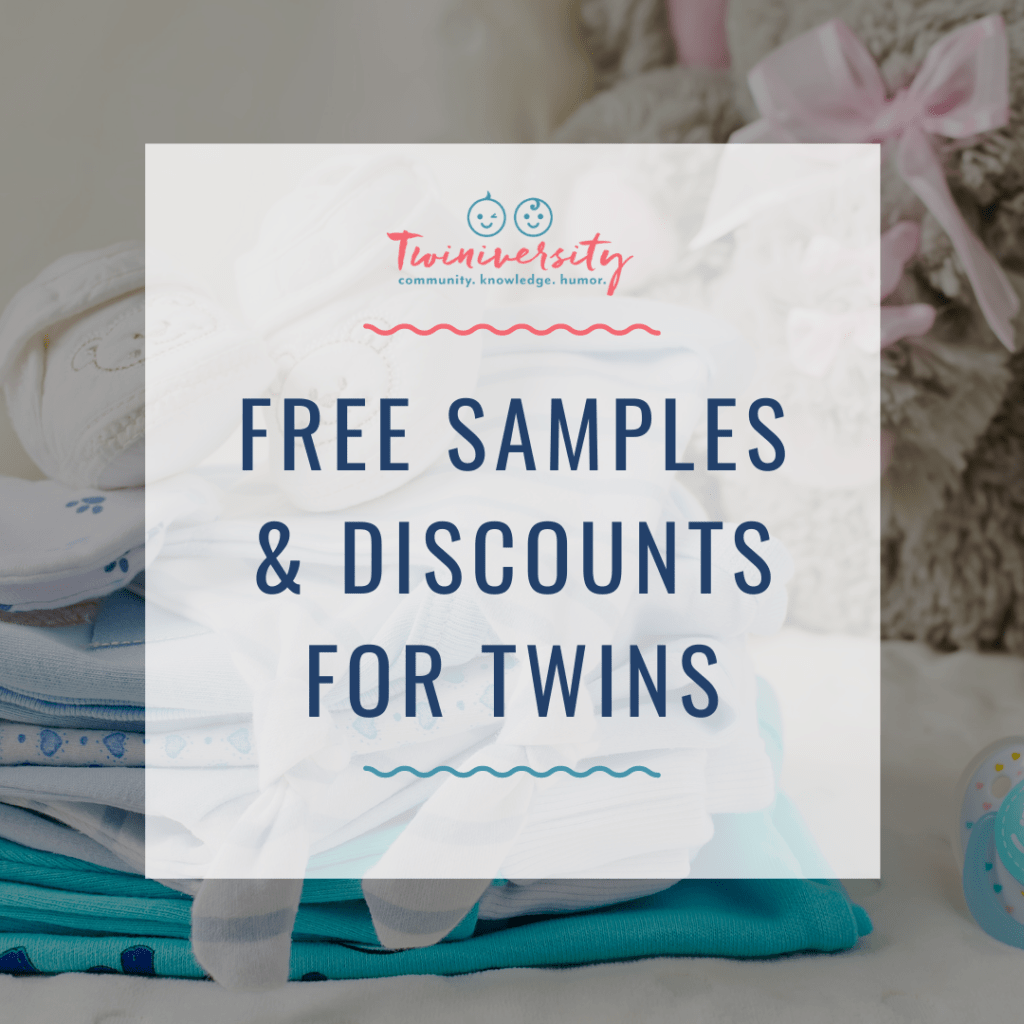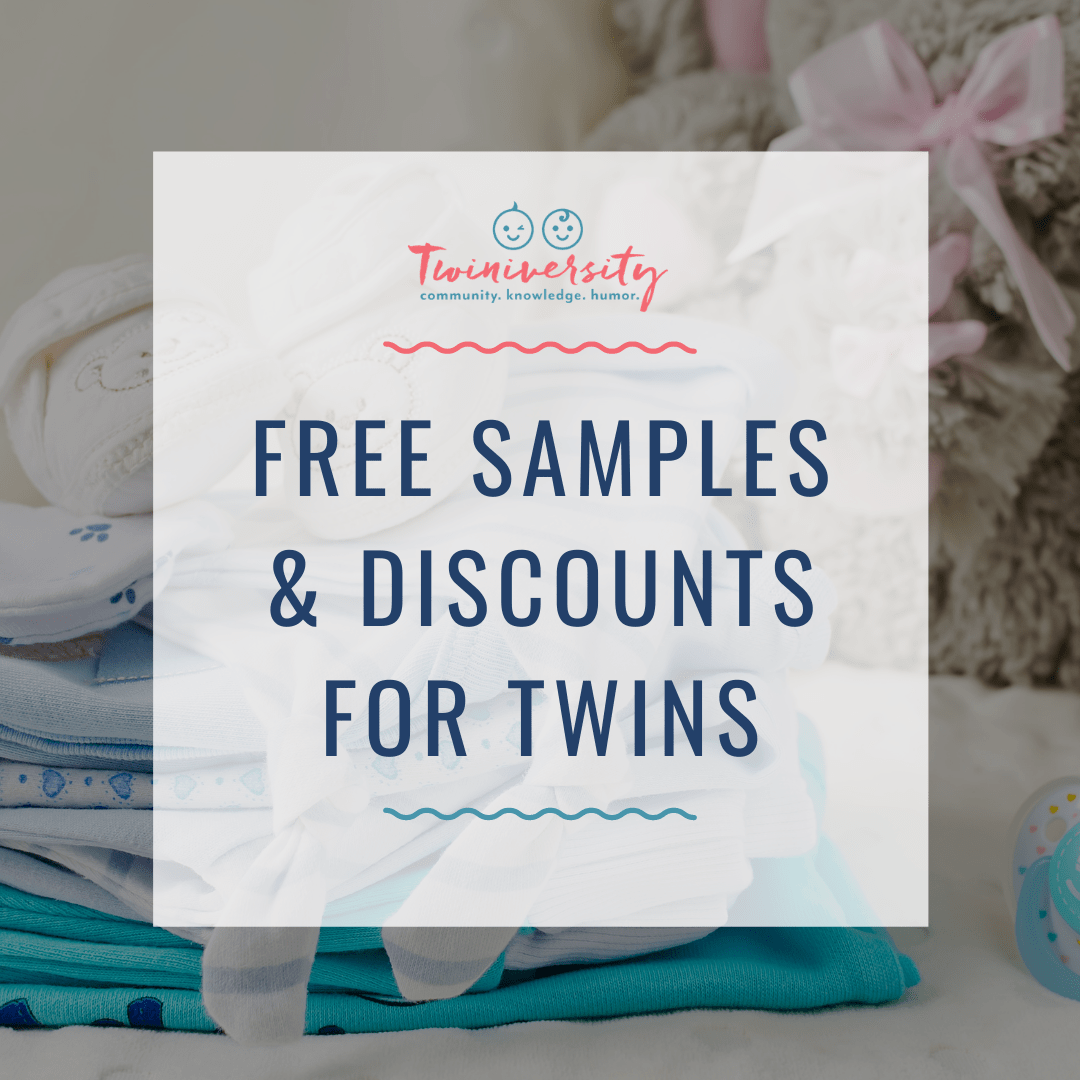 Check out our Multiple Birth Discounts! This is the most up-to-date list of discounts, freebies, and coupon codes for twins and multiples on the internet. Click here to start saving! While you're at it, make sure to check out our expecting twins classes and membership programs…
Know that they will probably want to dilate them and it's not as scary as it sounds
Dilating the eyes consists of putting drops in the eyes to temporarily paralyze the focusing system. After 20-45 minutes (depending on the drops used), the pupils will be very large enabling your kids' eye doctor to get an accurate, objective evaluation of your child's prescription, as well as evaluate the health of the internal structures of the eye.
The drops may sting slightly, which is why many children react negatively to them. The stinging only lasts a few seconds. I find that the attitude of the parents greatly influences how the child reacts. If the parent is hesitant, then the child is usually much more afraid than if the parent reacts positively to drops. I do not recommend talking to your child about the drops beforehand. When instilling the drops, if your child is young enough to want to sit on your lap, I recommend laying the child across your lap so they are looking at the ceiling, and holding their arms so they can't block the drops. The quicker the drops are instilled, the easier it is for everyone.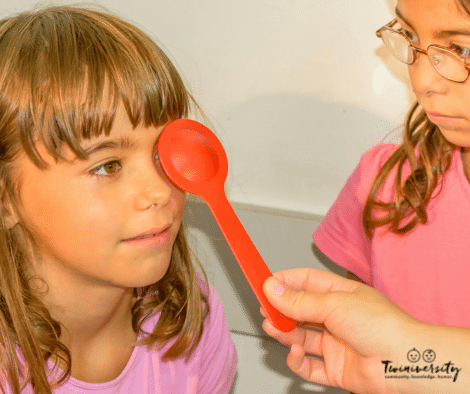 Make the eye doctor aware of any developmental delays or any therapy your child is receiving
What most people do not realize is that vision is a learned process. Children learn to see in the same way they learn to walk and talk. They have to learn to move their eyes, focus their eyes, and move them together as a team. If your twins are developmentally delayed, it may impact the way their eyes move and focus, which can affect the way they learn. Your kids' eye doctor may be able to communicate these findings with any physical, occupational, or speech therapists that your child sees and help them better understand how to help your child. They may also recommend vision therapy to remediate these issues.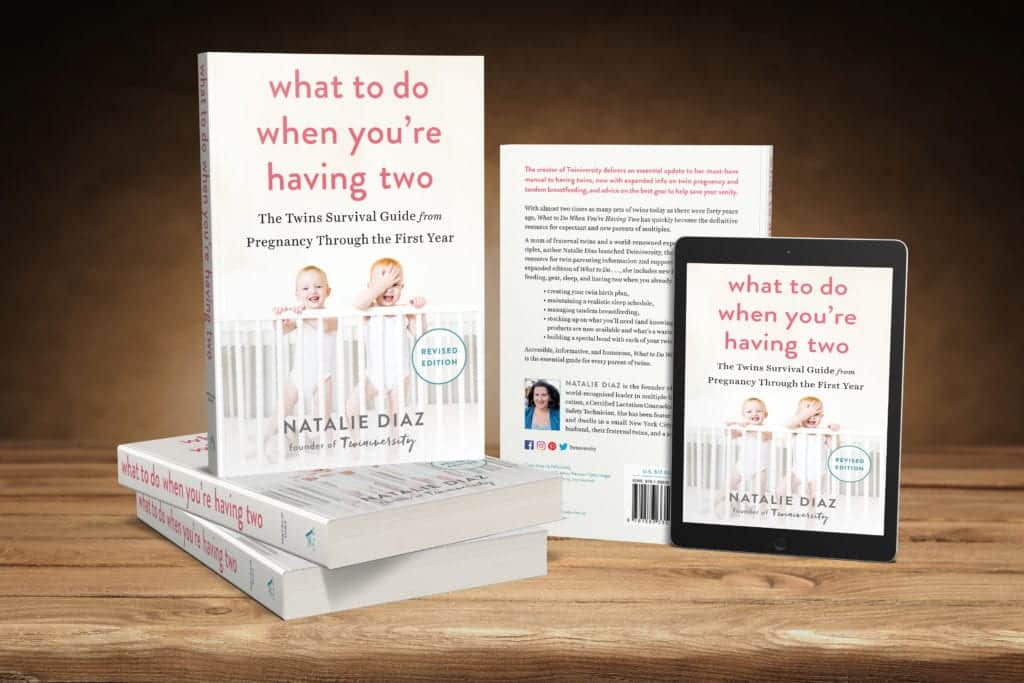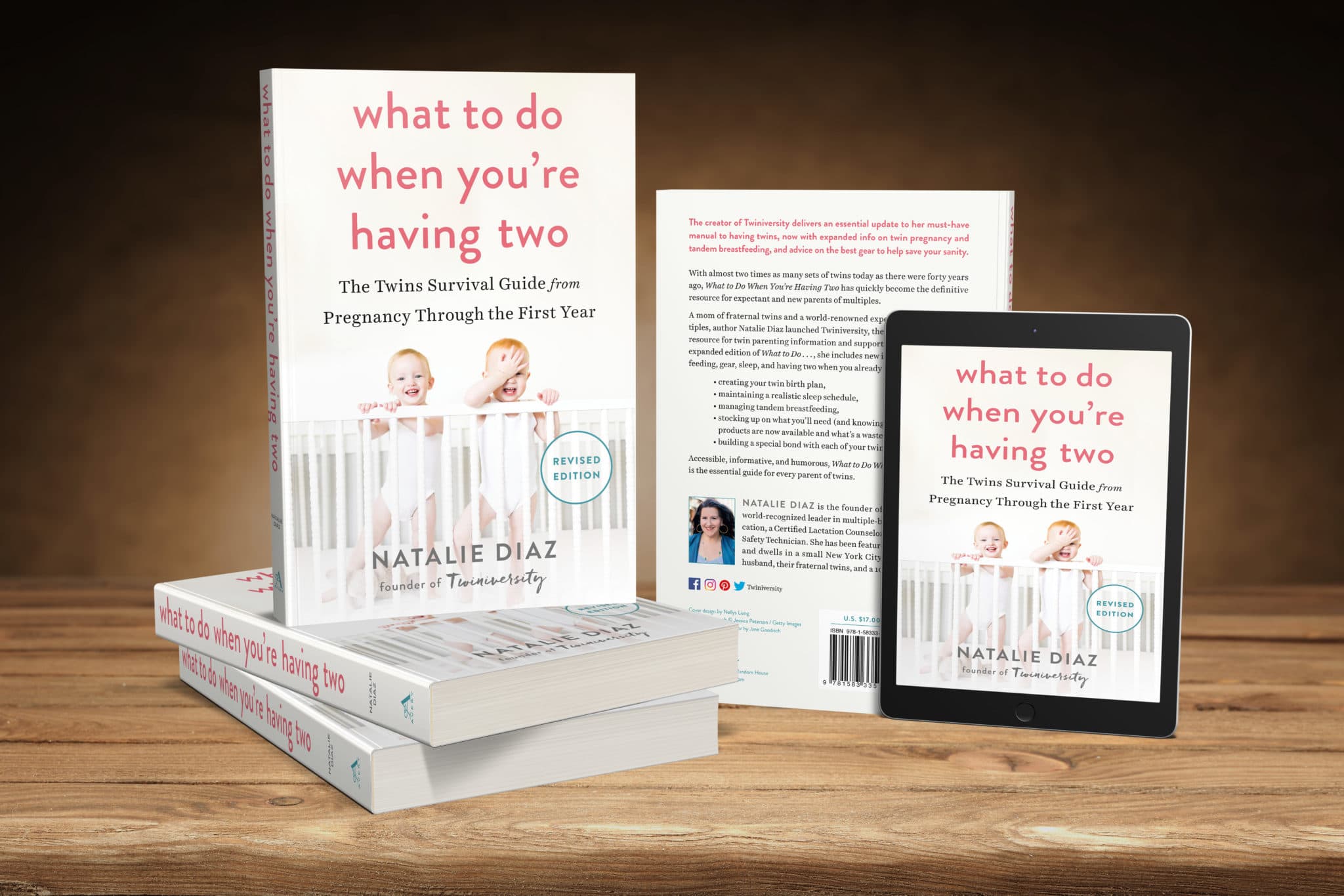 In What to Do When You're Having Two: The Twins Survival Guide from Pregnancy Through the First Year, national twins guru and founder of Twiniversity (and twin mom herself!) Natalie Diaz provides a no-holds-barred resource about life with twins, from pregnancy and birth all the way through your duo's first year of life. BUY NOW
Make sure that your eye doctor's office has copies of any medical insurance or vision care plan cards
Twin parents thrive on efficiency and we all know that waiting around in a doctor's office with twins gets old really quick. Make sure that your eye doctor's office has all insurance information and has checked your eligibility prior to the appointment. There's nothing worse than getting to the appointment and realizing that you're not eligible for an exam until next month. This is inconvenient for both you and the kids' eye doctor. Have all of the paperwork filled out prior to getting to the office so you can simply hand it to the receptionist when you check in. This helps make your appointment as efficient as possible and (hopefully) minimizes the time you have to wait.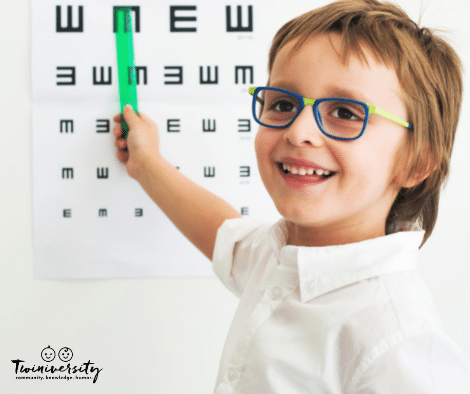 I hope that these tips have helped illustrate both why getting your twin's eyes examined is important and that it's really not that scary of a process. According to the AOA, 80% of what a child learns is visual in nature. If your child has an undiagnosed vision problem, this could impact their ability to reach their full potential. And as a parent and an eye doctor, my goal is to help my children and my patients reach their full potential.
---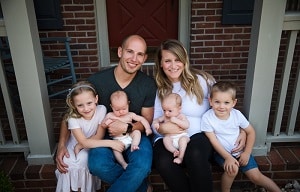 Sarah Moreau is a mother to a 6-year-old girl, 4-year-old boy, and 10-month-old boy/girl twins. She and her husband are both optometrists and own Performance Vision, a practice that focuses on neuro-optometric rehabilitation. Sarah also is an assistant high school soccer coach. She and her family enjoy going to Disney and running races together, sometimes both at the same time!
---
Latest Posts from Twiniversity