Let's face it, the cost of groceries is going up, up, up! How can you make nutritious meals for your family and stick to your budget? I'm going to share some tips with you about meal planning. Nothing new or groundbreaking but just some practical tips to help you meet your budget goals.
1. Shopping from a list. I cannot tell you how many times I have gone to the store without a list and spent way too much but still didn't have any meals to make! I learned that I spend less money when I shop from a list. Spend some time the day before you go to the store going through your recipes and picking out meals to make for the week. You don't need anything fancy. I use a dry erase board on my fridge to write down the meals for the week. Then on your shopping list write down all the ingredients you will need to buy. That way you won't get distracted at the store and also won't forget anything. This is my #1 tip! If you do nothing else, do this one!
2. Buying bulk meat. Another way to save money is to buy your meat in bulk. I buy the family packs of beef or chicken because they are usually a better price. Then I bring it home and divide it up into serving sizes and store in my freezer. Bone in, skin on chicken thighs a quarters and usually a great deal. Sometimes less than $1 per pound. And in my opinion they taste better too. I like to roast them and they are great to add to casseroles!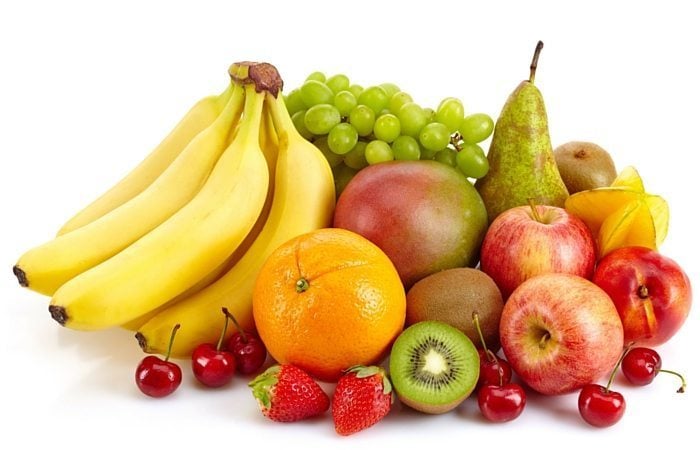 3. Buying produce in season. Healthy eating doesn't' have to break the bank. When it comes to fresh produce follow a simple rule: try to buy items that are in season. Buying produce that is in season just makes sense! It's cheaper and tastes better. How do you know if it's in season? Well, the store will usually have a lot of it and it will be on sale! Blueberry's for example, are available all year but they have to be shipped in and can, therefore, be quite pricey and sometimes don't taste very good. However in June-July blueberries are in season and they will be at their peak flavor and best price. So try to plan your meals on when items will be in season. I usually have seasonal recipes based on what is in season at the time. Frozen vegetables are a good substitute if you can't find the fresh item you are looking for. Canned items can be high on sodium or sugar (if you are wanting healthier options).
4. Filling up on grains. We make a lot of casserole in our family. It can save big bucks. Instead of having a chicken breast per person you can use only 2 in a casserole with other vegetable or pasta or rice and it goes a long way. You can be healthy this way too with couscous and quinoa or whole wheat pastas or brown rice. Whatever your taste preferences casseroles make great crowd-pleasing meals.
5. Paying more for convenience. Another way to save some money is to do a little more work yourself. If you buy pre-cut fruit or veggies you are usually paying a higher price for convenience. Same thing with a lot of other prepackaged food (such as salads, frozen meals or shredded cheese) They are convenient but you usually pay for it. If you buy the ingredients it will usually either be cheaper or you will get a whole lot more for the price. And it will be much fresher and not have preservatives.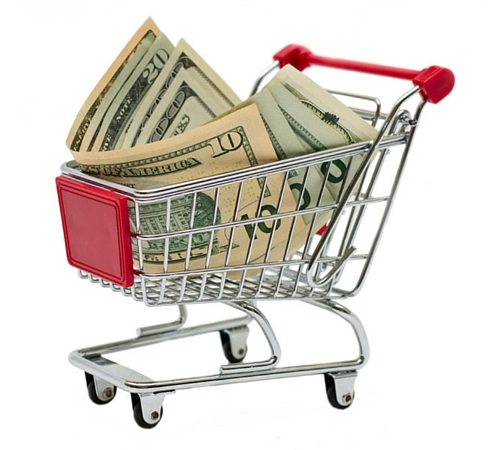 6. Shop sales. Most grocery stores run sales all the time. This is a simple but sometimes overlooked tip. Buying store brands or items that are on sale will save you money. I don't think I've ever paid full price for chips, each week there is a different one on sale so that's the one I get! If you are planning ahead and making your list before you go to the store check the ads in the paper to know what items will be on sale at which stores.
7. Freeze left overs. After 1 meal of leftovers I'm usually sick of the meal so I end up throwing it away. I realized it was such a waist so now I either just make enough for 1 or 2 meals or freeze the rest. After a few weeks my appetite for that meal usually returns and I'm glad I get to enjoy it without having to cook it!
8. Carry over meals. This is using the same ingredients in different recipes. So say I got a rotisserie chicken on Monday and we had some of it with potatoes and broccoli. Tuesday we could have chicken quesadillas with some of the leftover chicken and Wednesday I use the rest of it for chicken tetrazzini casserole. That $7 chicken lasted us 3 meals.
Like I said, this is nothing new or groundbreaking. Just a few practical tips to help you save some money on your grocery bill. Making healthy, budget friendly meals for our families is on our minds all the time. These are some things I use when planning meals for my family.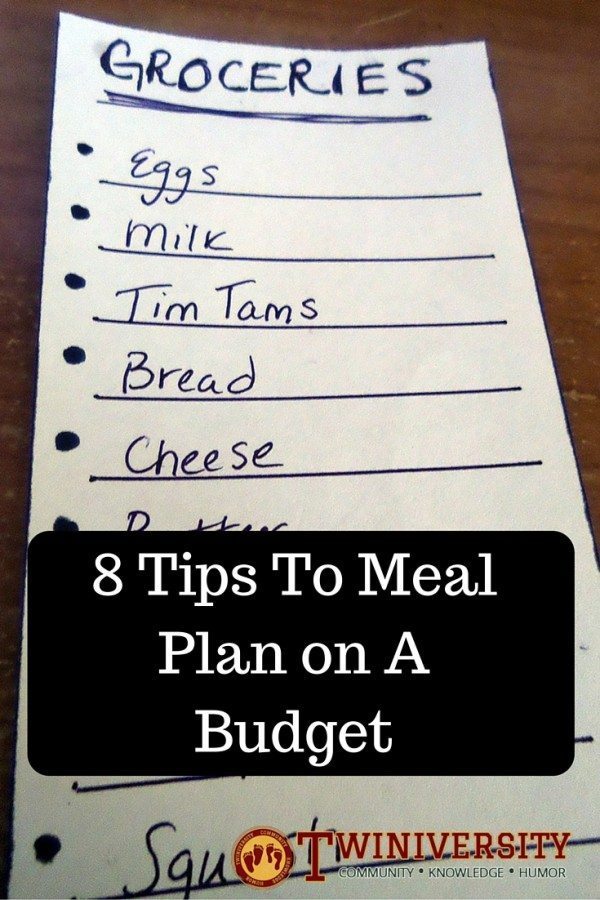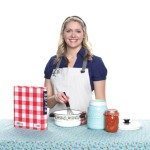 Courtney Hill is a wife and mother of twins. She has her Master's degree in Family and Consumer Sciences and taught high school FCS for 4 years before deciding to stay home. She grew up in a smaller Missouri town and learned to cook mostly from her mom, who learned from her grandmother. She is a Midwest girl through and through and her style of cooking is simple and country kitchen approved. She'll take you back to the basics of cooking, where real ingredients and plenty of love are in every dish. So pour on some more gravy and keep it country kitchen approved! Visit her blog, Country Kitchen Approved, and follow her on Twitter, Facebook, and Instagram. For articles by Courtney on Twiniversity, click here.
* * *
Related Articles
* * *
The rate of twin births has risen 79 percent over the last three decades, and continues to increase. A mom of fraternal twins and a national guru on having two, Natalie Diaz launched Twiniversity, a supportive website with advice from the twin-trenches.
What to Do When You're Having Two is the definitive how-to guide to parenting twins, covering how to make a Birth Plan checklist, sticking to one sleep schedule, managing double-duty breastfeeding, stocking up on all the necessary gear, building one-on-one relationships with each child, and more.
Accessible and informative, What to Do When You're Having Two is the must-have manual for all parents of twins.
* * *
Whether you're a twin parent in the big city surrounded by scores of resources, or a triplet parent out in the country with no one around for miles — our multiples parenting forums are for YOU! Sign up for FREE and connect with people who are just like you — parents of multiples looking for advice, parenting tips, or even just people to chat with who will understand what you're going through. Our forums are open to people all over the world and we offer scads of specialty rooms to find others who are going through the exact same thing as you. Check it out today!
* * *
Twiniversity is the #1 source for parents of multiples and we are growing faster every day!
Find us all over the web:
Or contact us by email at community@twiniversity.com