We have five girls. Our oldest, Ashley, has a genetic neuromuscular disease. And yes, knowing it was genetic we still decided to have more children. You see, I believe God chose us to be Ashley's parents. I believe children with special needs are little miracles.
We all know EVERY child is different, even twins. I did what most new mothers do, I compared my child to other children her age. Ashley was delayed in meeting her milestones. She usually met the milestone within 90 days of what was considered the "norm." Because she was within 90 days of the "norm" for the milestone, we were told there was nothing wrong with Ashley. We were assured she would meet the milestones in her own time. We needed to be patient and not rush her. We were patient but in the back of our heads, we knew something just did not add up.
Shortly after we convinced our pediatrician that something with Ashley just did not make sense to us, we found out we were pregnant with our third child. We started seeing specialist after specialist for Ashley trying to get a diagnosis. Our second daughter, Abigail, exhibited none of the same muscle issues as Ashley. Now I was pregnant again and I was worried that this baby could have the same challenges that Ashley had.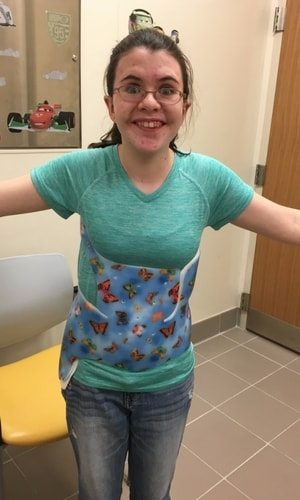 After Ava, our third daughter, was born, we thought our family was complete. Ava turned 3, and I started feeling our family was not complete. We wanted one more baby. And BAM, twins! We were doubly blessed! My pregnancy was as normal as could be expected for a 41 year old mother. I was AMA & diabetic. I carried Anna and Amelia to 37 weeks and delivered them on my scheduled C-section date. Anna was 6 pounds 9 ounces and Amelia was 6 pounds 13 ounces. No complications during delivery. And relatively "normal" (whatever normal is with twins!) baby activity for the first few months. At Anna and Amelia's three month check-up, our pediatrician had concerns with Amelia, the youngest. I knew exactly what he saw. It appeared as though Amelia had some of the same muscle weaknesses as Ashley.
I was devastated. How could this happen again? Could we handle another child with extra needs? John, my husband and our family's voice of reason, took this in stride. Ashley was now twelve years old. She was just starting to learn her limitations. And, OMG, the teenage years were just starting! I wasn't sure I could do this all over again. I knew if faced with it again, I would embrace it. It would not be easy but I knew I had no choice. We were chosen to be Amelia's parents.
We made an appointment with Ashley's neurologist for both babies. At this point I wanted to make sure Dr. Finkel didn't see any concerns with Anna too. Like our appointments with Ashley, he was extremely thorough with both girls. He saw no areas of concern with either baby. Thank God! "Just to be sure," he wanted us to bring both babies back for another appointment in three months.
For the next three months, I analyzed everything each of the twins did or did not do. To be truthful, I know I over analyzed EVERYTHING! Appointment day! Dr. Finkel cleared them. BOTH of them! Thank you Jesus!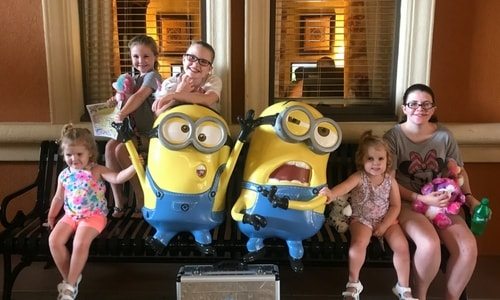 Having a child with special needs can take its toll on a marriage, trust me it is hard. If marriage was easy there would be no divorces. You and your partner need to find a way to communicate their concerns, their feeling, and their worries. There are easy days and hard days.
The decision to have more children knowing that we could have another child with a genetic neuromuscular disease was not an easy one. One that we did not take lightly. But it was OUR decision. I am pretty sure family and friends said what they wanted to say behind our backs. "Why would you take a chance again of having another child with issues?" "What if it happens again?" You can ask all the questions you want but it is not up to you. It is in God's hands not yours. We didn't care what anyone was saying. These people do not live in our house. They do not know our struggles. They are only looking in from the outside at our family's life.
We have no family that lives within a few hour drive from us to help when we need help. We have a few close friends that we rely on for help. God gives you what he knows you can handle. And if we had another child with special needs, we were hand picked from God to be the parent of that child.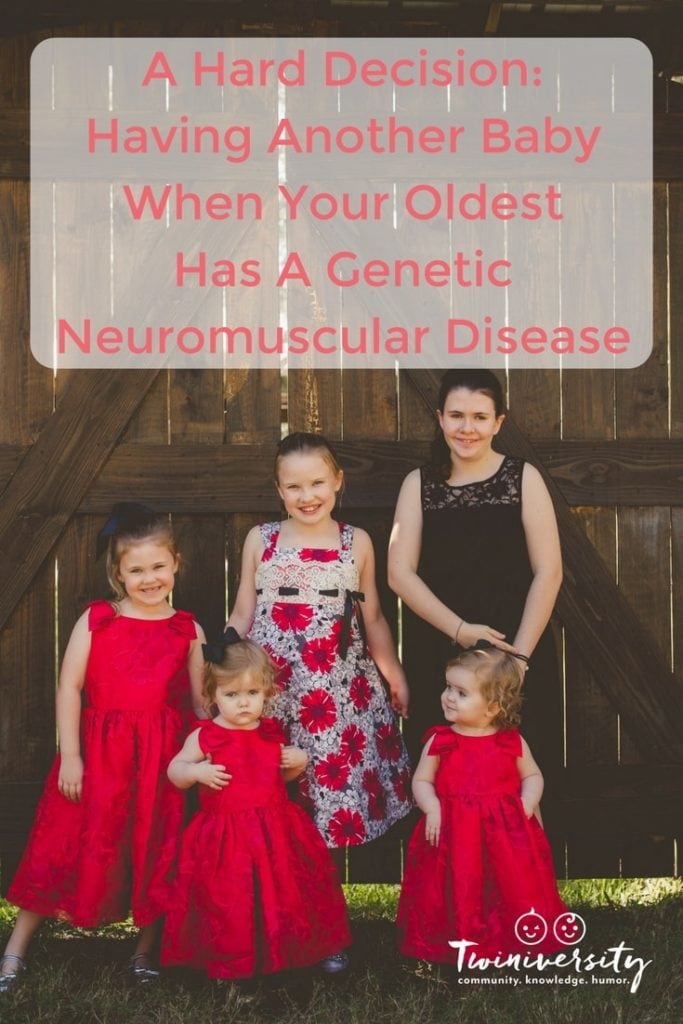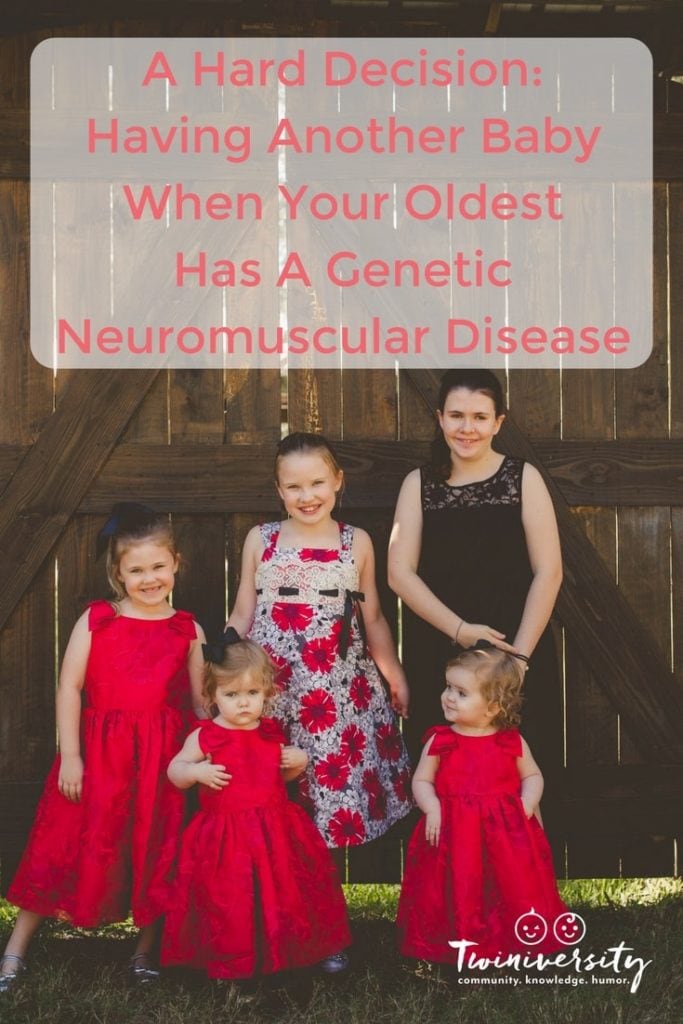 If I can offer once piece of advice, if you see a family with a special needs child, do not feel sorry for them. Do not pity them. Do not stare. And, please do not say, "God bless you. I have no idea how you do it." We hear the last statement often. And trust me you, it gets OLD! A child with special needs is not a burden. They are a blessing and a true gift from God.
All content on this Web site, including medical opinion and any other health-related information, is for informational purposes only and should not be considered to be a specific diagnosis or treatment plan for any individual situation. Use of this site and the information contained herein does not create a doctor-patient relationship. Always seek the direct advice of your own doctor in connection with any questions or issues you may have regarding your own health or the health of others.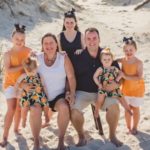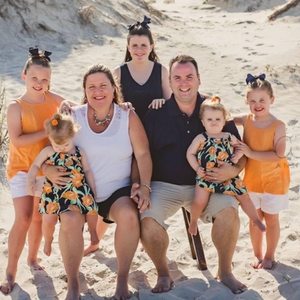 Jennifer Sutherland works full time from home. She married her college sweetheart who is a stay at home father. We have five girls, 14, 11 , 6, & 2 1/2 year old twins. They live in Central Florida. In her "free" time, she enjoys spending time with her family, spending time outside, crafting, and drinking lots of coffee!
---
Related Articles
When One Twin Has A Disability
Why We Decided to Put Our Daughter on Growth Hormones