With multiples, shared rooms are common, if not inevitable, for most families. Two cribs in one room usually isn't a huge problem, especially if you have mini cribs. However, moving from two cribs or toddler beds to twin sized beds can take up serious real estate. Bunk beds are incredible space savers, but when is it the right time for your twins (or more) to make the transition? What makes bunked life easier for everyone?
Start with Twin Beds
When shopping for bunk beds, look for convertible bunk beds that work as two separate twin beds or bunk beds. This allows your kids to get used to sleeping in big kid twin beds before someone stakes claim to the top bunk.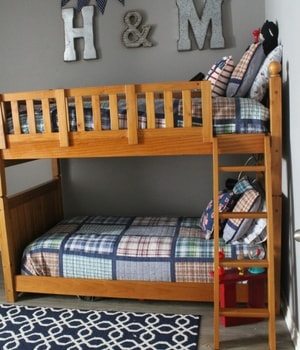 If you're not quite ready to drop money on bunk beds, you can start with twin-sized mattresses on the floor first. It's not uncommon for kids to roll out of beds onto the floor when moving from a crib or toddler bed to a twin sized bed. To help with this transition, you can duct tape a pool noodle to the mattress for a few weeks to discourage rolling. Keep in mind; it's best to use a low-profile mattress for bunk beds to reduce height on the top.
Judge Climbing Skills
In order to safely use bunk beds, children need to be able to safely navigate a ladder independently. Skilled climbers, however, can pose a danger of a different sort. It might not work in your favor to bunk beds if your children are aspiring Cirque du Soleil troupe members. Children need be able to respect the height of the top bunk and follow basic safety rules (e.g. no jumping on the bed or off the bed).
Modify the Furniture
If you feel confident that your kiddos will not roll out of the bed, are ready to use a ladder, and will follow safety rules, then it's probably time to transition to bunks. After purchasing and assembling bunk beds you may realize the height of the top bunk is still a bit much or is far too close to a ceiling fan or light fixture. You may be able to remove feet from the bottom bunk, lowering the overall height. If there aren't removable feet, you could also cut the legs to shorten them. Sometimes, the top bunk railings are low, but you can always add an extra bar to thicken the railing of the bed. A Bunkie board (or piece of plywood cut-to-size at a home improvement store) helps add stability to the top bunk, and is more attractive when seen by the bottom bunk, especially if you paint it.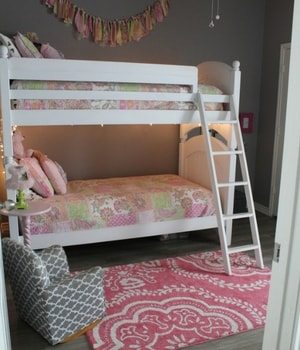 Personalize Each Bunk
If your multiples argue over who gets which bunk, come up with a fair way to decide who gets what. You could draw numbers, flip a coin, or pick names from a hat; anything to make sure it's equitable. Once beds are assigned, find a way to customize each bunk. Fun options for bunk personalization are lights, pictures, wall mounted night stands, or unique bedding.
Bedding
Speaking of bedding….let me warn you about sheet changing day. It's practically an Olympic sport to change the sheets and make the top bunk. As soon as possible, enlist your kids to do as much of the job as possible. For younger kids, it might be just stripping the dirty sheets. Older kids may be able to strip, wash, and replace bedding, making your life easier. Whether you or your child is in charge of changing the sheets, there are several products that make it easier. QuickZip fitted sheets include a wraparound base that stays on the mattress and the top zips on and off. Zipit, Zippy Sack, and Beddy's offer all-in-one sheet/comforter combinations similar to a sleeping bag that make the process easier as well. If you don't find bedding that goes with your décor, quilts are a good option, as they are smaller and thinner, reducing the amount of fabric to stuff around bunk bed edges.
Once you transition your multiples to bunk beds, enjoy the additional space! It's a total game changer!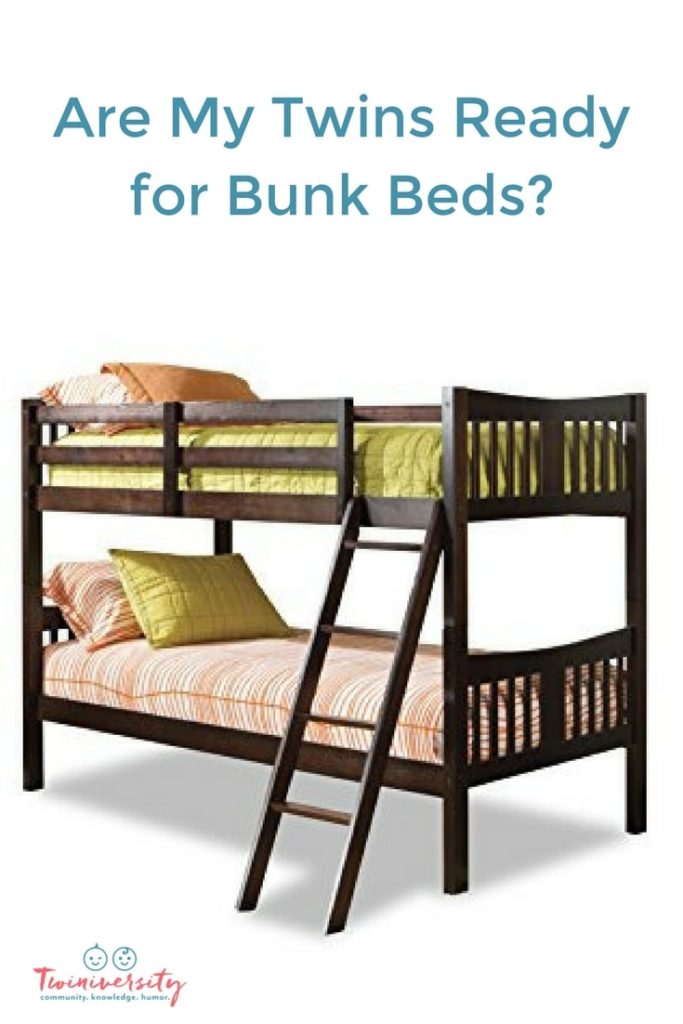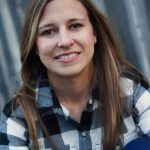 Amber Shawver and her husband, George, are the proud parents of girl-boy-girl-boy quadruplets who debuted in 2012. In an effort to maintain professional skills and a stitch of sanity, Amber continues to practice school psychology part-time. She finds that her professional training and experience are often handy managing the quads at home. In her spare time, Amber chronicles life raising quadruplets on her blog, Four to Adore. You'll also find Four to Adore on Facebook, Twitter, and Pinterest. For articles by Amber on Twiniversity, click here.