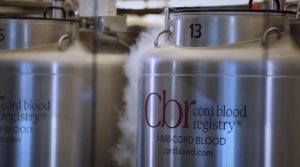 CBR (Cord Blood Registry) announces a new program for expectant parents, the Newborn Possibilities Program®.
Hospitals around the country have partnered with CBR® to offer cord blood and cord tissue processing and up to five years of storage at no cost for babies who meet certain criteria through CBR's Newborn Possibilities Program. Many hospitals are now seeing the amazing benefits of banking and and CBR now offers a program to give your babies better opportunities for a healthy future.
Who qualifies for free banking?
Any expectant parent who has been treated or diagnosed with any of the listed diseases included in the Newborn Possibilities Program. (Listed here)
How will my babies benefit from the Newborn Possibilities Program?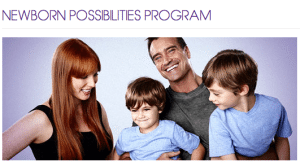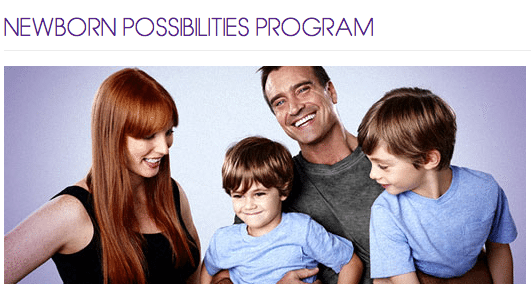 CBR and hospitals around the US offer this program to ensure the availability of your baby's stem cells as a potential treatment option if your babies ever need them in the future. For example, CBR participates in several clinical trials that are exploring the use of stem cells for treating various medical conditions.
What do I need to do next?
If you wish to apply to the CBR Newborn Possibilities Program, you will need to complete the top portion of the Data Collection Sheet in the CBR CellAdvantage®
Newborn Stem Cell Collection Kit and follow the shipping instructions on the outside of the box. Once your Collection Kit has arrived at the CBR lab, a representative will contact you to complete the steps to qualify for the program and answer any additional questions you may have.
About Cord Blood and Cord Tissue
What is cord blood?
Cord blood is the blood that remains in your newborn's umbilical cord after birth. It contains valuable stem cells that can be used in a variety of medical treatments. Stem cells are the body's building blocks for organ tissue, blood, and the immune system.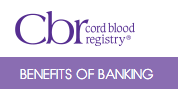 What is cord blood used for?
Cord blood stem cells are used to treat many life-threatening diseases, such as leukemia and other cancers. Cord blood is also showing potential in research to treat conditions that have no cure today. For example, doctors are evaluating the use of a child's own cord blood stem cells in experimental treatments for brain injury, juvenile diabetes, cerebral palsy, and acquired hearing loss.
What is cord tissue and how is it different than cord blood?
Stem cells found in cord tissue—which are different than those found in cord blood—may help repair the body in different ways. Cord tissue stem cells are currently being evaluated in laboratory studies as possible therapies for various conditions, including heart disease, spinal cord injury, and cartilage injury.
About Cord Blood Registry
Cord Blood Registry is the world's largest and most experienced stem cell bank, with more than 15 years of banking experience. CBR has stored cord blood and tissue for more than 400,000 children. CBR has also helped more clients use their cord blood stem cells in treatments than any other family bank. CBR's research and development efforts are focused on helping leading clinical researchers advance stem cell medicine that may help families in the future.
How can I contact CBR if I want more information?
CBR's Cord Blood Education Specialists are happy to provide you with additional information. You may reach Eva, a twin specialist at CBR (Ebreder@Cordblood.com) 800-588-6377 press 1 then ext #367