Are you baby bath seat shopping? Stop what you're doing and read this!
What is the best bath seat for a baby?
Who knew there were so many options for baby bath seats? When your baby has outgrown the sink, baby bath, or (in many twin cases) the laundry basket, it's time to move to a baby bath seat. There are several companies on the market that make a baby bath chair, but today we are going to look at two.
Summer Infant has come out with a new baby bath seat called My Bath Seat (LINK TO BUY), which has many features, and they were generous enough to send us a seat to test out. Armed with 1 baby bath seat I decided to take it upon myself to find something else for my other twin, which brought me to find two Keter bath ring seats on the twin resale market. Let the battle of the baby bath seats begin! All opinions are my own and photos are of my own twinnies.
The set up
So here is how I set up the baby bath seats. I measured out the baby bath seats and put one down, marked where it ended, and then did the same on the other side. Admittedly, I did not initially think that two My Bath Seats could actually fit in the tub at one side. But with careful maneuvering and a bit of a tight fit, I believe two could fit simultaneously. Also, I have read from other twin moms that they removed the back arm of the Summer Infant seat to fit two in the same tub, but I feel that affects the integrity and safety of the seat.
As a twin parent, I totally know we sometimes have to improvise to get what we need and what works for our family. Something to note is that I have an old porcelain tub that is standard sized. A non-stick tub is not recommended by the manufacturers.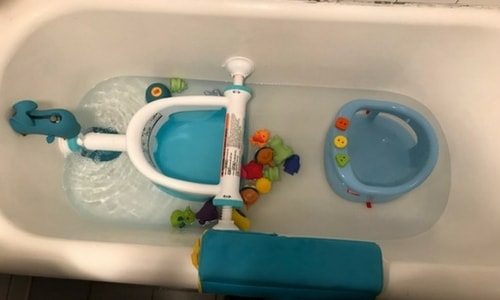 Baby Bath Seat: Round 1
My Bath Seat by the drain and the faucet. Keter (CLICK TO BUY) is on the opposite side. The first thing I noticed was that you need to follow the numbering system on the My Bath Seat or else you are not going to get it stuck to the sides properly. The instructions are very easy to follow. It was a bit strange maneuvering it in with the faucet and drain, but it was very sturdy.
The Keter baby bath seat was smaller and fit nicely in the other side of the tub. There are little toys on the Keter that my boys are fascinated with. The My Bath Seat was grounded down and prevented the fellas from twisting and turning around. The Keter they have a bit of movement which allowed them to see more around the tub.
Round 1 to Keter.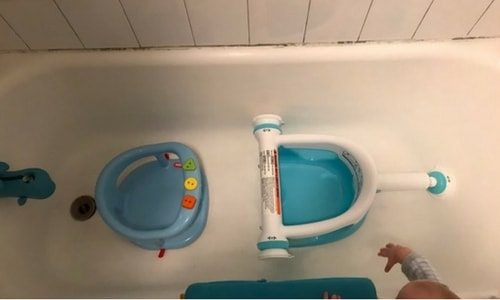 Baby Bath Seat: Round 2
My Bath Seat in the back and Keter by the faucet. This was tight! Because of how far the My Bath Seat came into the middle, and not wanting to put the other fella over the drain, the kids were leg to leg in these baby bath seats. Still, the My Bath Seat was very sturdy and the fella close to the faucet could totally reach around and try to twist his little self out.
Round 2 to My Bath Seat.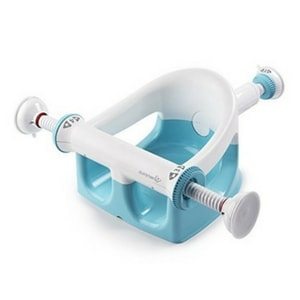 Final Round and Tie Breaker: The Stats
My Bath Seat
5 – 10 mo., no weight limit listed
360-degree support
3 arms to attach to the tub
JPMA Certified
Can be a little difficult to install
Keter Baby Bath Seat
7 – 16 mo., or up to 28.6 lbs

Simple design
4 suction cups at the bottom
Push the seat down and pull tabs to release suction cups.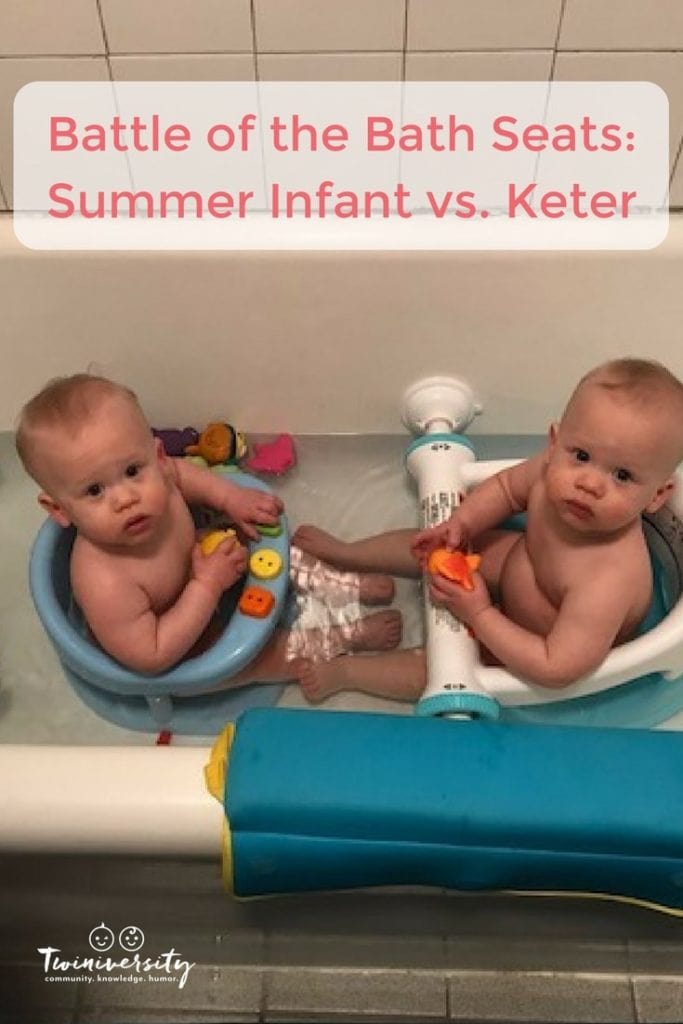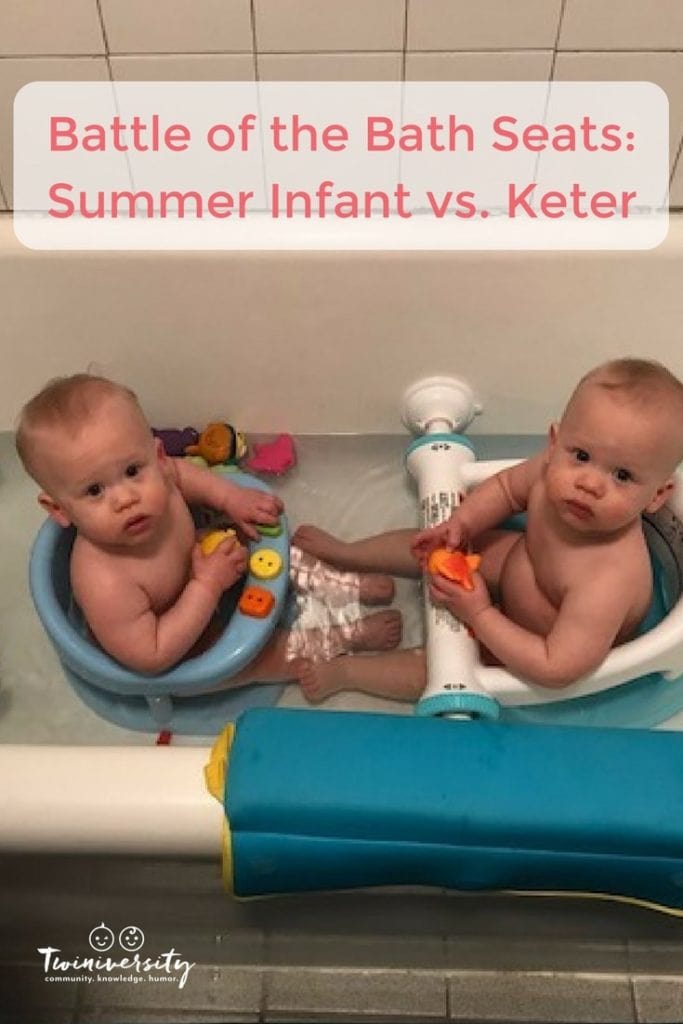 After all of my testing, I am calling this battle a draw. I think the My Bath Seat is great, but I do not necessarily think it is great for our twinnies. It is really a tight fit and to put two baby bath chairs in the tub at once I would have to compromise the design of the seat. The Keter is also great. It's compact and simple. If you are in the market for a baby bath seat, you can feel good about putting your twinnies in either product and know that they are safe and secure while you have bath time fun. And why not buy one of each to have some variety?
What age can baby use bath seat?
Most bath seats are not recommended until your baby can sit up independently, starting around six months of age. You should always be with your baby and paying careful attention to them while they are using their bath seat.
Are bath seats safe for babies?
The U.S. Consumer Product Safety Commission no longer recommends baby bath seats. That's due to the easy ability of children to slip out of them or tip them over, which often will cause babies to be trapped with their heads under water since they're still strapped in and cannot sit up. The straps, suction cups and seat features give parents a false sense of security, which is the real danger of a baby bath seat.
Nancy Cowles of Kids in Danger explains, "You've got a baby in the tub in one of these seats, and you have a toddler who suddenly screams from the next room. If your baby is just lying in the tub, your instinct is going to be to grab the baby and take her with you. But if your baby is in one of these contraptions, your instinct is going to be, she'll be fine for the second or two that I leave to see what's wrong with my toddler. And that's when we end up in trouble. If they are left alone in these bath seats, even for a few seconds, they could tip, and the seat would hold the baby underwater."
Again, you should never use a bath seat unless you are planning to sit there and watch your child the entire time.
How do you bathe a baby while sitting?
Very carefully! LOL! But seriously, it's very difficult to bathe a baby while sitting — probably impossible. You need to be up on a tall kneel to really get in there and do a good job of washing, even with a baby bath seat. I recommending buying a step-up bathroom stool to sit on while bathing your babies. This stool will come in handy later on once they are ready to start brushing their teeth at the sink and washing their hands.
Jenifer Roth is a busy, busy mom to 1-year-old identical twin boys Jase and Evan, full-time High School driver ed teacher, and full-time finder of random information to help others! When not running around from work to home to errands she enjoys working on her blog, making piles of stuff and just hanging with her family! Trying to find the work-life balance has been a journey of its own but push on she must! You can read her blog here!
---
Related Articles
Can I Give My Twins a Bath Together?