Last updated on September 30th, 2021 at 10:19 am
Bed rest, NICU, and love: that's how we got though it and are a happy family with healthy and playful two year old twin boys.
When I was pregnant with my precious twin boys, it got complicated at week 24. My cervix was dilated about 5-7mm. The doctor told me that I had to go to the hospital right away. I was floored and beyond upset, I could not lose them. We were devastated.
The next day, after getting both shots of betamethasone in for the boys' lungs, I woke up to being in labor and not knowing it. The hospital staff was thankfully able to stop the contractions. I was sent home home on bedrest five days later. I was only allowed to go from the bed to the couch with one shower a day (not to exceed ten minutes), and to my weekly doctor appointments. I was given weekly goals, but our main goal was to ideally to make to 32 weeks. We took it one week at a time.
There is no rhyme or reason for bed rest or knowing when/if it will come about. It is something that needs to be managed together. You may feel helpless, but keeping the babies in for as long as possible is a great accomplishment! I was fortunate to have a wonderful husband who helped us though this trying time.
For Dads-to-be, there are three simple tips to to help your partner though this time.
1. She needs to be heard, it does not matter if it makes no sense to you. Let her share her vent about the emotions she is having.
2. She needs to be held when she cries.
3. She needs to be held when she is scared.
Yes, it is as simple as that.
For the MoM's-to-be, you will need to find ways to pass the time and keep your spirits up. A few things I did to keep busy was: got a subscription to Netflix, converted paper files to paperless, scanned pictures, watched movies and rested. I had my days where it was boring, upsetting, and felt like I was missing out on so much. But I had to remember my greater purpose at that moment was to keep my babies in. Bed rest is what you make of it. Take it one week, day, hour at a time. Whatever it takes, keep positive.
I went into labor at 32 weeks and two days. I'd already had 2 months of issues and we asked all of the doctors (including NICU) what would give me the safest delivery and the most control for them. With all the conditions considered, the answer was a c-section, and I elected to take that route.
So with the next phase upon us, the boys were delivered (in the same minute). They were both alive and, for the most part, well — just early and little, weighing in at 3 lbs, 13 oz and 4 lbs, 11 oz. They spent three weeks in the NICU; it was time for their bed rest.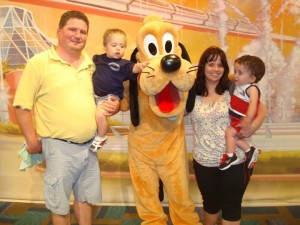 My emotions were complicated. Truth be told, I had to get past the fact I "failed to keep them in longer." I wanted everything simply perfect, but it was not in the cards for us. My husband is a realist and was elated that we even made our goal. It got better after I was able to hold one of my sons when he was four days old. It was complicated since he was on a c-pap machine to help him breathe, but it was great to finally be able to hold one of my babies. I also made sure that I was as involved as I could be with my babies and soon my emotions went from "failing to keep them in longer" to, "Can we take them home yet?" This made a world of difference for my emotions. It takes time to let the feelings pass.
My husband and I are medically trained, however nothing prepares you for having sick babies in the NICU. The noises, the families, and the babies — and oh, how small they are. But we soon realized that we were not alone in this. As you get familiar with your surroundings and get to know some of the babies sharing this precious place with your babies, you realize two things: it could have been worse and with time things get better.
You learn a wealth of knowledge while you are in the NICU. Though the nurses will know your children better than you for a time, they are great at offering help and guidance so that you can learn what your children need in their special circumstances. They helped us learn how to do bath time and feedings and much, much more!
You may feel isolated since they limit visitors into the NICU. But remember the rules are there for good reason. Your children are considered critical patients; you are in close quarters with other families' critical patients. You really don't want a bunch of people in an out around your baby who may not understand the seriousness of the situation. Make sure to get out some so you don't lose touch with the outside world. You need that outside connection and time to recharge. Make sure you take care of yourself and get enough to eat and rest. Being in the NICU is exhausting, especially if you are recovering from surgery yourself. Make sure you balance your time and energy.
When the boys were discharged they had nine doctors that followed up on them; we are down to three now. They have had minimal problems after graduating from the NICU with a couple bumps along the way with asthma. Early intervention is very helpful to make sure they catch up and develop on target. Remember that as they develop that they will do things at their own pace. One may walk when he is one and the other when he is two. It's easy to compare them, and it's only natural to do so. Remember they are individuals, but also talk to your pediatrician if you are worried about a delay.
Now, we are a happy family of four. We had to fight for them, and it was an uphill battle and no short of a miracle, but we would not trade these boys for anything.
Written by Vicki Philipp