Daylight savings time is a blessing and a curse. As adults, we love the extra sunlight hours. We leave work and it is still bright out. We can take the twins to the beach or the park for a last-minute activity before dinner. Dinner can be outside on the patio while the twins run around the backyard with their pup-pup.
This blessing turns into a potential curse when we realize that our twins may not understand that it is bedtime when the sun is still up. Explaining this concept to them can be a real challenge. "But the sun is still awake, Mommy," is a comment I hear often from my two. My response, "I understand, but it is time to get ready for bed because the sun goes to sleep very fast."
The key to success is routine, routine, routine!
The first step, your twins will associate bedtime with their daily schedule. We eat dinner as a family between 5:30 and 6:00 pm. This is the beginning of our evening routine. After dinner, the twins march down the hall to prepare for bath time. Clothes in the hamper, take daily inhalers, and into the bath they go.
Bath time should be a relaxing time. Toys, sometimes bubbles, maybe a little lavender Epsom salt, soft music in the background. Whatever you need to do to help them understand that they are working towards the end goal – bedtime.
After the bath, they brush and floss their teeth, get a little saline up the nose, brush hair, and put on their pajamas. We have bins filled with pajamas so that the twins can pick out their choice for the night. Letting them feel like they are active participants in the routine, not just following Mommy and Daddy's instructions, is also a way to get them to buy into the nighttime activity structure.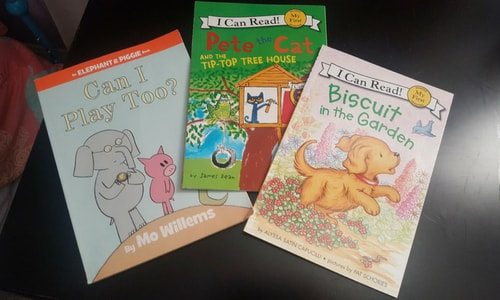 Once everyone is settled, the twins head to the bookshelf to pick out a few books to read. Since starting Kindergarten this year, the author Mo Willems has become a huge favorite in our household. Because the rest of the house is still sunny, we do reading time in the twins' bedroom. Here are some tricks to set the bedtime mood:
Get blackout, room darkening curtains – we have blackout curtains over plantation shutters, so that there is a double barrier to keep the light out.
Turn off any bright lights – we have a nice lamp with soft lighting that we keep on so that we can see the books to read.
Make a comfortable spot to sit on the floor – I sit against their big dresser and let them sit on my lap or on each side of me. They wrap themselves in a comfy blanket and hold their favorite lovey stuffed animal.
After reading time, everyone goes potty one more time, then climbs into bed. The lamp goes off, the night light takes its place, and the sound machine begins to play ocean waves. As everyone gets tucked into bed, I sit on the floor and sing a few of their favorite songs – "You Are My Sunshine" (no pun intended!) and "Mommy's Girl", a song my Mom used to sing to me.
As the twins drift off to sleep, in their darkened, peaceful bedroom, they no longer realize that the sun is still awake! It's 7:30 pm and everyone is fast asleep.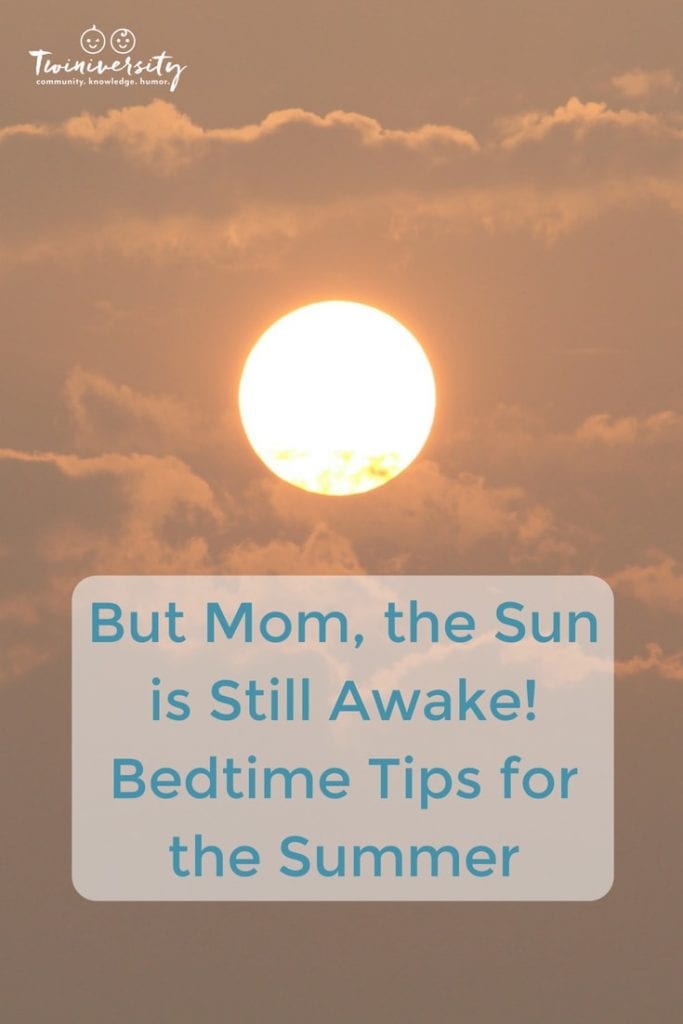 Twiniversity tips to help at bedtime:
Get a digital clock with an illuminated background for their bedroom to help teach your kids the appropriate time for bed, no matter how dark or light it is outside.
String Christmas lights around their bedroom ceiling as a really cool "night light" that casts a soft glow around the entire room (this is especially helpful for kids who are scared of the dark). Buy a remote control electrical outlet switch so you don't have to bend over to plug in and out the lights twice a day.
Cuddle toys that illuminate the room and play music help ease the transition to sleep (check out the Cloud B Tranquil Turtle)
A sound machine or soft music really helps to calm kids of all ages at bedtime. Get one that plays a variety of sounds because your kids will change their preference as the years go on.
Wear them out! The summer sun and the outdoors typically take care of this, but your more stubborn kiddos may need an extra nudge. A big dance party or race around the yard about 30 minutes before bed will help exhaust them enough to not even notice the sun is still up!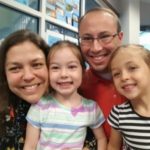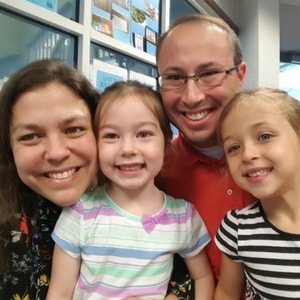 Amanda Foster is the mom to 5-year-old fraternal twin girls. After practicing law in New Jersey for many years, she and her husband moved to South Florida in 2010, so that she could transition from full-time attorney and adjunct law professor to full-time law professor at a law school in sunny Fort Lauderdale. Now she spends her time juggling her law students, twins, husband of 12 years, and Goldendoodle puppy while stealing moments away at the beach to recharge. She calls it sun therapy!
---
Related Articles
Sleep Routines From Birth Through Early Childhood
Sleep Regressions: Why They Happen and How To Get Through It