I love to support and I enjoy helping others. However, when you are a parent of multiples (I actually have twins and a singleton) selling 60 candy bars (actually 90, because you know — THREE kids), 40 raffle tickets for T-ball (actually 80, TWINS), and a $20 donation ($60 for us) to go toward the gift basket that will be raffled off with the tickets you just sold, it can sometimes be a bit too much! How do you handle fundraising for twins (or more)?
When it was only my singleton, I would only commit to whatever I could cover in the unfortunate event that we couldn't sell all the items. This is not an option with three kids. I would need a second job, and possibly insulin, to cover the MINIMUMS in school, sports, and extracurricular fundraising.
Fundraising for twins kids es no bueno! It's different from the days of kids walking door to door selling Tootsie Roll banks or coupon books. The grandparents, aunties, and uncles are usually willing to pitch in a few bucks, but I fear this resource may run dry due to the amount of monetary support and frequency my children are asking for. I used my social media lifeline this time, but I can't do this to my "friends'' every four months when my kids start a new sport.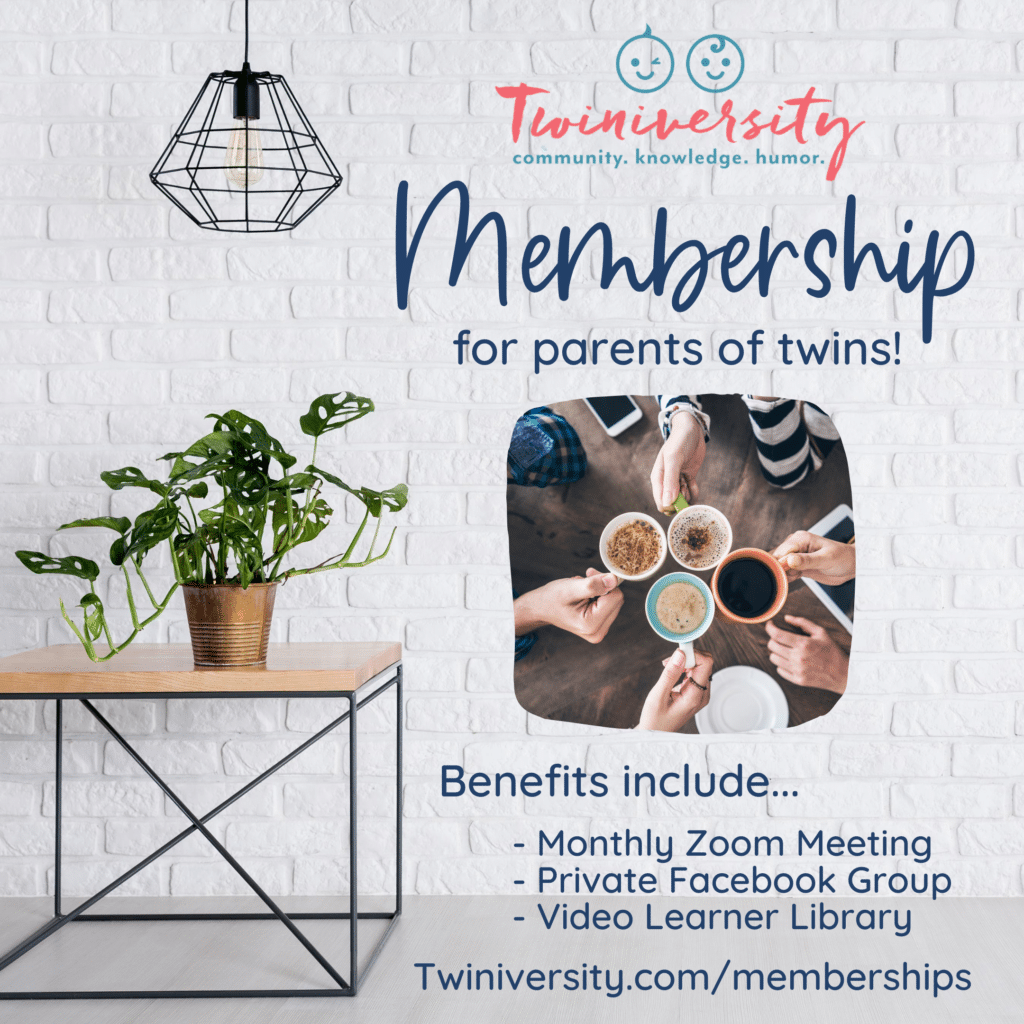 Need some twin parent friends? Get the support you need with a Twiniversity Membership. Benefits include a monthly twin parent club meeting on Zoom, access to a private Facebook group just for twin parents, and a video library of twin parenting lessons. Visit Twiniversity.com/membership to join today!
I've had to get creative and think outside my comfort bubble. Here are some ideas I've actually used, have supported others with, or just think are genius!
Effective but Standard fundraising for twins
Road-Side Stand Fundraising
Think small-scale stand: lemonade, not produce. Cuteness sells, and little kids, especially twin little kids are cute. It's amazing how many people want to support when it is little kids doing the selling. This is a great idea when you need to sell a specific item: chocolate bars, cookies, popcorn. This also works best with merchandise the buyer takes with them immediately.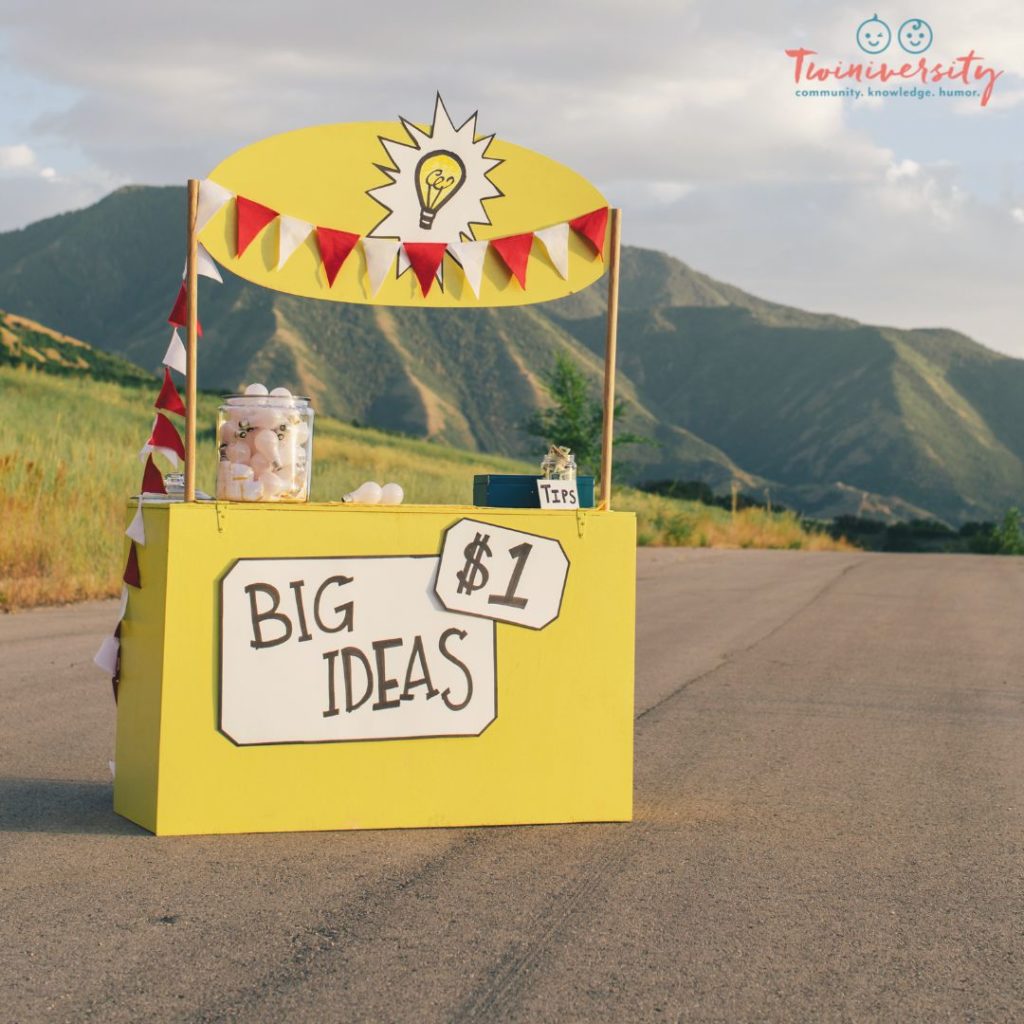 Last year our elementary school's spring fundraiser was Krispy Kreme Doughnut BOGO coupons. I bought one and then used my two dozen doughnuts to sell the remaining coupons. My three kids set up their donut stand, and when someone stopped and purchased a BOGO coupon, they got a donut for the road.
Remember, it is always best to accompany your children and keep a watchful eye, but stay back and let them do the work!
Farmers' Markets/Parades/Gatherings
Areas with a lot of foot traffic work really well for fundraising. Think of this as the new door-to-door sales from our childhood, but instead of going door-to-door, they go from booth-to-booth. If there is an occasional farmers' market, parade or really any social gathering in your community, you can take advantage of this and peddle your candy bars, popcorn, or whatever your current fundraiser might be.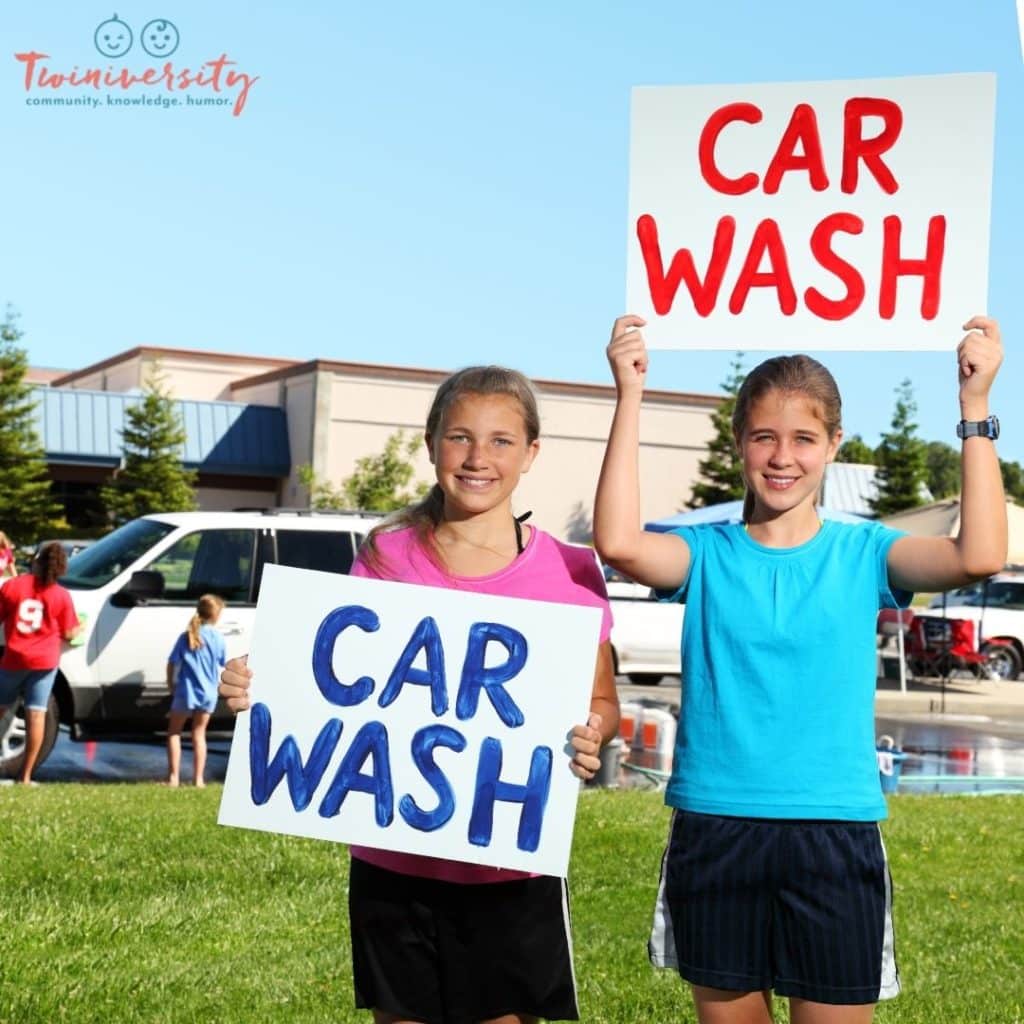 Social Media Fundraising for Your Twins
This is the place for pledges, sign-ups, and raffle tickets! This is the fastest way to reach hundreds of friends and family. Although an effective and quick method to fundraise, the more you rely solely on this method, the fewer results you will get.
I would reserve this method for an annual fundraising event you know you will need a lot of help with. This is my baseball/softball raffle ticket method of choice. The raffle tickets are usually only $1 each, and I will post this with an adorable picture of my kids in their uniforms holding their mitts. You can post your Venmo QR code for payments and just let social media handle the hard work.
If my initial post is successful, I'll say "thank you for your support" with another post. Sometimes it takes multiple posts, but don't overdo it. I will usually do a second post a few days before the fundraiser ends for a final push.
Unusual and Creative Fundraising for Twins
DIY Raffle
Create your own raffle and sell tickets. When my daughter was in competition dance, a fellow dance mom used to do this every fall to pay for her daughter's comp fees. It was genius! She would reach out to local breweries, wineries, and distilleries to get donations, plus family members would pitch in a bottle here and there.
Once she had a good collection, she would put it in a basket, take a picture and upload it to her Facebook page. Raffle tickets were $5 each or 5 for $20. I don't know how much she actually made off of this raffle, but I do know her she covered her daughter's dance fees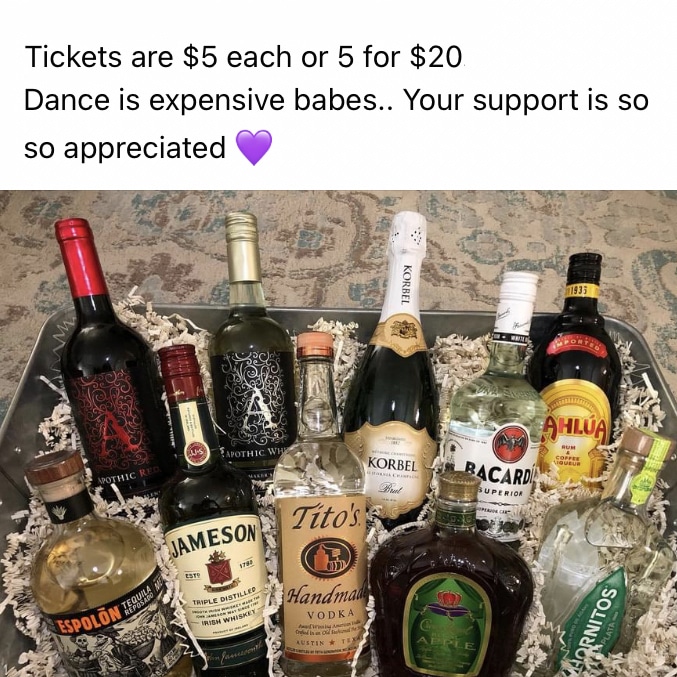 The key to a successful raffle is finding something worth bidding on. So ask yourself, is this something a lot of people like and would be willing to bid on?
50-50 Raffle
A 50-50 raffle is a great option for funding participation fees. Sometimes we twin moms need some assistance when trying to cover the $600.00 sports fee ($300 when you have one child participating). Most sports don't offer a BOGO when it comes to twins (or more).
A 50-50 raffle simply involves the sale of raffle tickets with the proceeds being split evenly between the winner and your organization. It is one of the simplest and easiest fundraisers you can do. All you need is one or more ticket sellers. Raffle tickets normally sell for $1 each. Using a price incentive ( 3 for $2 or 5 for $4) for multiple tickets can increase your total sales and build a larger 'pot'.
People are always happy with a chance to win a cash prize. It's usually easy to get people to spend a little bit of money, just a buck or a few bucks when they have a chance to win quite a bit more. The best part, you don't have to prepare an item for auction!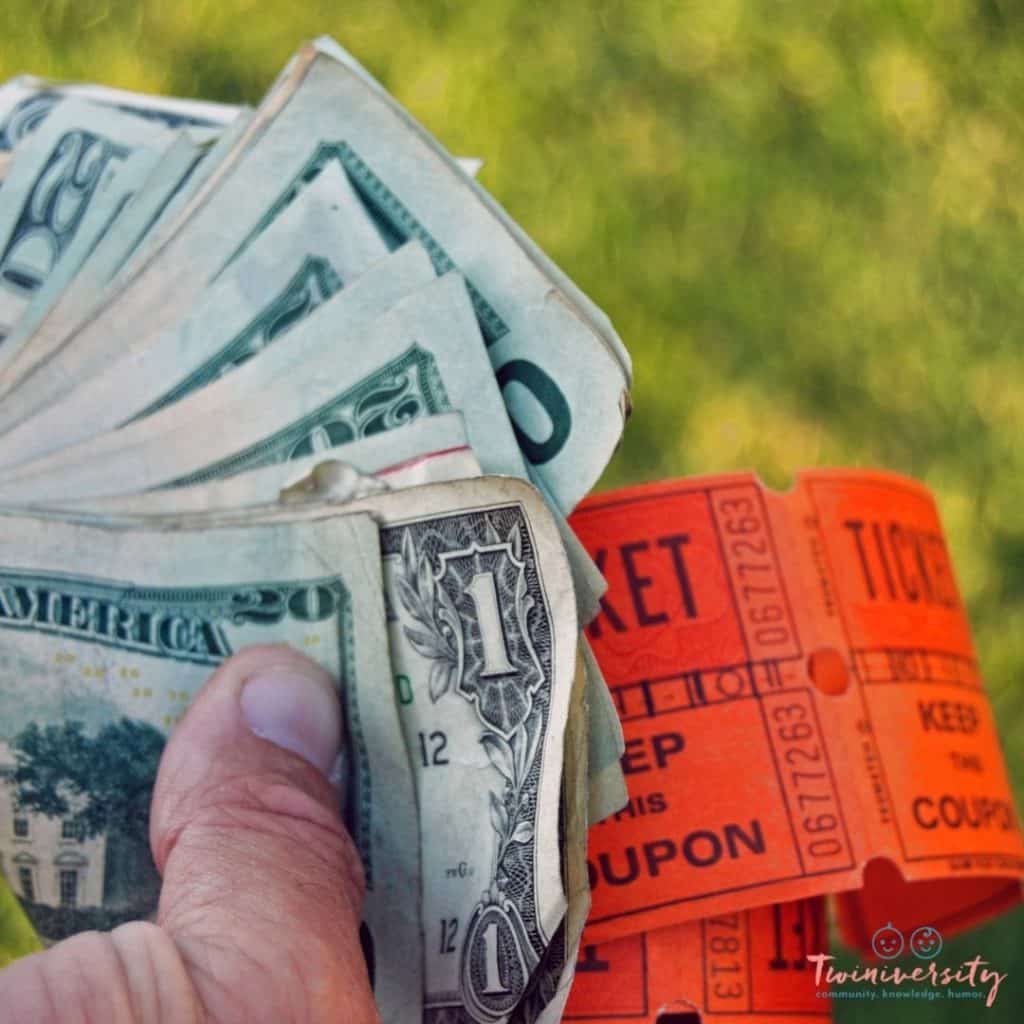 Opt-out Fundraiser
Another great idea when fundraising for twins is his fundraiser an Opt-out fundraiser. This kind of fundraiser was made for every busy mom. This is your chance to just write the check and be left alone for the rest of the year.
An Opt-out fundraiser is donation based, but with a twist! By giving a donation, you will not be asked to participate in another fundraiser for the rest of the year!
Here's an Example:
This fundraiser was done by an Alabama high school. A letter was sent home to parents, explaining that fundraisers would be run a little differently this year. Parents were given three "opt-out" options for the new school year:
I love this school and am happy to help, so here's $15.
I am so busy (or lazy) and wouldn't have responded to any phone calls, emails, or sign-up lists all year. Please enjoy my $25 donation.
Here's $50 or more to forget my name and my face, and not ask for anything else all year!
If my kids brought a flyer like this home from school, I would be delighted! And, honestly, my response would probably change from year to year!
You can easily adapt this into a personal fundraiser. The best part, 100% of the donations go right to the cause!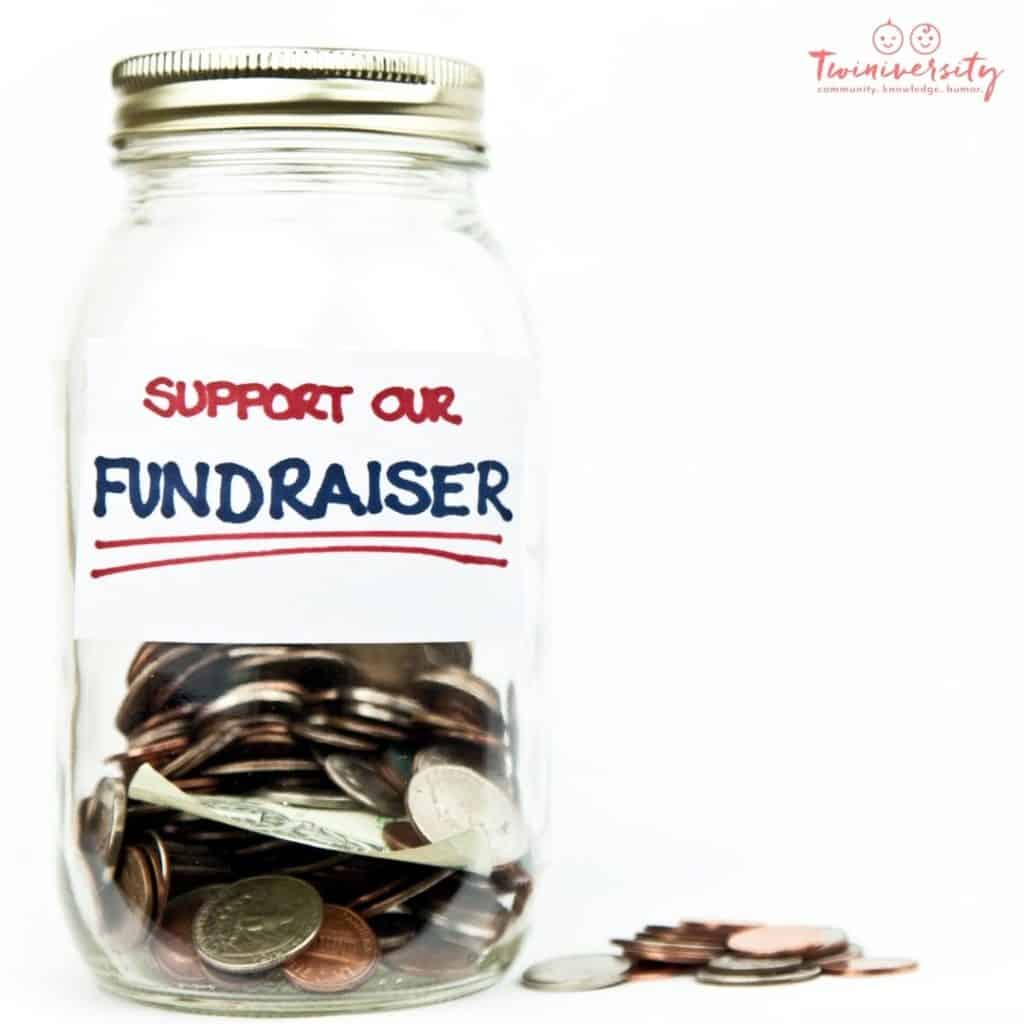 Fundraising for twins is hard. I feel terrible asking people close to me to buy overpriced stuff as a "favor" for my kid. I need to save my favors up for when I really need them. Next time the kids come home with the box of candy bars to sell, skip paying for the whole box yourself and try one of these fundraising methods!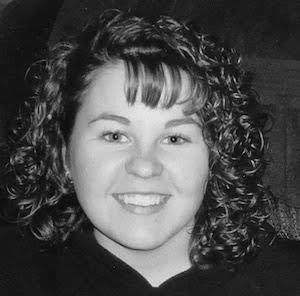 Latest Twiniversity Articles