Last updated on September 30th, 2021 at 10:15 am
There has always been a fuzzy line when it comes to the holidays for me and my interfaith marriage. I am Jewish and I celebrate Hanukkah. While my husband is not religious, his family celebrates Christmas and so does he. So ever since we've been a couple, we've celebrated both holidays with little problem. The biggest problem we've come across is that the two holidays will sometimes overlap, but the great thing about Hanukkah is that it lasts for 8 days so you can be flexible on scheduling a big family get-together to celebrate it. It's actually worked out great that we don't have to split time between our two families on Christmas Eve and Christmas Day.
Enter twins. My 2-year-old sons are Jewish. My husband is very supportive of my faith and — while he's not converting any time soon — he is very supportive of our children being Jewish. (I am very lucky. I do not take that for granted for a second!) And now that the boys are getting older and are starting to notice elements of the holiday season, I'm suddenly becoming aware that this is something I have to think about! It was always so easy for me to just celebrate in my own way, with as little or much effort as I felt like that particular year. If I left the menorah in the basement to collect more dust because I didn't realize it was Hanukkah until the 3rd night, that was my prerogative. But now that they're at the age where we're starting to create "traditions!" (think Fiddler-on-the-Roof exclamation on that word!) I need to actually think about what I want those traditions to be.
First off — my gut instinct is to nix the Elf on the Shelf. #1 – I'm too lazy. #2 – It's too much. We've already got two holidays to celebrate at once; I really don't want add more stress to the mix. (Ditto to the Mensch on the Bench.)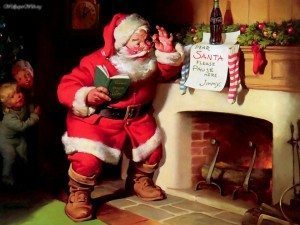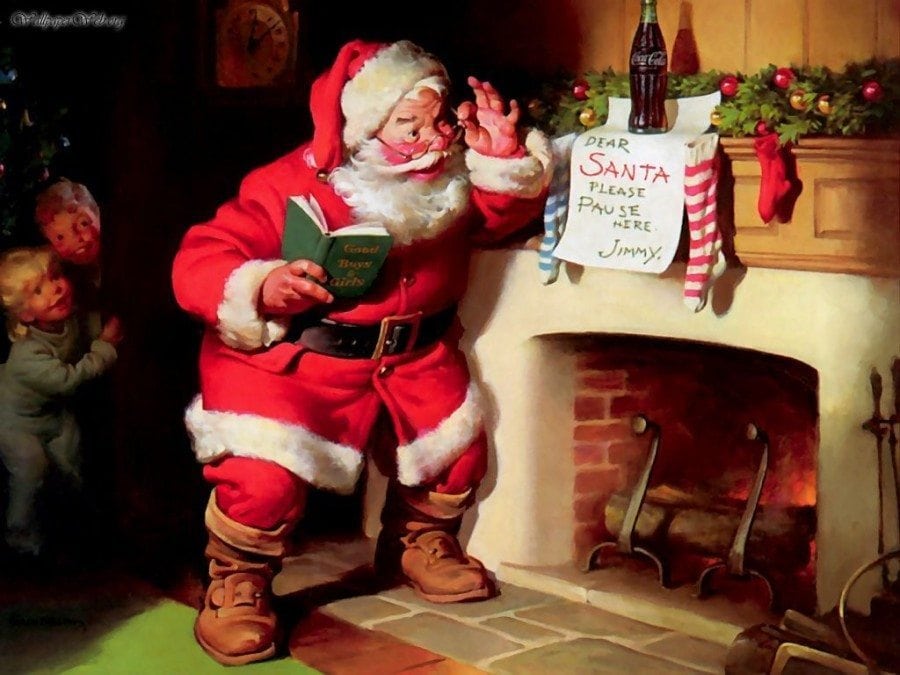 The next item of business — the decor. We will definitely have a Christmas tree. This is pretty much the main source of joy for my husband at the holidays and without a tree he would be really upset. Through the years I haven't been that pumped about the tree, but this year I feel differently. It's the first year they are really starting to "get it" about Christmas and I want them to enjoy the magic that the tree brings to the season. I'm also very pro-Hanukkah decorations ON the tree. We already have a dreydl ornament and I want to make more Jewish crafts with the boys to incorporate into the tree. Maybe some Star of David ornaments made out of popsicle sticks and glue? Or some blue and silver ribbon to wrap around the boughs? It may sound silly, but I want to do whatever I can to try to meld our traditions together to make the season more special for all of us. We will also display Christmas stockings on the mantle and talk about Santa. My stocking (gifted by a friend years ago) has a Hawaiian theme and I think it very well suits my personality. Right now the boys have identical basic blue and white stockings that I picked up at Walgreens last year, but I want to keep an eye out for more personalized stockings to suit their personalities.
Now for the Hanukkah decor. I really need to beef it up in this area. Hanukkah really doesn't hold a candle (har har) to Christmas when it comes to decor. But I will definitely be prominently displaying my gorgeous menorah on the mantle, front and center. I am making a point of it to light the candles and say the blessings every night this year! I would really like to add some Hanukkah decor to the mantle — maybe I can find a blue & white garland?
What about gifts? My husband's family is really into lots of gifts at Christmas. My Jewish family has always done larger gifts for the kids for the first 2-3 nights and then tapered off until the gifts resemble a Hanukkah pencil by the 8th night. For now, we're going to open our gifts for the boys on Christmas morning at our house. The kids are still little so I'm not going crazy with the gifts this year — just some toys for "pretend play" that a therapist recommended we get for them anyway. The boys will get Hanukkah gifts from their Jewish grandparents at the family Hanukkah party, so I feel that some cheapo Dollar Store toys and simply lighting the candles every night at our house will still make it fun. We'll also try out the dredyl game with them at the party and see if they are physically capable of spinning the dredyl at this point (with 2-year-old fine motor skills, I'm not optimistic about that!)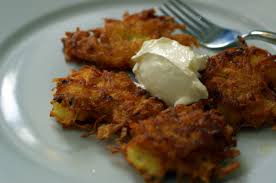 And finally, the FOOD! I'll be leaving the traditional Christmas dinner to my mother in law, but I will attempt to make and decorate cookies with the boys. That's an easy way to blend traditions. We can make Santas, dredyls, reindeer, and Stars of David. I bought white frosting and we can add whatever combinations of colors to the top! And of course, what is Hanukkah without latkes (potato pancakes)??? My mom has always prided herself in her latkes — which will we gorge on at her party this weekend — but I want to make some of my own with the boys. Manischewitz latke mix to the rescue! This is a great appetizer for all faiths and I highly recommend that you try it out even if you're not Jewish. Make sure to serve sour cream and applesauce on the side with it. I'm not sure who decided on applesauce as a topping, but it's really good, trust me!
OK, I'm feeling really good about all this now, aren't you? The boys are still little enough that I don't have to worry about explaining the details of Santa and the Maccabees just yet, but I can start blending our family traditions that really make the holidays special. I feel like the more traditions we can share from each family, the more special this time of year will become. For our family, it's not so important the reasons why we are celebrating, but how we celebrate. I want both Christmas and Hanukkah to be equally important and equally fun for our kids. It's going to take some extra planning…. but hey, I'm a mom of twins. I'm up for the challenge!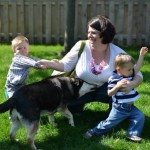 Julie Burt Nichols, Twiniversity MoM Squad