Written by: Kerrie Mendoza
My husband and I love to travel, whether it is a flight far away or a just a short road trip, travel is one of our favorite things to do. Since the twins were born our planning for travel has changed quite a bit. Pre-twins we often used websites that allowed you to 'bid' on hotel rooms. We loved this as we got to stay in top hotels for less. However, that kind of hotel booking really does not work with infants or toddlers. Now we look for a number of key things when booking a hotel.
Do they have cribs available? Are they guaranteed?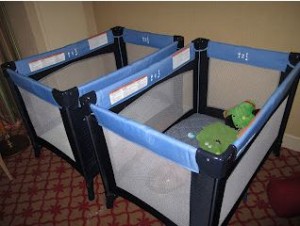 This is crucial, unless you wish to travel with two pack n' plays everywhere you go or prefer co-sleeping. One thing we have found is that many hotels do not guarantee cribs, instead they say that cribs are 'first come, first served.' I can tell you that arriving at a hotel at 11pm with two crying infants this policy does NOT work! It is imperative that the cribs are there, that they are set up in the room and there are two of them.
Is there a fridge in the room? And a microwave?
If you are at the stage that you are using bottles, or have children that prefer warm milk a microwave is helpful to heat up water to sit the bottle in to warm up their drink. For everyone, a fridge is a must. Successful travelling with children requires that you stick to patterns of home. Having the things they love in the fridge is essential for us. Most hotels list whether or not these amenities are available in their rooms. When in doubt, call.
Is children's TV programming available?
Since my boys started watching TV making sure that there is children's programming is something we prefer. If we are packing, showering or doing anything that requires our boys to be occupied quietly for a few moments TV is essential. We have found that often the hotels carry only a cartoon channel aimed at children much older than our boys. I don't feel comfortable having the boys watching this but have found hotels often have TV episodes you can purchase from other children's programming channels.
Not all hotel rooms are created the same. Some have lots of room, and others maximize the space available seemingly cramming every piece of furniture into a tiny space. Making sure there is room for your children to play is essential. The hotel room will be your home base while travelling and therefore needs to be comfortable for everyone. When we can, we book a room at an all-suite hotel to ensure that we have extra room and my partner and I can stay up later than the boys bedtime. Having a separate bedroom allows us to watch a movie, read, or plan for the next day without fear of waking the boys up.
My best advice is to call the hotel directly. Talk to someone at the front desk and ensure that the room has all the things you want and need for a wonderful family vacation. Some websites make it seem like they have all the amenities available but once you arrive you find out they are in very limited quantities. Once you know you have everything you need, you can begin to plan your family getaway. And remember, travel is always an adventure. Enjoy every moment.
Thanks Kerri for your tips. Here are some tips from other moms of twins about staying in hotels:
"We bring a our pack and play from home for 1 twin and request a crib/pack and play for the other twin" Samantha L.
"We have a Netflix account and this makes it easy for kids to watch their regular programs in the room via smart phone, smart pad or laptop." -Jill M.
"We warmed bottles up in hot water from the sink. It worked great."- Vicki
"We made sure we had a suite and used the pack n plays. We didn't need night time bottles, but in the morning my husband just went down to the continental breakfast and got hot water there." – Amanda P.
"We get a suite with more than one sleeping space, and a kitchenette if possible." -Stephanie H.
"The portable plug in bottle warmers work too if you are in standard hotel room!" – Kathleen E.
You can read more from Kerrie at her blog familyfoodtravel.blogspot.ca