Did you know that according to the Centers for Disease Control and Prevention, we lose 24,000 babies to stillbirth every year in America? Statistically, that means 1 out of every 167 pregnancies ends in stillbirth. For African American moms, that number is even more alarming – 1 in 94. That is why the Count the Kicks project was "born". Healthy Birth Day, Inc., a non-profit organization dedicated to the prevention of stillbirth and infant death, created the project and launched it initially in Iowa. Iowa went from 33rd worst stillbirth rate to 3rd lowest in the country. They created the Count the Kicks app to help women around the country track baby's movements daily during the third trimester of pregnancy.
No one knows your body better than you even when you are pregnant. Counting your babies kicks is important because a change in movement in the third trimester is often the earliest sign of distress in a baby. When moms know what is normal for their baby, then they are more alert to potential red flags. Yes, it is harder to track twin pregnancies but by the 3rd trimester, you have a pretty good idea of which one is punching your rib cage and which one is kicking your bladder. The Count the Kicks app will help you track and notice any changes in their movement.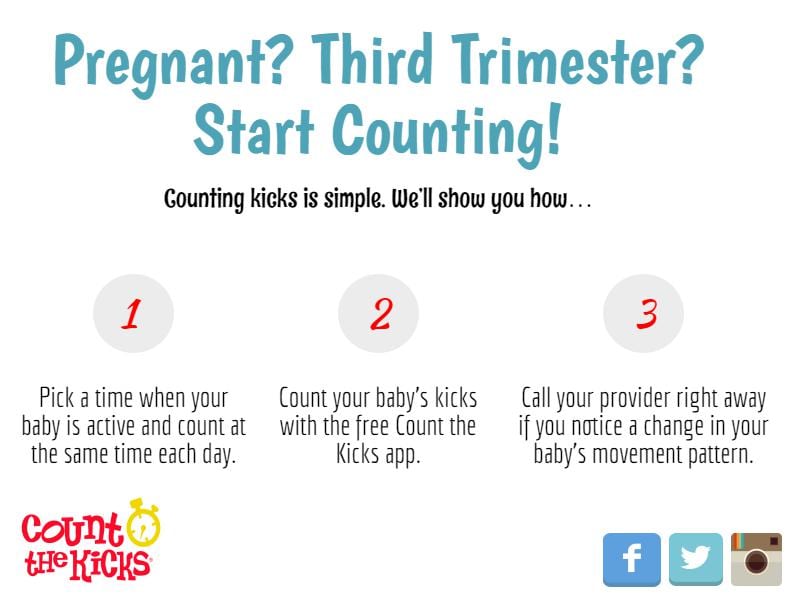 How do I use the app?
Download the app on iTunes or Google Play
Many doctors recommend kick counting as a way to monitor your baby's health in the third trimester. For twins, the American Congress of Obstetricians and Gynecologists suggest starting to track their movement beginning at 26 weeks of pregnancy. Scientific studies indicate kick counting, a daily record of a baby's movements (kicks, rolls, punches, jabs) during the third trimester, is an easy, free and reliable way to monitor a baby's well-being in addition to regular prenatal visits.
How to count the kicks for TWINS:
Download the FREE Count the Kicks app.
Count the Kicks for twins every day, preferably at the same time.
Pick your time based on when your babies are usually active.
To get started, sit with your feet up or lie on your side. When you register on the app, it will ask if you would like to count for single babies or twins. When you choose twins, the kick counting session will include two buttons — one button counts the movements of Baby A and one button counts for Baby B. Count each of your babies' movements as one kick and tap the app buttons (they look like baby feet) until you reach ten movements for each baby. After a few days, you will begin to see a pattern for your babies (how long it takes them to get to 10 movements).
Most of the time it will take less than a half hour, but it could take as long as two hours. Doctors believe most moms can differentiate between Baby A and Baby B, but if you have questions on this, always feel free to ask your doctor.
Save your kick counting sessions in the app to see your babies' movement history.
Knowing what is a normal movement pattern for your babies is key. When "normal" changes, this could be a sign of potential problems and an indication to call your provider.
Your kick counting history can be useful for visits with your provider.
The app will record the amount of time it took to get 10 movements for your babies, or you can log your times into a downloadable Count the Kicks chart.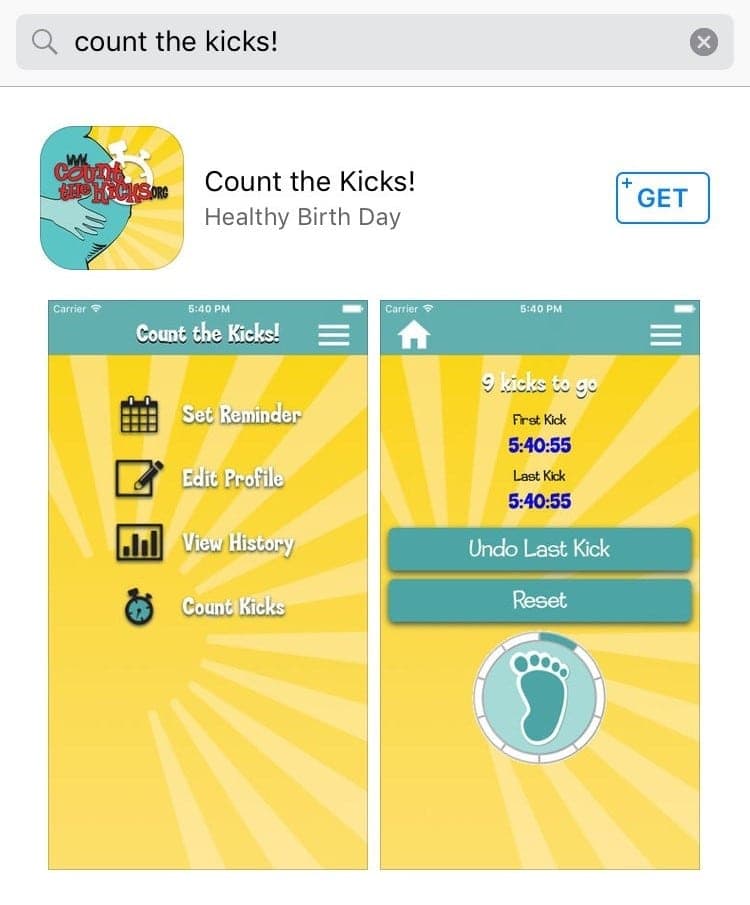 Don't forget!
Every pregnancy and every baby is different.

The most important thing is to count your babies' kicks every day so you will know what is normal for each baby. For example, if you normally count 10 movements

within 30 minutes

and then you notice that it is taking two hours to record 10 movements that is a change in your baby's movement pattern.
Babies don't run out of room.

Babies do not slow down at the end of pregnancy. While they may run out of room for somersaults, babies move all the way up to and during labor.
Don't hesitate to contact your provider or go to the hospital if you notice a change.

If you notice a change in what is normal for your babies, contact your provider immediately. Your provider will want to hear from you with any concerns during your pregnancy. Trust your instincts!
For more info on kick counting…

Got twins? Us too! The Twiniversity Podcast with Natalie Diaz is created by parents of twins FOR parents of twins, from expecting times through the teenage years and everything in between. This podcast is all about parenting twins, offering plenty of tips, parenting hacks, and of course, humor. Just know that we are laughing WITH you every step of the way.
---

Are you looking to connect with an experienced parent of multiples who has been in your shoes? Do you want to feel supported, guided, and heard as a new parent of multiples*?
Or, do you love offering advice and tips to new parents of multiples*? Would you love to support, guide and listen to a soon-to-be or new parent the way you wish someone was there for you?
If you said, "YES!" to any of those questions, then the Twiniversity Parent-to-Parent Mentorship Program is perfect for YOU!
We are looking for parents of multiples from around the globe who want to be matched up with a parent mentor, or who want to BE a parent mentor. We'll be matching up moms with moms and dads with dads from all over the world to get personal support in this crazy life of multiples parenting!! All you have to do is complete a simple application form and we'll do the matchmaking! And the best part? The program is totally FREE! There are no fees to take part in this program.
---

The rate of twin births has risen 79 percent over the last three decades, and continues to increase. A mom of fraternal twins and a national guru on having two, Natalie Diaz launched Twiniversity, a supportive website with advice from the twin-trenches.
What to Do When You're Having Two is the definitive how-to guide to parenting twins, covering how to make a Birth Plan checklist, sticking to one sleep schedule, managing double-duty breastfeeding, stocking up on all the necessary gear, building one-on-one relationships with each child, and more.
Accessible and informative, What to Do When You're Having Two is the must-have manual for all parents of twins.