Save money, time, and keep your family safe by learning how to cut hair at home for kids and adults. Includes a helpful list of products you'll need to start cutting your family's haircuts at home.
If you want to learn how to cut hair at home we have compiled a great list of products you'll need to order and video tutorials you'll want to watch to get ready. Cutting hair for kids is really not as hard as it seems, as long as you can keep your child occupied and sitting still. That means CANDY! Be sure to order their favorite candy as a reward and have a tablet or a movie ready to keep them occupied.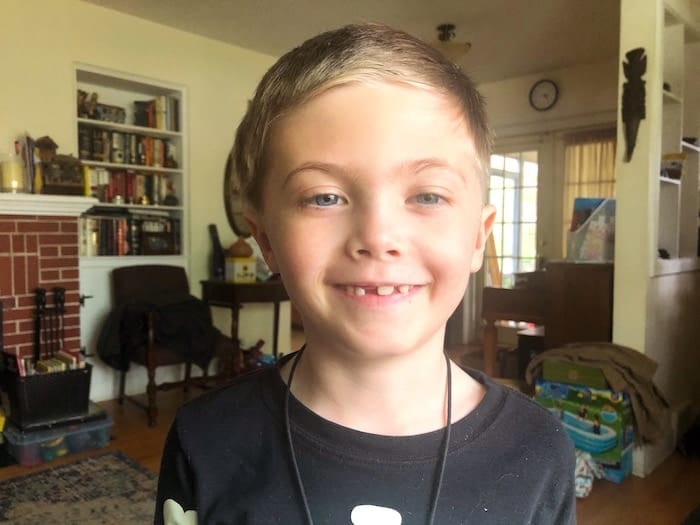 Tips on how to cut hair at home
The key to cutting hair at home is that less is more! Start slow and only cut a small amount at a time. Remember, you can always cut more but you can't get a do-over (at least not for 4-6 weeks, LOL!) But that's the nice thing about hair — it grows back. Start with your least vain child and don't try anything crazy. The simpler the better. Just a trim is ideal! You'll learn a lot just from practicing.
When you use clippers, start with a higher level guide comb if you're unsure how much you want to take off. Only use 2.0 mm or less if you want a really short buzz.
Get a good chair with a low back or a stool and place it in your home where there's no rugs or carpet. In the kitchen or a large bathroom is ideal. Outside on the lawn is even better! Have a dustpan and broom ready and keep the dog out because they will try to eat all the hair (ew!)
Now you're ready to try your first home haircut! But what about all the stuff you need?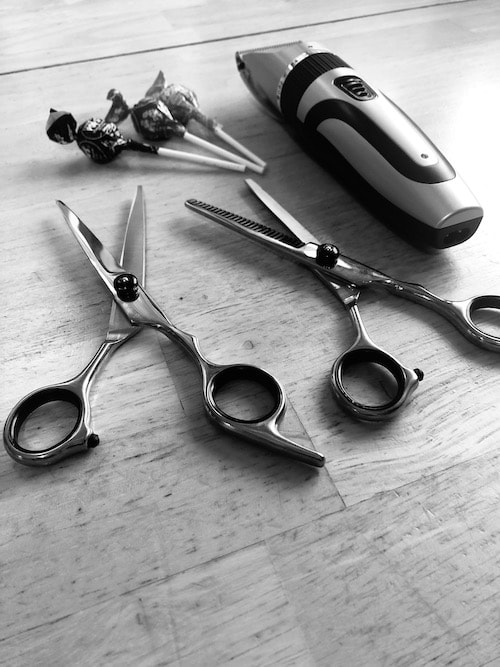 What to buy to cut hair at home
If you have absolutely nothing at your home to cut hair with, buying a few kits will get you everything you need.
Clippers (buy on Amazon) – You'll want a good set of clippers for buzz cuts or for cleaning up the hairline on a short cut. Just don't go too cheap on the clippers ($40 is a good price point.) Make sure the clippers' speed and trim length are adjustable to several levels — ideally .8 mm, 1.2 mm, 1.4 mm, 1.8 mm, and 2.0 mm, and it should include guide combs for 3mm, 6mm, 8mm, and 12mm. If you have very young kids you might want to choose one that has low vibration and low noise. Also get one that's battery powered (without a cord). This one comes with a cape, a comb, a neck duster, and oil.
Hair Cutting Kit (buy on Amazon) – A hair cutting kit includes pretty much everything you need for cutting hair that's long or short. This one includes hair cutting scissors, thinning shears, hair razor comb, clips, dressing hair comb, barber cape, and a hair sweep brush.
If you already have some items at home to cut hair, make sure you've got all of these too…
Note: Due to COVID-19, some of these products may be on backorder so pay close attention to delivery date estimates before you check out.
Cutting Shears & Thinning Shears combo (buy on Amazon) – Cutting shears are essential for cutting and styling hair. Thinning shears are nice-to-have but not required. They are great for thinning out really thick, short hair when you want to remove bulk to make it feel lighter.
Cutting Shears (buy on Amazon)
Thinning Shears (buy on Amazon)
Comb (buy on Amazon)
Neck duster (buy on Amazon)
Hair Cutting Cape – this one catches the hair! (buy on Amazon)
Another Hair Cutting Cape (buy on Amazon)
Hair Clips for sectioning longer hair (buy on Amazon)
Lollipops – these are really yummy and organic (buy on Amazon)
Spray bottle (buy on Amazon)
Video tutorials on how to cut hair at home
After you've watched the home haircut videos above and feel like you know the basics of how to cut hair at home, it's time to take a deep breath, say a little prayer, and go for it! We wish you the best of luck and just keep reminding yourself — it always grows back!!!
You might want to read…