On September 1st my husband and I celebrated our five year anniversary. It was six years ago we had met. In that first year after meeting we got engaged, got pregnant, found out it was twins and then got married. We were married only a few short months before the twins were born and it's been complete chaos ever since. They say that if you make it to five years then you are out of the newlywed stage, though I think ours ended a long time ago. Or perhaps it has yet to begin. The divorce rate is too high as it is. A marriage with twins has a higher chance of divorce than those without mulitples. We have made it five years and plan on another fifty, and it wasn't even that hard. Here is how we survived five years of marriage with twins.
Have A Sense of Humor
The most important thing our marriage with twins has is a sense of humor and most of the time going with the flow. Going into our marriage I had already been a mom to my daughter for seven years, while my husband had no experience with children. What a surprise it was to introduce my husband to parenthood than with twins! I think that put us back on even ground. Even though I had more knowledge about raising a child, twins are a whole different story. I told my husband early on that it gets easier around age four; our twins are almost five and we see no end in sight! While things don't always get easier, they become a different kind of hard and we adjust accordingly.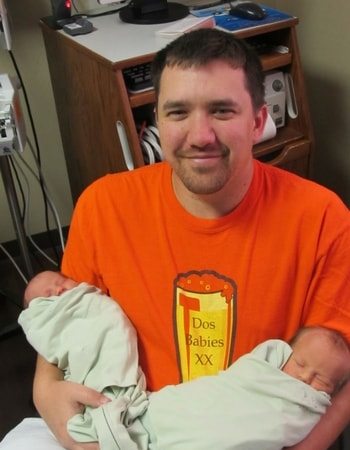 Compromise
I'll start off with the most important aspect of our happy marriage. And no, I'm not going to say intimacy, I'll get to that later. We don't argue, like pretty much ever. My husband is all about happy wife happy life so unless he completely disagrees I always get my way. I'm kidding!! Of course we disagree, but we also know compromising is important in a marriage wiht twins. I might not agree with his choices in TV shows, but they are not a deal breaker. A good marriage doesn't mean you have everything in common. In fact I believe it is better to learn new things from each other, as you grow as a couple.
We Don't Spend Every Waking Moment With One Another
Before we got married we both lived the single life for quite a while so we know what it's like to be alone and be able to enjoy our independence. With that, we don't feel like we need to smother each other or always do things together. Don't get me wrong, any chance of a date night with my hubby is desired but not always feasible. Luckily, my oldest daughter is of babysitting age so we may sneak and hour away here or there. And when we get the opportunity for a whole night away, that feels like we won the lottery. Those times are nice, but we also appreciate chances to do things apart from each other. My husband may play his video games or watch sports one night while I will go and binge a few episodes of my "girly" shows.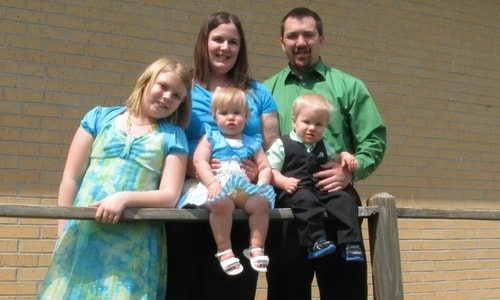 Understanding That Raising Twins Is Hard
Raising kids is hard, most parents can agree with that. Raising multiples are at whole different level of hard. Some days we are thankful to have survived the day and kept our kids alive and happy as well. At the end of the day we enjoy cracking open that beer and/or bottle of wine and toast ourselves to another day down and many thousands left to go. (I know we aren't the only ones who sometimes count down the days to when the kids move out; there are days like that). All jokes aside, our children bring a lot of joy to our lives, even if sometimes we may be too stressed out to see it. And while my husband may drive me a little crazy sometimes, it probably isn't nearly as much as the kids had done. So maybe that might be the key, the kids make us too tired to pick a fight with each other. Whatever works, right?
Intimacy
While this is an important part of a marriage, like I've said, it isn't everything. It doesn't make a marriage, but it can break it. There is a time and place for it and making time is important. This is something that has to be agreed upon by both spouses. Kids are exhausting and raising them is time consuming and stressful. Some days after being home all day with the kids all I want to do is go to bed (after my glass of wine of course). The great thing is how understanding my husband is, he doesn't push the issue if he knows I'm completely exhausted. I am lucky in that way.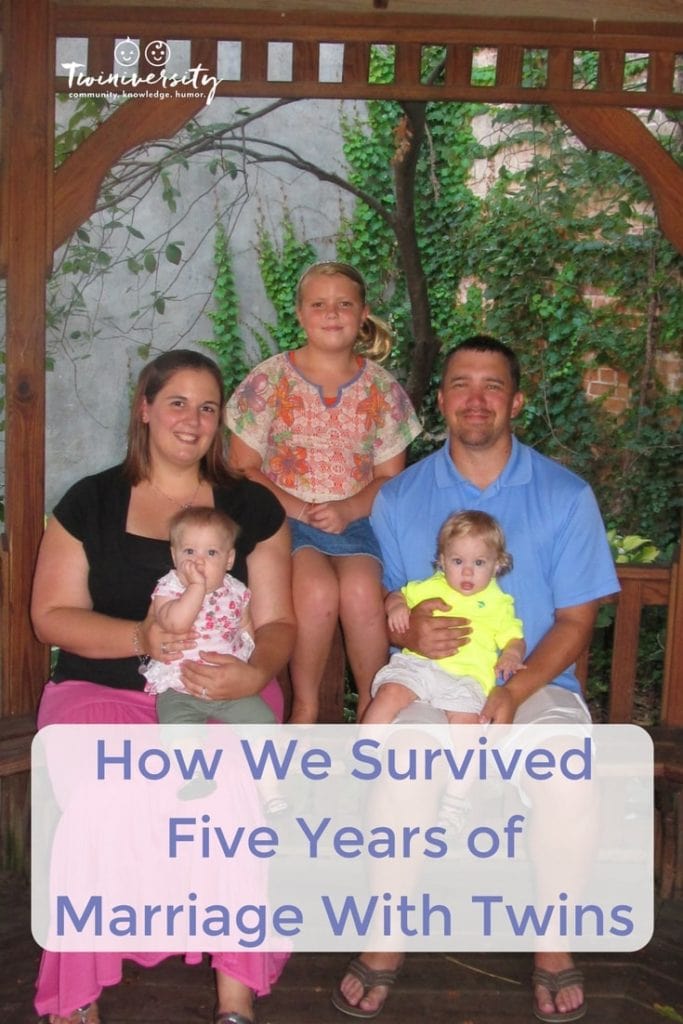 We both know that five years of marriage with twins is the beginning and we have the rest of our lives together, we don't have to do everything all at once. As it has been said before, it's not about the destination. It's the journey to get there that's the most fun, and I can't think of anyone else I would rather do that with.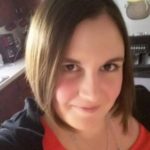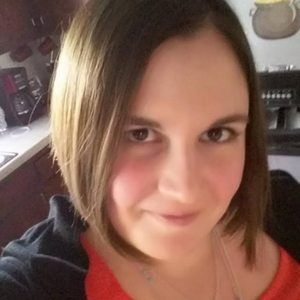 Marlana Zank is a stay-at-home mom to three kids, including an eleven year old daughter and four year old boy/girl twins. Let's not forgot her amazing husband and Luna, the newest four legged member to the family. Her hobbies include reading, Zumba at the local Y, and a crazy obsession to "Gilmore Girls", "Parenthood", and "Supernatural". Realistic hobbies include laundry, house cleaning, cooking for picky kids, and knowledge of all Disney and Nickelodeon.
---
Related Articles
Happy Wife, Happy Life: Supportig Your Wife In Marriage
Going Through A Divorce With Twins