Winter months can be tough on anyone. The days are short, the (oh-so-dark) nights are long, and bitter cold weather prevents little ones from being able to burn off their energy outdoors. For parents of multiples, those months quickly start to feel like years. The best way to counter the cold weather cabin-fever is to A. get out of the cabin, or B. turn your cabin into anything else.
Here's some ideas to get out of the house and keep little ones occupied:
1. Set up home playdates.
Get together with other moms and their twins in a home setting, which is a good idea for several reasons: it's free, it's a more controlled location, and there's less likelihood of your kids getting sick than going out in public. If you're like me and don't have a long list of fellow moms to reach out to on a freezing February morning, try reaching out to a local Moms of Multiples group. If there is not an organized group in your city or town, look for a similar group online. Facebook has more and more groups popping up for this very purpose and, strange as it may sound, there's an app for that! Apps like Peanut and Meetup allow moms and dads to find fellow parents with similar interests and children of similar ages.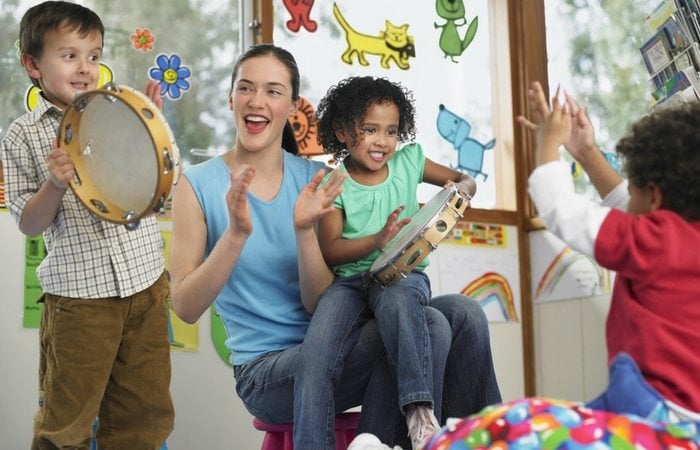 2. Take advantage of free programs that are held indoors.
Yes, yes, yes. Getting out the door with TWO little ones needing to be bundled in boots, hats, coats, gloves—the works—is cumbersome and annoying. But it's totally worth it when come nap-time your little ones are out cold and you know you've left the house for more than just newspaper retrieval. Local libraries and bookstores often host story time and provide other toys to keep kids occupied beyond the book reading. Follow your local park district and find out when they have free indoor kids concerts and winter festivals planned. Just make sure to keep that kid-safe hand sanitizer handy — use it early and often!
A "two-for-the-price-of-one" route to look into is health clubs that offer childcare while the parents get their sweat on. We moved into a new house shortly before our little ones were born and while the gym we had belonged to for many years was still close by, we decided to switch our membership to one that offered similar amenities plus the addition of a built-in babysitter. This gives your little ones a chance to branch out and play with other people while you spend some time working on whatever makes you happy (be it sweating it out on a treadmill or sitting in a sauna).
3. Bite the bullet and pay for some peace.
As previously noted: it probably takes three times as long for the three (or more) of you to get out of the house in the winter, but it pays off…even when you have to pay for the entertainment. Last winter when my little ones were on the cusp of learning to walk, but still very active crawlers, we got a three-month membership to an indoor kids gym. We sailed through the holiday season well enough, but when the stir-crazy feelings started to hit in early January, the warm, padded play area kept us sane. There were a number of options in our town when it came to indoor adventure, most offering different sorts of memberships. While my kids would have loved to continue the climbing, jumping, sliding and singing year-round, it was financially smarter for us to just get through the winter and save all that activity for the free playgrounds once spring rolled around. Now that my kids are approaching age two, we made the same move; this time opting for a membership to our science museum.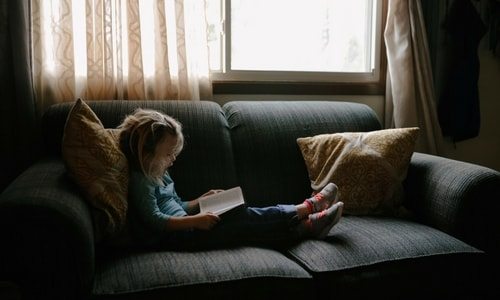 Often you'll run into days where the weather is too frightful to venture out of the house, the kids have colds, or you're just not feeling it. That's when parents need to get creative in the confines of their normally lovely and welcoming home. Here are a few that have worked well for our toddlers in the winter months:
1. Fort building.
I'm pretty sure any child from 4 months old up to 12 years old can find some excitement in fort making and dwelling. The very little ones love the peek-a-boo aspect, and the older kids love the feeling of their "own special space". My twins, almost two years old, like a little bit of all of it. Throwing a sheet over a table provides a pretty effortless yet equally entertaining space, and mixing various types of blankets over rearranged furniture makes fortresses with a little more clean up. Our toddlers start out with giggle inducing games of peek-a-boo/hide-and-seek before segueing into carrying in as many toys as they can juggle to play with in their new and secret space.
2. Arts and crafts
Many parents cringe at the thought of anything crafty coming out with kids under the age of five (ten?); myself included, until recently. My little ones have recently become obsessed with coloring, painting, and Play-Doh. And they are actually so excited at the concept of making art, that they seem to behave better while concentrating on their masterpieces than while destroying the playroom. In full disclosure though, our rule for arts and crafts time is that it takes place in their high chairs with their (now very colorful) trays attached. This helps keep the chaos and mess contained, while also letting their creative juices flow.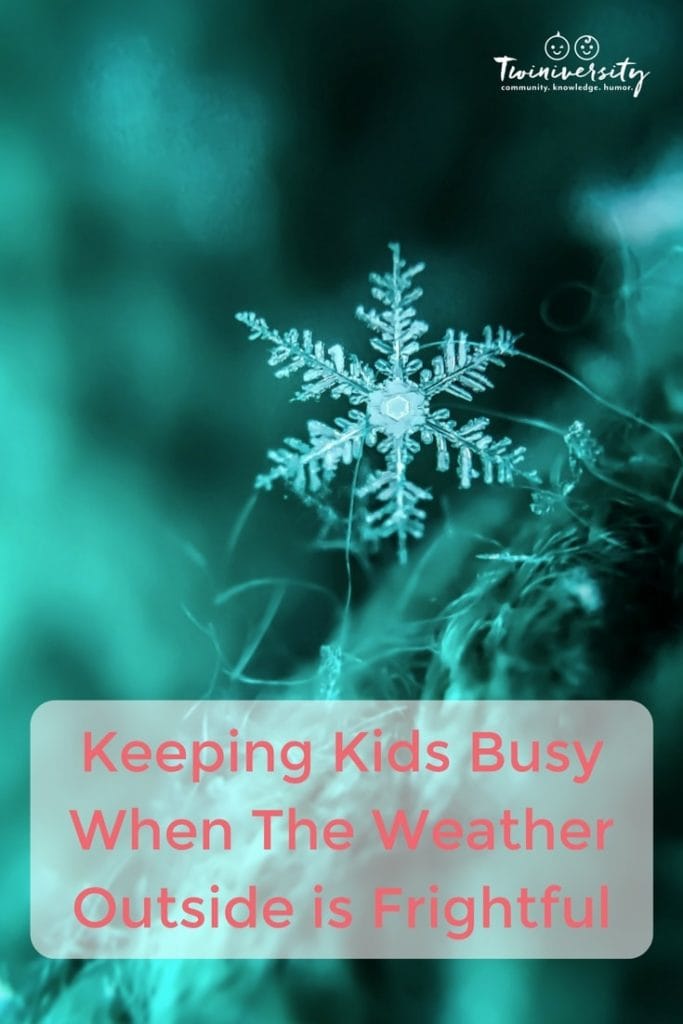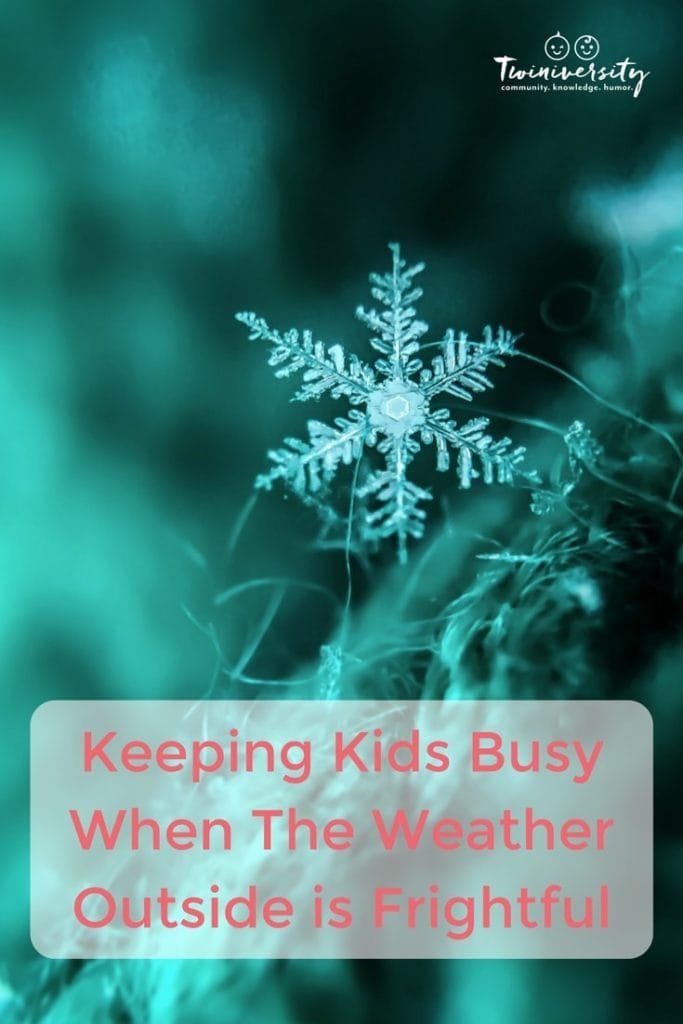 3. Household items
The only times that we've let the artists work outside of their special seats has been when an Amazon package brings a box large enough to contain the two of them. At that point, it becomes an indoor playground offering hours of fun. Similar to the forts, the little ones love playing peek-a-boo and other games in it, but they are tickled when they are allowed to use their crayons on the cardboard. They really get into drawing, and beg for mom and dad to do some decorating as well. But boxes aren't the only thing lying around the house that can create indoor fun. Even though many kids have their own kitchen toys, letting them play with pots and pans or Tupperware never fails to please. Filling Tupperware with different beans, rice, and pasta to see what music can be made is icing on the cake. And when you're feeling really adventurous, sensory bins are always a hit. Finally, bring out large bulk items that are safe for climbing on (like multi-packs of paper towels, toilet paper, etc.) and create a kids obstacle course around your living room!
Last but not least, don't ever feel bad for putting on a kids television program for a bit if it helps keep the peace during those cooped up days. There are so many great educational shows for little kids available, and in appropriate doses they can be a win-win for parents and kids to get through the frosty days of winter.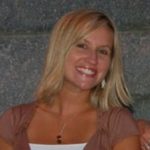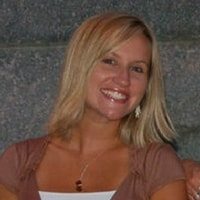 Katelyn Heindel is a communications manager-turned stay-at-home mom two 18-month-old twins. She lives in Richmond, Va with her husband, two monkeys (err, toddlers) and the world's weirdest cat.
---
Related Articles
6 Tips to Survive Winter Indoor With Your Kids
Fun and Functional Winter Gear Must Haves for Families