In the ultrasound room when my husband and I found out we were having twins, I was calm and my husband silently panicked. When our twins were born and we officially had four boys, my husband was planning his basketball team while I silently panicked about how we were going to afford to feed them all. At some point, we will have four teenage boys at the same time!
It didn't take long for me to figure out that I couldn't wing it when it came to meal times anymore. Four hungry kiddos who have to wait too long for dinner was not something we needed to add to our everyday chaos. Meal planning is the only way for our family!
Saving more than just your sanity
I meal plan for convenience because taking four young children to a restaurant multiple times a week is not pretty, but also for our budget and our health. Feeding our family of six is not cheap and planning our meals out allows us to buy certain things in bulk and freeze them for the month. We've also found that planning our meals and eating at home helps us make better food choices and eliminates the extra calories that come with take-out.
I plan out our meals each week, taking into account our weeknight schedule with sports practices and meetings. On those busy nights, I often put something in the slow cooker that can stay warm all evening if the older boys have to eat early before practice, or if one of us has to eat late after a meeting.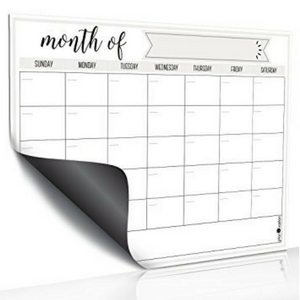 I write all our meals for the week on our dry-erase calendar in the kitchen so everyone knows what we are having for the week. In our house, 5:00 pm brings the chaos. My husband is getting home from work, the older kids are finishing homework and walking the tightrope toward "hangry" (hungry + angry) and it's just stressful. Meal planning gives me freedom from added stress about what we are having for dinner while dealing with the rest.
Minimize time at the grocery store
I'm going to be honest, I loathe the grocery store. Even more so with small kiddos who try to yank everything off the shelves or take packages of blueberries out of the cart and drop them onto the store floor. So I minimize grocery store trips with my boys as much as possible. When I plan meals ahead, I eliminate all the last minute grocery trips to get things to make for dinner that night.
One weekend a month, I make a trip to our warehouse club, Costco, to buy things in bulk that we eat a lot of: ground beef/turkey, chicken breasts, frozen fruit for smoothies, etc. and I portion it out and freeze it for the month. Once a month I also go to our local budget grocery store, Aldi, and stock up on things I know we always eat, like oatmeal, snacks for school, canned beans, ketchup, and taco shells. Then when I meal plan for the week, I usually only need fresh produce, perishables, and random items for the meals I planned. I order those few groceries at our local store online for pick up and no one has a meltdown inside the grocery store. It's a win for all of us!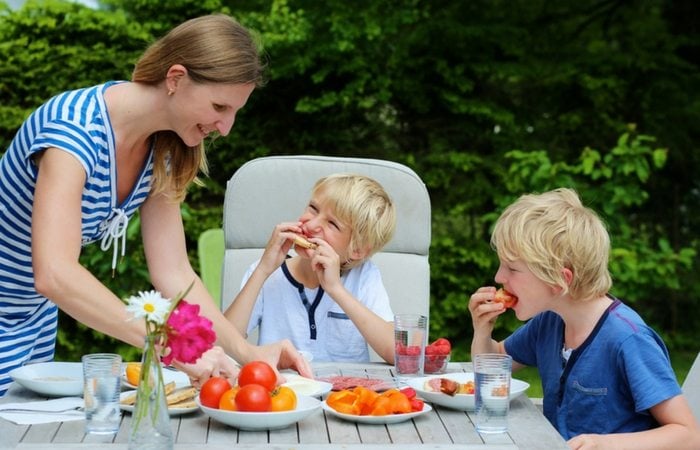 Favorite Meals to Make
I try to keep a running list of dinners we all like and when I plan meals I choose from that list and let the kids choose a couple for the week too. I love trying new recipes (on the weekends!) and am always looking for more favorites to add to our list.
Sometimes I struggle to come up with a variety of meals that everyone enjoys. My husband is one of those people that could eat the same thing practically every day and never get tired of it. I am the exact opposite – I need some variety! When we are getting bored with certain dinners, we try to spice up our menu by doing Meatless Mondays, Taco/Mexican Tuesdays, Sandwich Wednesdays, Italian Thursdays and Pizza Fridays. The kids love thinking of meals that fit those categories. I usually make one main dish for the family with a fruit and a veggie as a side. So even if someone "doesn't like" something, they have other things to choose from.
Recipe Ideas
These are some of my favorite food bloggers whose recipes we love and I go to when I need inspiration:
This recipe is one of our favorites because it's so versatile all our kids love it! Whenever I make this barbecued chicken, I make a ton so we can eat the leftovers later in the week for a different meal or freeze it for another week! We use this chicken in tacos here but we also love it on sandwiches, wraps, paninis, and barbecued chicken pizza.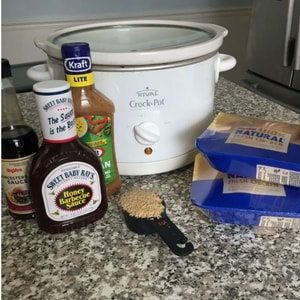 You need:
At least 1 pound of chicken (I usually use 3 or 4 so we have extra)
1 bottle of your favorite barbeque sauce
1/2 cup Italian dressing
2 tablespoons of Worcestershire sauce
1/4 cup of brown sugar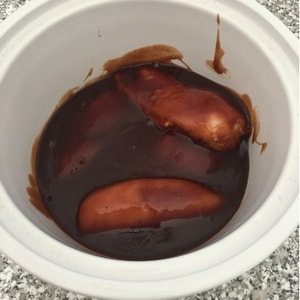 Place chicken in the slow cooker. Mix the rest of the ingredients together and pour over the chicken.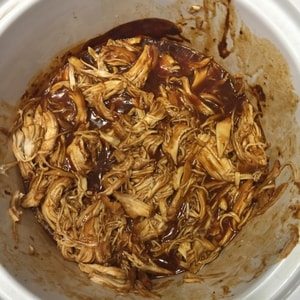 Cook on low 6-8 hours or on high for 3-4. Shred chicken and use in your favorite recipe.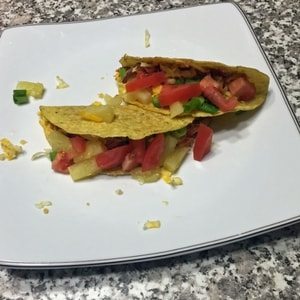 We put ours on taco shells with chopped green onions, pineapple, tomato and shredded Colby jack cheese.
While meal planning can seem very daunting at first, once you can test out and build up your stock recipes you'll find it a lot easier to rotate between the "hits" that everyone in the family really likes. Keep a log of the recipes that you make to determine what to chuck and what to keep in the rotation. When you find those perfect meals that everyone LOVES, hang on to it like gold! Create a list of family standards that you can pull from when you plan your week. Then you won't have to scramble last minute for meal ideas when you're walking out the door to the store.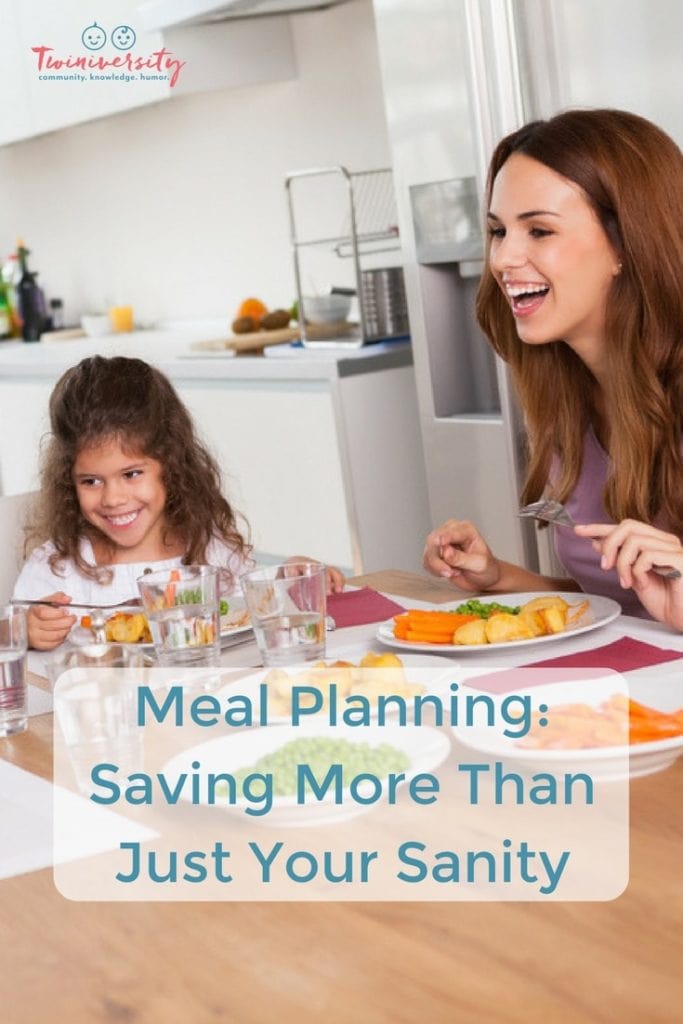 Twiniversity Tip: We highly recommend investing in an Instant Pot. This will allow you to cook slow cooker style meals in a fraction of the time, and it also has a slow cooker setting, giving you tons of flexibility as well as quick-cooking options.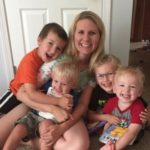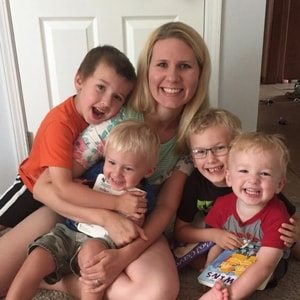 Amy Cook is a midwestern wife and mom to four boys ages 6, 4 and 2 year old fraternal twins. She has a degree in Biochemistry and worked in research for 8 years before becoming a SAHM when her twins were born. She loves to bake, design prints for her Etsy shop, and spend time with her family. She writes her personal blog, Loving Our Messy, to encourage new moms, share DIY renovations of their home and adventures as a boy mom. You can also find her on Instagram.