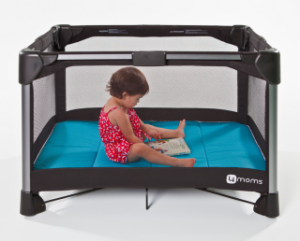 By Nancy A. Cowles, Executive Director of Kids in Danger
The question of where baby will sleep when traveling is complicated with twins – twice the gear to carry and twice the space needed to use and store! At KID, we get a lot of questions from moms of twins about new designs, play yards and safety. Hopefully we'll answer a lot of those in this article.
This is an issue near and dear to our hearts – KID was founded by parents whose son died in a recalled play yard. At that time there were no safety standards for these products and no safety testing. Play yards include any portable mesh product – sometimes known by a brand name, Pack n' Play.
In 2008 Congress passed and the President signed the Consumer Product Safety Improvement Act. A portion of that Act is named for KID's founders' son Danny Keysar and requires tough mandatory standards for nursery products such as cribs, strollers and play yards.
In June 2012, the US Consumer Product Safety Commission (CPSC) adopted the first mandatory standard on play yards. Danny's mom, Linda Ginzel, flew to DC to be present for this moment – the legacy of her son.
Beginning Feb. 28, 2013, manufacturers and importers of infant and toddler play yards are required to test their play yards to ensure that they meet new federal safety standards.
Play yards that meet the new safety standard must have:
• Side rails that do not form a sharp V when the product is folded. This prevents a child from strangling in the side rail.
• Stronger corner brackets to prevent sharp-edged cracks and to prevent a side-rail collapse.
• Sturdier mattress attachments to the play yard floor to prevent children from getting trapped or hurt.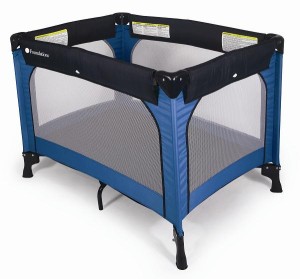 But older play yards, manufactured before that date, can still be sold, even if they don't meet the new standards. When choosing a product, ask the retailer or manufacturer if the product meets 16 CFR 1221, the federal rule or if it meets ASTM International standard F15-406-12a (the voluntary standard that forms the basis for the federal standard). You can also check the manufacture date – if it is after February 28, 2013, it has to meet the standard.
But sometimes new products show up on the market that don't fit the definition of a play yard even though they serve the same purpose. An example is the Peapod Travel Bed, a pop-up tent structure, but with a mattress and intended for sleeping. It was recalled in 2012 after one death and several near misses. This highlights a big problem: sleep products can still be sold, even if they don't meet any standards. While new designs might be tempting – smaller, more portable or lighter – it isn't safe to let your baby sleep in any untested product. Look for information that shows the product meets either the play yard standard or the bassinet standard for younger babies.
Lastly, no matter what the sleep space, keep it bare when you put your baby in it. Each year, CPSC receives reports of infant suffocation deaths. Some key causes of these deaths are the placement of pillows and thick quilts in a baby's sleeping space. Here's more information on how to put your baby to sleep safely.
There are many options for a travel crib for twins, but the safety of the product should be the first priority.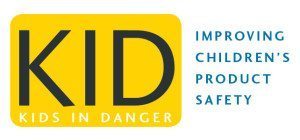 Nancy A. Cowles is executive director of Kids In Danger (KID), a nonprofit organization dedicated to protecting children by improving children's product safety. KID was founded in 1998 by the parents of Danny Keysar who was killed in a recalled portable crib. Nancy has three grown children and lives in Oak Park, IL.