With the winter season in full swing, Twiniversity reached out to a few of our car seat safety experts for advice on how to keep your kids safe in the car when it's cold out.
* * *
From Laura Nikolovska, Program Director, Kids in Danger
With the extra cold weather many parts of the country are experiencing, many parents and caregivers are asking how to buckle up their bundled up children safely.
Simply put, there is no safe way to have a child in any type of car seat with a coat on. There is just no way a child can be restrained properly with the extra bulk on their body. Don't believe us? Have your child wear a heavy coat and try and get them into the car seat as tight as possible. Then take the coat off and see how much slack is in the harness.
The best practice to follow for kids of all ages is to come out to warm up the car first then bring kids out with their coats on. Once they are in the warm car, take their coats off and buckle them in.
If kids want to keep their coats on while in the car, follow these guidelines for wearing coats safely in the car: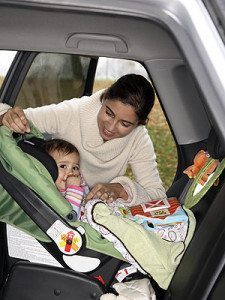 Infants: Can have a blanket tucked around their torso and under their arms to prevent them from pulling it up onto their faces (which could pose a suffocation hazard)
Older kids: Can put their coats back on backwards once they are buckled.
Remember that children often learn safety habits from their parents, so it's best to model the behavior you want to see from your children. The extra step to be safe might be a life saver.
Even with these precautions, a recalled or expired car seat won't protect your child. Check for recalls at recalls.gov and check the expiration date of the seat. For children's products outside the car such as strollers, high chairs or cribs, check at CPSC.gov for recalls. Or sign up for KID's monthly email alert which will include all recalls from the previous month.
Visit the Kids In Danger website at www.kidsindanger.org.
* * *
From The National Highway Traffic Safety Administration
Parents are encouraged to place the child in the restraint first, align the harness straps securely and then to cover the child with the blanket or coat afterwards. Nothing should go behind the child nor between him/her and the straps of the restraint device.
Bulky clothing can interfere with proper harness fit. Avoid bulky clothing or padding behind child's head or back or under buttocks. Bulky jackets can be put on backwards (over child's arms and torso) after harness is secured. Place blankets over and around child after harness is snug. Place blankets around baby after harness is snug and secure.
If the car seat manufacturer provides padding for use with their own product, please follow the instructions carefully. Thick padding placed behind/under the child or under harnesses can compress in a crash and create slack in the harness.
And most importantly, children need to be buckled up in the proper restraint for their age and size in the back seat every time they travel in a vehicle. Never allow a child to ride unrestrained. More tips can be found at www.safercar.gov/parents.
In 2011, there were 274 passenger vehicle occupant fatalities among children age 4 and younger. Of those 274 fatalities, 30% were totally unrestrained. The agency's analysis of crash data indicates that child safety seats reduce the risk of fatal injury by 71 percent for infants and by 54 percent for toddlers in passenger cars. NHTSA estimates that 245 lives of children 4 years and younger were saved in 2011 by the use of child restraints. Side impacts account for about 25 percent of fatalities among 0-3 year old children in child restraints in passenger cars. For further details on children in motor vehicle crashes, please refer to: http://www-nrd.nhtsa.dot.gov/Pubs/811767.pdf
NHTSA prioritizes the safety of children and is continually working to improve child passenger safety through numerous efforts—including working with our safety partners in the states, providing expertise and support for child seat-fitting stations, regular educational outreach to parents and caregivers, conducting defect investigations and recalls, and ensuring manufacturers comply with federal motor vehicle safety standard (FMVSS) No. 213 ("Child restraint systems") and conducting research to develop future standards, including side impact crashes.
* * *
Tips on How to Prep for the Car, from Twiniversity and The Car Seat Lady
– Warm up your car 15 minutes in advance. Consider installing a remote starter in your car so you don't even have to go outside.
– Dress your children in thin layers. We want kids to be layered well – as especially with it being so cold out now kids can't be in their car seat in just a long sleeve shirt and an undershirt – they will be too cold.
– A thin, tight fitting fleece jacket is totally OK – and recommended. When we say "no coats" we mean no bulky coats or snowsuits.
– Make sure to the child is wearing 3-4 thin, tight layers UNDER the car seat straps – and then cover them with a blanket, or put their winter coat on backwards OVER the car seat straps.
– If it's extra cold out, wrap a warm blanket around your child before walking them to the car. Use the same warm blanket on top of the harness after the child is strapped in. Use the blanket again when taking your child out of the car.
* * *
Related posts:
* * *
The rate of twin births has risen 79 percent over the last three decades, and continues to increase. A mom of fraternal twins and a national guru on having two, Natalie Diaz launched Twiniversity, a supportive website with advice from the twin-trenches.
What to Do When You're Having Two is the definitive how-to guide to parenting twins, covering how to make a Birth Plan checklist, sticking to one sleep schedule, managing double-duty breastfeeding, stocking up on all the necessary gear, building one-on-one relationships with each child, and more.
Accessible and informative, What to Do When You're Having Two is the must-have manual for all parents of twins.
* * *
Whether you're a twin parent in the big city surrounded by scores of resources, or a triplet parent out in the country with no one around for miles — our multiples parenting forums are for YOU! Sign up for FREE and connect with people who are just like you — parents of multiples looking for advice, parenting tips, or even just people to chat with who will understand what you're going through. Our forums are open to people all over the world and we offer scads of specialty rooms to find others who are going through the exact same thing as you. Check it out today!
* * *
Twiniversity is the #1 source for parents of multiples and we are growing faster every day!
Find us all over the web: