It's the age old twin parent dilemma – to match their clothes or not to match their clothes. Do you dress both girls in the same cotton dress with matching hair bows? Do you dress both boys in the same jeans with green shirt? Do you coordinate boy/girl twins in khaki bottoms and the same print in their shirt, only his has a bowtie and hers has ruffles? The answer to these questions has no right or wrong; it's just one of the many unique dilemmas multiples parents may be faced with daily. Thankfully, this dilemma is for fun!
There are pros and cons to matching multiples' clothes with each other's. From newborns to teenagers, matching them in the same outfits is ultimately just a choice; simply a matter of opinion. Likely, no one's life will change if you decide not to dress them in the same outfit. Nor will it change if you do. Your seventeen year old twin boys just might not like you as much if you try to dress them alike to their Senior Prom.
The first and possibly the most widely-known benefit is the fact that matching their clothes makes them obviously twins. We all know it. Dressing them in the same outfit is a privilege; something singleton parents can't as easily get away with. Although it may take a second glance, look, or the occasional stare, when they're wearing matching clothes, it confirms it – there's no denying they're twins.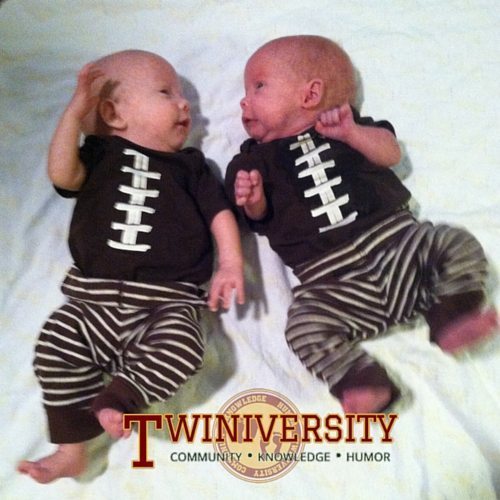 Matching multiples in the same clothes can be a conversation starter too. This goes hand in hand with obviously being twins. If they're obvious, they're likely to start a conversation. Whether you're a parent of multiples or not, when you see a set of twins, young or aged, in matching outfits, you can't help but take a second look and think something like, Aww. Look! Twins! And if you're more of an outspoken person, you may even say that out loud. Admit it – there's nothing like the warm and fuzzy feeling when out in public, (congratulations on making it out in public!) just living life and a stranger notices and outwardly compliments your kids' matching outfits. They're now a conversation starter. You feel special, privileged, proud, and unique for having two or more of the same person. Your heart floods with pride and excitement that you have twins or more. That you are a parent that's handling more than one child born less than nine months apart from their sibling. Let them talk it up. You deserve it.
Matching multiples also comes with the pro that it's almost mindless to pick out an outfit. For same gender multiples, you pick one outfit, then, you just get the same thing again. Done. No more thought needed. You choose one, the other is automatically chosen. Easy. This goes for when you're purchasing clothes in a store or getting clothes from their closet or drawer. Coordinating boy/girl twins may not be as easy, but there's definitely something to start with once you choose one. They each need to have an outfit anyway, so matching them could be a no-brainer. Either way, dressing more than one alike takes less thought than dressing them differently.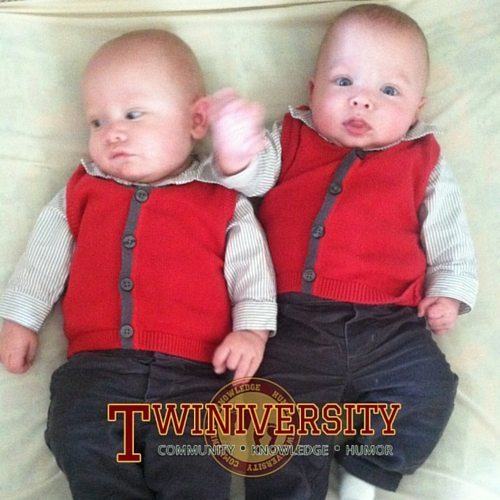 Another benefit to count on if you decide to match your multiples, especially twins, is the beloved Buy One Get One (half off or free) sale! Music to our ears, right? The classic, overused, but in this case, true, stereotype for twins. Yes, you buy one pair of pants, a shirt, a coat, a pair of shoes, even underwear, and you get the second discounted or free. Bonus! We have to buy the second one anyway, so why not get rewarded for it? Having eyes for BOGO sales is key to maximizing the clothes matching.
Like anything, dressing multiples in matching clothes has a flip-side. There can be cons too. In addition to the obviousness that they are twins, are easily conversation starters, and the simplicity that comes with choosing clothes for more than one, especially with Buy One Get One sales, matching clothes has the potential to take away their individuality. What if Twin A wants to show their personal taste and style in clothes with random pants and a tee shirt that can't be confirmed if it came from the clean or dirty laundry basket while Twin B prefers a coordinating ensemble that surely came from the clean basket? Although this pertains to primarily older siblings who actually understand what they're wearing, opposed to babies who are pretty likely to let you dress them in whatever you choose (enjoy it!), matching can be a negative decision. It has the potential to eliminate the children's style and personality. This may require putting aside our desire to match, and replacing it with encouragement of their individualities. In the rare chance each sibling has the same style in clothing and matching doesn't bother them, then more power to matching…and you.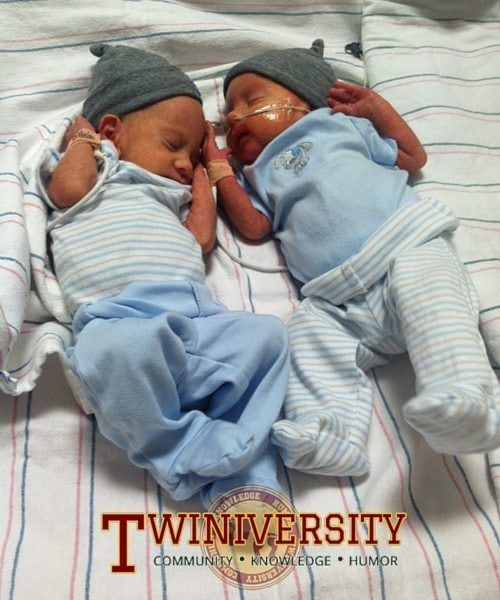 Besides potentially voiding individualities, what do you do with more than one set of the same clothes when they're outgrown? At any age. We understand, most families have children of different ages, so the majority of families can't benefit from two of the same outfit in the same size as hand-me-downs. Solutions to this are to sell them at consignment sales, (consignment sales for multiples are a bonus) give them to other families with multiples, multiple groups, or another family whose children are extremely hard on clothes and need back up of the same clothes. (This last option isn't likely, but you never know.) So, there are several options to getting the most out of your twins' used matching clothes, while potentially getting cash.
Over the years, matching clothes among multiples may eventually cause kick-back. Face it– would you want to be seen taking your driving test in the same outfit as your twin sister? Not likely; although there's always the exceptions. There likely comes a point when enough matching is enough. Age trumps a parent's urge to match their children. It has to be let go. Whether this age is four or fourteen, it'll come. Whether boys, girls, or both, it'll come. No matter how long they enjoyed (or in some cases, tolerated you) dressing them alike, one day, these words are bound to come, "Eww, I'm not matching him/her!"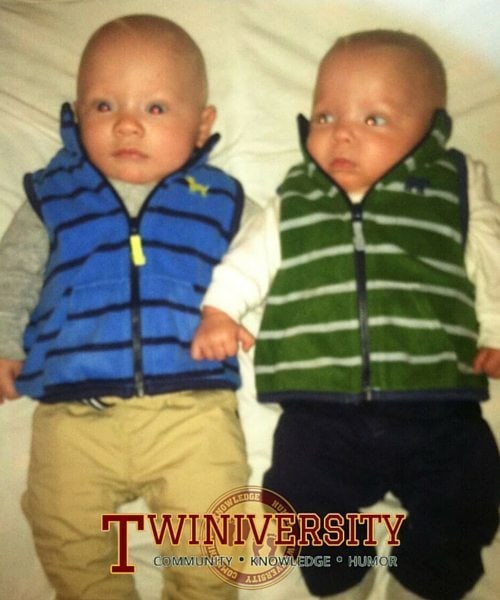 Embrace the resistance. As easy as it sometimes is to match by getting two of the same set of clothes, sometimes a con is that two aren't available, especially when shopping on the sale racks or at any used clothing sale. When trying to save money (a smart and sometimes necessary move with multiples), matching may have to be compromised for creative coordinating. We know by having multiples, we're in the minority, so it's understandable that not everywhere we shop second-hand, or even in the mass market stores, will they have two of the same item available. And sizes. That's also a tricky part to finding two of the same items. Yes, you might find a matching set of just what you were looking for, but the size sometimes presents a whole new challenge. Solution: redirect your purchase based on what' s available in two of the same size. That's life. But you're a multiples parent – you're used to a challenge.
L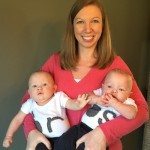 iza Mead is a stay-at-home-mama to fraternal twin boys and has a background in interior design and marketing, both of which she works in second to her favorite titles as Wife and Mommy. In Raleigh, North Carolina, when her twins are content or sleeping, she spends time organizing, being involved in church events, and event planning. She's thankful for the blessing of each day's new memories created. For articles by Liza on Twiniversity, click here.
* * *
Related articles
Why I Won't Dress My Twins The Same
Reselling Your Kids Old Gear: How To Maximize Your Profit and Minimize Your Labor
Twins In School: Individuals, But Undivided
* * *