Last updated on September 16th, 2023 at 05:55 pm
A couple weeks ago we introduced to you our May 2013 Super MoM Tracie Regusci. She has a very unique family. Her household consists of 6 kids (3 biological and 3 adopted, including twins), her husband, parents and a grandparent.
*To learn more about her family read about her here.
Today we wanted to hear more details about her family's decisions to adopt a child and then adopt twins later after already having four kids. Here is what Tracy had to say:
"Since as far back as I can remember I have wanted nothing more then to be a mother. I spent my high school and college years as a nanny for multiples and felt like God was starting to put a calling on my heart, what that calling was I wasn't sure: adoption, special needs, multiples?
My husband Matt and I both knew we wanted to have children and we were open to any way they came to us. With our first our adoption we were definitely not looking to adopt or foster at the time. We were new parents with a six month old baby girl at home. Matt was less than a year at a new job. We would be displacing our first born (which every adopting/foster book we read said that is not a great idea.) But it was the right time for Sam. He needed a home and that was what mattered.
We prayed, we cried, we struggled and most importantly we loved with all our hearts and we made it through day by day, week by week, month by month and eventually the struggles of foster and adoption slipped away. From that year our family grew stronger and we realized we could do so many things we didn't think possible. However one thing we really didn't think we ever would do again was adopt. Three years of court battles, lawyers, visitations, and financial upheaval had taken a toll on the entire family. We didn't know if it was something we wanted to relive. But as with all things God had other plans.
After two more biological babies (both boys) joined our family we still felt incomplete as a family. Someone was missing. I thought it was a sweet baby girl (then having 3 boys and only one girl). We were thinking it was time to try for that one last sweet baby girl.
But then, one day at church with my foster/adoption support group I was told about a set of twin boys that were born premature (at 25 weeks and 1 day) that needed a family. I found Matt and said "I think we are supposed to adopt those babies." He just shook his head, "Twins? Boys? What about our ONE sweet baby GIRL?" I said "No, God has other plans."
The next day I called the agency in charge of the twins case and the next week we were in the NICU. I knew from day 1 these boys were meant to be ours but my husband was not so convinced. Before we went to the NICU all he could see was the laundry list of medical issue the 25 week micro preemies had and the fact there were 2 of them.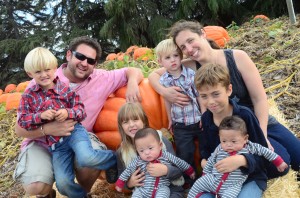 Once in the NICU, the doctor didn't sugar coat a single thing. But I asked if we could hold them. It was that moment my big, strong, 215 lb husband was 100% over taken and controlled by a tiny 4 lb bundle of love with oxygen and feeding tubes, wires and monitors. As we walked out of the NICU he called his mom and dad and announced that we were adopting a set of twins!
What I was trying to show by telling this story is that the decision for us to adopt was not one my husband and I sat down and talked about and then went forward with but more that adoption found us. In both case we were not looking to adopt but when the opportunity presented itself we were open and willing to hear God's call for our family and answer. I want 5 kids and we have 6. And to be honest I don't know if we are done. I would still love that last sweet baby girl but at the same time I am really done changing diapers. It has been 8 years of diaper changing for us. And this past year has had 3 in diapers. So maybe we break would be good!"
Matt Adds: "The larger our family becomes the easier it seems to love and love, is the greatest gift. What next: more biological children? more adopted children? more foster children? Both Tracy and I agree, we need to keep an open heart and mind to anything."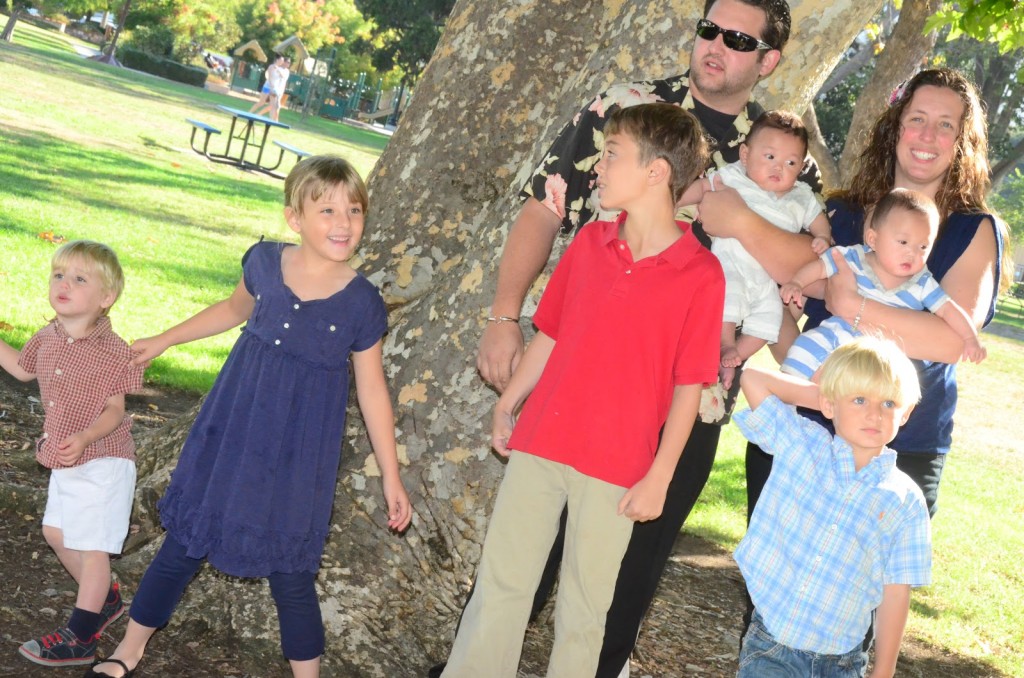 Thank you Tracy and Matt for sharing your story. I hope more parents keep their heart open to adoption and fostering.