With the holidays upon us we asked our Twiniversity fans "What's your favorite family holiday tradition?"
Here's what they had to say:
– My favorite tradition is decorating our woodland tree with edible fruit and vegetable "ornaments" for the deer and woodland animals. We have so much fun stringing popcorn and cranberry garland and making peanut butter birdseed ornaments as a family and then seeing the animals enjoying the goodies! ∼ AJ
– We open one gift (everyone knows it's PJs) on Christmas Eve. We all put them on and then go to dinner (yes, in our Christmas PJs) and look at Christmas lights. We've been doing this since my oldest (who is now 19!) was a toddler. ∼ SE
– On Christmas Eve, we all go over to my mom's house. We order Chinese food, and play silly holiday games like the Saran-wrap ball, unwrap the present with oven mitts on, and minute to win it holiday games. ∼ AGH
– Our favorite holiday traditionn is driving around to see all of the Christmas lights! We've got some pretty great ones around here! ∼ ZMT
– As a mom now, my favorite holiday tradition with my children is every Christmas Eve they get to open a present which is a new pair of Christmas pajamas and a movie. We watch the movie togther as a family. ∼ MBS
– My favorite holiday tradition is enjoying homemade cinnamon rolls in our pjs and opening gifts together. ∼ MH
– Watching Christmas movies, listening to Christmas music and putting up the tree. ∼ MW
– Lighting the menorah together and finding that moment to be thankful and remembering why we work each day, to be together. ∼ LB
– On Christmas Eve we make hot chocolate and watch the cartoons of Charlie Brown Christmas and How the Grinch Stole Christmas to remember what the holiday is all about! ∼ MR
– We do a gratitude tree for all of November. Every night we write down something we are thankful for, even the little things! ∼ NB
– Being with family and watching Christmas Vacation. ∼ LU
– My mom always did a cookie decorating party for the whole neighbourhood! She made dozens and dozens of cookies different colors of icing and now I do the same for my kids and friends. ∼ DW
-Putting up Christmas decorations the day after Thanksgiving as a family and getting new family ornaments for our growing family! ∼ JM
– Listening to Christmas music and decorating the Christmas tree. Oh and bickering about who gets to put the star on top of the tree like we've done for 20+ years. ∼ LJ
– We always do a present on Christmas Eve that includes a new movie, pajamas, and popcorn to watch that night. ∼ DB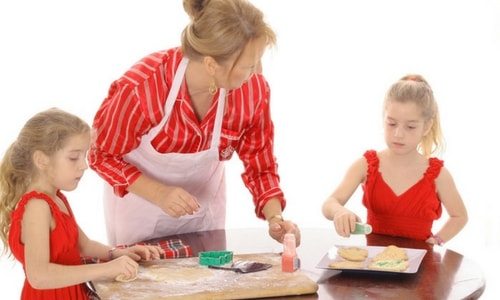 – We love baking together! ST
– We have a manger and some straw and everybody gets to put a piece in for doing their chores happily or making a sacrifice. The idea is to make the manger bed soft for baby Jesus. Then I place a baby doll wrapped in white with a little crown on his head in the bed on Christmas morning and He gets the front and center place under the tree. ∼ MK
– We all go out as a family to cut down our own trees! We take horse drawn trailers out and then have hot chocolate afterwards. ∼ KSG
– Watching The Polar Express on Christmas Eve is our facorite holiday tradtion. ∼ CM
– We open our family presents on Christmas Eve morning so that we can appreciate them rather than rushing through on Christmas Day. ∼ MS
– It's crazy how busy we are visiting all our families. So Christmas morning is just about us. We open or presents while listening to music then eat a nice breakfast while we tell each other how grateful we are for each other. I️ know it sounds cliche but that breakfast is my favorite holiday tradition. ∼ MC
– We're starting a new tradition this year and have two advent calendars on the wall for our girls to enjoy every year. ∼ ADS
– "Camping" which really only involves going outside to the backyard fire pit and roasting marshmallows and making s'mores. ∼ SL
– My kids LOVE our first snow brownie tradition. Like regular brownies but dusted with snow (icing sugar) and I ALWAYS make them on the very first snow since my husband and I were married 9 years ago. ∼ RG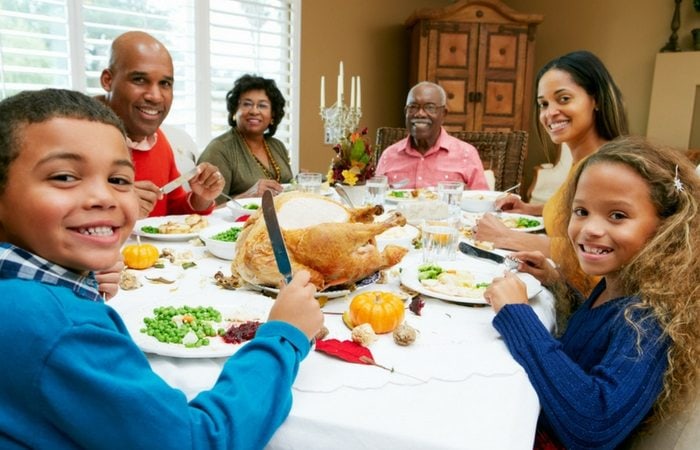 – Dinner! I love making a huge dinner for our families to come together over. I try to do a new recipe every time. ∼ AA
– My favorite holiday tradition is getting together with my girls grandparents on Christmas Eve and decorating cookies! ∼ SB
– Doing all the shopping, cleaning, cooking, wrapping by myself. With zero help from my family. Oh did you say a tradition I love? Midnight mass. I love midnight mass. ∼ LR
– Taking our family picture together. We recently started doing it one Thanksgiving. ∼ KC
– Putting up the Christmas Tree together. LWL
– My favorite holiday tradition is watching Frosty the Snowman. KRM
– Going to get the Christmas tree day after Thanksgiving. TF
– I love our holiday tradition of wearing matching pajamas and reading the Night Before Christmas together as a family on Christmas Eve. MD
– Decorating the house like the Griswalds — the more lights the better! AGD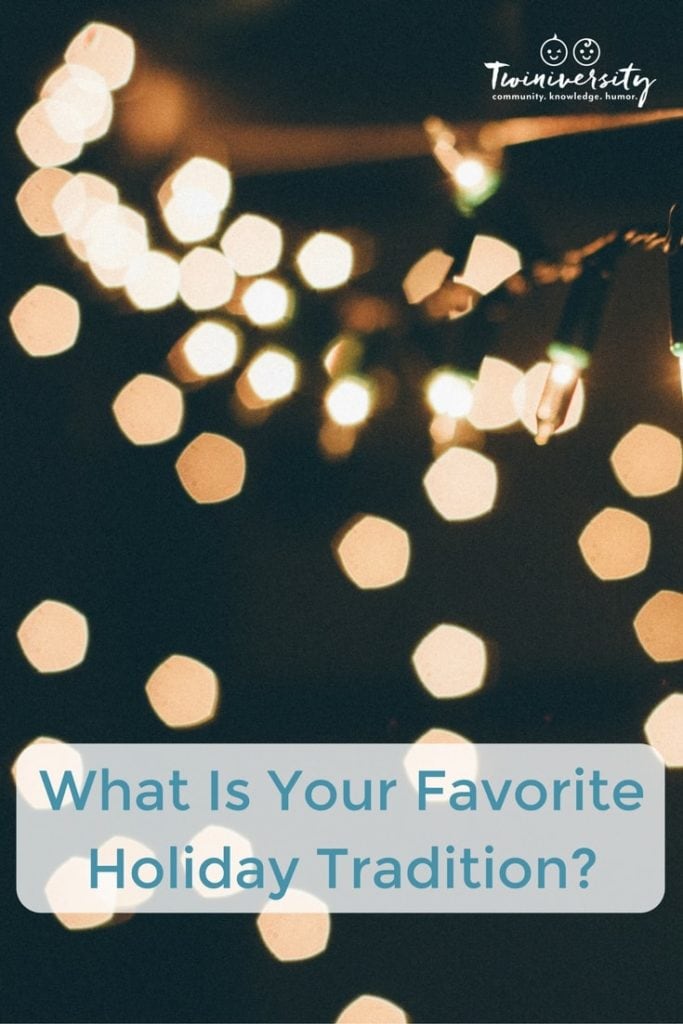 – We all cook together on Thanksgiving and watch the Macy's day parade. KM
– We don't have one but I can't wait to start one this year. ML
– Going shopping with the kids for toys to donate. AF
– Sharing homemade gifts and seeing Santa. MS
What is your favorite holiday tradition? If you don't have one will you start a new one this year?
---
Related Articles
Holiday Gifts for Twin Moms 2017
Perfect Holiday Gifts for Dad 2017