Last updated on July 19th, 2022 at 02:02 pm
I know you're worried about where to find baby formula, and you have a right to be. Right now there is an infant formula shortage in the United States; and with TWO tiny mouths to feed, this is really an issue.
Ideas on where to find baby formula right now
We wanted to make your hunt a bit easier and give you some tips about where to find baby formula that you might not have thought of. Let's jump in.
#1. The shortage is ONLY within the US
This means if you have family or friends north or south of the border, or even overseas, it might be time to do more than send them a holiday card. People will typically be glad to help you if they know you need it. Buzz your mates in Canada or Down Under to see if they know where to find baby formula. It might take a moment to get here, but tell them that you need it for the twinnies. Just MAKE SURE it's a comparable formula.
If you are using a lactose free or a soy based formula, please make sure you get one that is closest to it. If you aren't sure, ask your pediatrician. Go one more step and send your doc a link to the formula that your family overseas can purchase, and have your doc pick the best one for the twins.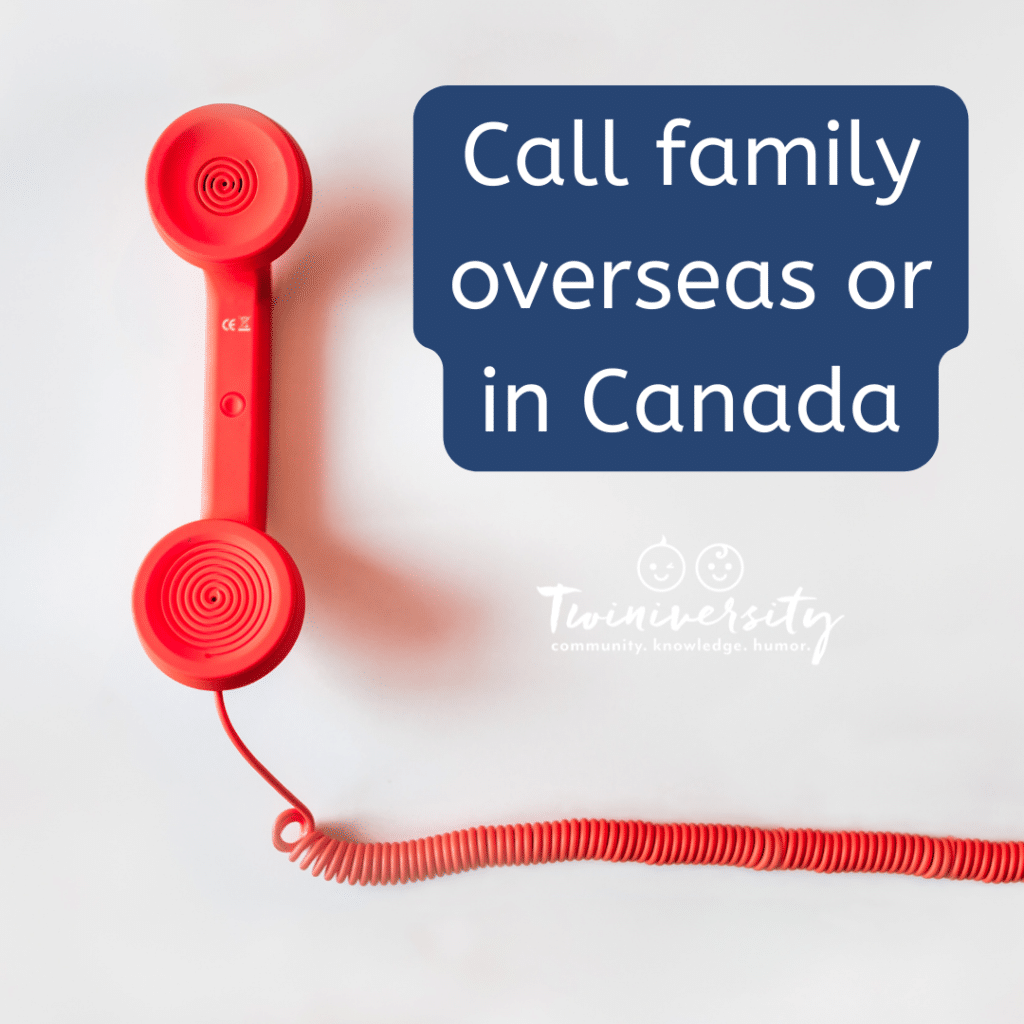 #2. Look outside your typical shops to find formula
There are many places that sell baby formula besides grocery and baby stores. Think 7-Eleven and even rest stops on the highway. We aren't kidding. Many folks are rushing to their typical spots while the lesser known venues have full shelves and spare in the stock room. If you aren't sure, you can call ahead and see if they have any in stock and ASK them to hold it for you, so you don't waste your gas money on top of it all.
#3. Tell your friends you are on the hunt
Post exactly what you are looking for on social media and how much you think you might need. If you just say "we need baby formula," they might not get the right one. Go one more step and post a pic of the actual can you are currently using so they can match it at the store if they see it. The wider your circle is, the better your chances are of finding what you need.
#4. Call the doc if you can't find baby formula!
Many folks are calling their grocery stores, when you should also be calling your pediatrician. The docs know the sales reps of the formula companies and might be able to get some underground intel as to who may have the next shipment in your area. They will also have samples in the office, which might get you through the next few days.
Don't worry about the doc getting upset with another call. At this point, you have nothing to lose! HECK, let's go one level up, and call your local hospital. If you are a recent NICU grad, give them a call and see if they have a stash you might be able to borrow from.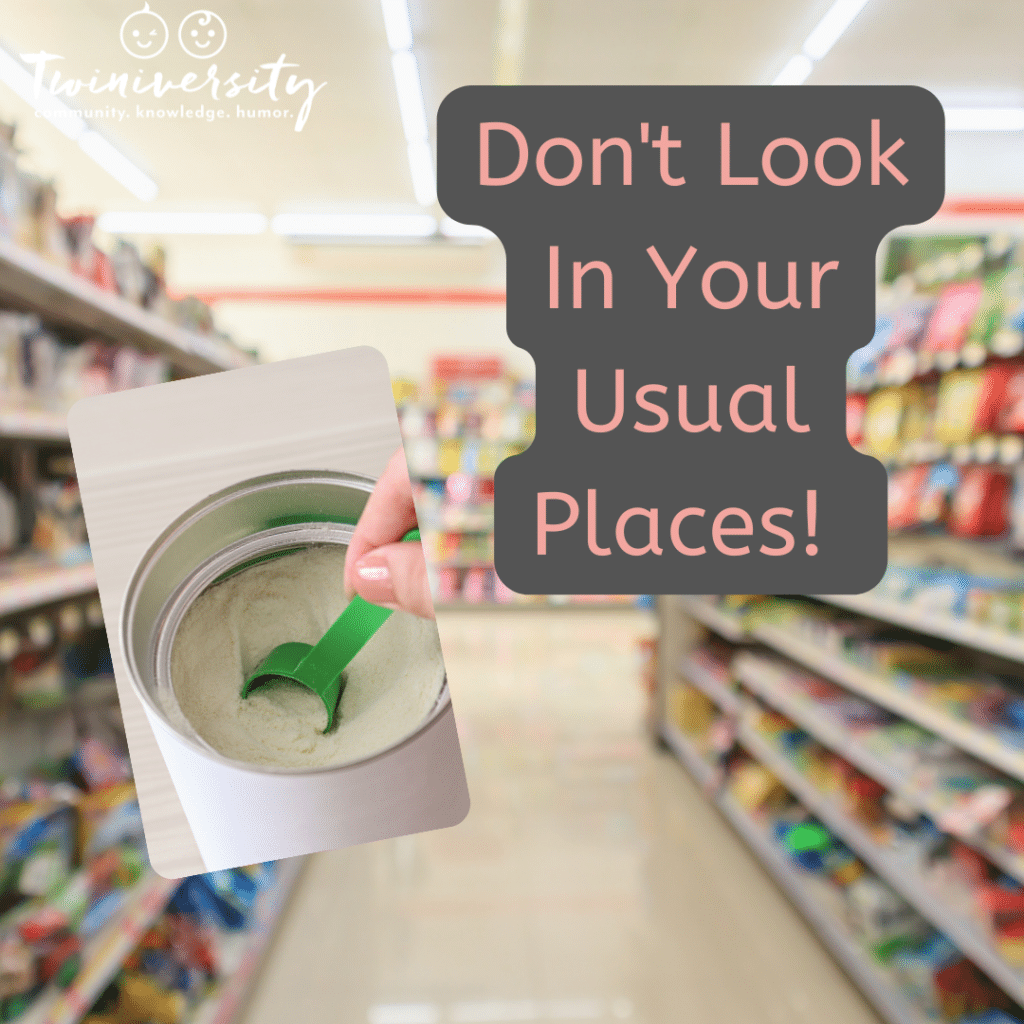 DO NOT HORDE formula. PLEASE!!! If you do show up in a place that has their shelves full, take what you NEED and PLEASE leave some for the next family that comes along.

#5. You might want to consider re-lactating
Yup! That's a thing. If you recently stopped, call your doc or a local lactation consultant and they can walk you through the paces of starting to build up your supply again. First things first, start power pumping! No, that DOES NOT MEAN hooking yourself up to a pump 24 hours a day like in Mad Max. Just pump every two hours for 20 minutes to start, and power pump ONCE a day. But speak to your local CLC or your doc to make sure that this will work for you.
#6. INSTACART!!!
Yes, if you're trying to figure out where to find baby formula, make sure you are checking your local stores via Instacart daily. You can shop around at dozens of stores at the exact same time. Sure, you'll pay a delivery fee, but it's WELL WORTH IT!!!! Big box stores like Costco and BJ's even deliver via Instacart… even if you aren't a member.
#7. Go direct to the source to find baby formula
Similac and Enfamil can be bought directly from their website. Both brands also have a locator as well there.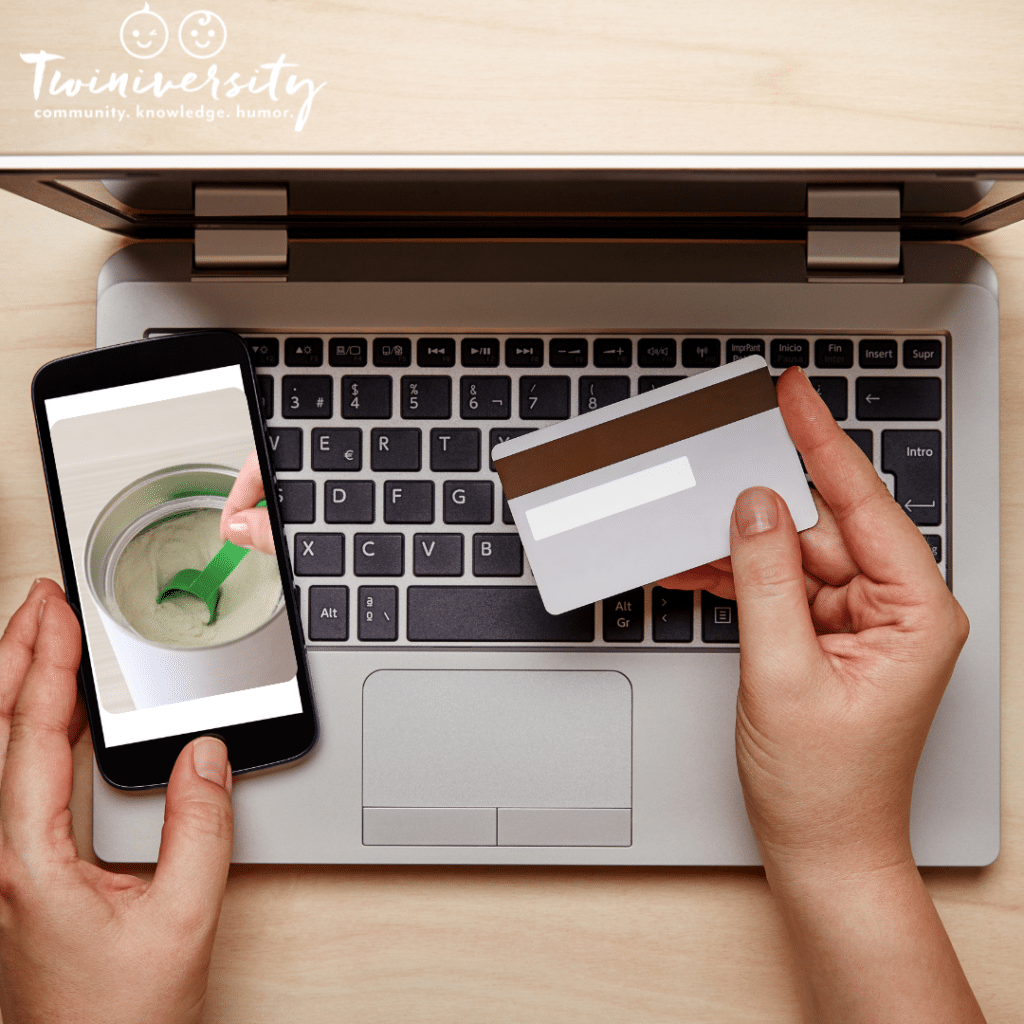 #8. Don't think about just name brands
Even if you've been sticking to a popular name brand, if you can't find it, generic will do the trick. Feel free to use any large company brand, like Kirkland (Costco), Parents Choice (Walmart), Up & UP (Target), and others. These places and other big box companies might be options on where to find baby formula that isn't name brand.
#9. Consider accepting donated breastmilk
Find a local breast milk bank in your area, or you might even want to ask a local friend who is breastfeeding if she could spare a bit. Odds are, in a time like this, she can. New parents are amazing and will do a lot to help another new parent out.
#10. DO NOT USE OPENED CONTAINERS OF FORMULA
In your quest to find baby formula, don't use containers that are opened that you did not purchase!!! This is a prime opportunity for crappy, crappy people to use this situation to make a buck. If you bought baby formula, and it was not sealed, please do not use it.
Also, please note that there was a formula recall recently. If you have Similac in the house, please be sure it wasn't part of that Similac recall lot.
UPDATE: There are sites that will help organize a formula exchange. Please google your "(Your State) Formula Exchange" and you'll find sites like this one.
I sincerely wish you the best of luck in your search to find baby formula for your twinnies. Hopefully at least one of these tips helped you out a tiny bit today. If you have any tips you think we should add to this on how to find baby formula during this shortage, please reach out to us ASAP at Community@Twiniversity.com.