Last updated on September 14th, 2023 at 04:19 pm
I hear people say all the time, "Give your kids the good stuff early so they learn to like it." That is just not true, in my case. I have four kids and have given them all the same meals since birth and three are great and adventurous eaters while that extra kid is as picky as they come.
I can remember the day, rather clearly, when I gave her a plate of black beans, avocado and whole wheat crackers. She refused to eat all but the crackers and these items were staples in our kitchen. Next, she wouldn't eat eggs with spinach or crock pot meals. She was two and a half then and is now about to turn 8, and it is still the same. There is some sort of fear about the way it looks I suppose.
She loves junk. She loves sugar. She loves anything that isn't good for her. I needed and wanted to get her the nutrients necessary so I had to get crafty. I don't make separate meals but I also make sure there is something in each meal rotation that she likes. Some nights she might only eat mashed potatoes for dinner and that's fine with me.
Here are 10 tips I use that help me know my kids gets their nutrients:
1. Sneak it in.
I make fruit shakes daily and here is a great place to sneak in a little extra love. Spinach, black beans and other mild vegetable are easy to hide their flavor when blended with sweet fruit. Bananas, when really ripe, do a great job masking other flavors.
We bake. She seems to associate muffins as junk. I make pumpkin muffins and banana muffins that are rather healthy and she devours them. They are dairy free, gluten free and I add hemp or flax and she has no idea.
We add onions to meat for burgers, blended up greens in sauces, shredded carrots, celery and onion in tuna or chicken salad.
2. Try getting creative.
I put fruit in cupcake holders, use tooth picks for bite sized food, corn holder for apples, measuring cups for yogurt and anything that seems more fun than the traditional way of eating.
3. We dip!
We use honey, ranch, ketchup and any other yummy dip for our vegetables. Everything is better with dip!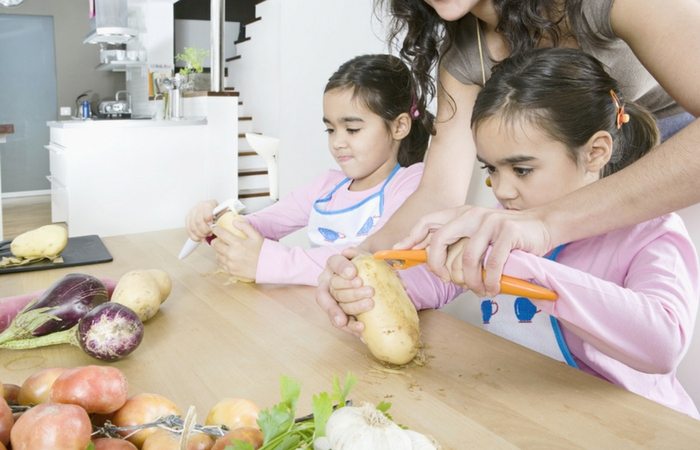 4. Get them involved with the cooking.
They still aren't going to try or like everything, BUT there is a higher probability that they will at least try something if they have helped to make it.
5. Don't allow them to snack whenever they want.
They must ask for a snack or drink so I can keep track of their daily intake. When it's time for lunch or dinner it's important for them to be hungry so they will attempt to eat what's on their plate.
6. Model healthy eating.
My husband and I try to eat well, at least in front of the kids so they will follow our lead.
7. Focus on the food when eating.
We sit at the table, electronics off, TV off, no phones, toys or books at the table. I like to focus on our food and being together.
8. Dare them to try something new.
They get super giggly and think it's a fun game to see who will be the first to try it, swallow without spitting it out, and take the biggest sip. Sounds silly but I know in one little shot of fresh, blended juice they get a whammy of vitamins.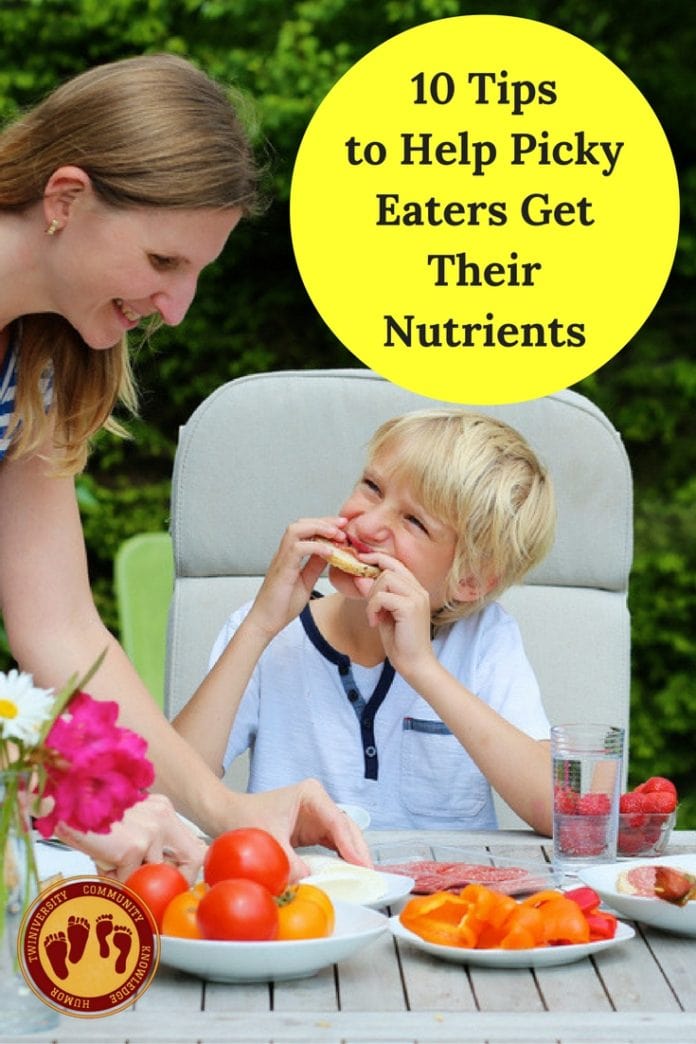 9. Offer variety.
Don't forget to offer things you don't like! Just because you don't like something, doesn't mean they won't. I hate pickles and my girls love them.
10. Find an example.
Lastly, and one of my favorites, is to point out a friend or someone they admire that is eating something good and see if they will jump on the bandwagon.
Whatever you discover is behind your child's pickiness don't be too hard on him or her. Trying new things can be scary just dig deep and get creative. Tracking progress, making a game out of it, and just cheering her on might go a long way into cultivating a little foodie.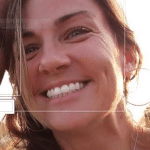 Kerry Bergeman is the founder and the mastermind behind New2Two.com peek at my life as a Mother of fraternal AND identical twins! Kerry is a full-time stay at home mother of six year old fraternal twin girls and one year old identical twin girls. She also teaches part-time at the local community college and runs Mommies of Multiples on Facebook (a group dedicated to helping moms of multiples with their daily questions and concerns). Her blog, New2Two is about life with twins, dealing with infertility, raising awareness for bully prevention and the challenges of having a daughter with a severe intolerance to dairy. What does she do on her time off? She is the Brand Ambassador of the Twingaroo twin carrier- the first and only ergonomic twin carrier that features a built in diaper bag (yes, that's her on the box)! She sells Usborne Books to help encourage all to read! She's bringing the book back one kid at a time! Read more articles by Kerry on Twiniversity
---
Related Articles
---
Are You a New Twin Parent?
Check out Natalie Diaz's book:
"What To Do When You're Having Two
The Twin Survival Guide From Pregnancy Through the First Year"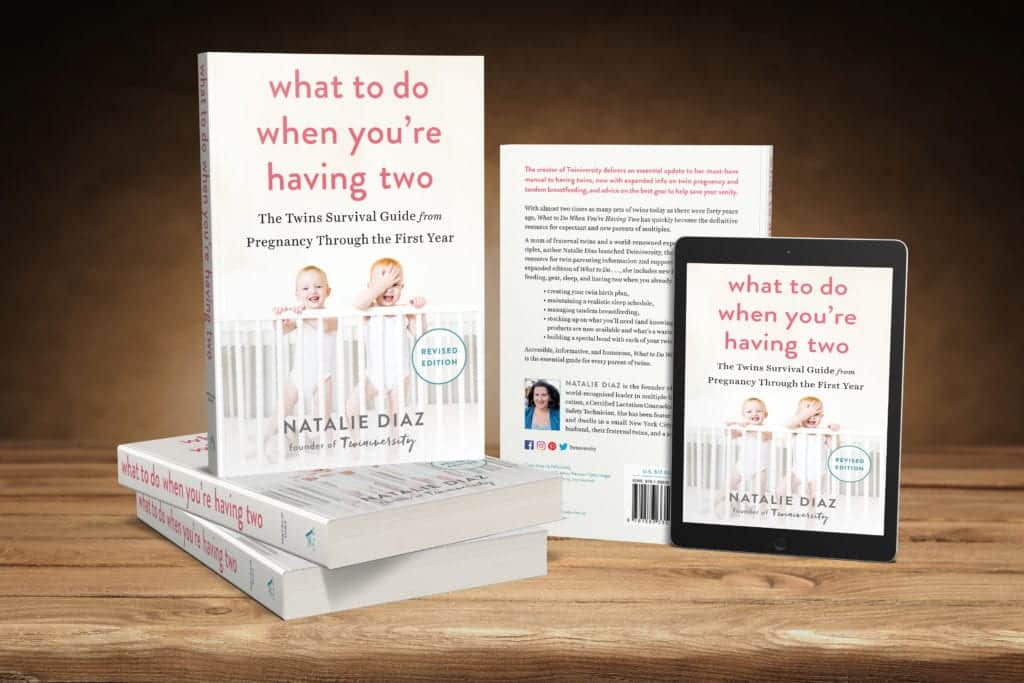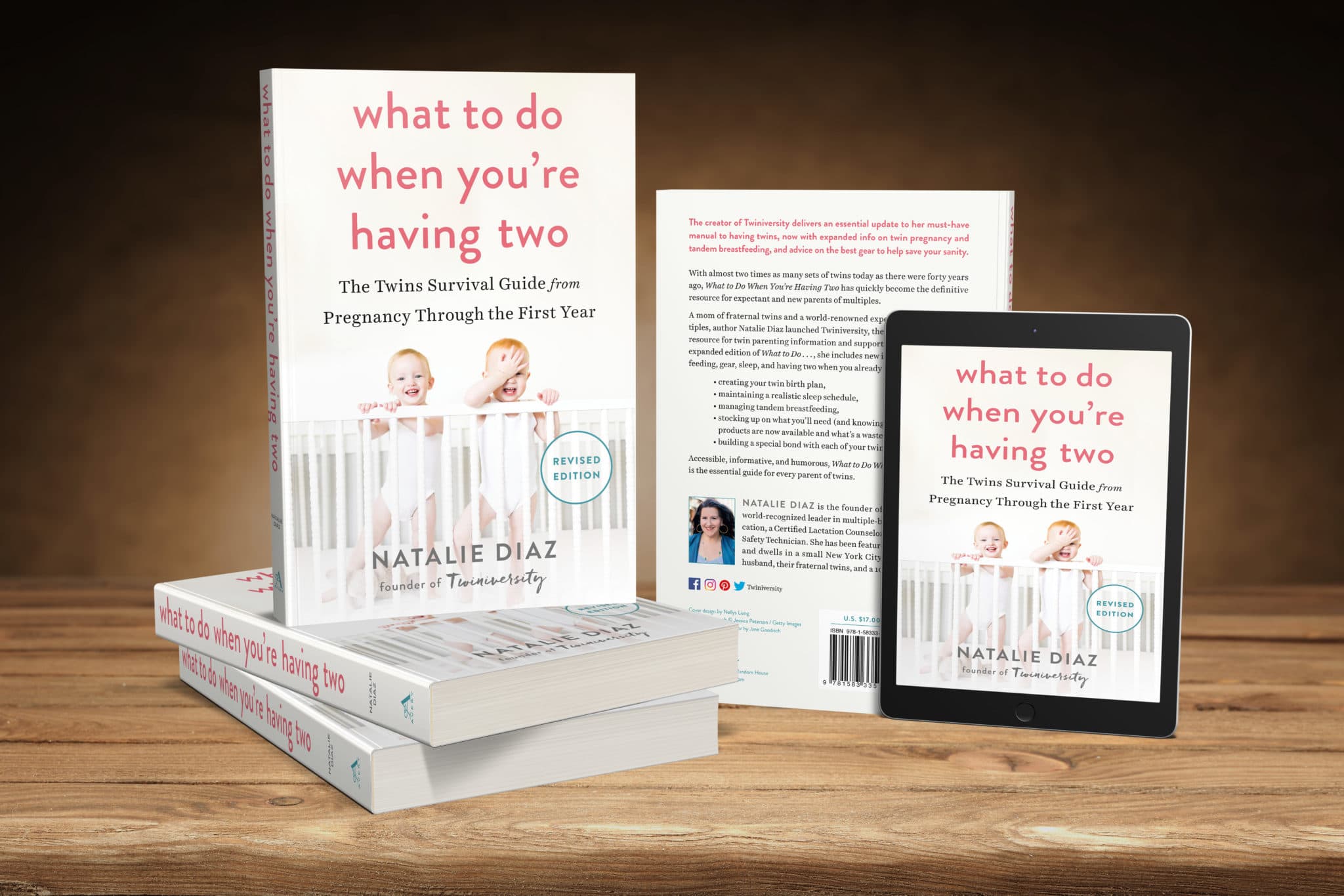 In What to Do When You're Having Two: The Twins Survival Guide from Pregnancy Through the First Year, national twins guru and founder of Twiniversity (and twin mom herself!) Natalie Diaz provides a no-holds-barred resource about life with twins, from pregnancy and birth all the way through your duo's first year of life.
---
Have you taken your expecting twins class yet? We offer a great class on demand so you can take it on your own schedule! There are so many video modules covering everything from your twins' baby registry to your first week at home with twins! Sign up today to get started before your twins arrive.
---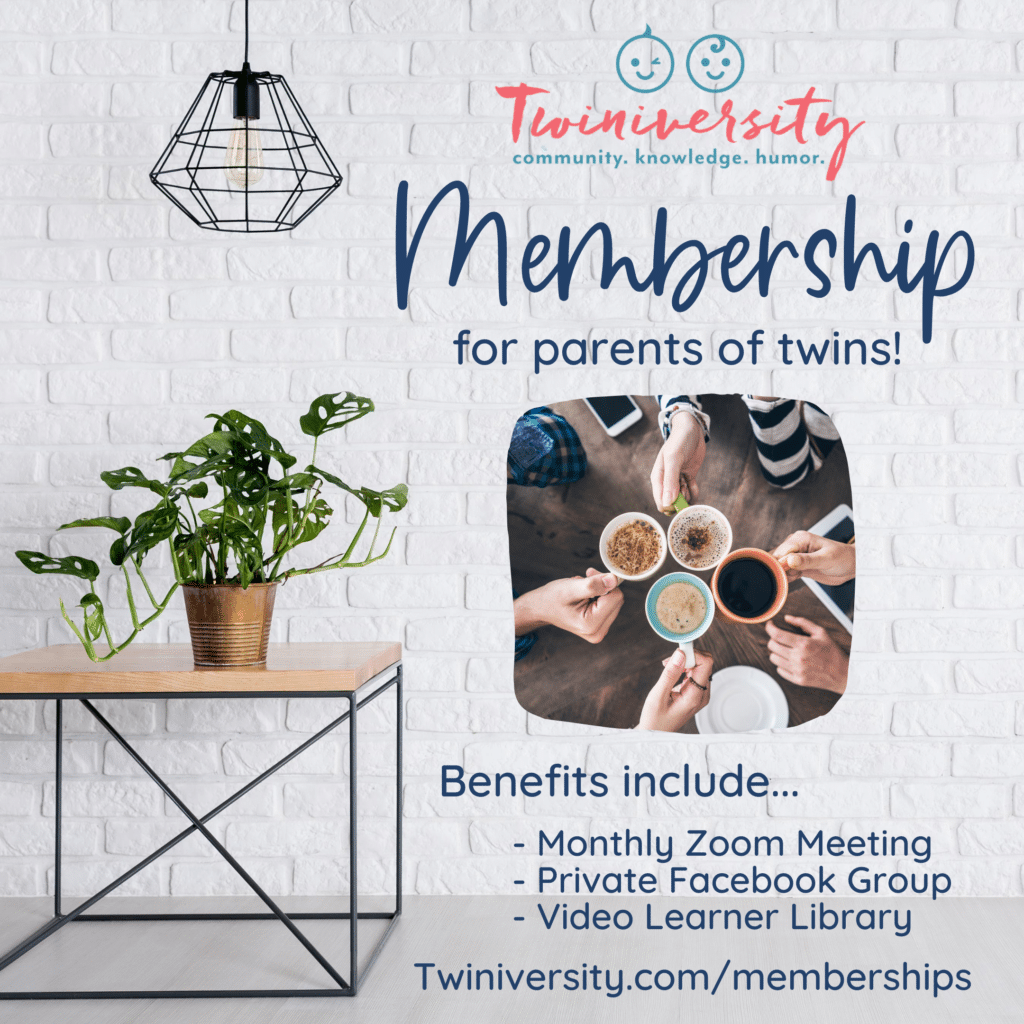 Need some twin parent friends? Get the support you need with a Twiniversity Membership. Benefits include a monthly twin parent club meeting on Zoom, access to a private Facebook group just for twin parents, and a video library of twin parenting lessons. Visit Twiniversity.com/membership to join today!
---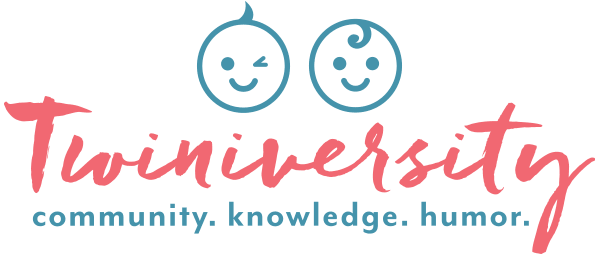 Twiniversity is the #1 source for parents of
multiples, and we are growing faster every day!
Find us all over the web:
Or contact us by email at community@twiniversity.com