No one can truly prepare you for a NICU stay with one or both of your twins, but we can at least give you an idea of things that can help getting through your time there. It's a time when you need to establish a new "normal" in a situation that is far from that. Here are 20 must have items for the NICU.
1. Your phone and a phone charger. NICU's all have different rules about phone usage but you can and should take lots of pictures. Where you will always remember, those babes will not, and you need to show them their experience. The saddest thing in my life is I have minimal first pictures of my twinnies. Some NICUs even let you FaceTime so have that phone charger handy!

2. An app to organize all the photos and videos you will want to share and save. I have found that TinyBeans is a great site that you can use to share your photos and videos with anyone with an email address and no special phone is needed!
3. You are going to want to get those babies on your skin as soon as possible and the best way to do that is with the help of a kangaroo care shirt/nursing top. The VIJA Design Skin-to-Skin Kangaroo Care T-Shirt is great and made for special situations, such as a NICU stay. It helps soothe your babies and helps them to regulate their heartbeats.

4. A hands-free pumping bra, such as the Simple Wishes Signature Hands-Free Breastpump Bra. If your NICU is like most, they will have you up and pumping quickly. That liquid gold is especially vital to preemies. Usually, there is a hospital lactation consultant available or there may even be a special a lactation department for NICU patients. Make sure to check with the hospital about what supplies they have for you to use, such as nipple cream, soap to wash parts, parts for their pumps, nipple shields, if/when you try nursing, etc. No need to buy what they can provide.

5. You will want to have some comfy tops/tank tops that make nursing and skin-to-skin contact easy. Naked nursing tank will make your life a little easier by turning any shirt, with any bra, into a nursing shirt with this tank top. No more fiddling with a nursing cover. It is a great investment if you plan to breastfeed your twins after they get out of the NICU. The Latched Mama nursing top is designed for nursing in any location, as the flap lifts up very discretely and covers all the important parts while you are nursing. They seem to run a bit small, so you may want to get a size up to be on the safe side.

6. An accordion file folder, such as the Five Star Expanding File will help you stay organized. You will want to organize all of the materials the NICU provides you with, like bills, referrals, weight charts, eating schedules, medical documents, etc. You may want to get two, in different colors, to have one for each twin. You will love having a durable zip-top for traveling back and forth and not losing anything.

7. You will need to stay hydrated, so get a good water bottle, like the Contigo AUTOSEAL Chill Stainless Steel Water Bottle. Again, all NICUs have rules, but they usually allow some sort of water for you to drink. You will want one that doesn't sweat like the Contigo AUTOSEAL Chill Stainless Steel Water Bottle. Staying hydrated, especially if you are pumping, is very important!

8. A large insulated bag to carry stuff, such as tiny milk storage bottles, back and forth to the NICU is great to have. The Earthwise Reusable Insulated Grocery Bags are great and you can use them even after your NICU stay is over when out and about with your twinnies!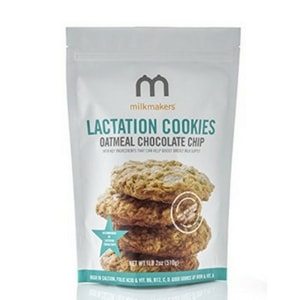 9. Snacks, lactation cookies, and protein bars are great to have handy for yourself when your twinnies are in the NICU. You may find yourself at the hospital for long stretches, and though you probably cannot eat in the actual NICU, you are going to have to find somewhere in the hospital where you can take a snack break. Keep up your strength and help your milk supply if you are pumping. Milkmakers Oatmeal Chocolate Chip Lactation Cookies are not only great to help with your supply, they are yummy too.

10. A journal for documenting everything is great to have while your twinnies are in the NICU. You will feel all of the feelings while on your NICU journey. The Littlest Peanut: A Journal Milestone Babybook for Preemies was made specifically for your preemies. It may be a long hard road for your twinnies in the NICU, but this will help you focus on all the good!

11. One of the items for the NICU that you will definitely want to have is the NICU Milestone Cards from Every Tiny Thing. On your unique journey, there are unique milestones. Cherish them and celebrate them. It has the most relevant NICU milestones to celebrate. You can display them in the isolette if you want and they are laminated so you can wipe them clean if you are concerned about germs.

12. You will want to get some preemie clothes for your twinnies while they are in the NICU. The hospital will have a full "wardrobe" of onesies, but it's nice to have some of your own clothes that you launder and care for. The basic uniform you will want to have for your little ones in NICU is a onesie with snap PJs, like the Luvable Friends Baby Infant Sleep and Play. Your babies will have wires connected to them for monitoring, so make sure to get clothes with snaps and not zippers, or the nurses have to cut holes in the clothes for the wires. You don't have to go crazy and buy a lot. Hopefully, they won't be in this size for too long. But, once everyone is home, you will be set for the first few days or weeks.

13. It's a great idea to have a cloth to wear close to your body and then bring to your babies so they can enjoy your smell. Your smell is what they know best and it provides them comfort. You can get a bunch of cloth handkerchiefs, stuff them in your bra and bring it for them.

14. A good book, magazines and some sort of entertainment. There is a lot of idle time in the NICU. Your babies sleep a lot and that's so they can grow, grow, grow. You can read to the babies, it doesn't necessarily have to be a baby book. You can update them on all the gossip and pop culture with a magazine if you choose.
15. The NICU can be dry and therefore dry out your lips. Protect your lips from becoming dry and chapped easily with Chapstick.

16. A good unscented hand cream for dry cracked hands is great to have when your twinnies are in the NICU. You will wash your hands and use hand sanitizer constantly. Protect those hands while protecting your babies from harmful and irritating scents and chemicals with some Weleda Skin Food cream. No more cracked, dry skin from all that hand washing.

17. Look into hospital professional photographers. There are special photographers that will come into the NICU and get you your newborn shots. You may want to have them come towards the end of your journey. You will enjoy looking back at them when they were so little, having the NICU in the background.
18. Decorations to brighten up your babies' area is fun to have in the NICU. A lot of times the amazing nurses will decorate a bit for you, but bringing something from home, even just some pictures of you and your family, make it your own space.
19. A small thank you to the amazing nurses is something you might want to offer. Find a place nearby that you could pick up snacks or goodies for them here and there. They are truly special people, and food = love.
20. Ask for help. If people ask to send meals to your house, clean your house, babysit other children or a child that came home first, take them up on it. You might find yourself eating out constantly and you may crave a home-cooked meal. The company may help you feel like yourself again too.
This journey is hard for everyone. These items for the NICU can help you along the way.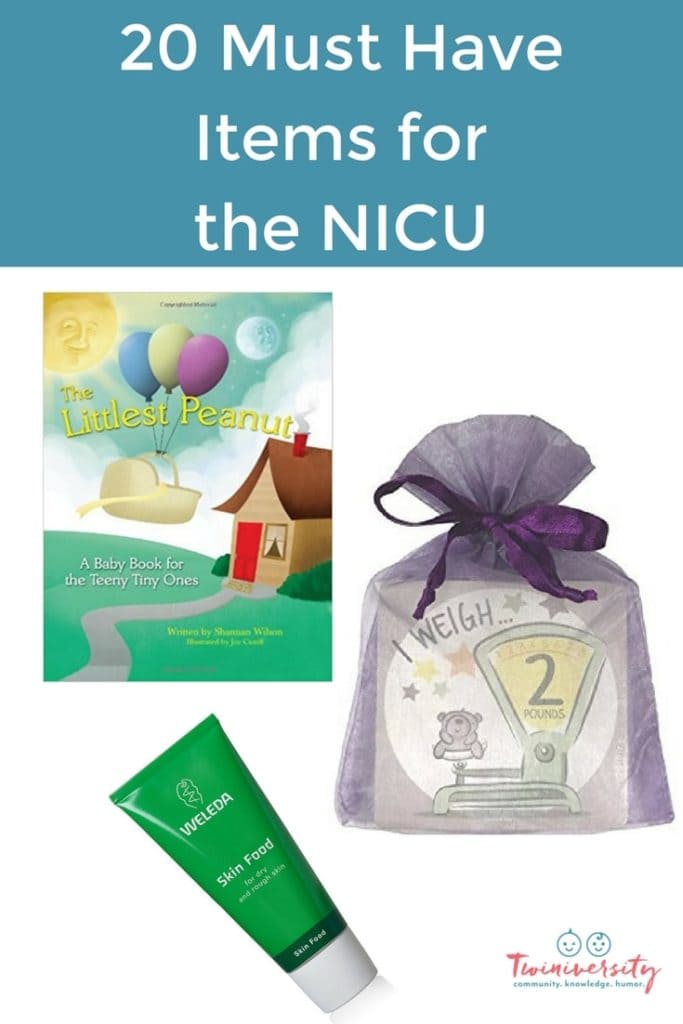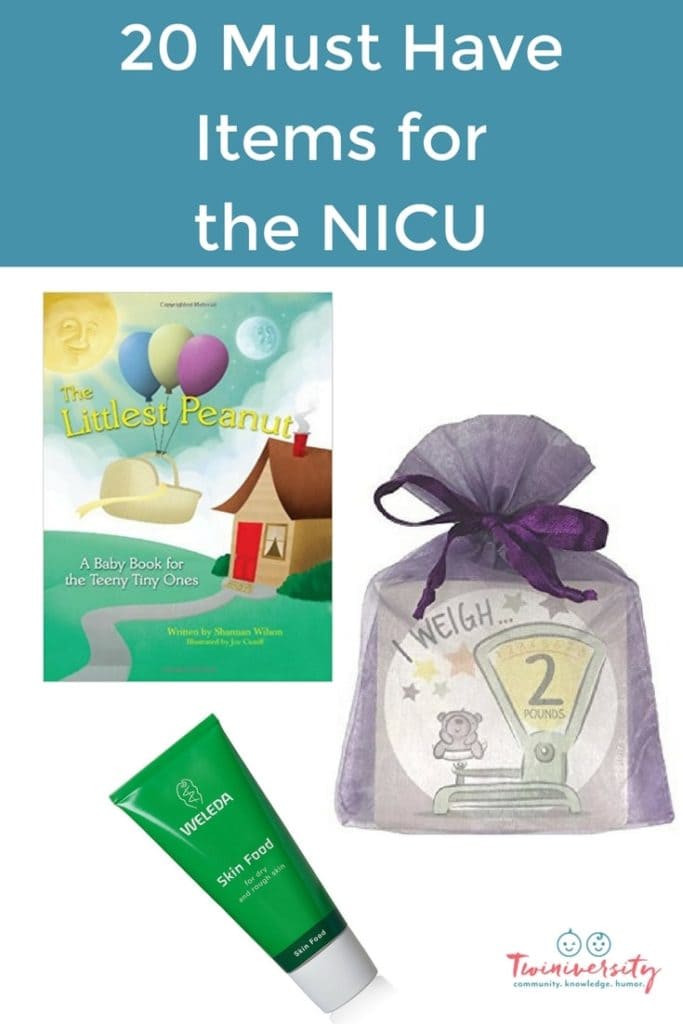 Jenifer Roth is a busy, busy mom to 1-year-old identical twin boys Jase and Evan, full-time High School driver ed teacher, and full-time finder of random information to help others! When not running around from work to home to errands she enjoys working on her blog, making piles of stuff and just hanging with her family! Trying to find the work-life balance has been a journey of its own but push on she must! You can read her blog here!
---
Related Articles
Dealing With the Guilt of Being a NICU Mom