Happy St. Patrick's Day! How can you make the day a little more green (in a good way) for your kiddos? Here's a few suggestions on how to turn your home into the emerald isle…..
Rainbow Rice
Make Rainbow Rice (with non-toxic watercolor paints, of course), or for the little ones, colored cereal rainbows are a fun, edible way to get a similar experience. Let's be real, even if you're not so little, colored cereal is a great way to play and have a sweet snack at the same time.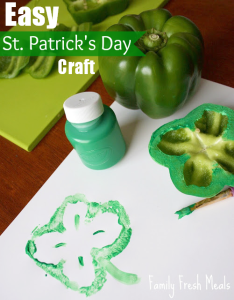 Green Pepper 4-Leaf Clover Stamps
Green bell peppers are another great way to snack healthily and have some craft time. If you cut them horizontally, they are pre-made edible three-leaf clovers, and they can double as clover stamps if you want to get a little messy.
Shamrock Straw Toppers
Sticking with the clover theme, Shamrock Straw Toppers are a cute way to add festivity to drinks (besides the green food coloring that is so prevalent during the holiday), and Clover Hair Pins are a kid-simple way to craft and dress up for whatever events you're planning to attend, whether it be a parade or just a family dinner.
Clover Cookies
And for dessert, you can break out that green food coloring and make easy-peasy clover cookies — just roll the dough into little balls and bake! Hardly any muss, and definitely no fuss when your kids are eating them.
St. Paddy's Craft time!
If your little ones are into the mythology of the leprechaun, some great crafts are the Clay Pot Leprechaun, which you can then attempt to ambush with a leprechaun trap. I wonder how long your little ones can wait up with their tummies full of shamrock cookies to see if they catch a little green man and get his pot of gold? Especially if you put the traps at the end of a rainbow: a stained glass rainbow!
Stained Glass Rainbow
What you need: Tissue paper the colors of the rainbow, glue, a paintbrush, and wax paper.
Directions: Cover the wax paper in an arc of glue with your paintbrush, and have your little ones pat down the tissue paper in a rainbow pattern. Then cut it out and hang it up! It's that simple. The wax and tissue papers will be translucent enough for the light to shine through and make it look lovely.
(For further instructions and ideas, visit MomOnTimeOut.)
We hope your St Patrick's Day is full of cheer and laughter! And don't forget to dress up: it's the best part!
How do Twiniversity members celebrate St Patrick's Day? Some ideas from our Facebook members:
"A naughty leprechaun usually visits and turns the milk green and takes a tinkle in the potty. We also are planning to have friends over and I will make a full corned beef and cabbage dinner with homemade Irish soda bread, and Guinness chocolate cake- YUM:)"
"My kids build leprechaun traps and bait them with Lucky Charms! And yes, corned beef (in the crock pot, easy!)."
"Since we are 1/2 Irish (and 1/1 Swedish – you think WE are stubborn and have a temper! Sheesh! Plus, there are 7 of us!) we eat traditional Irish food, not always corned beef, sometimes lamb stew, or shepherds pie. But one staple is Colconnan – it is absolutely DELICIOUS!"
Staples of St Patrick's Day…
Irish Soda Bread!
Corned Beef and Cabbage!
Red Potatoes!
Make sure to check out St. Patrick's Day decorations to make with your kids!