Last updated on September 28th, 2021 at 01:36 pm
Whenever I think of St. Patrick's Day, I think of SPRING which is exactly what we need in the Midwest right now! Even if Mother Nature doesn't agree, these St. Patrick's Day decorations are bound to brighten up your home. Whether you are Irish or not, these fun decorations are the perfect amount of festive fun!
A few quick tips for doing crafts with your children:
Choose age-appropriate crafts! Toddlers will lose interest quickly if all the steps are so complicated that they are unable to do anything themselves.

Have everything prepared ahead of time. Little kids have short attention spans so have all your supplies laid out and shapes cut out before you begin.

If there are adults only steps have a coloring page for them to work on or another step they can do while they wait.

Let go of perfection! In the end, it doesn't matter if they do the craft 'correctly' – it's just for the fun and memories!

Let them display their projects for all to see! Encourage their creativity!
St. Patrick's Day Decorations to Make with Kids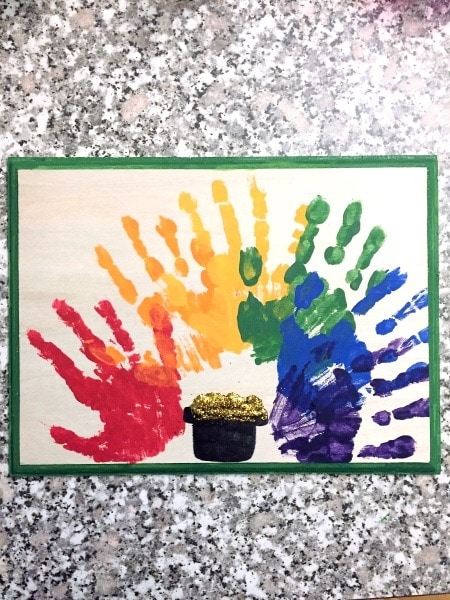 Handprint Rainbow Keepsake Plaque
You need:
Inexpensive blank canvas, wood board or even a piece of paper

Red, orange, yellow, green, blue, violet and black paint

Glue

Gold Glitter

Little hands!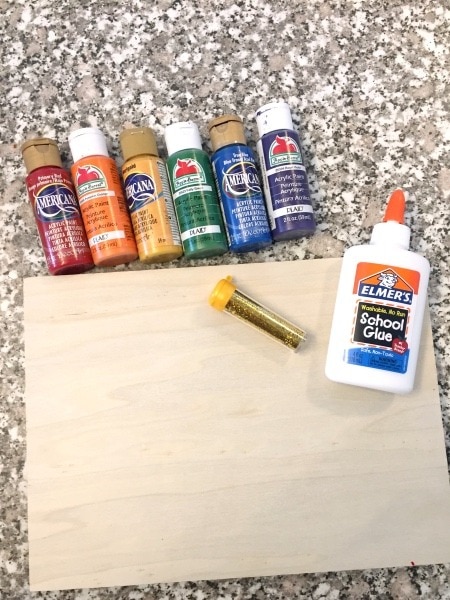 Directions:
Paint the inside of your child's palm with a good amount of red paint (we found that using a lot of paint left a better handprint).

Place their hand face down on the canvas and gently push on each finger one by one. Then lift straight up to avoid smearing the paint.

Repeat for each color of the rainbow, allowing at least a few minutes for the paint to set in between colors.

Paint on a black pot and let the canvas dry completely. If the canvas isn't completely dry, the glitter will stick to all the wet patches of paint.

Add glue and gold glitter to look like a pot of gold!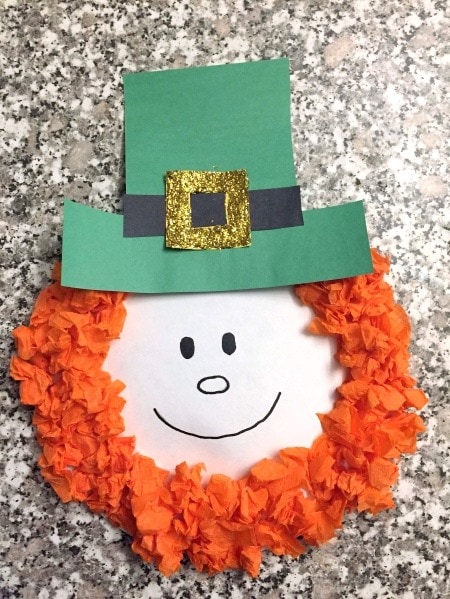 Leprechaun Paper Plate Décor
You need:
White paper plate

Orange tissue paper (or leftover party streamers!)

Permanent black marker

Scissors

Glue

Gold glitter

Green, black and yellow construction paper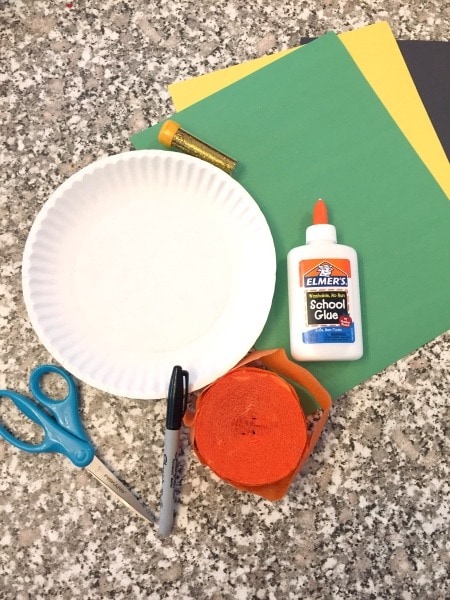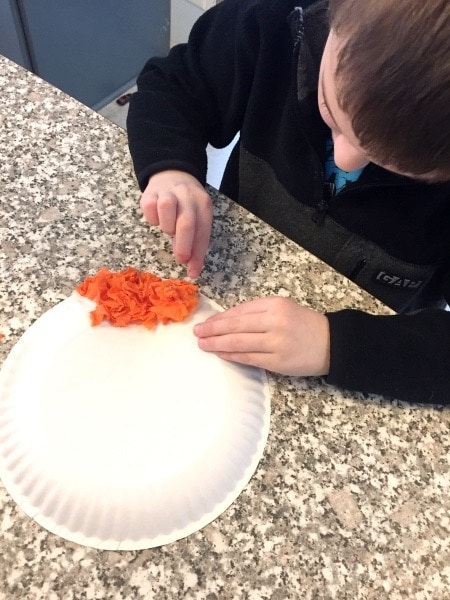 Directions:
Tear or cut your orange tissue paper (or party streamers!) into small pieces.

Turn your paper plate upside down. Working in small areas, put glue on the edge of paper plate and place crumbled pieces of tissue paper on the glue. Continue until the leprechaun beard is almost around the whole plate, leaving room for his hat.

Draw on a face with your black marker.

Cut his hat out of construction paper and glue to the top of your plate.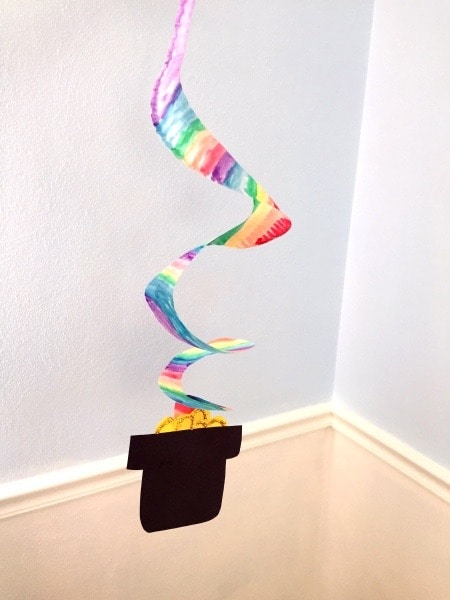 Pot of Gold Rainbow Twirlers
You need:
Paper plate

Watercolor paints (or acrylic paint, finger paints, etc.)

Black and yellow construction paper

Gold Glitter

Scissors

Glue

String (optional)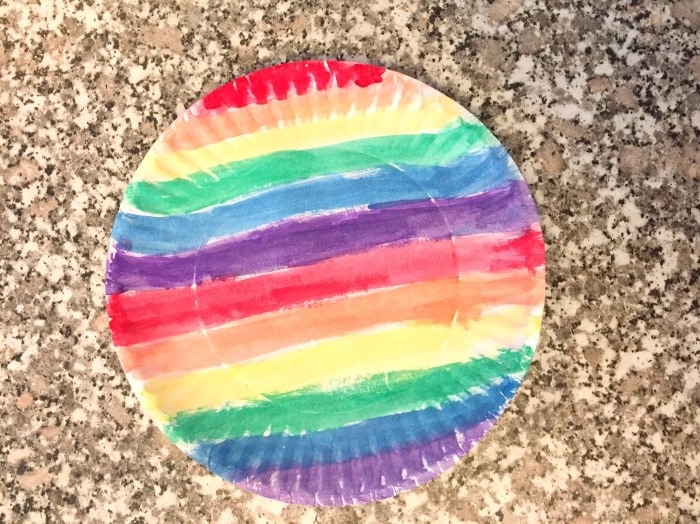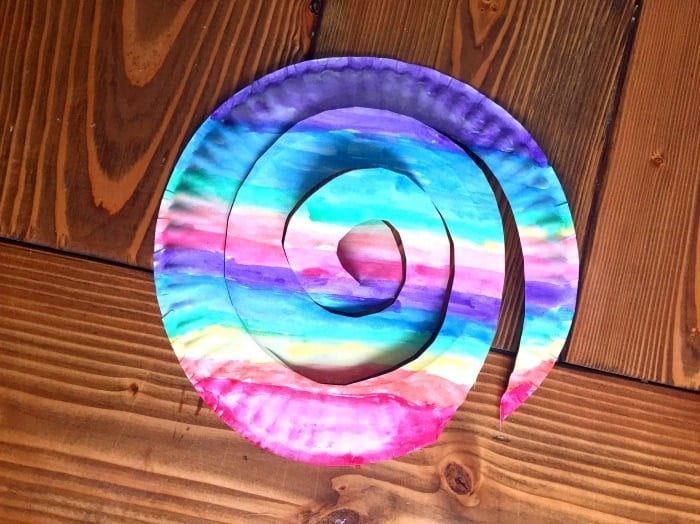 Directions:
Using your watercolor paint, paint strips of color onto your paper plate in rainbow order. Once dry, flip over and paint the other side in the same way.

Cut your pot and gold coins out of your construction paper. Add glue and gold glitter to your coins if you choose.

Cut a spiral into your paper plate and attach your pot of gold to the end.

Hang with string or tape to your ceiling or wall to display!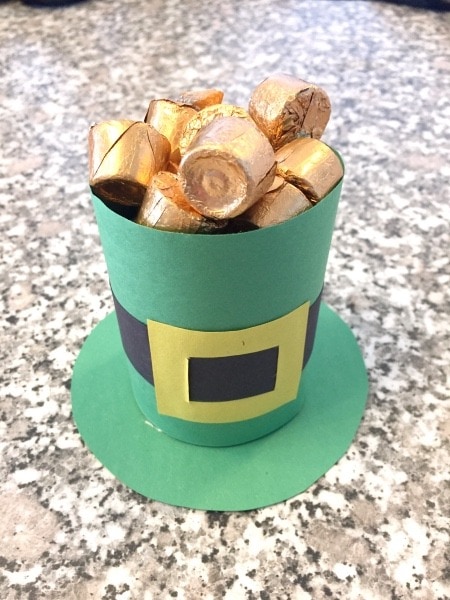 Leprechaun Hat Treat Cup
You need:
Green, yellow, and black construction paper

Scissors

Glue/tape

Gold candy! (We used Rolos)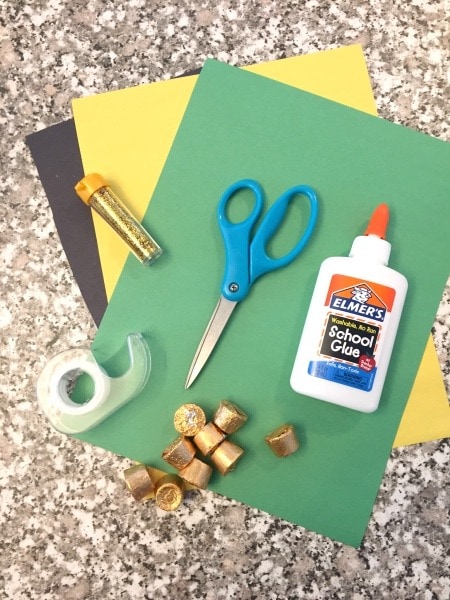 Directions:
Trace a circular object onto your green paper and cut out.

Cut a large rectangle out of your green paper. Roll it into a tube and secure with tape to form the hat. Cut out your black belt and yellow buckle and secure it to your tube.

Tape or glue your hat onto the green circle you cut out.

Fill with candy and display!
Happy St. Patrick's Day!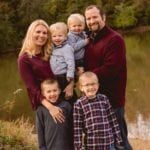 Amy Cook is a midwestern wife and mom to four boys ages 8, 6 and 3 year old fraternal twins. She has a degree in Biochemistry and worked in medical research for 8 years before becoming a SAHM when her twins were born. Now she runs her Etsy shop and graphic design blog, Loving Our Messy, offering free printables and design tools. Her other passions include baking, watching baseball and all things creative.
Related Articles
Valentine's Day Decorations To Make With Kids
Christmas DIY Decorations to Make With Kids
Thanksgiving DIY Decorations to Make With Kids