We gathered the names of over 300 babies, including nearly 75 sets of twins. Here's what's trending popular in the baby naming game for twins…
Alliteration. Following in the footsteps of Mariah Carey and Nick Cannon, whose twins Moroccan and Monroe ("Roc" and "Roe") just ooze adorableness, parents love to choose names starting with the same letter. James and Juliet were two names that popped up more than a few times, and Michael and Madeline would be another sweet duo.
Sweet and classic, without being "old fashioned". I'm talking about Amelia and Charlotte, two names that popped up dozens of times and sound perfectly charming together. I get visions of Anne of Green Gables when I see those names, with bonnets and baskets of flowers and full skirts and one-room schoolhouses. Other great names in this category are Scarlett (a HUGE name of late; thank you, Ms. Johansson, who is herself a twin) and Abigail, or Eleanor and Adeline.
One-syllable names. Think Luke and Grace (though Luke might be getting a boost from the release of Star Wars: The Force Awakens), which are complete classics. John, Dean, and Troy are other entries in this category for boys, and Paige, Faith, and Hope work well for girls. Another great pairing is Sam and Kate. You can't go wrong with short and sweet.
Flower names. Flower-based names for girls have been a thing for years, with Rose being an obvious favorite across generations. This year, however, Lily and Poppy are big winners, and sound perfect together. Anna Paquin named one of her twins Poppy, and it has the perfect note of sweetness with sass that a little girl's name should have. Other options are Tulip, Ivy, Iris, and Violet.

"-en" names for boys. I'm talking Aiden and Caden, two incredibly popular names, especially for twin boys. Other names you can put into the mix are Hayden, Jayden, Griffen, and Brayden. Nothing wrong with a little rhyme time!
"-son" names for boys. Not to be forgotten, names ending in "-son" are beyond on trend. Mason and Jackson is a popular pairing, as is Harrison and Grayson. There is something stately about names ending in "-son." That kid is going to the best college around, because he has a strong and intelligent name. Think Yale, people!

Irish names. This trend is strong for both boys and girls. A great combination would be Logan and Riley. Other popular names are perennial favorite Hannah matched up with newly-on-trend Brielle. Owen and Connor are traditional Irish favorites, along with Liam and Tristan. Chris Hemsworth named one of his twins Tristan, and he can pretty much do no wrong.
Old-man names. Much like the category for the girls, these names are old-fashioned but not stodgy. Silas and Gabriel make for a fantastic combination, as do Declan and Elliot. Another great one is Sebastien.
As you can see, you have lots of options if you're in the middle of figuring out names for your twins. You can look at this list and say to yourself, "Oh, good, Amelia and Charlotte will be a perfect set of names!" or you may think, "Eek! These names are all too popular! I must avoid them at all costs." Lord knows we grew up with WAY too many Jessicas and Jennifers (perfectly beautiful names, of course), and perhaps our own mothers would have benefited from a list telling them what names the world was about to be inundated with. In any event, take this highly (un)scientific list for what it's worth, and good luck naming your kiddos!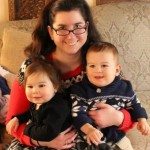 April Rondeau is an editor and writer as well as a mother of three-year-old boy-girl twins. She loves reading, photography, movie marathons, popcorn, and wine.
Related Articles
* * *
The rate of twin births has risen 79 percent over the last three decades, and continues to increase. A mom of fraternal twins and a national guru on having two, Natalie Diaz launched Twiniversity, a supportive website with advice from the twin-trenches.
What to Do When You're Having Two is the definitive how-to guide to parenting twins, covering how to make a Birth Plan checklist, sticking to one sleep schedule, managing double-duty breastfeeding, stocking up on all the necessary gear, building one-on-one relationships with each child, and more.
Accessible and informative, What to Do When You're Having Two is the must-have manual for all parents of twins.
* * *
Whether you're a twin parent in the big city surrounded by scores of resources, or a triplet parent out in the country with no one around for miles — our multiples parenting forums are for YOU! Sign up for FREE and connect with people who are just like you — parents of multiples looking for advice, parenting tips, or even just people to chat with who will understand what you're going through. Our forums are open to people all over the world and we offer scads of specialty rooms to find others who are going through the exact same thing as you. Check it out today!
* * *
Twiniversity is the #1 source for parents of multiples and we are growing faster every day!
Find us all over the web: