I can't tell you how many times we get that "look." I can't say for sure if it's a look of sympathy or a look of "Oh my God, that woman is crazy!" I don't know if people are actually curious or just plain RUDE when it comes to my children!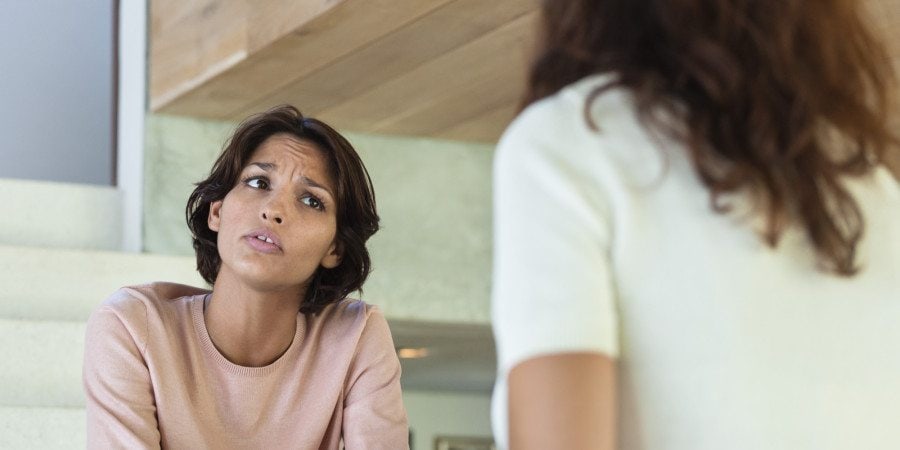 We have five children, yes 5! Ashley, Abigail, Ava, Anna, and Amelia. Yes I am fully aware that they are ALL girls. You see, I was there when they were born. Many people, even strangers, have asked if we're still trying for that boy. Well, no we weren't trying for a boy. We're firm believers God gives you what you can handle. Obviously he felt we could handle five children. Five girls at that. You should see the look on their face when I tell them the last two were triplets and we lost one during the first trimester. The usual response is "that would have been 6 kids!" So glad they can do simple math!
One day, the family was outside with the dog. My husband was holding one of the twins and I had the other. A neighbor walked by and said "Oh my, double trouble." (Like we haven't ALL heard that one before.) I nodded and said yes and thank you. (Secretly hoping he would just move on.) Well, he didn't. He commented on having two babies at one time and the challenges. He opened the a can of worms and I was in one of those moods, so I went for it! I know my hubby wished I would have kept my mouth shut but I couldn't and didn't want to! I did not hesitate to let our kind, older gentleman neighbor know that we had three more children inside. You should have seen the look on his face! Well, he went there, he said "Don't you people have a T.V. in your bedroom?" Like you can't have sex with a T.V. on, REALLY!? I can't look at this neighbor the same again.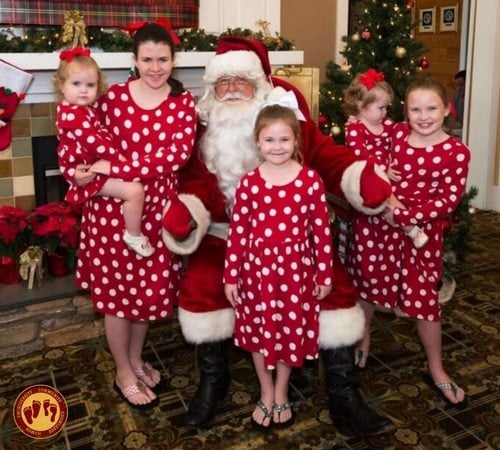 Our oldest daughter, Ashley, is 14 years old. This past Christmas I got all five girls matching dresses for pictures with Santa. Christmas 2016 was the end of an era. It was probably the last time I will get to dress all five girls the same. Since it was probably going to be the last picture with them dressed alike, we took them to a local mall. My hubby led the crew walking with one baby holding his hand. The three older girls were in the middle. I brought up the rear with the other twin holding her hand. We got looks, yes we did. Was it because we have five girls? Was it because they were all dressed alike? Or was it simply because we were out in public with five kids? We were stopped by a lady with her camera phone out. She asked if she could get a picture of my girls? WHAT? Was she serious? Um, NO WAY! I politely declined and we moved on. Who asks a complete stranger for a picture of their child/children? Who does that?
Another time I had all five girls at our local grocery store. Ashley was pushing Amelia in a grocery cart. I was pushing Anna in a grocery cart. Abigail and Ava were walking along side of me. We stopped by the bakery to get the girls their complimentary cookie. The young man at the bakery saw me with three of the girls. I told him what kind of cookies they wanted. I move aside so Ashley could say what cookie she and Amelia wanted. His response was absolutely priceless. He said, "They're all with you?" I replied "Yes." He then said, "Oh my God, that's five kids. Five girls!" I said, "Yes, you are correct. Can we please get our cookies? We have grocery shopping to do." He was young, maybe twenty something. Out of the mouth of babes.
I come from a "big" family myself, four girls and one boy. Maybe I'm just "used" to a family of our size. If someone told me seventeen years ago that we would have five children, I would have told you that you were crazy. But honestly, I wouldn't change it for the world. It's constant noise. There's toys in almost every room. Someone is always crying. Someone is always laughing. Someone is always hungry or needing something. In a few short years, they all will be grown out of the house. I can assure you, we will definitely miss the commotion.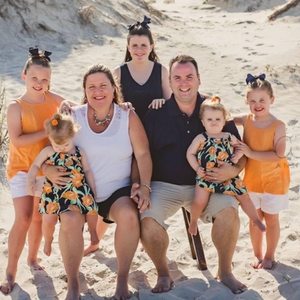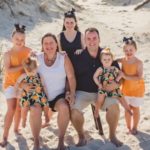 Jennifer Sutherland works full time from home. She married her college sweetheart who is a stay-at-home father. They have 5 girls, 14, 11, 6, & 2 year old twins. They live in Central Florida. In her "free time" she enjoys spending time with her family, crafting, & drinking coffee.
---
Related Articles
---
Expecting twins? START HERE! Check out our ultimate list of the most important articles for expecting twins and managing your newborns!
---
The rate of twin births has risen 79 percent over the last three decades, and continues to increase. A mom of fraternal twins and a national guru on having two, Natalie Diaz launched Twiniversity, a supportive website with advice from the twin-trenches.
What to Do When You're Having Two is the definitive how-to guide to parenting twins, covering how to make a Birth Plan checklist, sticking to one sleep schedule, managing double-duty breastfeeding, stocking up on all the necessary gear, building one-on-one relationships with each child, and more.
Accessible and informative, What to Do When You're Having Two is the must-have manual for all parents of twins.
---
Whether you're a twin parent in the big city surrounded by scores of resources, or a triplet parent out in the country with no one around for miles — our multiples parenting forums are for YOU! Sign up for FREE and connect with people who are just like you — parents of multiples looking for advice, parenting tips, or even just people to chat with who will understand what you're going through. Our forums are open to people all over the world and we offer scads of specialty rooms to find others who are going through the exact same thing as you. Check it out today!
---

Twiniversity is the #1 source for parents of multiples and we are growing faster every day!
Find us all over the web: