Reading interactive books to your twins is essential in supporting their early literacy skills. Interactive are not only fun, they also help engage infants and toddlers by capturing their interest and natural curiosity. Interactive books typically feature different textures, moving parts, pull tabs, and lift-the-flap activities, all which help support young children's sensory development. Here are Twinviersity's top 10 interactive books.
1. Scanimation Picture Books – These state of the art animation books are so cool and fun. You won't want to put them down. As you turn the page the illusion that he image is actually moving will thrill not only your little ones, but you as well. Some of our favorites are Gallop, Waddle and Star Wars.

2. Can You Make a Scary Face? – Your little ones will love the interactive component to the book. It is a simple book with simple directions that the children have to follow as you read along. There will be lots of giggles as they follow all of the silly commands of the ladybug on every page.

3. I Got the Rhythm – This colorful, vibrant book has simple rhythmic language on each page that your little ones will get so excited about joining in with. This is a must-have book for any child who's interested in dancing, body movement or music.

4. How to Put Your Parents to Bed – This hilarious and thought provoking book may become your little ones favorite bedtime book. In this clever, laugh-out-loud take on what is often a nightly struggle to get children tucked in, a little girl gives instructions on getting parents to bed. Laughs will be had by all, no doubt.

5. Press Here – This is truly a wonderful little book that proves imagination is more important and effective than batteries. There are no cute characters, no flaps to lift, no scratch and smell spots, lights, music or holograms. It's made up of primary colors, circles, and basic sentences – that's it. If you press here then something happens on the next page. So simple and smart at the same time.

6. The Yellow Balloon – Your kids will love the open-endedness of this book. It is far more than a "Where's Waldo" book, but rather an opportunity for creativity and discovery. It is almost like a puzzle book and you can use it as a jumping off point for storytelling: Where did the giraffe truck come from? Why? Where is the blue car going to go next? How did it get on the island?

7. This Book is Magic – This is such an adorable and great interactive book that will amaze both your kids and you. Children can clap, wave and abra-cadabra their way through the pages, making the magic happen with their finger tips.

8. On The Spot – This is a book that reminds young readers to view the world with humor and joy. The book encourages young readers to take a Mad Libs-style approach to its story; filling in sentences with objects that the readers themselves supply. It's completely different every time you read-through.

9. Round Trip – You read through this black and white book and when you get to the "end," you flip the book upside-down and continue reading in the other direction. The original illustrations appear as a totally different illustration when the book is flipped. This is such a great book for teaching positive and negative space, as well as capturing attention.

10. City Animals – With bright, colorful artwork and clever fold-outs this book is bound to please youngsters in a group setting, sitting on your lap, or reading alone. You get a peek at a quarter of the entire picture along with two questions. For example, for the squirrel you are first asked "Who am I?" to which you are given the clue: "I gather acorns." Undoing the first fold exposes another quarter of the cartoon-like image as well as the next clue: "I have a big furry tail." Once you fully unfold the page you see what animal it is. Another fun book in the series is Farm Animals.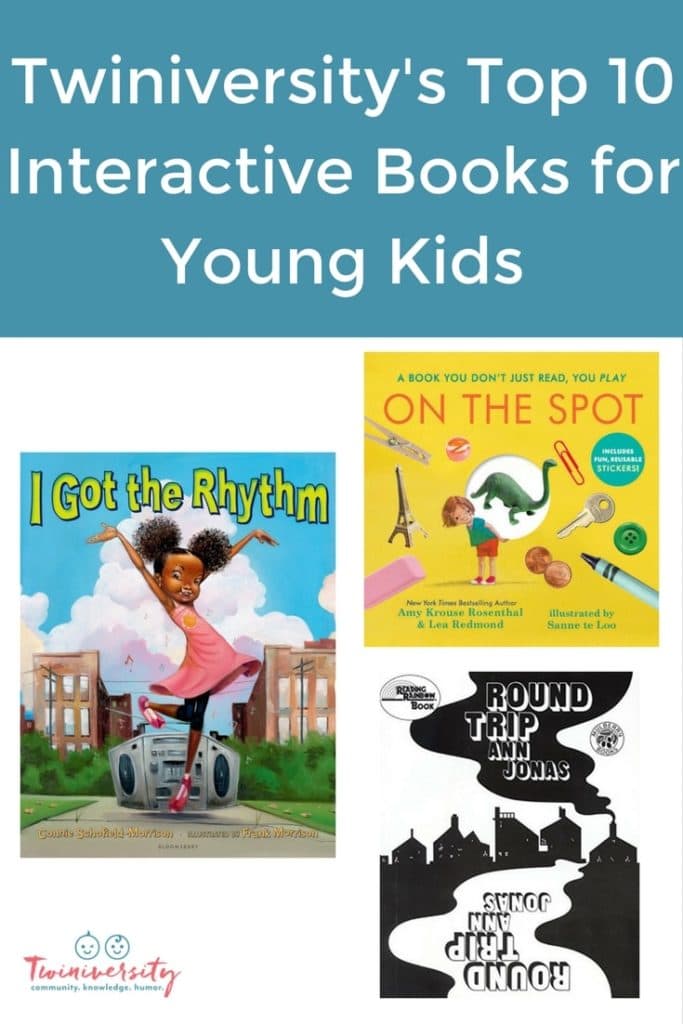 ---
Related Articles
15 Awesome Toys to Encourage Independent Play