Hey gang, listen up! We've got a great article for you today on all things swaddling, along with a giveaway from Love To Dream. Two lucky families will each win 2 Swaddle UP Originals!
THIS CONTEST IS NOT CLOSED
Need more sleep? Swaddle UP!
Snug fit makes your baby feel secure & helps to calm their natural startle reflex
Eliminates excess loose fabric in the crib
Wings prevent face-scratching
May reduce the risk of your baby accidentally rolling onto their tummy
Genius two-way zipper for easy diaper changes
Hip-healthy design allows hips and legs to flex naturally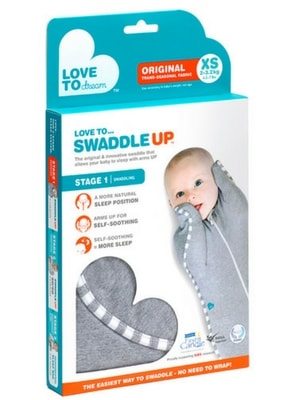 Love to Dream is dedicated to helping babies to get more quality, restful, and safe sleep. The Love to Dream Swaddle UP is designed to prevent unraveling and to keep arms positioned upward. The "arms up" positioning allows babies to suck their thumbs while being swaddled, which helps them to learn self-soothing. Your babies will LOVE having their arms up so they can suck on their fingers or gently rub their cheeks while feeling the comforting hug of a Swaddle UP. Plan to have a minimum of 3 of these for each of your babies – one in use, one in the wash, and one in backup. You'll always want to have at least one of these on hand at all times for each twin!
---
Swaddling 101
If you're expecting a baby or two, you have probably heard a bit about swaddling. But do you know why swaddling is a good idea, and how to do it? We'll be filling you in on all the swaddling details to make sure your twinnies get the best sleep possible!
What is swaddling?
Swaddling is the practice of wrapping infants in blankets or similar cloths to restrict the movement of the limbs. Swaddling is done to recreate the feeling for babies of being back in the womb, and it helps babies sleep better overall.
Why is swaddling helpful?
When babies are born they want to be back in the womb. The first three months of life is considered the "4th trimester", and recreating the feeling of being in the womb will help your baby transition into the world better. One way to do this is with swaddling. It is truly comforting to them and helps them to calm down and sleep better.
In addition, swaddling helps newborns deal with the Moro reflex. The Moro reflex is the reflex a baby experiences when what is best described as a sensation of free-falling and is startled, and then reacts by quickly lifting and stretching their arms. He/she may even let out a gasp of air. The baby will then curl their arms and legs closer to their body into a slight fetal position, as a way of protecting themselves. Some major triggers of the Moro reflex are loud noises, a bright light or a sudden touch. Swaddling helps to lessen movement during a Moro reflex incident, as it keeps the babies arms and legs close to their bodies.
How to properly swaddle
If you are using a receiving blanket to swaddle, follow these steps to make sure you are doing it properly:
Spread the blanket out flat, so that it is a diamond in front of you and fold down the top corner.
Lay the baby on the blanket, face-up, with their head above the folded corner.
Place their arms on the chest, and wrap the left corner of the blanket over their body. Tuck the blanket behind the right side of the baby's body.
Fold the bottom of the blanket over the feet and tuck behind the right shoulder.
Pull right side across and make a v-neck and hold with your thumb.
Take the remaining loose fabric and tuck it behind the left shoulder and wrap around the back to the right shoulder, then tuck into the front of the swaddle.
Remember to not swaddle too tightly; you should be able to put 2 or 3 fingers in between the swaddle and the baby's chest. It is also important when swaddling to keep the hips and legs loose to avoid hip problems. Studies have found that straightening and tightly wrapping a baby's legs can lead to hip dislocation or hip dysplasia, an abnormal formation of the hip joint where the top of the thigh bone is not held firmly in the socket of the hip.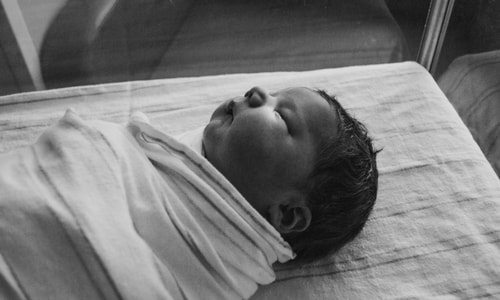 Always place your baby on their back to sleep, whether swaddled or not, to decrease his chance of sudden infant death syndrome (SIDS). Do not have any loose blankets, pillows, or toys in your baby's crib. A loose blanket, including a swaddling blanket that comes unwrapped, could cover your baby's face and increase the risk of suffocation.
How to make swaddling easier for caretakers
Swaddling is not an exact science. If you line up 10 different parents and ask them to swaddle their babies, you'll find that each of them does it a little bit differently. If you have a lot of help in the beginning you may find it difficult to get all your helpers to swaddle consistently.
One way around this is to purchase a swaddle blanket, a product that will give your baby a nice, firm swaddle every time, typically using stretchy material, zippers, and/or Velcro. While these swaddle blankets may be pricier than a traditional muslin blanket, they are really dummy-proof and will ensure that your babies are getting the proper swaddle every time, whether it's from you, grandpa, or nanny. Twiniversity recommends purchasing at least three swaddle blankets for each baby (one in use, one in the wash, and one in backup.)
When should you stop swaddling?
Babies can be swaddled until they begin to roll on their own, typically around 4 months old. Once you start to notice rolling, you need to transition your baby out of the swaddle within the next few days. Most babies have difficulty sleeping without the swaddle once they have been doing it for several months. It is recommended to swaddle with one arm out to allow the baby to get used to the sensation of not being swaddled gradually. Then transition to both arms out, using a sleep bag to keep your baby warm during sleep. Look for products on the market that allow you to transition your baby from a swaddle to a sleep bag easily.
Visit First Candle for baby sleep safety tips. 
---
Related Articles
Small Steps for Successful Sleep Routines
6 Tips to Get Your Twisn to be Terrific Sleepers
---
THIS CONTEST IS NOT CLOSED
Sweepstakes Terms & Conditions