Trying to entertain and keep twin toddlers busy all summer can be exhausting. Check out these great outdoor toys for toddlers to keep your twins busy in the backyard.
Summer is here and the idea of relaxing in the sun's glow sounds like a dream, but it can quickly become a nightmare when you have toddler twins running around. Everyone knows that outside play is an absolute necessity for little ones' physical and mental health but it can be challenging and risky to leave tots to their own devices.
Whether you have lavish acreage for them to explore or a small city plot to play on, sometimes you need to get creative with ways to occupy the twinadoes while keeping them safe. Here are my best "outside the box" backyard play ideas and outdoor toys for toddlers.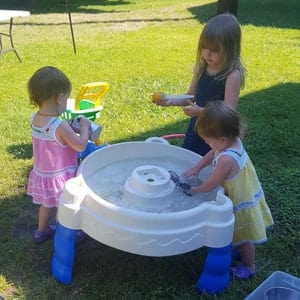 Best Outdoor Toys for Toddlers
Splash and Play
Pick up a water table for endless fun. There's no need to buy water toys, just use what you have on hand: a milk jug cut in half can double as a boat or scoop or poke some holes in a yogurt container for an instant strainer.
Clear out your kitchen and give them measuring cups, pie pans, funnels, teapots, small plastic pitchers and turkey basters. Shake things up by adding rocks or toy cars to wash or baby dolls/action figures to bathe.
Set out some bowls or buckets of water, paint brushes of all sizes or washcloths and let them go to town "painting" and cleaning the house, their toys, and the sidewalk with plain water.
Best Toys for 2 Year Olds
Backyard play with the hose. Show them how to fill buckets, create rainbows with the sunshine, add some sponges and have a car or toy wash, make some puddles for jumping or just watch them run under the stream.
Help your kiddos develop their tossing skills with water balloons instead of balls. They're easier for tiny hands to grasp and toss and if you don't fill them completely they tend to last longer (read: less upset for the littles). Set out some hula hoops as targets or play some catch. Just be sure to grab every piece of a popped balloon before they (or your dog) have a chance to get it in their mouths. backyard play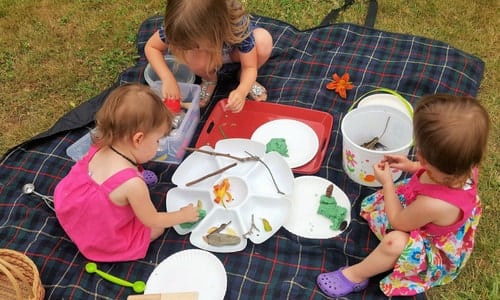 Nature Exploration
Stimulate their senses while keeping them safe with sensory exploration baskets of leaves, grass, sticks, acorns, and flowers for them to explore on a blanket while you observe nearby. Help them learn what's safe to put in their mouths, talk about textures and the natural world.
Fill a bin or your water table with soil and bury some treasure (cool rocks, pinecones, small toys etc.), set out some shovels and let them have at it. Later on, add a little hose water and make some mud pies or plant a mini garden. backyard play
Grab some magnifying glasses or binoculars and show them how to look at things up close. Putter around your yard together just looking down at the grass.
Show them how to look for ants and worms, pick up some dandelions to blow and make a wish, collect pine cones and seed pods, acorns and walnut shells, and add your findings to your sensory exploration bin.
Outside Toys for Toddlers
Lay a blanket in the grass and snuggle down together looking up at the clouds and watch the trees blow in the wind. Ask your kids what they see in the clouds.
Keep your eyes out for birds and airplanes. Flip onto your bellies and scan the grass for shamrocks and ants. Take a minute to slow down and connect in the chaos of everyday life! backyard play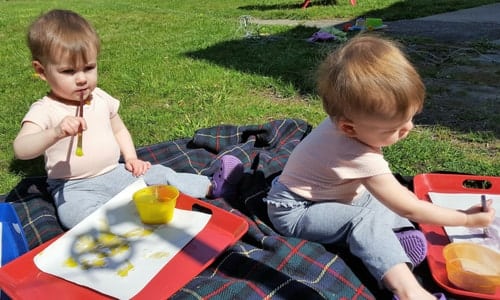 Create Art
Walk around the yard a bit together and collect some rocks, sticks, pinecones, and leaves. Spread out a blanket and paper with washable or watercolor paint and paint brushes.
Paint your found objects or create prints by dipping them in the paint and stamping them onto paper.
Outdoor Toys for 1 Year Old
Make your own natural paint brushes. Using rubber bands or scotch tape, attach clean feathers, pine needles, wheat shafts, or tall grass to sticks or dowel rods.
Tape some paper to the patio or the side of the house and a few cups of washable or watercolor paint to explore different ways to paint.
Use Play-Doh to explore the different textures outside by making imprints of grass, acorns, pinecones, the sidewalk, tree bark, and more. Use air-dry clay and create some keepsakes of your child's treasures. backyard play
Use sidewalk chalk on all the various surfaces in and around your space – tree trunks, fences, gates, stone paths, brick walls, and of course, the sidewalk or patio. Add some paint brushes and water or the hose for even more fun.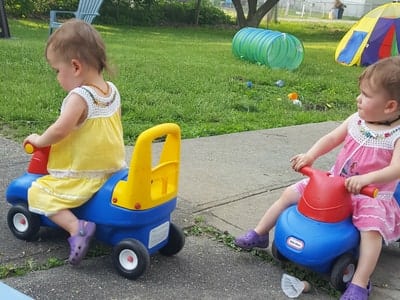 Get Moving
Have a backyard treasure hunt. Hide some favorite or new toys behind bushes and trees, under a pile of leaves, in the sandbox, etc. and lead your duo on a treasure hunt. Alternatively, you can take some pictures of your yard and print photos for them to hunt for such as flowers, leaves, and plants.
The number one way to tucker out toddler twins? Riding and pushing cars! These are the perfect outdoor toys for toddlers. Pick up two for cheap at a garage sale and watch them race and forth and back and forth on the sidewalk or driveway (supervised, of course).
Don't forget to get in on the fun and push them around as fast as you can to get the giggles going.
Backyard Toys for Toddlers
Get a bubble machine. This is a must have outdoor toys for toddlers! Even those of us in the best of shape is unlikely to last through a million requests for more bubbles. Pick one up for less than $20, fill it with a good bubble solution (try making your own!) and set it on a table for endless bubble chasing fun.
On a non-windy day, set out a play tent and tunnel for hours of fun – another great outdoor toys for toddlers. Not only do they provide a bit of a break from the sun, they pull triple duty as an instant pretend campout or obstacle course. Toss some books in the tent to create a chill space or roll some balls through the tunnel for even more fun.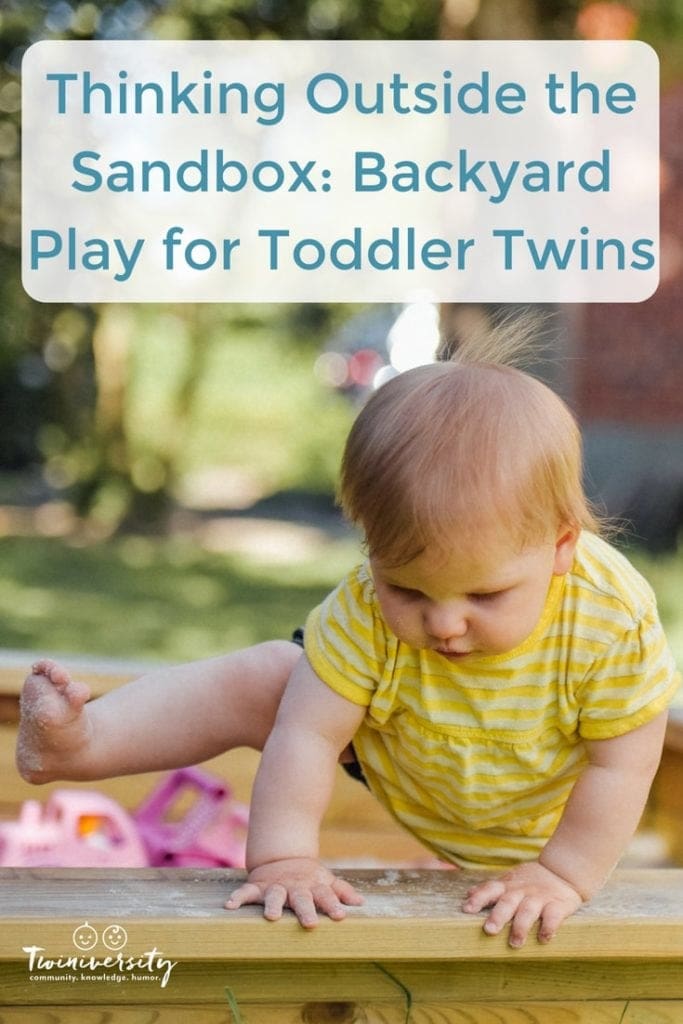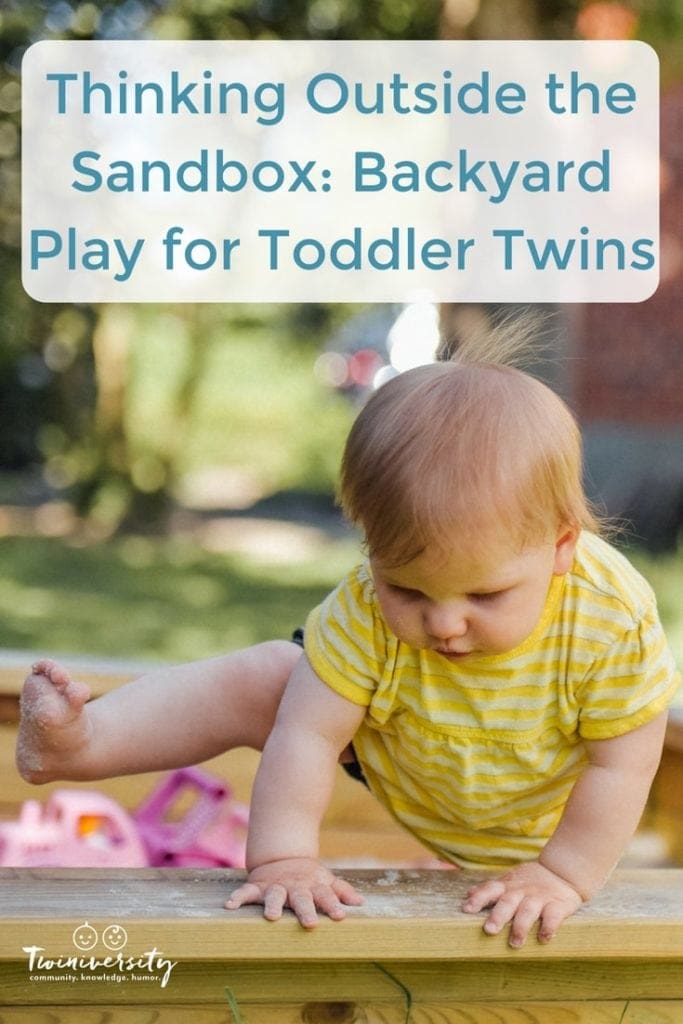 Summer Toys for Toddlers
Getting outside with a set of wild toddlers does not need to be stressful this summer. Don't be afraid to let them explore but be ready to guide them with some outside the box activities and outdoor toys for toddlers to stave off boredom when the need arises. Stock up on sunscreen, be creative, make some memories, and most of all, enjoy yourself!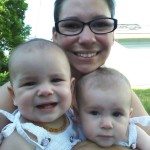 Maigen Beaulieu is a former child care provider turned Blog-At-Home Mom of 1-year-old identical twin girls, Juliette and Vivienne. She lives in upstate NY with her husband, the twinsters and their two cats, Boots and WIllow. When she's not wrangling the twins or blogging she can be found drinking wine and researching her family history. She can be reached via her blog Life and Love. Multiplied, on Facebook, Twitter, and Instagram.
---
Related Articles
Cheap Summer Fun to Keep the Kids Busy
5 Tips to Find Activities for Twin Toddlers