Are you wondering if the Britax B-Lively double stroller is right for your twins? Find out all the details below to determine if it's a good choice for your family.
Britax B-Lively Double Stroller Features
lightweight design (29 lbs)
extra large under-seat storage basket with convenient dual front access
adjustable handlebar
Compatible with 1 Britax or BOB infant car seat (adapter sold separately)
all-wheel suspension
self-standing quick fold
6 pockets
independent infinite reclining seats and
ventilated UV 50+ canopies
Fit: Birth to 50 pounds each seat
Maximum unfolded dimensions 40.75 L x 31.5 W x 41.4 H inches; Buckle strap depth 4.5″
For kids up to 6 years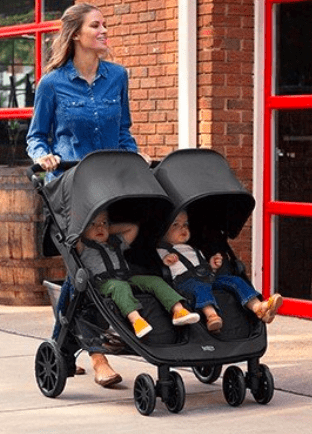 What does Twiniversity think of the Britax B-Lively Double Stroller?
The Britax B-Lively Double Stroller is a great option for twins. It's on the lighter side for a double stroller and it's a smooth ride. This is a great everyday stroller for walks in the neighborhood or for throwing in the trunk and taking to a theme park. The storage basket is ample and the 5-point harness will keep your kiddos in place. We also like the adjustable handlebar, which is great for shorter or taller folks. This is also a great stroller for the grandparents to keep at their house.
The only major downside is that the Britax B-Lively Double can only take one infant car seat, so you'll have to wait until your babies are sitting up on their own to use it because it doesn't recline into a fully flat position.
Please also note that the Britax B-Lively Double is 31.5 inches wide, which is a half-inch wider than the Disney Parks will allow. You may want to check with a Disney travel agent or call the Disney Parks yourself to check if that extra half-inch will be allowed at Disney.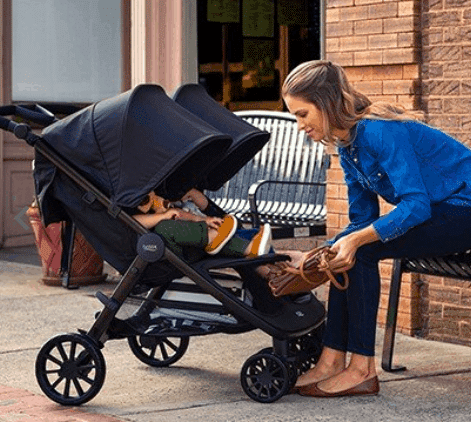 What double strollers are compatible with Britax B Safe?
All Britax double strollers that can accommodate an infant car seat will work with the Britax B-Safe car seat, just maybe not two at the same time. The Britax B-Lively Double can accommodate just one B-Safe car seat at a time, so that stroller is really better for your twins once they can sit up unassisted. Some double strollers on the market that work with the Britax B-Safe car seat are the Contours Options Elite and the Baby Trend Snap N Go Double.
Does Britax make a double stroller?
Yes! Britax has two strollers that can be double strollers. The Britax B-Lively Double is a side-by-side double stroller and the Britax B-Ready G3 is a single stroller with a double seat accessory (sold separately) that can convert it to an inline stroller.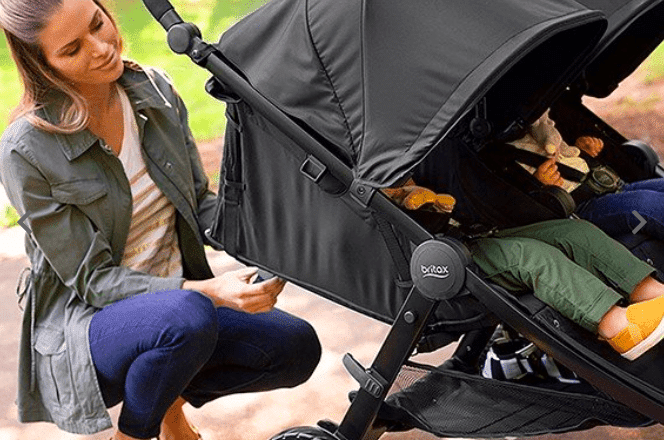 What is the best double stroller?
As far as which is the best? That's hard to say because each family will choose one based on price, features, width, travel ability and other factors that aren't universal. What's best for a trip to Disney may not be best for a trip to the zoo. So (and I hate when people say this) there isn't a "best"; the best one is the one that's right for you.
How wide is the Britax double stroller?
The Britax B-Lively Double is 31.5 inches wide.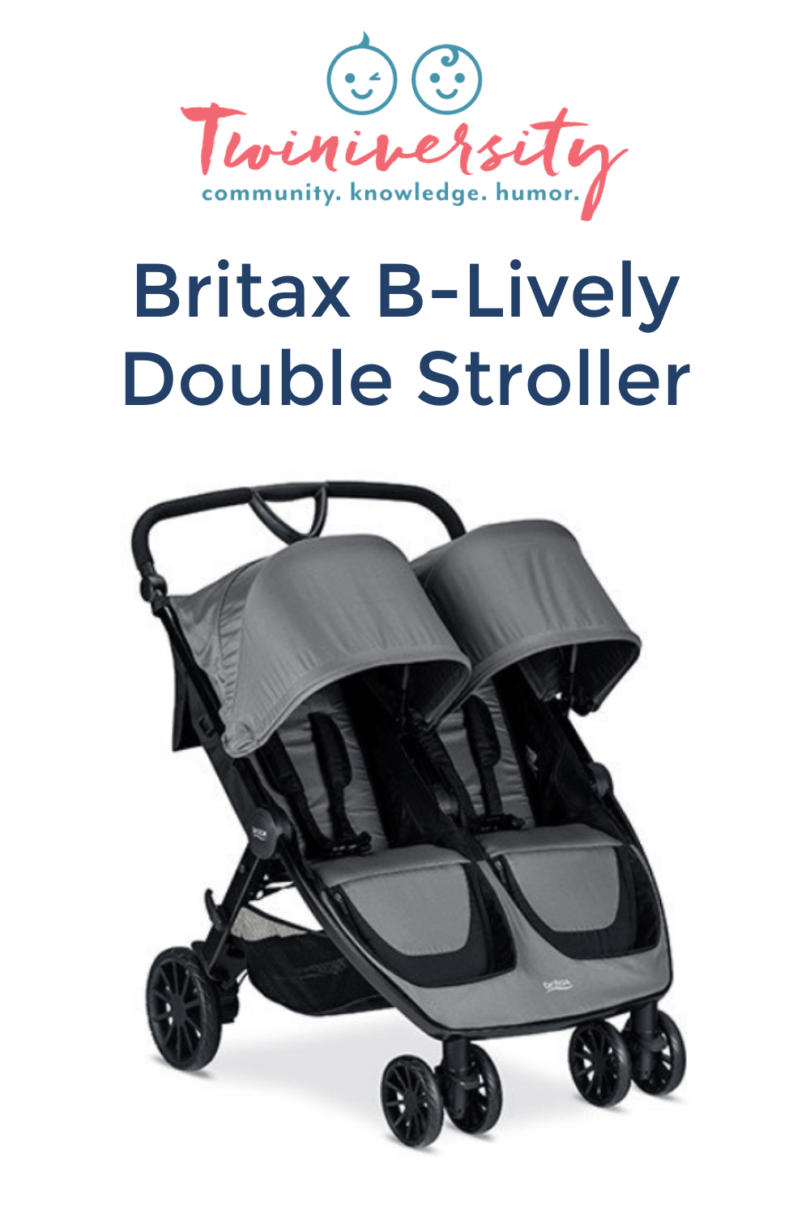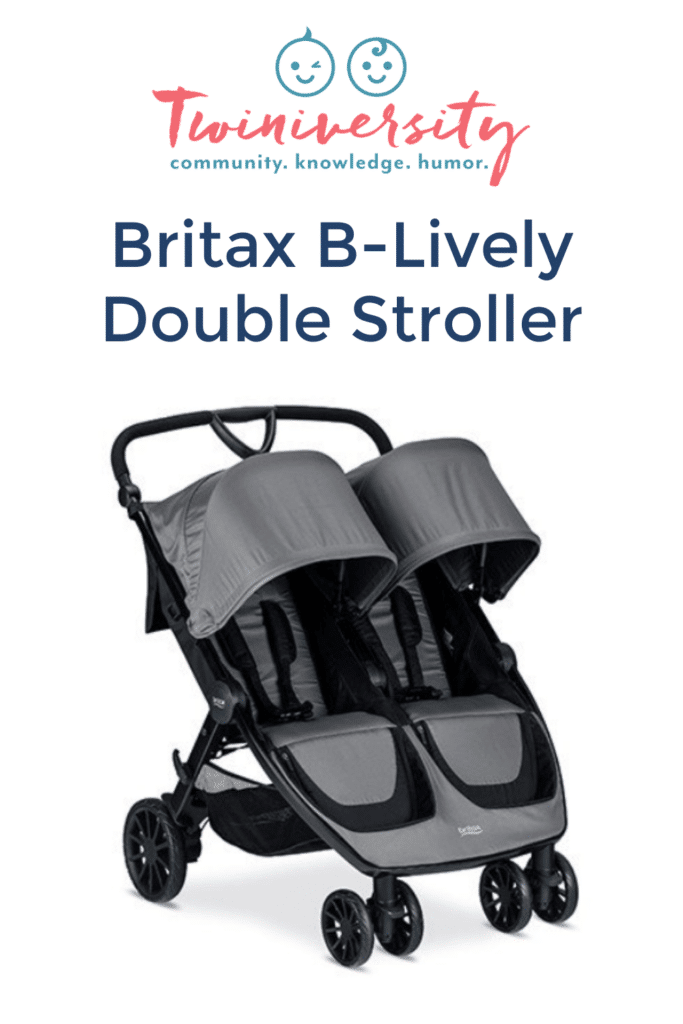 Return to Double Stroller Reviews
Disney stroller rules
Disneyland and Walt Disney World announced new rules in regards to smoking and strollers, which went into effect on May 1, 2019. Strollers wider than 31 inches (79 cm) in width and 52 inches (132 cm) in length will be prohibited in both Disney parks. Stroller wagons will also be prohibited, which includes the Keenz and Veer wagons, two of the more popular wagons with parents of twins. Disney explains, "The reduction of stroller sizes is intended to ease Guest flow and reduce congestion." Be sure to check your stroller's dimensions when opened to make sure you're bringing the right stroller to the House of Mouse.
Tips for Air Travel with Double Strollers
Strollers and all baby carriers will need to be screened by X-ray and or manually. If you have a stroller and car seat, only one can be checked at the gate. If you are not planning to use the car seat on the plane, you will want to check it at the ticket counter. On some airlines, strollers over 20 lbs must be checked at the ticket counter and strollers under 20 lbs can be used in the airport and then checked at the gate. Check ahead with your carrier to find out their rules for stroller weight. If you must check your double stroller at the ticket counter, plan to use baby carriers throughout the airport.
Be aware that some airlines have a weight limit to gate check a stroller. According to the American Airlines website (as of April 2017), their policy states, "Each ticketed customer is allowed 1 stroller. Only small, collapsible and light strollers (up to 20 lbs/9kgs) can be checked at the gate. Any stroller that weighs over 20 lbs/9 kgs, is too large, or is non-collapsible must be checked at the ticket counter."
This policy does not take into account that the average double stroller weighs between 26 and 37 pounds. As any parent of twins knows, our double stroller is one of the most important pieces of equipment we have.
When you are traveling with multiple small children — especially if you are traveling alone — it is extremely difficult to manage an airport without a stroller that can be gate-checked. And the fact of the matter is that there are very few double strollers on the market that meet the 20 lb. weight limit.
Features to Look for in a Double Stroller
It fits in your trunk. You should not have to wrestle with your stroller to get it to fit in your trunk. Bonus points if you don't have to take one of the seats off to fold it. Be aware that some strollers will fit better once you remove the tires, which typically can be popped back on in a snap. Always look for a good travel system.
It fits in your house. Measure all of your doorways and hallways to make sure that the stroller will fit inside your home, ideally without having to fold it up first. Side by side strollers are often less convenient for this reason. When you're coming home from a long walk with your infant twins and it suddenly starts to rain, you'll thank me!
A solid frame. Look for a twin stroller that has a sturdy, solid frame that was meant to safely hold two children for the length of its use. Many single strollers can convert into a double stroller by adding a second seat, but these strollers were made for two children of different ages and are not ideal for two children of the same age, height, and weight. These strollers typically have a lower weight limit for one of the seats because it's really been made for a baby + toddler. The stroller frame should be super sturdy!
A handlebar that reaches all the way across is key, and you can find that with the Britax B-Lively Double. You're going to need that full handlebar to maneuver your twin stroller with one hand at times. Strollers with two handles are typically more difficult to steer. An adjustable handlebar will make life so much easier.
A large basket. Storage baskets! Your stroller that's meant for two kids should have room to fit STUFF for two kids! That's another problem with single strollers that convert to doubles — the basket is meant to hold stuff for just one child. You'll also want to make sure there is easy access to the basket from different spots around the stroller so it's easier to get items out. Cup holders are great too!
Independent reclining seats. You definitely need to be able to have each seat at a different recline. What if one baby is wide awake and wants to look around, but the other is sound asleep and could use a bit of recline? You'll also want to find seats that recline as far back as possible to allow for good stroller naps!
5-point harnesses. Yes, some strollers only come with 3-point harnesses (only across the lap) but you absolutely need a 5-point harness (which also holds them back at the shoulders) to make sure your babies don't fall forward out of the stroller when you have to make a sudden stop.
Canopies that extend far down. When you're walking towards the sun this is going to make a HUGE difference! The canopies should also work independently (not stuck in the same position together) such as the canopies on the Britax B-Lively Double.
Peek-a-boo windows that are ventilated. These are on the back of each stroller seat so you can see what the kiddies are up to without having to peek into the front of the stroller. Ideally, these are mesh to allow for extra air flow, with a flap so you can keep it covered when it's too cold or windy. This will ultimately allow for a smooth ride.
It's easy to fold and lift up. If you're having a hard time getting it to fold after a few tries, take it back. If it's too heavy for you to lift into your car's trunk, take it back. These things will only cause you more annoyance as time passes.