Last updated on September 9th, 2022 at 11:07 pm
URGENT RECALL: 4moms brand, based in Pittsburg, has recalled over 2 Million MamaRoo baby swings and RockaRoo rockers due to strangulation risk.
What 4moms products are included in the recall?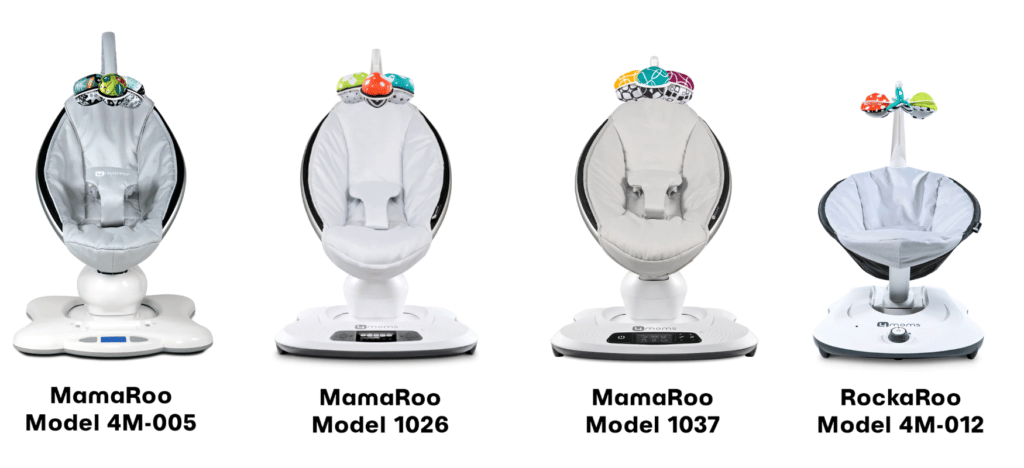 According to the Consumer Product Safety Commission, the products included in the recall are the 4moms MamaRoo Baby Swing using the 3-point-harness, versions 1.0 and 2.0 (model number 4M-005), version 3.0 (model number 1026) and version 4.0 (model number 1037). The recall also includes the RockaRoo Baby Rocker, model 4M-012. The model numbers are found on the bottom of the products. In the US, more than 2 million MamaRoo's were already recalled, as well as over 200K RockaRoos.
Why did 4moms recall the MamaRoo and RockaRoo products?
Federal safety regulators announced that the MamaRoo and RockaRoo swings and rockers posed a safety risk to infants when the products weren't in use. When not in use, infants who crawled could potentially become entangled in the straps, leading to strangulation. At least one death, a 10-month-old infant, has already occurred. Another child was injured before a caretaker was able to save the child.
In the image below, you can see the strap that hangs on the MamaRoo Swing.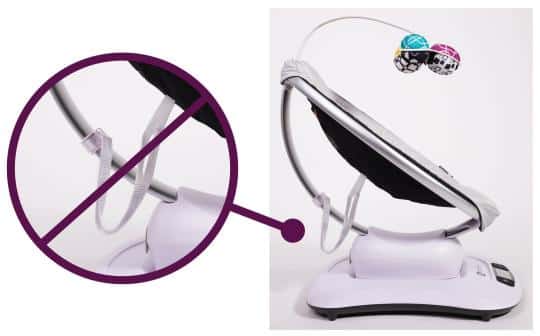 What should you do if you have a MamaRoo or RockaRoo swing or rocker?
If you own a MamaRoo swing or a RockaRoo rocker, you are advised to immediately stop using these products. You should place them safely out of reach from your young children. The recall provides a repair for the swings and rockers.
Consumers are advised to contact 4moms immediately. You will receive a free strap fastener to prevent the straps from hanging when the swing or rocker is not in use.
Gary Waters, CEO of 4moms, said in an email, that they "are deeply saddened by the two incidents that occurred when babies crawled under the seat of unoccupied MamaRoo swings." He also stated, "The free strap fastener kit we have designed is an easy-to-install solution that we believe will prevent any other incidents from happening."
Other rocker warnings:
The 4moms recall follows previous warnings for infant rockers from the CPSC. Two months ago, the CPSC warned consumers not to use infant rockers for sleeping. This came after there were several deaths linked to products by Kids2 and Fisher-Price.
Parents should also never leave their children unattended in any baby swing or inclined product. That includes rockers like the RockaRoo, gliders, and other similar products. The CPSC has warned that these products should not be used for infant sleeping. There is a risk of suffocation, especially with the bedding material.
How to contact 4moms if your product is recalled:
According to the US Consumer Product Safety Commission page, you can reach 4moms toll-free at 877-870-7390 from 8 a.m. to 5 p.m. ET Monday through Friday.
You can also reach them by email at safetyandrecall@4moms.com or online at https://www.4momsrecall.expertinquiry.com. You may also go to https://www.4moms.com and click on SAFETY & RECALL at the top of the page for more information. 4moms is contacting all known purchasers directly.