Last updated on August 12th, 2023 at 07:01 pm
Hey gang! Did you know June is Potty Training Month? And our friends at BabyBjörn want to make sure you're ready for it! We've got a great article for you on 5 tips for potty training preparation, PLUS we're giving away TWO (2) potty training kits to 1 lucky family from BabyBjörn!
THIS CONTEST HAS ENDED
This potty training kit includes:
A rule of thumb for potty training is to make it easy for kids. The BabyBjörn kids bathroom sets help your kids to progress from using a diaper to a potty to a toilet seat. With the BabyBjörn potty, toilet trainer and step stool, potty training will be safe and comfortable.
---
5 Tips for Potty Training Preparation
Preparing both yourself and your twins for potty training is key to a successful experience. Here are 5 tips for potty training preparation to help you along the way.
1. Talk about the potty with your twins
Show them the toilet when you go and make them aware of how and why it is used. They are most likely a bit familiar with it already, as parents rarely pee alone! Read books to them about it, as well. There are LOTS but mine loved Potty by Leslie Patricelli. Include the twins in all of the prep work and gathering of potty training paraphernalia.
2. Gather your supplies!
We had two potty seats at home AND one for car emergencies. I liked the ones that double as step stools (helpful for reaching the sink to wash hands) and have a seat that can go on the regular toilet, as well as be a self-contained potty. My twins ALWAYS had to go at the same time, so we would have never survived with one! Take your twins to the store and include them in the process or purchasing tht potties. Each of mine picked out one that they liked. The ownership seemed to be helpful.
Also important, pack a zip lock bag for each kid to keep in the car. Include pants, underwear, and sock (because sometimes it makes it to the socks!). I bought extra pants (Target clearance rack!) for this, just so I had a few sets of clothes just in case. I also bought a few egg timers, and I let the kids help me reset them to remind them to try again in a little bit. They each had one that was their own. I liked it better than my phone timer because they each had one and they could go check it and help reset it.
Later on, we got a toilet seat with the potty seat attached, they love this when they were older! I have girls, so I'm not sure if there are other things that you'd want to for boys (but it seemed that my friends with boys started them off sitting too).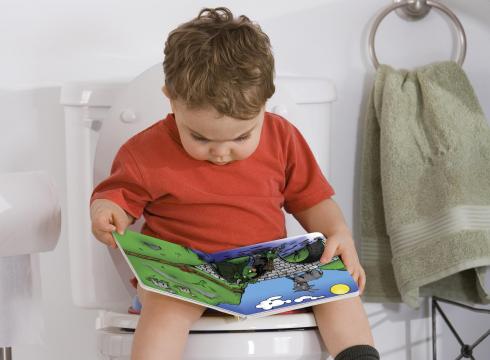 3.Gauge the interest of your kids
One twin might be ready before the other twin and that's ok. Maybe they are both ready and maybe no one is ready. Really you, the parents, are the best judges of this. Don't worry what anyone else is doing, don't worry about what their twin is doing. Really try to look at each kid individually.
4. Figure out your plan
Sticker charts, prize bucket and reading together while they sit on the potty. I did not try the no-pants method. We had JUST moved into a new house, between the carpet and the new furniture I couldn't do it! But I know people who did that. The prize bucket was for a completely dry day, which worked best for us. The sticker chart worked when they were starting out, as it was a small reward each time even if they weren't dry the whole day. If it isn't working you can switch it up. Sometimes the things that work in the beginning don't work as well at the end, and vice versa.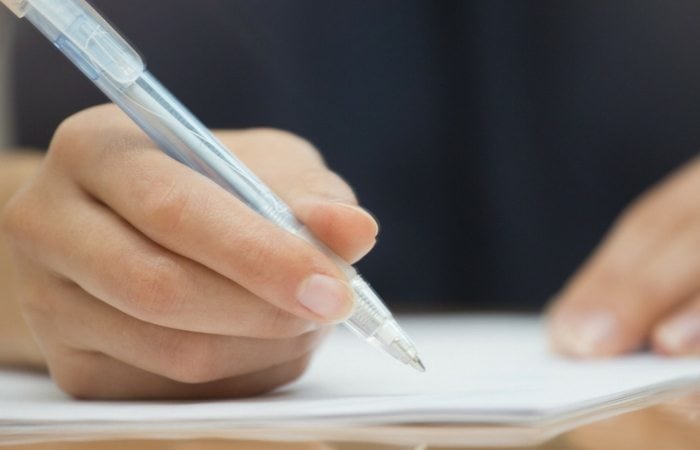 5. Keep notes!
Grab a notebook or make a note on your smartphone. Write down who is successful and when there are accidents. When there is one, was it due to being distracted (and too busy playing to go?) or was it a running-to-the-potty-don't-make-it-in-time kind of accident? Is there a time of day that is tougher? Does one child need more reminders during the day? I was so bogged down by what wasn't working that it was really tough to see what was working, until it was on paper in front of me.
One kid needed a timer set and needed to try every hour or so. While the other kid needed to be more independent, as is her nature. She figured it out on her own, as long as she tried right after meals. Then one day I stopped taking notes because there were no accidents. I promise you WILL GET THERE!!!
Just keep in mind you have TWO kids to get through this phase (or THREE OR MORE…I bow down to the triplet and quad parents! Holy moly!). Even though X, Y and Z worked for your friend it might not work for your twins. Even though some people are telling you that your kids are ready, it works SO MUCH better if the kids are on board, as well as those who are doing the training. We stopped and started several times because we pushed it before they were really ready. They liked the idea of the new potty seats, but really weren't ready yet. Then we moved, and then we had a new baby. All of these things set us back. I gave up for a while and just waited for them to be ready to try again and then we started again.
Some kids thrive on consistency and others push back when they are pushed too hard. You know your kids, watch how they are responding and if it really isn't working, give everyone a break and try again in a little while.
---
THIS CONTEST HAS ENDED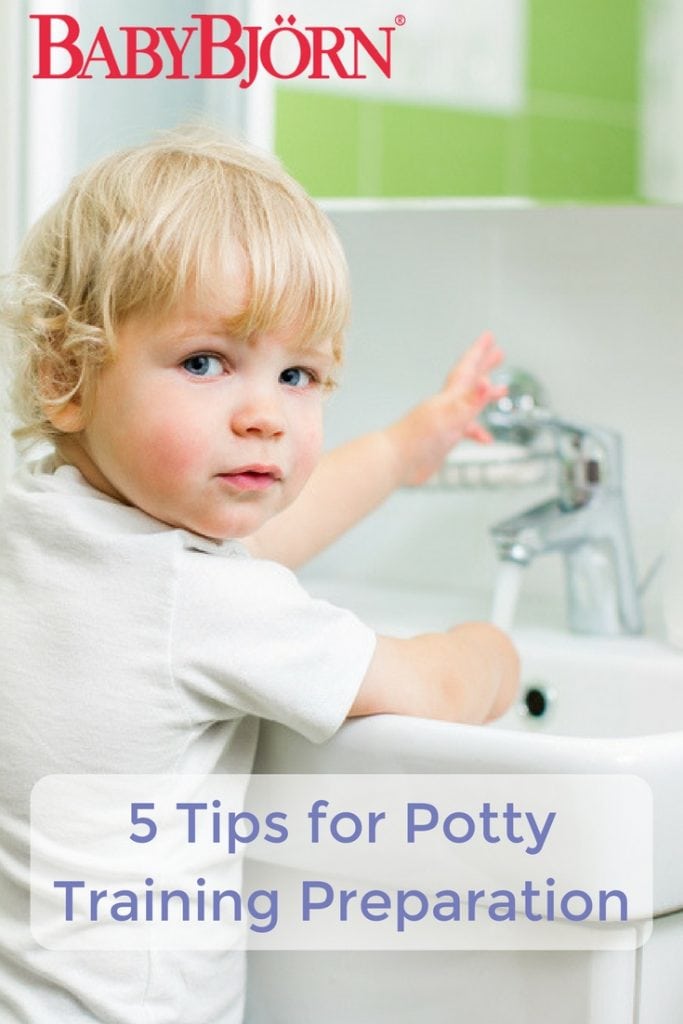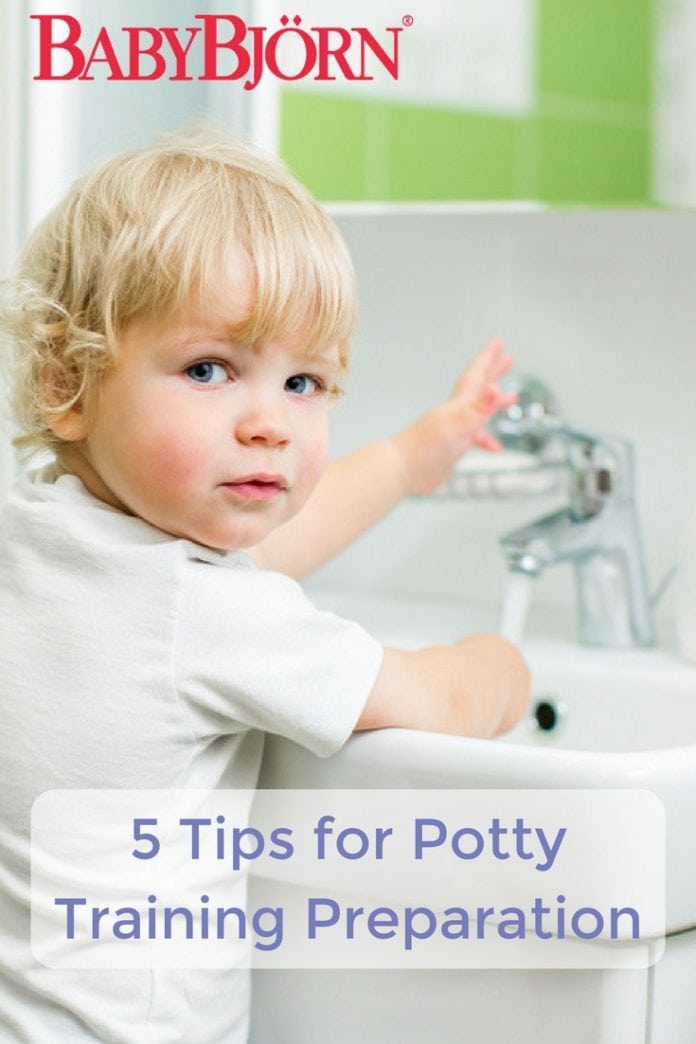 ---
Check out our ultimate list of the most important articles for expecting twins
and managing your newborns!
---
Are You a New Twin Parent?
Check out Natalie Diaz's book:
"What To Do When You're Having Two
The Twin Survival Guide From Pregnancy Through the First Year"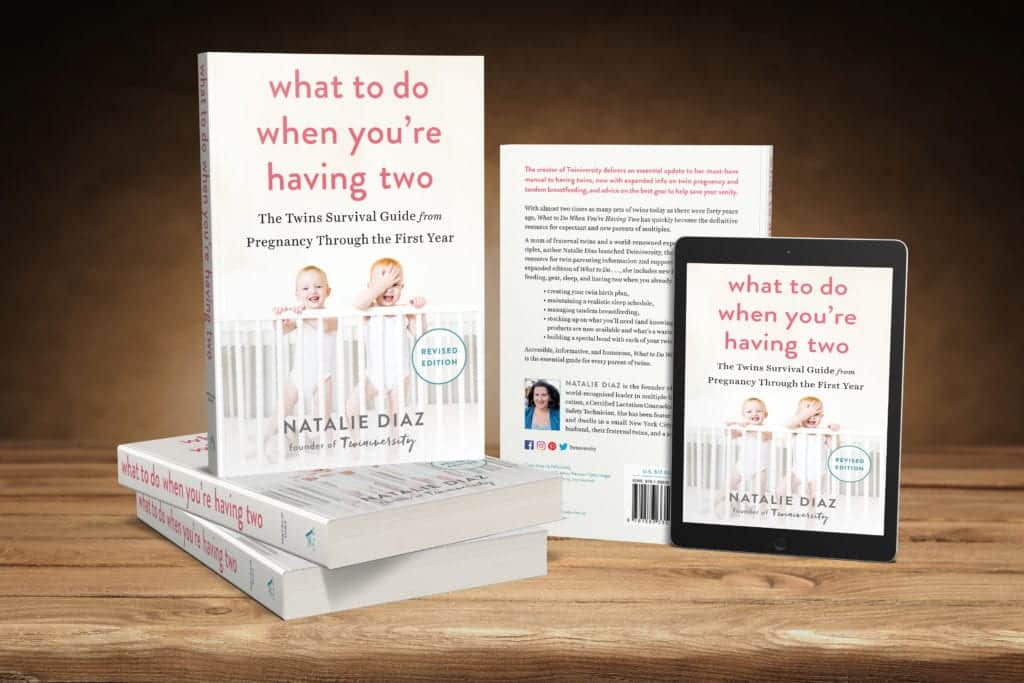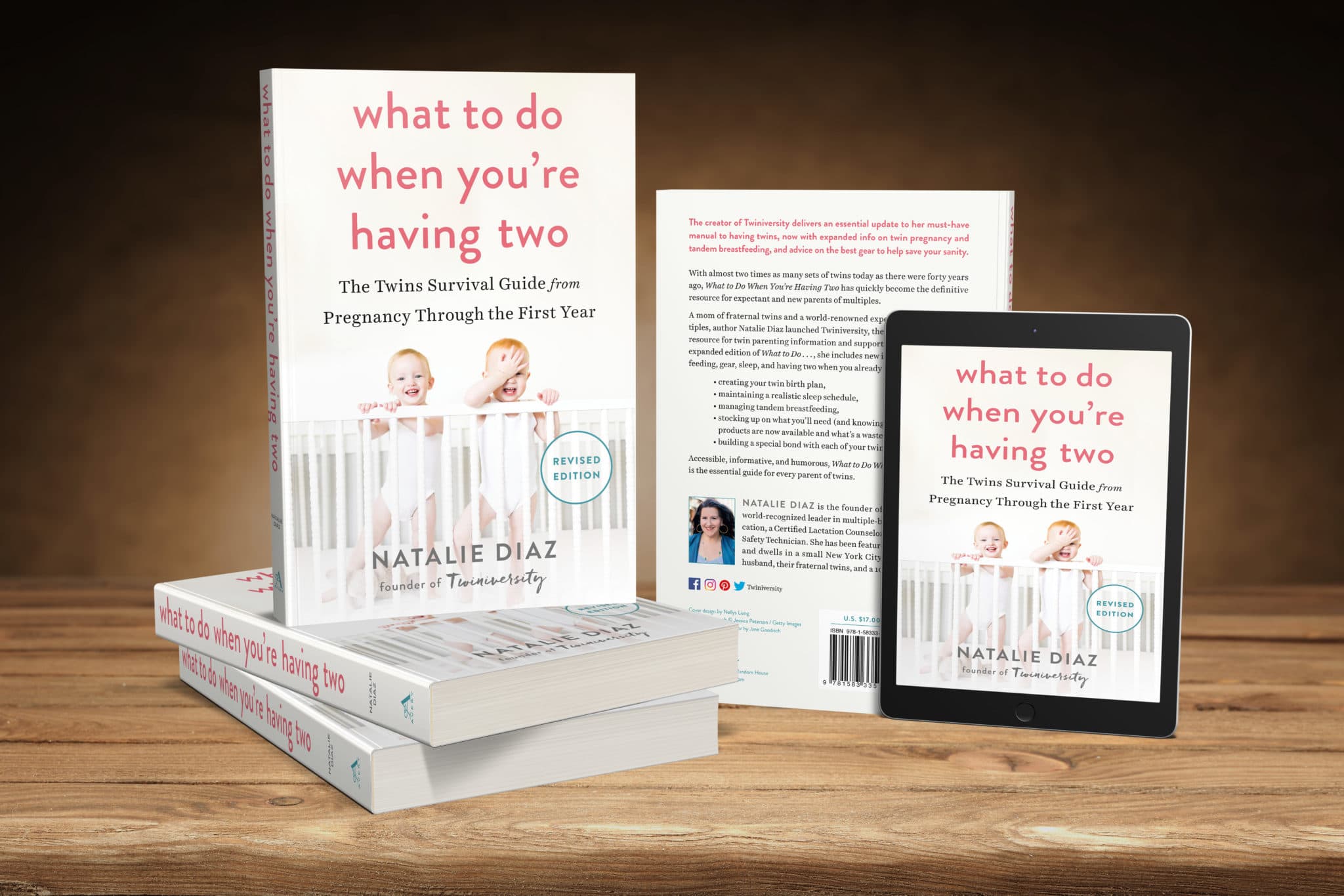 In What to Do When You're Having Two: The Twins Survival Guide from Pregnancy Through the First Year, national twins guru and founder of Twiniversity (and twin mom herself!) Natalie Diaz provides a no-holds-barred resource about life with twins, from pregnancy and birth all the way through your duo's first year of life.
Accessible and informative, What to Do When You're Having Two
is the must-have manual for all parents of twins.
---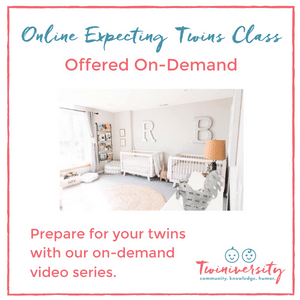 Have you taken your expecting twins class yet? We offer a great class on demand so you can take it on your own schedule! There are so many video modules covering everything from your twins' baby registry to your first week at home with twins! Sign up today to get started before your twins arrive.
---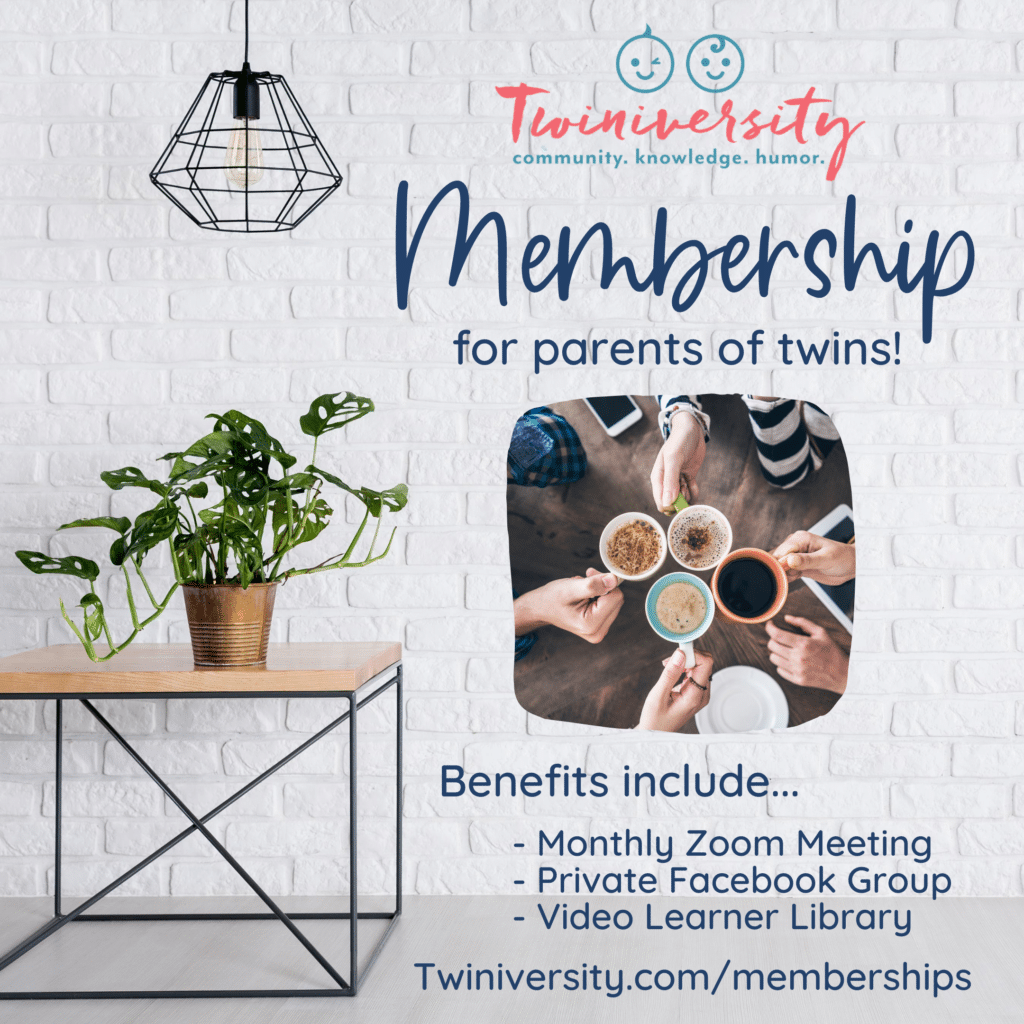 Need some twin parent friends? Get the support you need with a Twiniversity Membership. Benefits include a monthly twin parent club meeting on Zoom, access to a private Facebook group just for twin parents, and a video library of twin parenting lessons. Visit Twiniversity.com/membership to join today!
---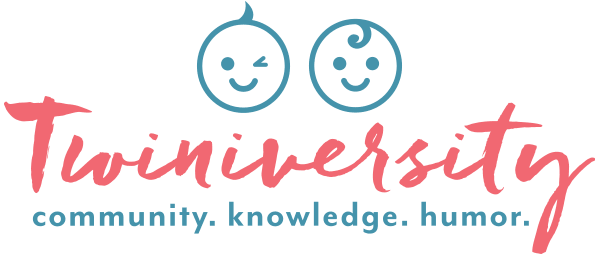 Twiniversity is the #1 source for parents of
multiples, and we are growing faster every day!
Find us all over the web:
Or contact us by email at community@twiniversity.com