Last updated on September 30th, 2021 at 10:09 am
Hey gang, listen up! We've got a great article on 5 tips for reading with your kids, plus an awesome giveaway from Manhattan Toy Company! One lucky family will win TWO Dr. Seuss Grinch Dolls with Light Up Heart. Your twinnies will love snuggling up and reading with these dolls! It's the perfect toy to get ready for the holiday season and share in the joy of reading with your little ones.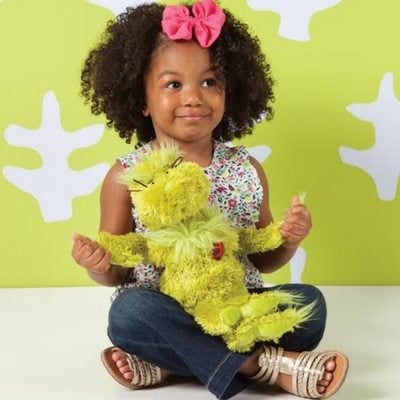 Can't get enough of The Grinch Who Stole Christmas? Be sure to check out these other fantastic Dr. Seuss dolls from Manhattan Toy: Cindy Lou Who, Max the Dog (complete with antlers!), and the Grinch Finger Puppet Set.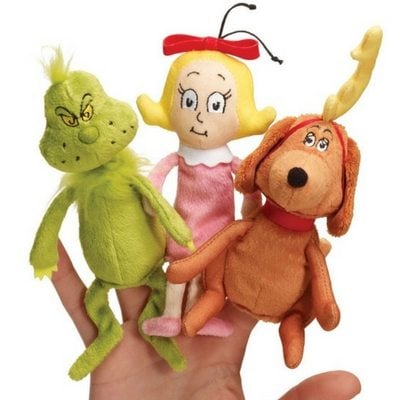 The Manhattan Toy Company Dr. Seuss Collection features a variety of toys and play patterns to complement this iconic, endearing brand, including The Grinch That Stole Christmas, The Cat in the Hat, Horton Hears a Who, and The Lorax. From soft toys to baby toys, each Dr. Seuss character is carefully constructed and highly detailed to match the characters that so many have grown to love.
While you're making up your holiday list (or your baby registry), make sure to check out Manhattan Toy's awesome selection of baby books to gift to your twinnies! These are the perfect books to introduce your newborns to the world of reading.
---
5 Tips For Reading With Your Kids
What if I told you that yesterday I was in a runaway train headed to a castle in a far-off land, and last week I was solving mysteries in the Caribbean? This is the world of reading. Yes, I'm a true bookworm and proud of it! I love the idea of combining teaching with letting the imagination run wild while being transported to wherever you
want to go.
Reading is a fundamental skill, and even though the format may change (hard-copy vs. digital) we must be able to read to get ahead. It doesn't matter if you prefer novels,text books, magazines or business proposals; it's a necessary skill to have to succeed today and in the foreseeable future. So why not share this wonderful world and skill-set with your kids? Reading is fun, and sharing the stories even better! Storytelling is a bonding experience that has been passed down for generations and reading to your children is the way to get started.
Not sure what to read? We'll help you figure it out. You can start with anything, as long as it's appropriate. You can find age-appropriate books online, in stores and libraries. Remember, it's not what you read; it's about the interaction and sharing special moments together. You will be helping your children grow their vocabulary and imagination, as well as letter and sound recognition to get a head start on learning to read. Through you, they'll grow to love books and reading. So stock up on those books and let's get started!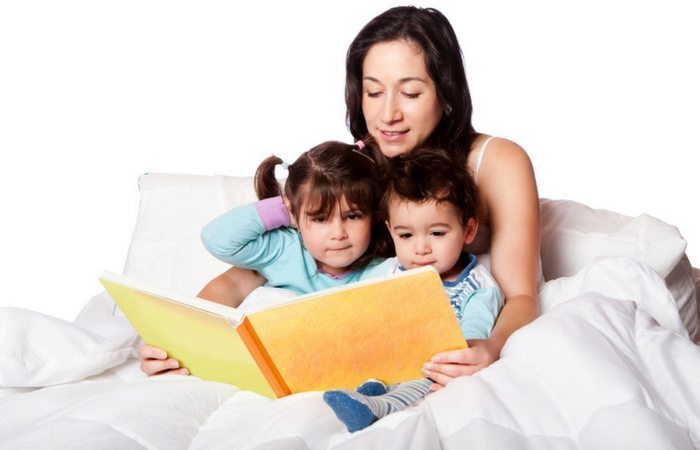 1. When do you start?
As soon as possible, even in the womb. There are proven benefits to reading, singing and talking to your (or your partner's) baby-belly. If you feel silly, and have pets, have them sit with you; they'll enjoy the sound of your voice and you'll get practice and bonding time before your babies arrive.
It's never to soon to start reading to your children. It's a fact that all babies love listening to caregivers and looking at pictures, just keep the books close since sight is still developing. Start out with books that feature high contrast colors (black, white, and red) and bold shapes.
Idea: To help stock the babies' library, you can request each guest bring new or gently used books on your Baby Shower invitations.
2. Make it interesting and entertaining!
Babies and toddlers: Choose different textures to help change it up. There are soft, hard, crinkle, rattle and lift-the- flap books, touch and bath books, even old-fashioned puppet and pop-up books.
Ages 2-6: Look for characters they love, a favorite genre, or activity. While reading, sit so that your child can see the pictures and explore. Let them turn the pages and point to pictures as you describe the colors and the sounds the characters would make, making the experience as interactive as possible. This works great with word, number and color books. I reserve the thin-paged bound-books for regular story-time when they are sleepy and less likely to pull the pages.
Use different voices for each character by changing pitch and tone. Act out some of the story or make silly sounds, blow raspberries, etc. when you see their attention waning to keep things light. If it's a song type of story, sing along; if not, sing anyway. It'll be fun, especially when you see the delight on your children's faces. Eventually, they'll start moving their mouths to the words and soon they'll be reciting the stories back to you.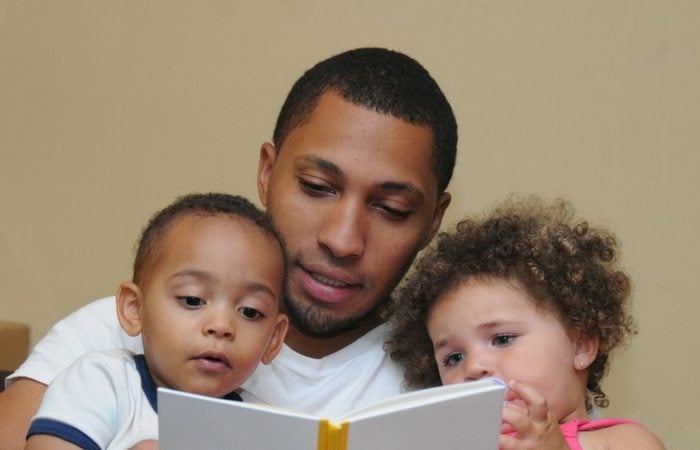 3. Make it a family affair!
Nothing makes me happier than watching my family and friends bonding with my boys as they cuddle up and read to them. Go ahead, try it and invite your pets – we do! During naptime, I read to the babies with our pup in tow and my husband does the same at bed-time. He ends his session with a song from a book he loved from his childhood. These are those special moments your children will remember.
4. Pick a time, any time!
The best time is when they will be able to sit for a few minutes or when a little tired but still alert (not overtired). For babies, read to them after they've eaten. Show them the word books and sing-song books as you try to help them learn and understand words and the world around them. For toddlers and older children, timing is key. You don't want to read to them when they're actively trying to play or moving around.
During regular story-time, for kids of all ages, it's best to pick a quiet time of day or night such as right before nap-time or bedtime to help them relax.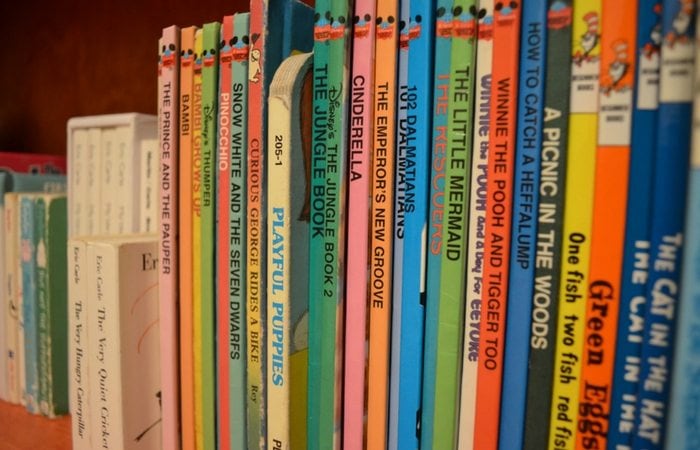 5. Get social! And I don't just mean online.
Babies need in-person interaction to learn. While there are plenty of story-time apps, online books, and programs, keep in mind they're better for children over the age of 2. Babies are less likely to understand or learn from 2D images such as on television, the computer, phone, or tablet yet.
For over age 2, find programs such as book or reading clubs for little kids (or start your own). Check your local library for story-time and sign up. There are usually different days for different age groups.
Bottom line: these activities should be a bonding experience. Don't push too hard. Keep things light and fun for all. Now it's time to take your children by the hand and step up on that platform together because this is going to be a wonderful and adventurous ride! Happy reading!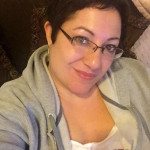 Lorraine Conforti is a proud new mom of twin boys and pet-parent of two cats and a dog. Being both conservative and artistic, she describes herself as "a little bit country and a little bit rock and roll." She enjoys the arts, music, writing, and had performed in a Blues/Rock band with her Husband for several years. She is also passionate about health and fitness and has held certifications for nutrition and Personal Training, and has earned a BS Degree in Healthcare Management. For articles by Lorraine on Twiniversity, click here.
---
THIS CONTEST HAS ENDED