Last updated on September 25th, 2023 at 08:14 pm
Hey gang, listen up! We've got a great article on 5 tips to introduce baby food to twins along with an amazing giveaway from Happy Family. One lucky family will win a "No Cooking for a Month" prize package! YES, that's right – NO COOKING FOR A MONTH FOR YOUR TWINS! Doesn't that sound like heaven?
THIS CONTEST IS CLOSED
The Happy Family "No Cooking for a Month" prize package includes: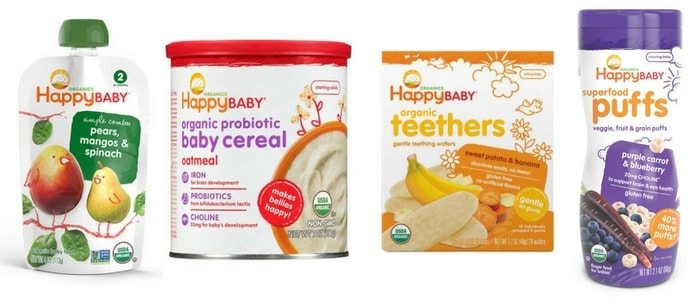 The right nutrition matters most. What you feed your babies will forever define their wellness blueprint, both physically and mentally. The Happy Baby line of baby food is USDA Certified Organic and has beneficial nutrients that nourish the body and shape a healthy relationship with food early on. A happy start leads to a happier future.
---
When it comes to introducing baby food to children, the do's and don'ts are pretty simple, but add a second baby and the process just got twice as difficult. Parents have to set up for two feedings at once, worry about allergies times two, be twice as fast with their spoon skills, and the clean up is double. Don't fret! Here are 5 tips to introduce baby food to twins.
1. Have everything ready beforehand
First of all, be prepared. Placing babies in a high chair and THEN making food or searching for bibs probably isn't going to sit well with them because they get bored/restless so easily. Have the food prepared, test it (if you dare), and adjust accordingly. Have bibs, a washcloth, and anything to aid in the clean up afterwards all ready to go. And have everything within arms reach. For the very first feeding you might over prepare, but it's usually better safe than sorry. Eventually you will learn what works for you and your babies.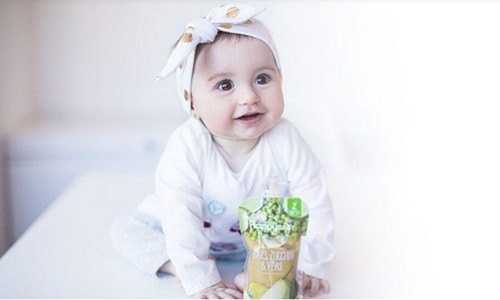 2. Introducing new foods
Pediatricians and experienced parents recommend only introducing one new food at a time and give it a 2-3 day trial. This is to assure that a new food doesn't cause an allergy or disagree with your babies' stomachs. Most parent's start with a simple cereal like rice cereal or oatmeal cereal mixed with breast milk/formula and slowly start adding different fruits and vegetables. While it is a tedious process and the risk of allergy is low, it's better than having to start the process from scratch to determine which food was the culprit if your baby has a bad reaction. And if your food introducing system gets interrupted by another well-meaning caregiver, it is okay. Just keep an extra careful eye out for a reaction. Typically these symptoms include upset stomach, vomiting, diarrhea, itching of the ears, rash or hives, swelling of the hands, face and in the worst case scenario of anaphylaxis: swelling of the throat which impairs breathing.
3. Move quickly
Speed is key when feeding babies; especially multiples. Enlist help whenever possible! If you are by yourself, just keep in mind that there is a very small chance you'll have two happy babies at the same time. One will be crying for more food while you feed their sibling, and the cycle starts all over again. Or you'll be trying to determine if a baby is actually going to eat that bite or just spit it all out. Save yourself the insanity of using a different bowl and spoon for each baby, too. You'll only end up flustered that you mixed them up and the babies won't care either way. As my identical twins still say, "We share the same DNA, and germs."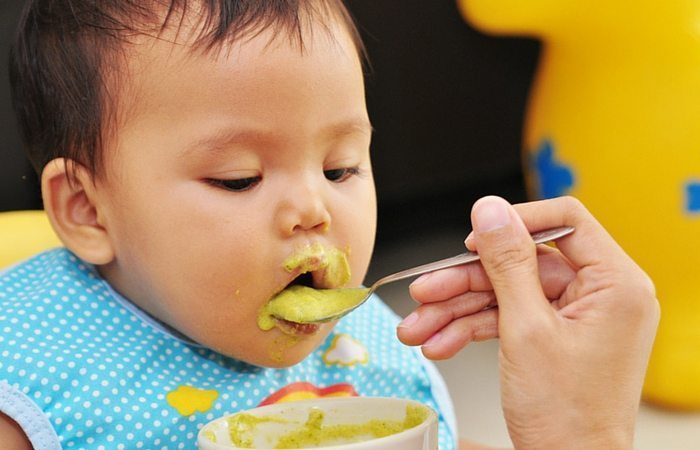 4. Technique
While there are many techniques when feeding a baby, it's the face that makes it. You can use the choo-choo, airplane, or race car, but what I have found that gets a baby's mouth to open is the adult in front of them with their mouth hanging wide open. Funny? Yes. But, it's just a reflex and it seems to work.
5. Clean up
Hands down, the hardest part about starting babies out on solid food is clean up. Those cute little babies can get food smeared in places parents didn't even know existed. I recall one of our twins flinging applesauce into her sister's ear. We started feeding our babies in the evening and did a bath right after: one parent in charge of bathing babies and the other in charge of the feeding area. This included wiping down high chairs, rinsing out and pre-treating bibs, sterilizing the bowls and spoons along with the bottle parts from the day, and sweeping/mopping up the floors. Eventually, parents will find their own groove and what works best for their situation. As the babies' skills evolve, clean up also changes.
Starting twins on baby food can be a jarring experience. There's advice flying at you from different directions and you've still got to figure out what works best for you and your family. Hopefully, these five tips (and an experienced mother saying you will find your own groove) will help. Before you know it, your little ones will be independent eaters and you'll wonder why you ever stressed about it in the first place.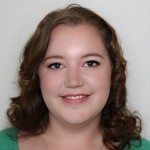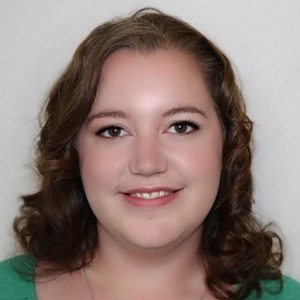 Leah Bryant is a stay at home mom of three, identical twin girls and a son. She is a proud Kansas native (insert favorite Toto quote here) and currently resides in the Kansas City metro area. Besides being constantly surprised by the wonders of raising twins and caring for her family, Leah's hobbies include cooking/baking, gardening, reading actual grown up books along with Dr. Suess, and cheering on her favorite home-grown sports teams. Leah also meets the challenge of keeping up with Sonny, the newest member of the family. He is an American Eskimo dog the family adopted after he was rescued from a puppy mill.
---
Related Articles
---
THIS CONTEST IS CLOSED