Last updated on September 28th, 2021 at 01:21 pm
Looking for the best twin baby carriers on the market? Check out our complete list of baby carriers to learn about what might work best for you.
When you have twins, baby carriers can be downright necessary gear. I mean, two hands, two babies. That leaves no room for anything else. Have to wash the dishes or push a shopping cart? What about holding your toddler singleton's hand as she goes up the steps? It's too bad you only have two hands, right?
Whether you have twins or a singleton, a baby carrier is something you will want to look into at some point.
That's where twin baby carriers come into play. But with so many on the market, how do you know which ones are best for you and your babies? Did you know there are even different kinds of baby carriers? The world of babywearing can be intimidating so let us help you navigate the dos and don'ts.
Let's take a look at the ins and out of carriers and some of the best ones on the market to help you decide what you need for your family.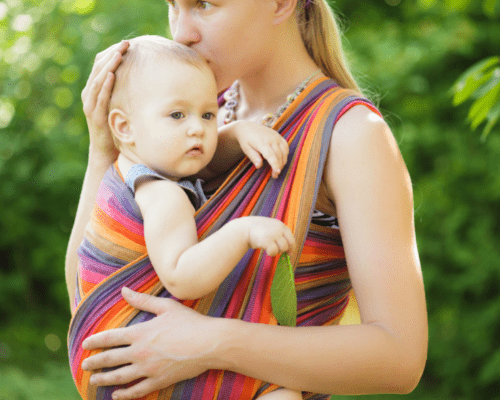 How to Choose the Best Twin Carrier
Just like when shopping for a single carrier, there are many factors you should consider when choosing your twin carrier. Let's talk about a few of the most important features.
Ergonomic Design
The carrier should be ergonomically designed. This is important for your comfort and the safety of your babies. A well-designed carrier will help prevent back problems, shoulder pain, and neck strain – all common ailments that twin parents face.
Ergonomic design also means that mom has easy access to all of the carriers' features which makes the process of carrying twins much easier.
Style
You may want something that is fashionable. We've listed several of our favorite carriers below so be sure to check them out to help you shop for the perfect twin carrier.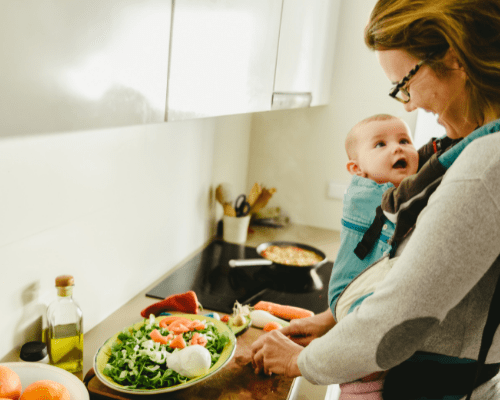 Ease of Use
Parents of twins want a carrier for twins that is easy to use. With all of the other twins' gear you need to carry, there is no reason you should be struggling with your carrier just because it has too many features or it's complicated to use in a pinch.
One great feature some infant carriers have is an easy-to-use lock safety buckle, which allows you to secure both babies in their carrier with just one hand.
Materials
Some carriers feature heavy-duty nylon, while others have a breathable mesh. Some are better for summertime and some are made for winter. Look at your everyday lifestyle and the weather in your area before purchasing a carrier.
Price Range
A twin baby carrier can set you back anywhere from 100 bucks for more basic designs to over $300. The most important thing is that it's something that you and your babies will love so don't skimp on quality too much. Many twin parents don't realize how much the twin carrier is used and wind up spending even more money to get another carrier that works better for their lifestyle.
Getting the lowest price is important, but not at the cost of safety and comfort.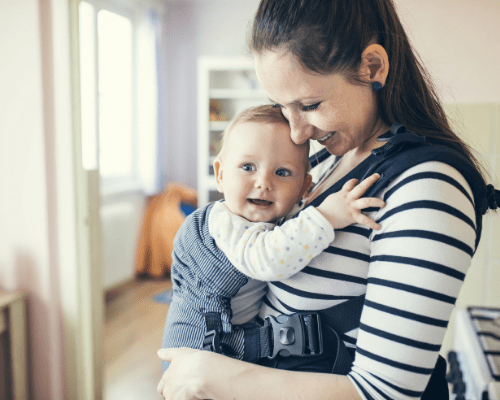 Easy Cleaning
You'll need to clean your baby carriers regularly, so look for one that you can throw in the washing machine AND spot clean. Some manufacturers also use non-toxic dyes and fabrics which you may want to consider if your babies have allergies or sensitive skin.
Babies Safety and Comfort
Safety is always a top priority when choosing a twin baby carrier. Look for carriers with structured waist belts and hip support to minimize the risk of your babies slipping through the carrier. Since you'll be wearing this while doing daily activities, look for padded shoulder straps and breathable fabrics that will make it comfortable for you to wear as well. If your twins are newborns, you may also want to check into infant inserts, depending on the carrier for added safety and comfort.
You'll also want to investigate the carrier's fabric material and how much it weighs in comparison to other carriers on the market. This is important because you will be carrying this for hours so you don't want something too bulky that will slow you down or make your neck hurt after a while.
Adjustability
Adjustability is another important feature to consider because you need one that fits both of your babies' needs. You'll want to look for carriers that have adjustable seat sizes and can be adjusted to focus on each of your baby's individual needs.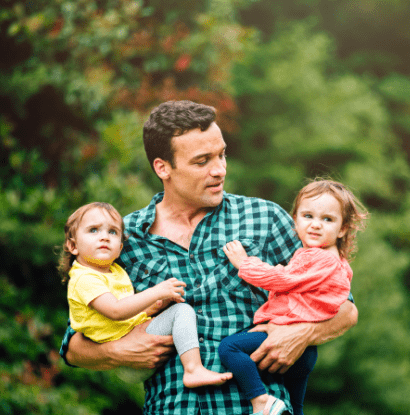 What are the best baby carriers?
The best baby carrier will depend largely on what your individual needs are when it comes to carrying your baby (babies). Are you on the go in a hurry? Are you wearing your newborn for a few hours at a time? All of these things matter.
It is also necessary to note that there are different types of carriers and you should research which will be best for your family.
Let's look at some structured twin baby carriers and then some separate carriers for singletons. Structured baby carriers are often the go-to. Here are some of the best structured baby carriers for you to check out.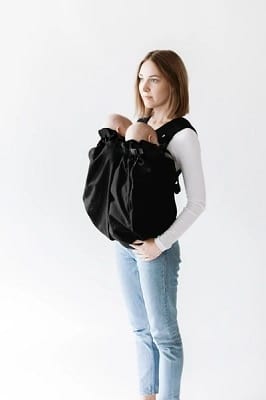 The Weego TWIN Baby Carriers
This twin baby carrier is our Twiniversity Twinnie award winner for both 2019 and 2020! It is specifically designed with twin newborns in mind and is even suitable for preemies that weigh at least 4 lbs. Use this carrier until your babies weigh 33 lbs combined. It grows with your babies and comes in 4 different colors. They also have waist extenders and plus sizes available! Buy this carrier here.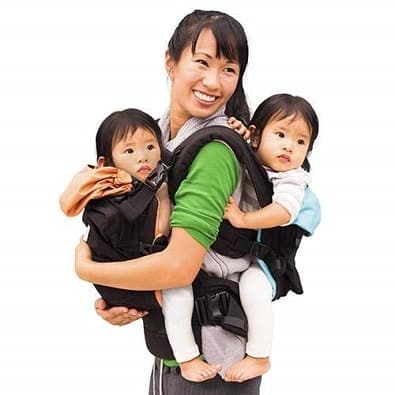 TwinGo Original Baby Carrier
When you're talking about the best twin baby carriers on the market, we have to talk about the TwinGo. It was our Twinnie award runner-up and is a fan favorite. This carrier comes in two different colors and is recommended from 10 to 45 lbs. It has an adjustable waistband for comfort and a storage pocket. The sleep hoods are included and great for supporting your newborns' heads. This carrier can easily be separated so two people can each carry one baby at a time! Get this carrier here.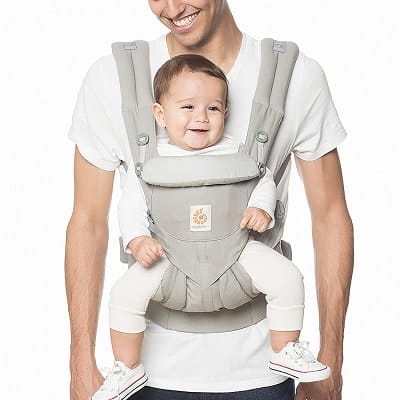 Ergobaby Omni 360 Carrier
This one is a Twinnie award winner! That means parents voted this as the very best singleton baby carrier. It comes in 10 different colors and is known for its comfort and affordable price. It is recommended for babies from 0- 48 months and doesn't require a newborn insert! Buy one here.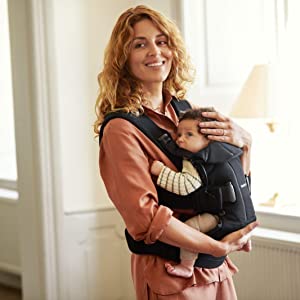 BabyBjörn New Baby Carrier One
A Twinnie awards runner-up, this structured baby carrier from BabyBjorn is a great choice. This carrier comes in 9 colors and doesn't require a separate newborn insert. It is ready to go as soon as your little one reaches the 8-pound recommendation. It has 4 different carrying positions. Buy this one here.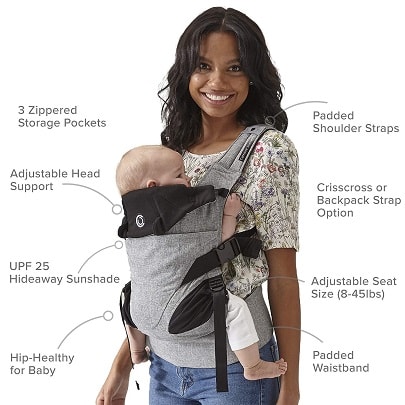 Contours Journey 5 Position Baby Carrier
This carrier works with 5 carrying positions and is highly recommended by parents all over. It was also a runner-up in our Twinnie awards, so you know it will live up to the hype. And get this, NO newborn insert required for this one either! It has 3 storage pockets and fully adjustable straps for comfort. Get this carrier here.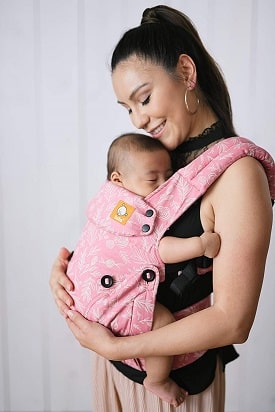 Baby Tula Explore
This Twinnie awards runner-up comes in a cute pattern and is recommended for babies from 7 to 45 lbs. No newborn insert needed, and it's padded and adjustable for the comfort of the baby and wearer. This carrier features 6 different positions so you'll be sure to find the best way for you and your baby. Buy this carrier here.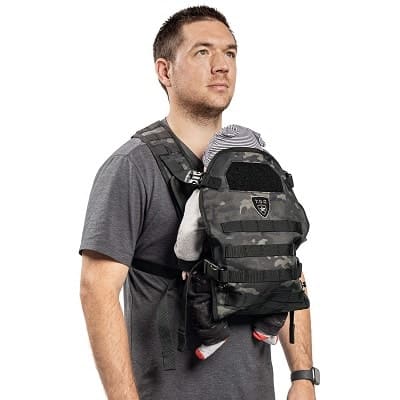 Tactical Baby Carrier for Infants and Toddlers
This baby carrier might be a bit of an unorthodox choice but you aren't likely to be disappointed. Sure, they're marketed as a carrier for dads, but to be honest, I'm in love with the prints and colors available as a mom. Why should Dad have all the fun? This one is an easy strap and go carrier for babies from 8 to 33 lbs. Get this cool carrier here.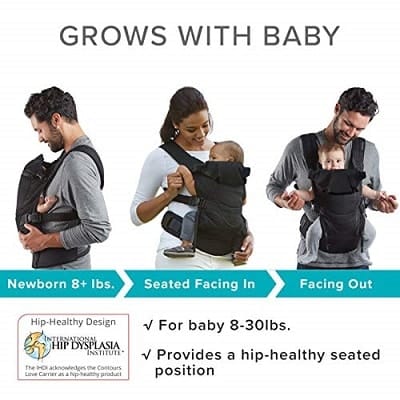 Contours Love Carrier
The Contours Love Carrier is great for babies from 8 to 30 lbs. You'll love the comfort of this carrier. It is a great no-frills option that grows with your baby. It comes in 3 different colors and needs no newborn insert. Buy this carrier here.
Let talk wrap carriers. Wrap carriers are largely known for being more comfortable to wear, especially for longer periods.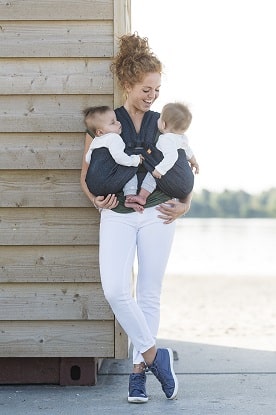 Minimonkey TWIN
This twin-specific wrap carrier is a fan favorite. It is suited for newborns from 6.5 lbs to 26.5 lbs EACH! This ergonomic twin carrier is made of breathable mesh fabric and the straps are made for easy adjustment, even with babies in the carrier. Get this carrier here.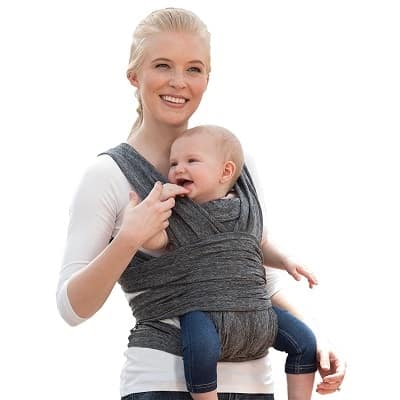 Boppy Comfyfit
This wrap carrier is designed for your baby 8 to 35 lbs. The 3-steps make getting your baby secured in the carried a breeze. It is machine washable and has a padded waistband and straps. The Comfyfit features 3 carrying positions to suit your needs. Get yours here.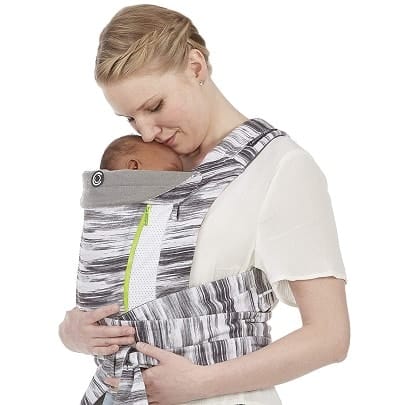 Contours Cocoon
This is a great wrap/hybrid carrier. It features 5 different seating positions and fits babies from 8 to 33 lbs with no additional accessories required. It is machine washable, has 4 storage pockets and padded straps for comfort. Buy this carrier here.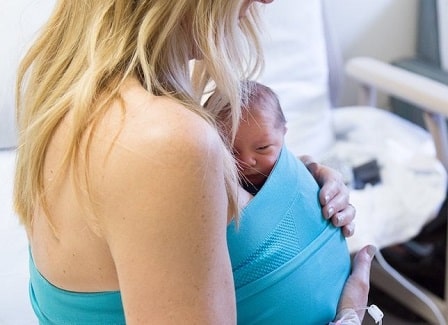 Saplacor Aegis
This is a newborn wrap that can be used easily as a twin carrier until your babies weigh up to 14 lbs combined. It has a wide range of sizes available, making it great for moms AND dads! We all know how important skin-to-skin is with your newborn, but it can be difficult to get that bonding time while in the hospital. This is a safe way to do that with your newborn without fear of falls or dropping your little one while your anesthesia wears off. Hey, it happens. Get this wrap here.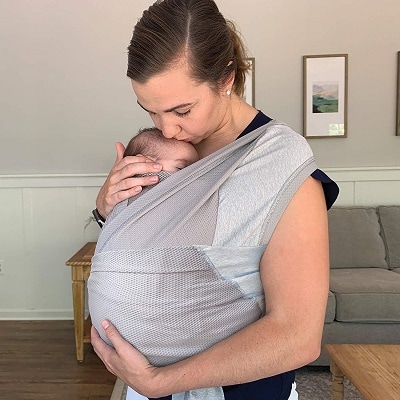 Boppy Comfyhug
This hybrid newborn carrier is great for your newborn as early as 5 lbs. It has tank top style arms which are great for caregiver comfort and comes in petite to plus size, and everything in between. It has 2 different ergonomic carrying positions. Get this carrier here.
If none of these styles work for you, you might want to try a ring carrier. These carriers are known for being lightweight and easy to bring on the go They are a great option for breastfeeding moms. A huge perk is that you can use two of them together to carry your twins at the same time, leaving you hands-free with twins.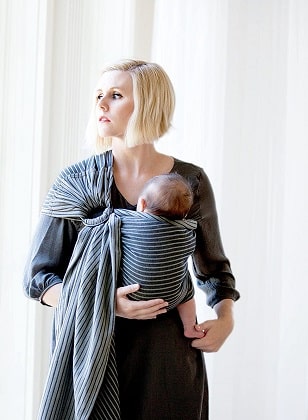 Moby Ring Sling
This is one of the most popular ring sling carriers on the market today. Parents say they feel their baby is safe and secure in this ring sling and often recommend it to others. It may take a little time to get the hang of it, but once you do, you're going to love the light, breathable fabric. This carrier grows with your baby and can be used in the front or hip position. Buy this ring sling carrier here.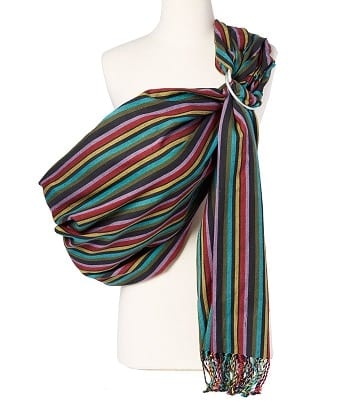 Hip Baby Wrap Ring Sling
This is a great option for many parents. There are 15 different colors and patterns to choose from and they are all very affordable. So, if you need to buy 2 for your twins, you won't break the bank. This wrap is machine washable and is designed for babies from 8 to 35 lbs. Get yours here.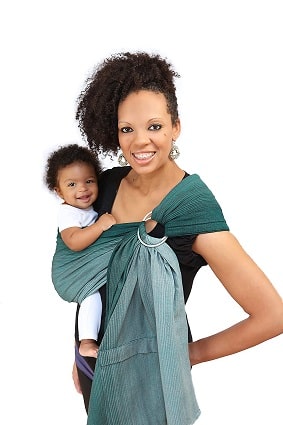 Maya Wrap Lightly Padded Ring Sling
This ring sling offers 4 positions for you and your baby's comfort. There is a zippered pocket for storage and light padding for extra comfort and support. It comes in 4 different sizes and the ranges are so wide that most times, 1 ring sling can be used for multiple caregivers. It is machine washable and recommended for babies from 8 to 35 lbs. Get yours here.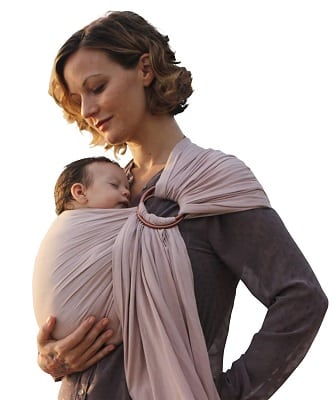 Nalakai Ring Sling Baby Carrier
This ring sling comes in 15 different colors and is backed by a lifetime guarantee. Made with bamboo, you're going to want to wash on gentle and hang it to dry. This carrier is made for babies from 8 to 35 lbs. and a big bonus, a portion of the profits from each sale goes to low-income families in Costa Rica through the non-profit Cepia. Get yours here today.
At what age can you put a baby in a carrier?
Many baby carriers are meant to be used from day one. Check with the manufacturer for specifics for your exact model and the recommendations. Some carriers need a separate insert to support your newborn's head so be on the lookout for them when making your purchase.
Can newborns be in carriers?
Yes. Many carriers are intended for newborn use. It is always a good idea to shop around and see which would be best for your needs and the size of your baby. Some twin baby carriers are good for babies as small as 4 pounds but many are designed for 7 or 8 pounds and up. Check with the manufacturer to be sure you are adhering to all safety guidelines.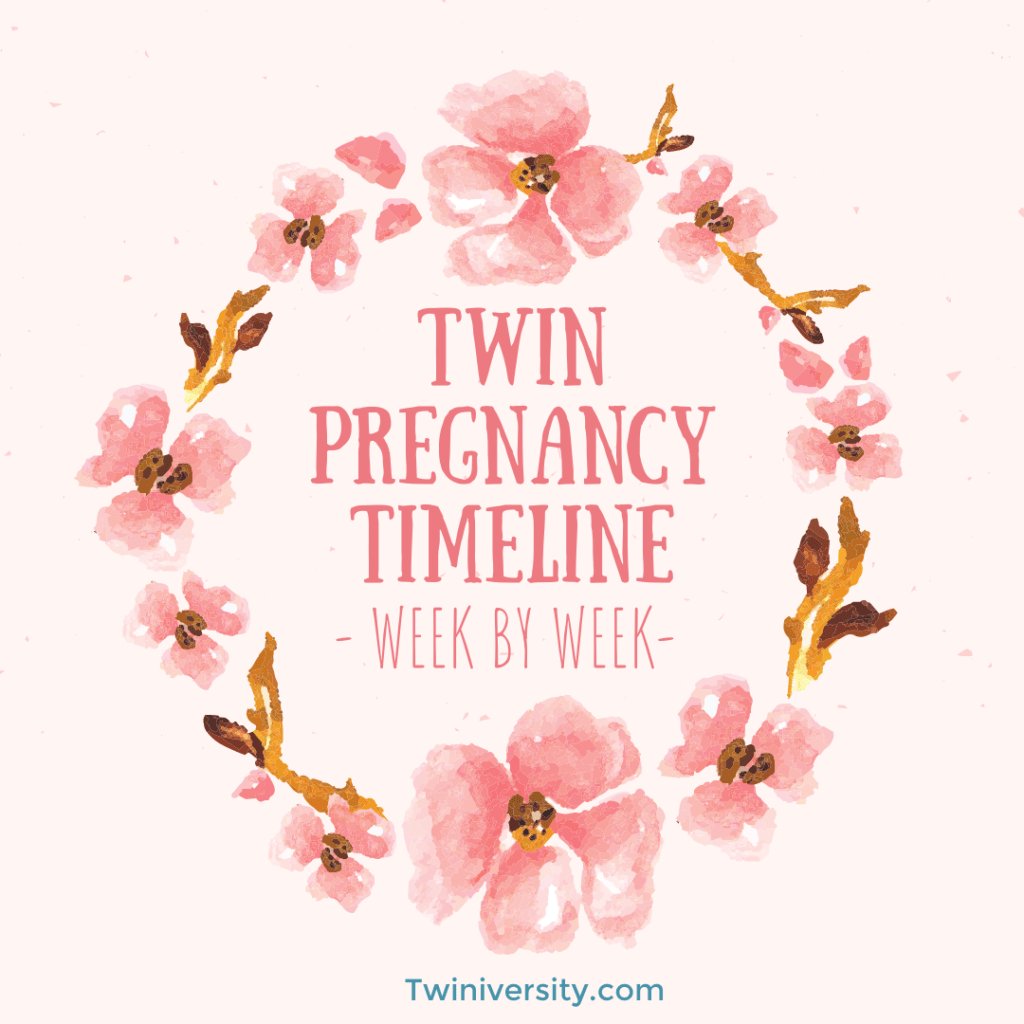 If you just heard that second heartbeat for the first time, or you know it's been two for a while, you need to read our twin pregnancy week by week timeline to help you learn what happens week by week with twins. Click here to learn more… and while you're at it, check out our expecting twins classes and twin parent coaching services.
Do baby carriers cause hip dysplasia?
Look for the International Hip Dysplasia Institute approval. They have deemed many carriers to be "hip-healthy" as long as they are used properly. You definitely want to make sure you are using each carrier the way it is intended and limit use to the ones the IHDI has vouched for.
Just because you have a baby or two doesn't mean you can't go about your daily business. Babywearing is a great way to get out and about with your twins when they are small. Taking older kids to the park, shopping, or even just a nice walk in the fresh air can all be made a bit easier with the use of twin baby carriers.