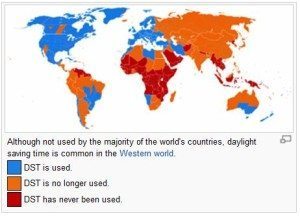 Most residents in the US (less the states of Arizona and Hawaii) and Canada, Bermuda, Bahamas residents will set their clocks back one hour November 3rd at 2:00 AM in observance with the end of daylight savings time. (The only day you get 25 hours in a day!! What will you do with that extra hour?!)
Other countries observe daylight savings time as such as most areas in Europe, Mexico, New Zealand and parts of southern Australia, but they do so at different dates. The dates of the fall back range from the last Sunday in September to the second Sunday in November.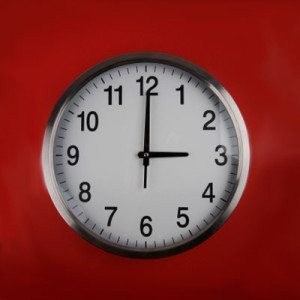 The time change, even though it's just an hour is a big adjustment especially for chilren. What was 7 AM today will be 6 AM tomorrow. So if you're are fortunate enough to wake up at 6 AM every morning to have a quiet hour of personal time or to get a few things done before you have to chase kids… well that may be disrupted unless you make some adjustments in the days before the time change. Here are some simple steps to help the whole family adjust.
Change your children's nightly bed time, nap time and wake up time by 15 minute increments the days before the time changes to ease the transition.
Move your children's meal time by 15 minute increments when you can as well.
Do not skip their nap time to get them to go to bed earlier. An overly tired child will not go to sleep easily. It is true that sleep begets sleep.
Make sure to adjust your sleeping routine too. Don't stay up till 11 pm on Saturday night just because you're used to the clock saying 11 pm. Adjust your schedule for an easier adjustment yourself.
If you start the days ahead of time hopefully by Monday morning everyone will be adjusted when the new school/work week begins. So don't forget to set your clocks back before you go to bed Saturday night!! And enjoy the extra hour.
Other things to do during daylight saving time:
It is also a good time to change smoke detector batteries and check to make sure device are in working order.
Check the supplies in your emergency kits for expiration dates of food and medicine.
Clear out medicine cabinet for all expired items.
Make sure to supply your vehicle with winter emergency supplies like blankets and ice scrapers.