Kids love the outdoors, and we've all seen how much they can be entertained by a simple sandbox or tire swing. What if you had an entire backyard playground designed just for them? Here are the most popular ways to make your backyard kid-friendly. We've included great options for every age range.
Tire Swing
A tire swing is always a hit with both kids and adults. There's just something about it that brings back memories of the summertime and happy days spent on the playground. If you have an old tire sitting around in your garage, don't put it on the curb just yet! You can turn that into a fun DIY project for the whole family. There are plenty of options out there as far as hardware and straps, but you can also do it yourself with some rope and a few sturdy knots. No matter how you choose to make it, a tire swing is sure to be a hit with the kids.
Zip Line
A zip line is an easy and relatively inexpensive project that your kids will probably be begging you to build. You can buy a few long pieces of sturdy rope or heavy-duty wire, some carabiners, and two handles from the hardware store and attach them yourself. Make sure to choose a really stable surface to attach the handles, such as a big tree, a garage, or drill into the side of your house. It's nice to have the kids involved in making a zip line because it reinforces their sense of achievement when they get to use it. You can also be sure that they won't want the zip line taken down at the end of summer, so it will probably become a permanent fixture in your backyard.
Stump Jump
A stump jump is a terrific backyard toy for younger and older kids alike. Find some old stumps that you can quickly move into your yard. Make sure to choose stumps that are sturdy with a broader base, so they don't easily topple over. Place them a reasonable distance apart, based on the age of your kiddos. You can make this is a fun family project by painting each stump a different color and letting your kids paint designs on the stumps.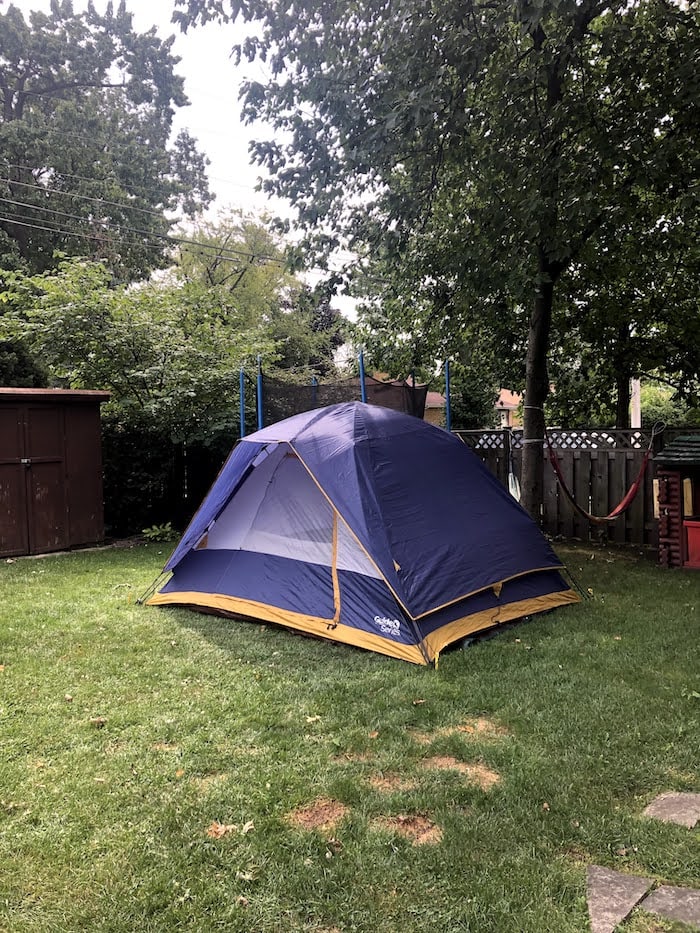 Backyard Campsite
Create a backyard campsite with a small tent or kids teepee. Make sure to waterproof your campsite with a tarp and Scotchgard to make it last longer and avoid mold. Toss in a few comfy pillows and blankets to create a cozy spot for reading or playtime. Keep in mind that your kids will probably leave those pillows and blankets out there at one point, and you never know when it will rain, so buy some outdoor cushions and outdoor blankets to avoid ruining your indoor sets. If you don't want to buy a tent or teepee, you can make your own with a large tarp and some rope. Add in a cute kids picnic table, which will be super helpful for serving lunch (both real and play!) and doing crafts and projects.
Sandbox
Building your own DIY sandbox is a lot easier than you think. The hardest part is deciding how big it will be and where to put it. Choose a spot in your yard where the grass never grows very well, perhaps where you get too much shade. Make sure to measure carefully when you're deciding how big you want the sandbox to be. Never eyeball your dimensions! Get out a tape measure and mark out the size of the sandbox with string to get a good idea of how it will look when it's finished. I highly recommend that you buy a heavy-duty tarp that you can secure over the sandbox when it's not in use to keep out bugs and rain.
If you would rather buy a sandbox than build it, check this one out from Step2.
TreeHouse
Building a treehouse is possible even if you're not an expert DIY-er or carpenter. If you know a carpenter that would be willing to create a custom treehouse for your family, this could save you some money and time, plus you can make the design your own. If you're on your own, there are many kits available online that you can buy according to your specifications. A word of caution: make sure you buy your kit from a reputable company and don't skimp on quality by buying the cheapest one available. You want to be sure that your tree house will last through all seasons, including winter snowfall, and be safe for anyone who uses it.
Playhouse or Backyard Fort
Don't have a suitable tree in your backyard to build a treehouse? Instead, build your little ones a playhouse or backyard fort. This is a simple play structure that will add a lot of fun for kids to play in and make beautiful memories for years to come. Your kids will love having their own clubhouse that's just for them. You can build one yourself and add in playground equipment like a slide or spring rocker. Small touches like windows with shutters, a doorbell, and a play phone are some fun features that encourage imaginative play.
Don't have the time to make your own playhouse or backyard fort? You can buy one that's already put together and save yourself the effort and time. We love this one from Step2.
Kiddie Pool Lounge
Here's another idea for a spot for your kids to hang out and enjoy some downtime. Find a shady spot in the yard, blow up a kiddie pool and fill it with plastic balls or blankets and pillows. Your kids will love lounging in it in the spring, summer, and fall, and you can add a little mini-umbrella or sunshade, so the kids aren't in direct sunlight.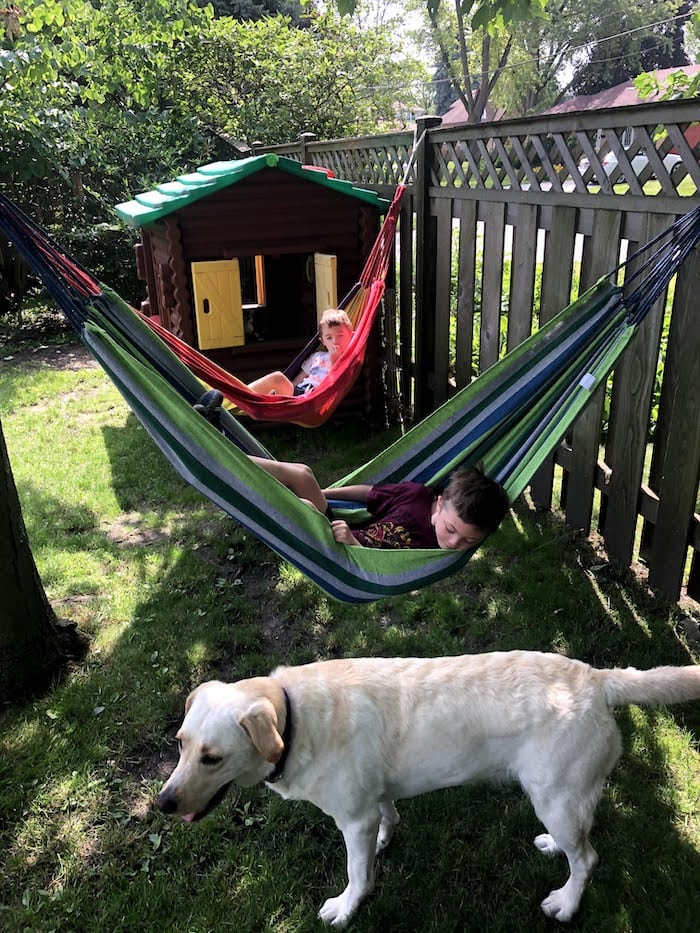 Hammocks
I found hammocks at a discount toy store for $5 each. My kids LOVE them! We only have one sturdy tree in our backyard so I tied one end to the tree and the other end to a fencepost and voila! A perfect spot on a lazy day to read a book or chill out and play Minecraft.
Outdoor Chalkboard
This excellent idea can be built with wood and chalkboard paint, or you can buy an actual chalkboard! It's a perfect project for a handy person. Supplies for the build include cement board siding, chalk paint, wood for the frame, outdoor paint for the frame, hooks to hang buckets, liquid nails / real nails, and bolts for wall or fence attachment. Don't want to make this permanent? Consider a standing easel chalkboard that you can put away. This is a great one that has a dry erase board on the other side.
Water Table
This is a simple project that most people don't even think of. You'll need a large plastic storage container or two and water. Set them up on the grass and dress your kids in swimsuits or other clothes that you don't mind getting wet. Kids can't get enough of playing with the water and pouring it from one container to another. You can add other toys such as funnels, pipes, buckets, and plastic bath toys to make it more fun. Step2 makes some great water tables with all the fun bells and whistles – here's one of our favorites.
Ninja Line
A ninja line is a hanging obstacle course with a variety of multi-skill-level obstacles, such as handles, bars, and ropes, that your kids work their way through. This is an excellent toy for your backyard playground as your kids get older. Just move the obstacles further apart as their skills improve. You can make your own from items at the hardware store or buy a pre-made kit to make it a little easier on yourself.
Climbing Wall
I've never met a kid who didn't love a good climbing wall. You can buy one or make your own rock wall. If you purchase a climbing wall, keep in mind that the bigger it is, the easier it will be to climb. But if you go too small, there won't be enough room for adults to play with kids. If you don't have a wall on your house or garage that is good for a climbing wall, consider buying a stand-alone rock-climbing wall (we love this one). These are great because you can move them around the yard when you want to redecorate your backyard. If your climbing wall is above a hard surface, add some rubber mulch or soft ground cover in case of falls.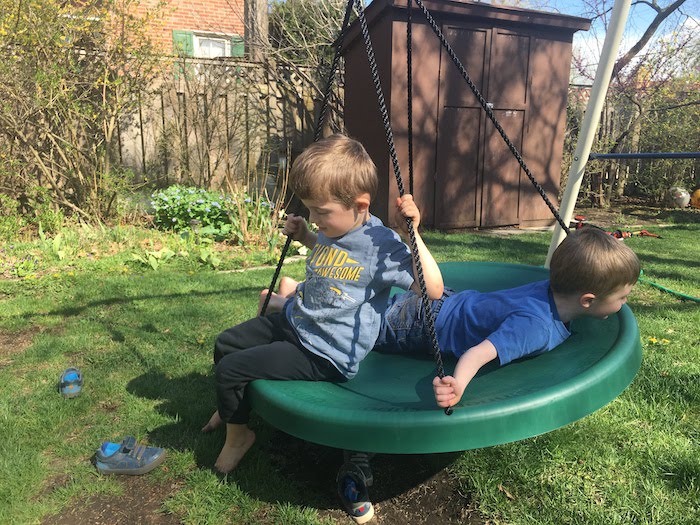 Swing Set
What backyard for kids is complete without a swing set? Go the classic route and build a wooden one that will go with the rest of your backyard décor. There are plenty of traditional swing set styles out there, but if you're looking for something more unique and artistic, consider buying a custom design from one of many playground manufacturers. You'll want to make sure you have enough swing seats for your kids and consider infant swings to start out with if your kids are still tiny. Alternative add-ons to your backyard playsets such as monkey bars, a spinning disc, a rope swing, or a glider can spice things up a bit as your children age. Here's a great one that's really versatile.
Teeter Totter
A homemade teeter-totter, aka seesaw, isn't that hard to build if you have the right tools. It's mostly made from lumber and some hardware, but you will need to make sure the lumber is treated to resist rot. There are plenty of instructions on how to do this online, or you could buy a pre-made one.
Outdoor Play Kitchen
Kids love pretending to cook just like mom and dad, so give them their own kitchen set out in the backyard. There are plenty of small plastic outdoor kitchens on the market, but our favorites are the ones made for kids at Step2. If you don't want to buy one, make your own with a large rubber bin and some accessories like dishes and pots and pans.
Tetherball
Grab an old tire and make your own tetherball station for your backyard. You'll also need cement, a metal pole, a thin rope, a tetherball, and a few other materials that are easy to grab from the hardware store. They even make glow-in-the-dark tetherballs now that will make for some nighttime fun! Here's a great how-to.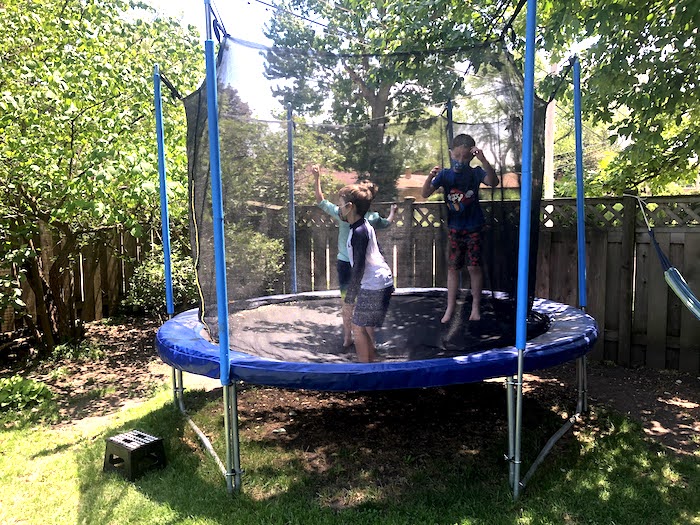 Trampoline
Trampolines are great for kids because they get to exercise while having fun. But trampolines are not just for jumping! I really love going out there and lying on the trampoline with a good book. My kids love using the trampoline to play games and act out little plays, pretending to be characters from their favorite shows and video games. Make sure the trampoline is built correctly to avoid any injuries and that your kids stay in the safety enclosure at all times. Check that the trampoline is secured to the ground in case a big storm comes through.
Giant Connect Four Board
Your kids will love playing giant Connect Four in the backyard for years to come. This is a game that just gets better with age. Building this yourself will take a lot of time and be a bit complicated, but you can also find pre-made giant Connect Four boards online or at your local toy store. Your older children will love challenging each other to games
Tic Tac Toe Board
Need a more straightforward game for the little ones? This is a project you can do with your kids. Grab an old stump and some paint to create a tic tac toe board. Use painted rocks to play the game. Your kids will love creating their own custom rocks! I recommend using acrylic paint and finishing off the stones and tic tac toe board with some clear gloss or clear spray paint to seal it.
Backyard Safety Checklist
We hope this post has given you some ideas on how to create a backyard playground that is perfect for your kids. Remember, safety first! Before you finish your new backyard playground for your kids, use this printable backyard safety checklist to make sure there aren't any potential hazards hanging around. Your kids can help you inspect the yard with this checklist, which will give them some ownership over the safety of their playspace. Download this super cute backyard inspector badge for each child. This is a great way to have a discussion about safety in the backyard. You can even create a list of rules with your kids that you can post in the yard for easy reminders when you see them horsing around.
This post is sponsored by our partner Step2. Make sure to check out the Enchanting Adventures 2-Story Playhouse & Slide™ to consider for your backyard makeover!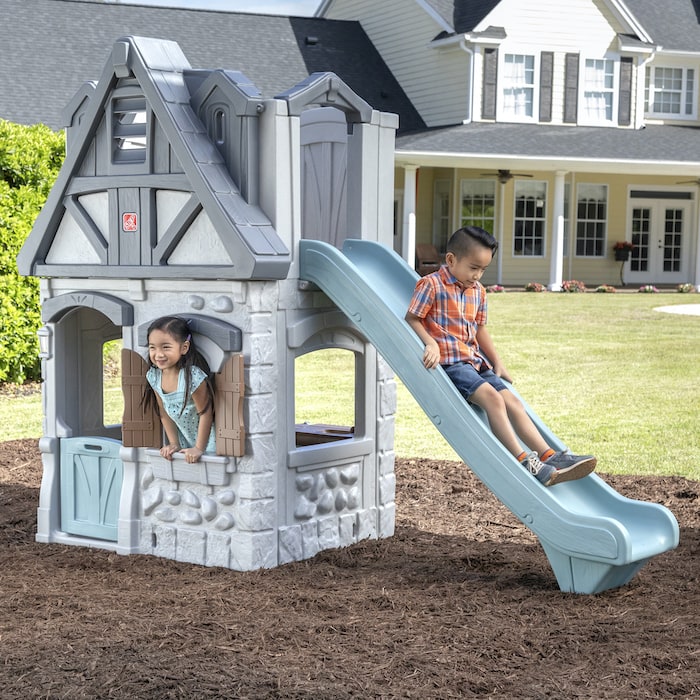 The Enchanting Adventures 2-Story Playhouse & Slide™ is the perfect backdrop for any adventure your little one dreams up. Their next enchanting adventure awaits with two stories for engaging social play, tons of storytelling, and pretend playtime fun with friends!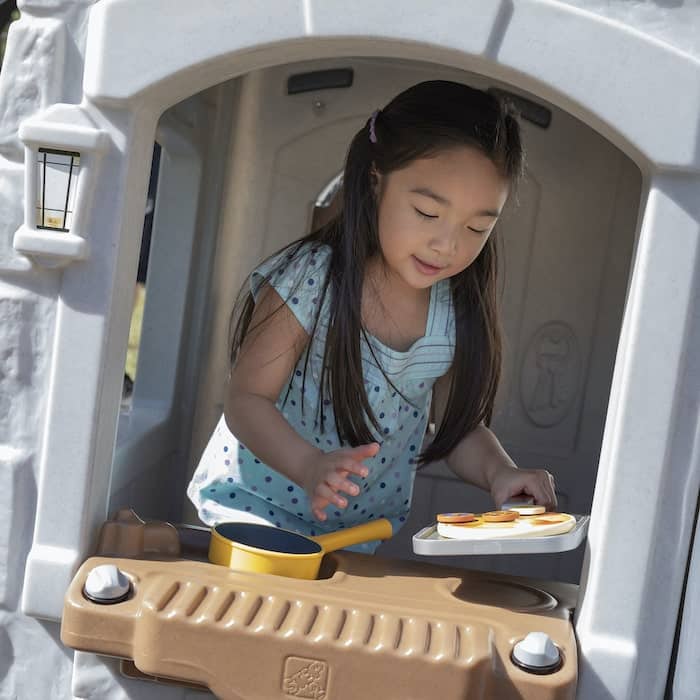 From the indoor kitchenette to the top platform, slide, and more — there's something fun for everyone to do and so many pretend play opportunities in this charming playhouse. There's a real working doorbell to let friends know it's time to play and an inviting Dutch-style door that opens into the indoor kitchenette space with pretend oven, sink with faucet, and cooktop area to get cooking!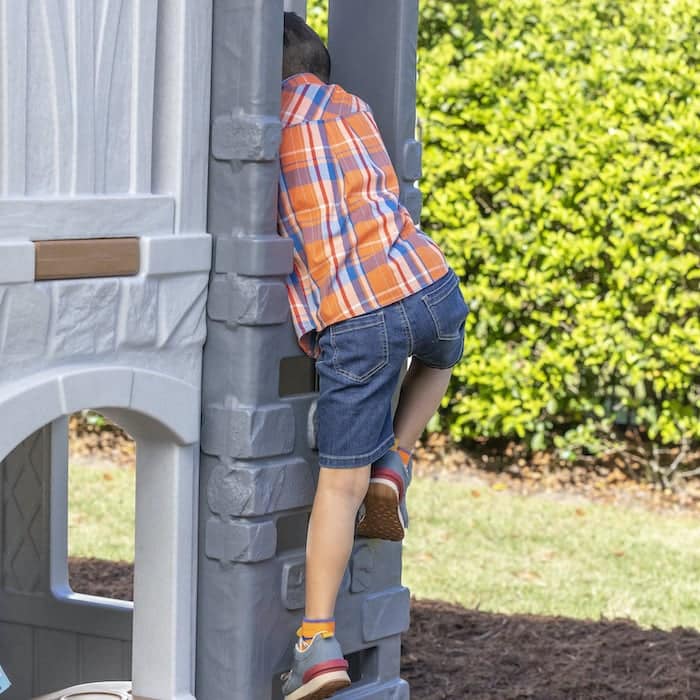 Climb the built-in ladder to continue the fun outside on the top platform, complete with a quick getaway opportunity with the extra-long slide! Real working shutters along with the faux woodwork and stone accents add a charming storybook cottage look to this outdoor playhouse for toddlers. Made in the USA with US and imported parts.
Storybook cottage-themed playhouse with neutral gray and aqua color palette fits into any backyard space.
Playhouse for toddlers features two levels of play space with built-in ladder access for more adventures on the top platform!
Working Dutch-style door and window shutters function like a real house and add to the enchanting playhouse theme.
Indoor kitchenette space on lower level includes oven and cooktop with clickable knobs and molded-in sink with faucet.
Little ones can announce their arrival with the real working electronic doorbell (requires 2 AAA batteries, not included).
Second story includes an extra-long 70 in. (177.8 cm.) slide for quick getaways!
Made EverTough™, this outdoor playhouse features unmatched strength and durability, making it great for playtime peace of mind with easy upkeep.
Visit Step2.com to learn more about the Enchanting Adventures 2-Story Playhouse & Slide™.