Easter is almost here and like most moms of multiples, I have a limited budget for the children's Easter baskets. It's time for me to stop pining over the ridiculously expensive customized Easter baskets from the fancy catalogs that appear in my mailbox (which I now know to just promptly dump into the recycling bin) and get to business.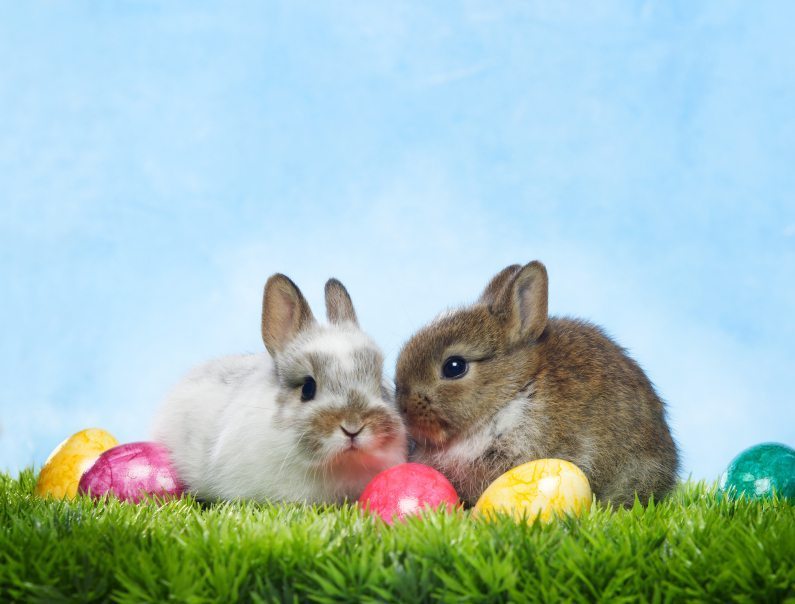 This time of year makes me reminisce about Easters of my childhood. Colorful baskets filled with jelly beans and Cadbury eggs, which now seem markedly smaller (or am I just that much larger?) Stuffed rabbits and plastic eggs filled with coins brimming over mounds of wild Easter grass. Chocolate bunnies, sometimes with an ear missing; my siblings and I did not hesitate to bite an ear off of an unattended chocolate bunny! I want to do something different for my twins and really make the most of every dollar that I can spend. For my one year old twins, I've come up with some more practical ideas than plain old candy, seeing as they only each have about 7 teeth. This works out so they receive age appropriate items, and more candy for me! 🙂
Here is how I am filling up my twins' Easter baskets with inexpensive and practical items, using a few themes:
Snack and Go Fun!
My twins love Cheerios and cereal snacks, like puffs, but I am always packing and restocking the diaper bag for our daily walk and trips to the park with snacks. A few snack catchers or mini easy-to-open Tupperware containers and a stockpile of the kids' favorite snacks is a great way to fill an Easter basket and help parents save time. You can also include disposable spoons, bibs and snack-sized applesauce cups. Sippy cups and toddler silverware are a great addition for little food explorers. Grab and go is the way to go so we can get outside more often.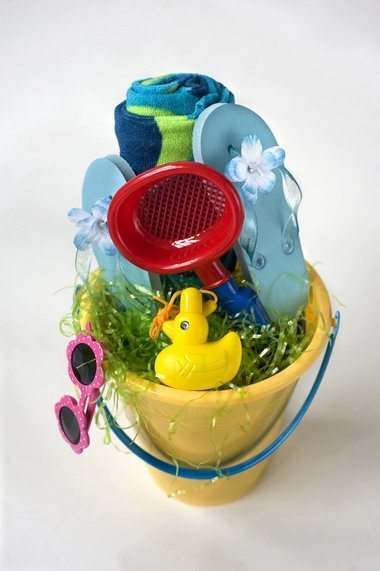 Where's the Beach?
After a long, long winter here in the Northeast, we cannot wait to hit the beach. A few floppy sunhats, sunscreen and sunglasses are much needed items. Add in some beach toys like a bucket, shovel and sand molds and you'll be all set for a season of fun. You can also give swimsuits and a pack of swim diapers, plus a container or two of baby powder. Baby powder is my secret weapon to get sand off of little ones before getting in the car to head home. Just sprinkle a little powder on arms, legs or feet, rub gently and the sand comes right off, with no chaffing! You can add some beach towels and flip flops for extra fun.
Garden Party
Finally the flowers are growing — time for a backyard party! Tiny watering cans with a shovel and pail are fun for little gardeners. Sidewalk chalk in the jumbo size is hours of fun and don't forget a huge bottle of bubbles! Babies love to play catch and roll a ball, so different sized soft balls can keep them chasing each other around. Finally a sprinkler that attaches to the garden hose is a fun way to water your flowers and little ones.
Rainy Day Stash
When the weather isn't so kind, indoor activities can keep your multiples busy. A stack of board books, flash cards and big alphabet magnets are a good way to introduce letters, numbers and colors. Large puzzles or soft blocks with enough pieces for two to play, along with some stacking rings can be entertaining. My babies also love music, so whether you have a CD player or iPod, some kid friendly tunes are a lively gift. Raincoats, umbrellas and rainboots are great practical items and they can use them to play dress up if it's too rainy to venture out at all.
Rub a Dub
Bath time gets more hectic, but more fun as twins get older. Hooded towels or baby bathrobes are so cute and help keep them dry now that they try to wriggle away before they are fully dressed. Bath toys, along with soaps, shampoos and lotions are practical gifts. We go through a large amount of baby bath supplies here and each baby has a different lotion since one has eczema. Diaper creams are also a needed gift — those little tubes add up so quickly.
Stroller toys
As good as I think I am at having my diaper bag packed and being able to restock it quickly, I almost always forget to pack a handful of toys. Stroller toys that can clip or attach to the stroller frame are wonderful items because I don't have to remember to keep track of them and pack them. Plus, once they are clipped to the stroller, they can't get lost!
As their first Easter is upon me, I hope that they will enjoy these fun and practical treats that will last well beyond Easter. My twins are just getting to the stage where they are enjoying playing together instead of just the random head-butts and knocking each other over. But, who am I kidding? I will definitely sneak some chocolate bunnies in there, too.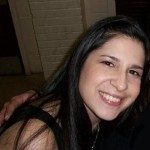 Daniele Parris is a work from home mom to an upbeat six year old boy and almost one year old boy-girl twins. She lives in the suburbs of New York City and has degrees in Fine Arts and Philosophy from New York University. She makes her living in the Healthcare industry and spends most of her time with her boisterous Italian family, trying to get a word in edgewise. Her hobbies include cooking and baking, an unholy knowledge of 80's hair-metal bands and trying, albeit almost always in vain, to guess the monetary value of the items on Antiques Roadshow.
Top image courtesy of www.tweetandeats.com.
* * *
Whether you're a twin parent in the big city surrounded by scores of resources, or a triplet parent out in the country with no one around for miles — our multiples parenting forums are for YOU! Sign up for FREE and connect with people who are just like you — parents of multiples looking for advice, parenting tips, or even just people to chat with who will understand what you're going through. Our forums are open to people all over the world and we offer scads of specialty rooms to find others who are going through the exact same thing as you. Check it out today!