Learn what to pack in your emergency bag in case you have to make an unexpected trip to the emergency room with your child.
With the crazy times we are living in right now you can never be too prepared for an emergency. The thought of having a child admitted to the hospital is scary enough. But then the idea of you being stuck with them in a hospital room without being able to leave for anything is even worse. Why not put together an emergency bag to have ready if this situation arises?
When should I take my child to the emergency room?
As a postpartum doula, I have a bag that I bring with me filled with necessary items, as sometimes I am at my client's home overnight. Occasionally, I end up staying longer than I had originally planned if an emergency arises or more support is needed. Making sure my emergency bag (buy on Amazon) is ready at all times an essential part of my job.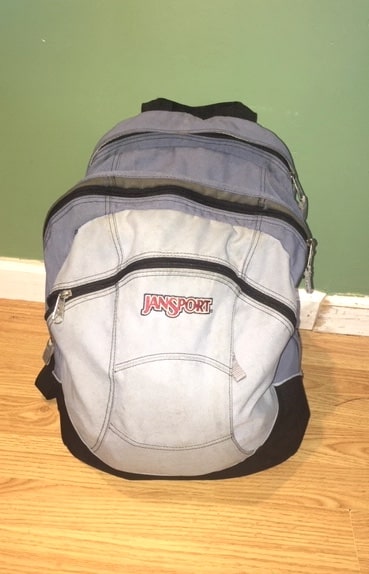 Essential items in my emergency bag
Wallet with cash, debit card, ID and insurance card
Change of clothes with underwear and socks. I actually have 2 changes of clothes, because you never know. I pack comfortable things like yoga pants and t-shirts
A light sweater or sweatshirt
Motrin/Tylenol
Daily vitamins
Toothbrush/toothpaste/dental floss
Snacks: protein bars, pretzels, small candy, granola bars, almonds. I have all of this at all times in my bag and replenish as I use. (They don't call me the "Snack Maven" for nothing!)
Water bottle
Eye drops (buy on Amazon) – I actually put these in my bag after I was doing an overnight and got something in my eye (probably dust) and had a horrible reaction. It hurt A LOT and the only thing that helped were eye drops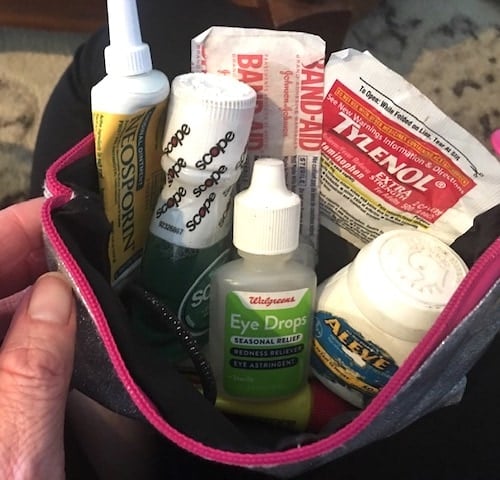 Pen and notepad
Phone charger and 2 charging cables
Portable charger (buy on Amazon) just in case I can't be close to an outlet
Tampons/pads
Tums
Tissues
Deodorant
Hairbands to pull my hair back
Small hairbrush
Portable tiny rechargeable reading light (buy on Amazon)
Book or small activity (I bring my cross stitch)
Small hand lotion
Nail file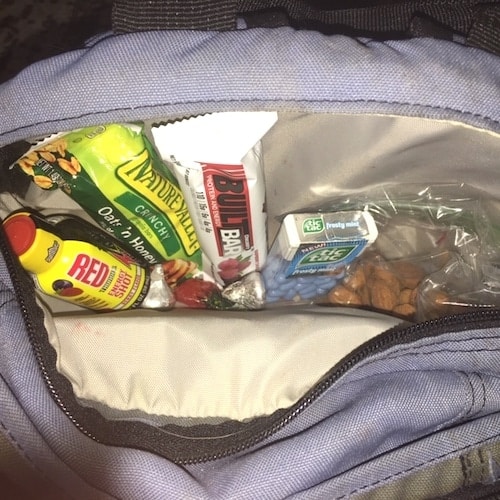 Band-Aids and Neosporin
one emergency 5-hour energy drink in my backpack, but I really hate using it unless it's an emergency, like an overnight when I have literally not napped at all
Medical masks, if you have any. (My family and I have started making fabric masks so they will go in place of my disposable ones)
Rubber gloves, again if you have any
One-time use alcohol pads to wipe off my phone
Hand sanitizer
Chapstick
Biofreeze (fast acting topical pain relief)
I have 2 small makeup bags (buy on Amazon) that I put all the small things in so I'm not searching at the bottom on my backpack for my headache medicine.
16 items you need in your emergency kit that you may not have
Keep a written list you can quickly refer to of items that you may not be able to leave in your bag because you use them on a daily basis but will need to grab, such as reading glasses and medication that you take daily.
If your children are on daily medications make sure you have the names and dosage of each for reference. You can even take pictures of them and save them on your phone.
While you are packing items for yourself consider packing a few items for your child such as:
Crayons and coloring book
Tablet with charger
A small stuffed animal or snuggly
In the current time of uncertainty, you can never be too prepared. Having a plan will never hurt and only make your life a little less stressful.
10 things your kids should memorize in case of an emergency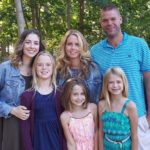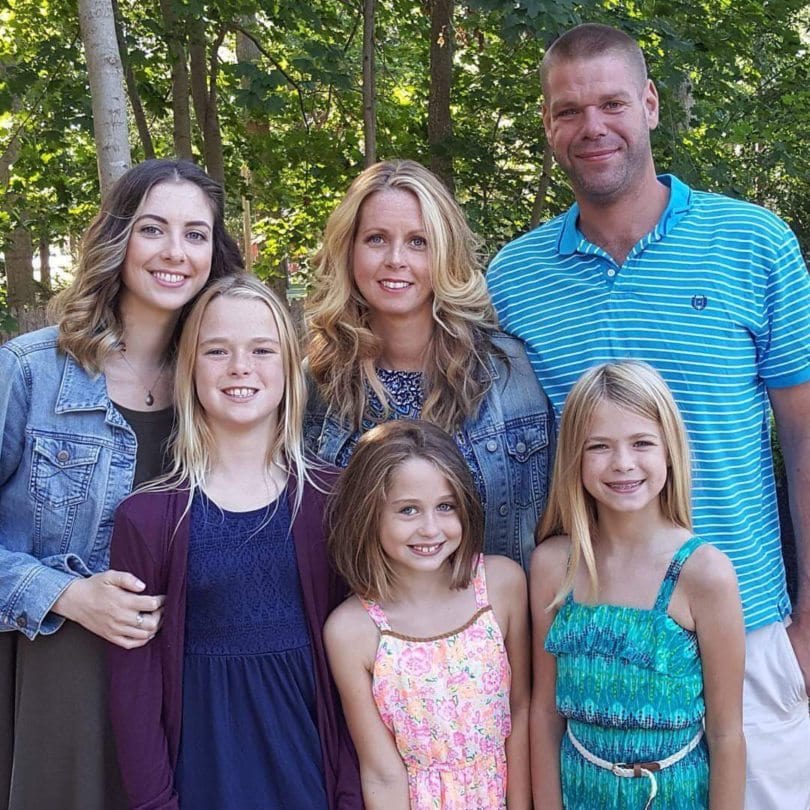 Lauren Oak is a NY mom to 4 girls, including one set of twins. Lauren has been a part of Twiniversity from the very beginning after she met Natalie at a New York State Mother of Twins Club meeting. She really connected with her fellow twin parents after spending 20 days in the NICU with her twins after they were born. In her "previous life" she was a Foster Care Caseworker, helping children in foster care find stable homes. Lauren continues to support families, just now it's families having twins or more across the globe. "I am a soccer/basketball/softball/girl scout mom! My girls keep me running to practices, games and meetings all week during the school year. I love living on Long Island and being close to the beach, as well as the city. My kids are my life and I try to make every day of their lives fun filled, exciting and enjoyable." Lauren is a certified doula living on Long Island, specializing in twins.