Thanksgiving is a time for family togetherness and fun, so playing games together can be a great way to bond and create lasting memories. Consider playing one of these family-friendly activities on Thanksgiving day.
I love this time of the year! Thanksgiving is that time of the year when we come together to appreciate the good things in life, reflect on our blessings, and enjoy some quality moments with our loved ones. But you know, it's not just about the delicious feast – it's also a great opportunity for some fun family activities on Thanksgiving day to bring us all closer.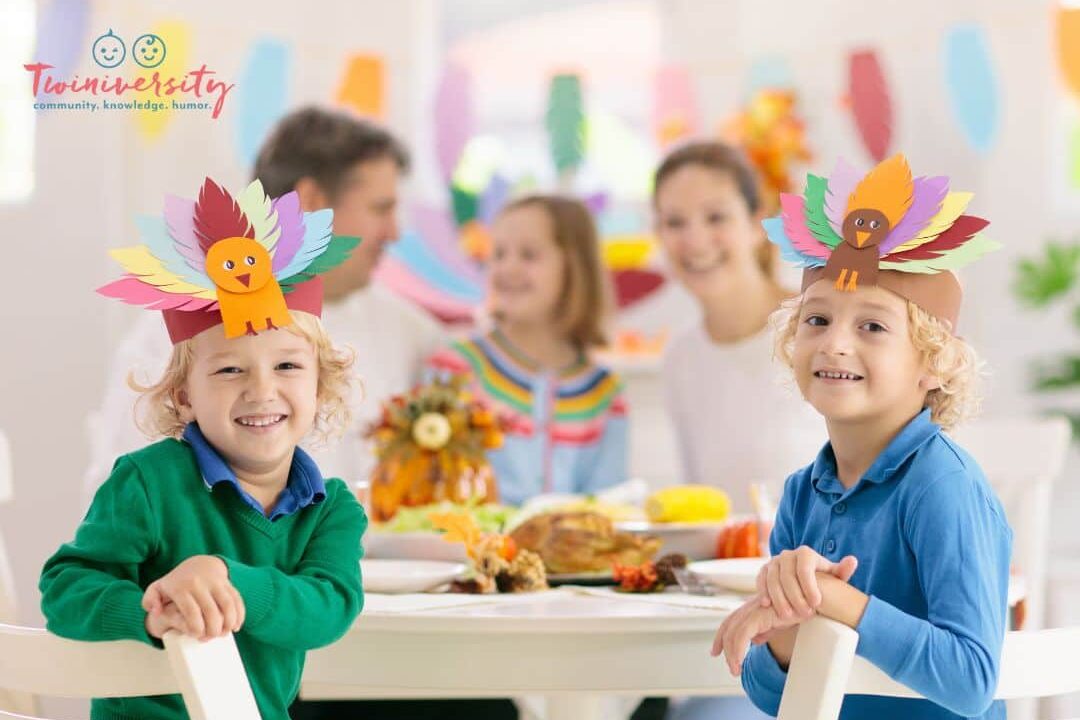 In my family, especially when I'm over at my sister's place, things tend to get quite competitive during games of UNO or Monopoly Deal. We get so into it that we end up forgetting there are other people in the room and just compete against each other the entire time. But it's all in good fun!
In addition to the friendly card game rivalry, we've also started incorporating other Thanksgiving Day activities to make the day even more special. It's all part of making Thanksgiving a time for fun, family, and fond memories. And this is now the stuff my kids look forward to the most.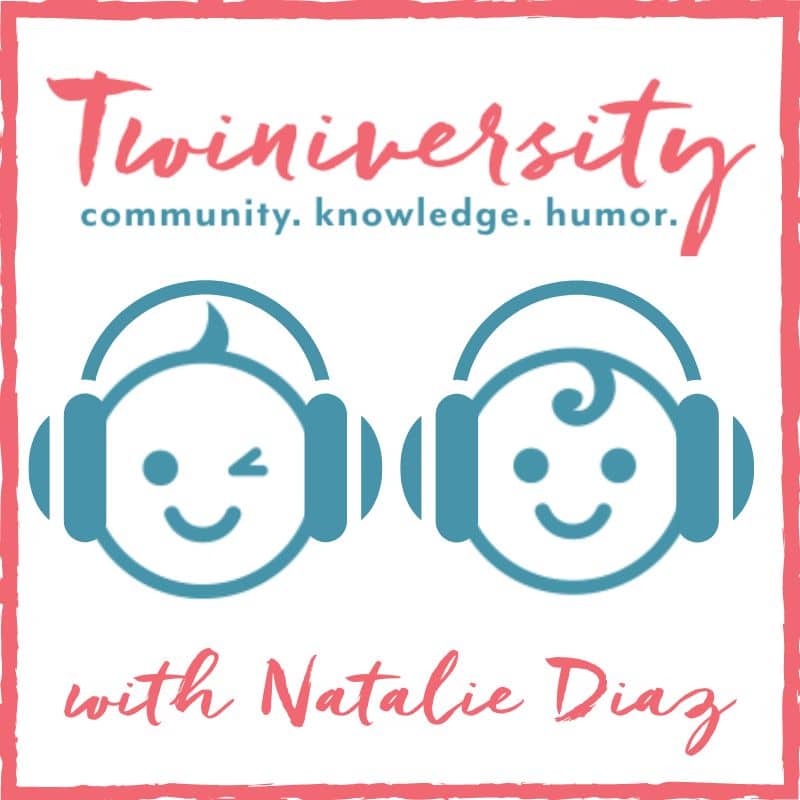 Got twins? Us too! The Twiniversity Podcast with Natalie Diaz was created BY parents of twins FOR parents of twins, from your pregnancy days through your twin's teenage years, this podcast covers it all. It's all about parenting twins, offering plenty of strategies for making life better, parenting hacks, and, of course, humor. We are laughing WITH you every step of the way.
So, whether you're looking for creative crafts, entertaining games, or just some fun new traditions, we've got you covered. Here is our list of family fun activities on Thanksgiving Day.
Viral Family-Friendly Games
We've all seen the TikTok and YouTube videos of family game nights where the kids walk away with $100 bills for blowing out a line of candles. If you are like me, it is hard not to focus on the prizes (as some are very extravagant), but if you can, the games look so fun! Here are a few viral games my family has tried and loved!
Drop Cup
The game is simple: tape some plastic cups to the end of a long table (like your dining table or a coffee table) and make sure the top of the cup lines up with the edge of the table. The goal is to roll your ping pong ball into a cup. Inside each cup is a prize. Prizes do not have to be cash! Get creative and be funny with your prizes. Sometimes a "bad" prize is actually the best prize of all!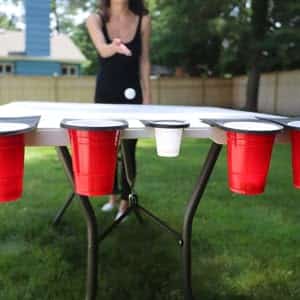 Knock Out
Remember that carnival game where you had 3 balls to knock over all the milk jugs? Recreate that with plastic cups and ping-pong balls! Stack two cup pyramids (you will want two different colors of cups) side by side. Starting throwing! The first person to knock off all their cups wins!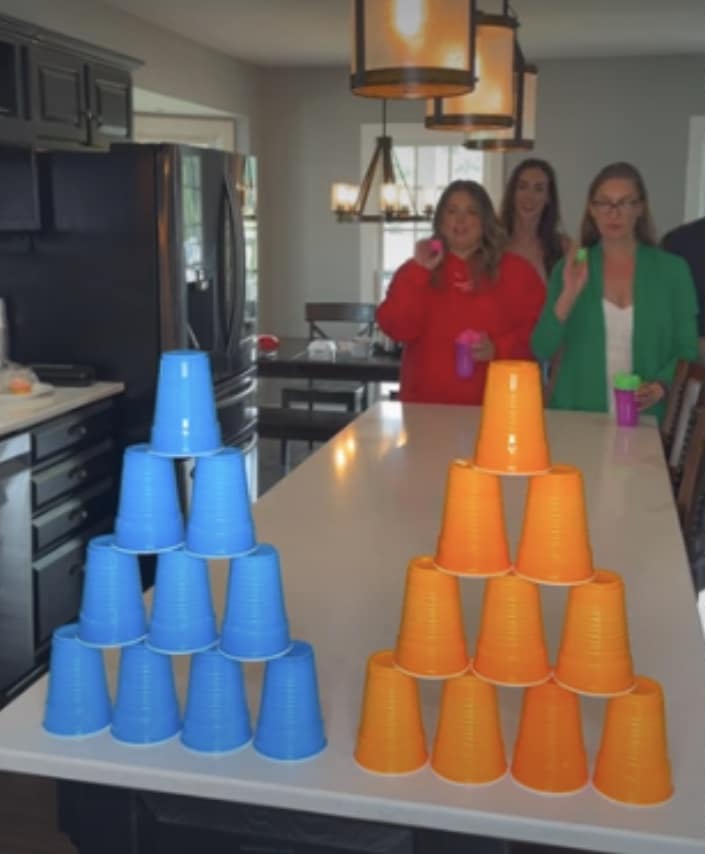 The Ultimate Keepy Uppy
If you know Bluey, then you know Keepy Uppy. If you don't know Bluey, then you must live under a rock, and you aren't reading this anyway! The basic rule of Keepy Uppy is not to let the balloon touch the ground. The rule of Ultimate Keepy Uppy is don't let 5 balloons touch the ground. You can treat this game like a Minute to Win It game, with the goal of keeping all 5 balloons in the air for 1 minute. You can require tasks in between balloon taps, like doing a jumping jack or spinning in a circle (you might want to just use one balloon with this version). The sky's the limit…but just remember, what goes up must come down…but don't let it touch the ground!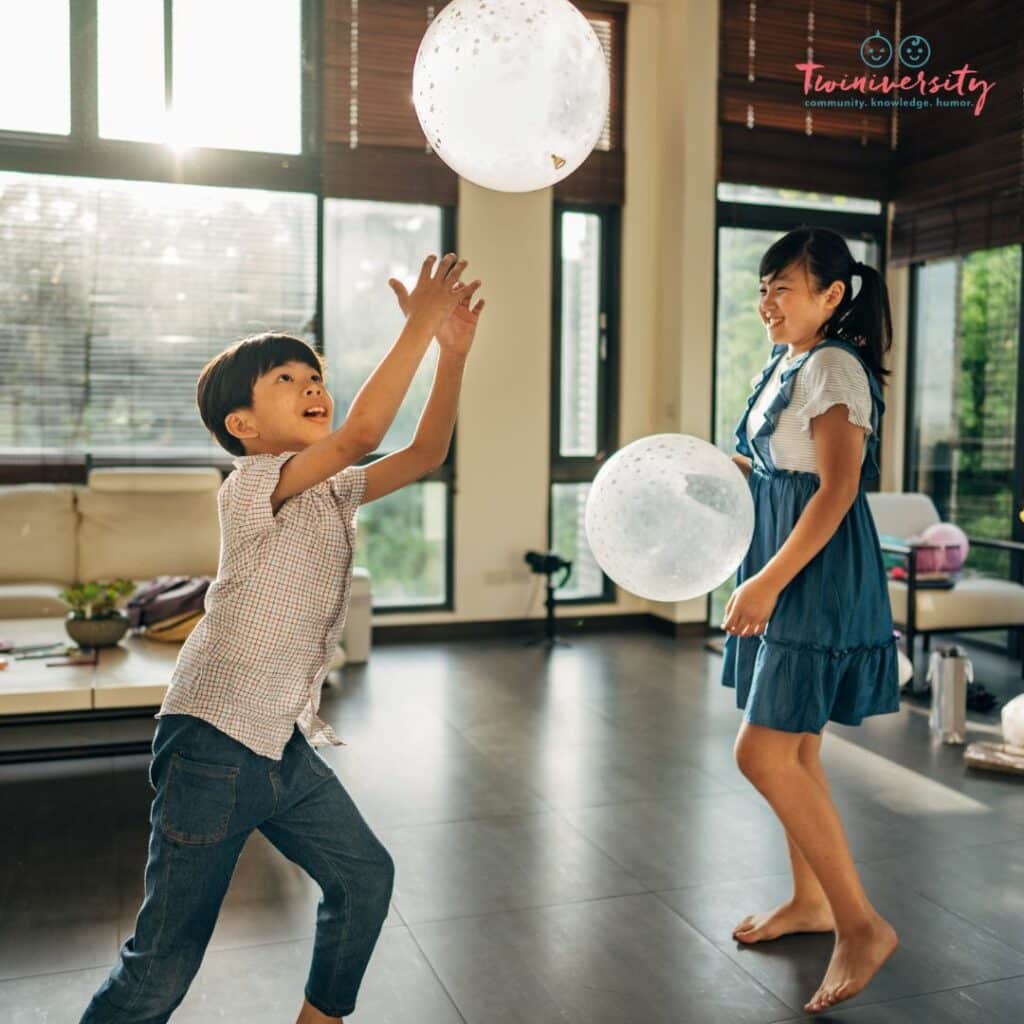 Soda Can Roll Challenge
The soda can roll challenge is a favorite in my house. It is such a fun game for all ages. My kids request it every holiday. Plus, it's very simple to create. All you need is a large flat surface (table or counter), colored tape (or masking tape and safe for whatever surface you will be using), a can of soda, and prizes.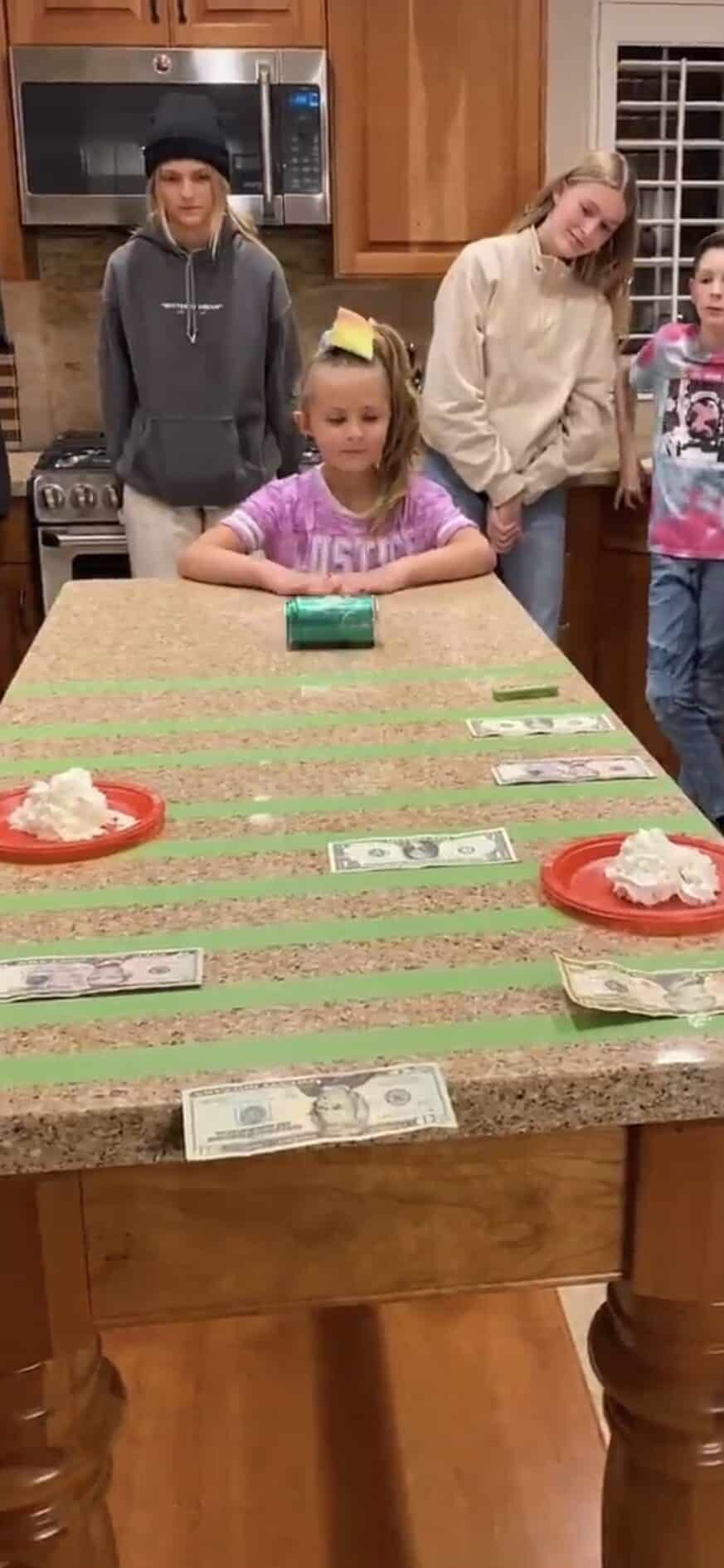 Place strips of tape about 4 inches apart from each other in rows at one end of the table. Place prizes inside the rows of tape, but off to the side. Each row should have a "prize". One by one, each family member takes a turn rolling a soda can down the table. The object of the game is to have the can stop rolling between tape lines and win the prize for that line. Now, for our prizes, we have a nice prize and a naughty prize, and it just depends on where the can stops! We will put down a dollar or two on a couple of lines, then some treats or a funny little toy, and then we mix in some plates of whipped cream. If you win the plate of whipped cream, you will be given it straight to the face!
Contests for the Whole Family
"Make a turkey" Random Stuff Contest
We all have that random box of crap, right? Well, this is the game where that box of crap gets its day in the sun! The rules are simple: Create a Turkey (or any other Thanksgiving/Fall item) using only things from the random crap box! Designate a judge or ballot system to determine the winner.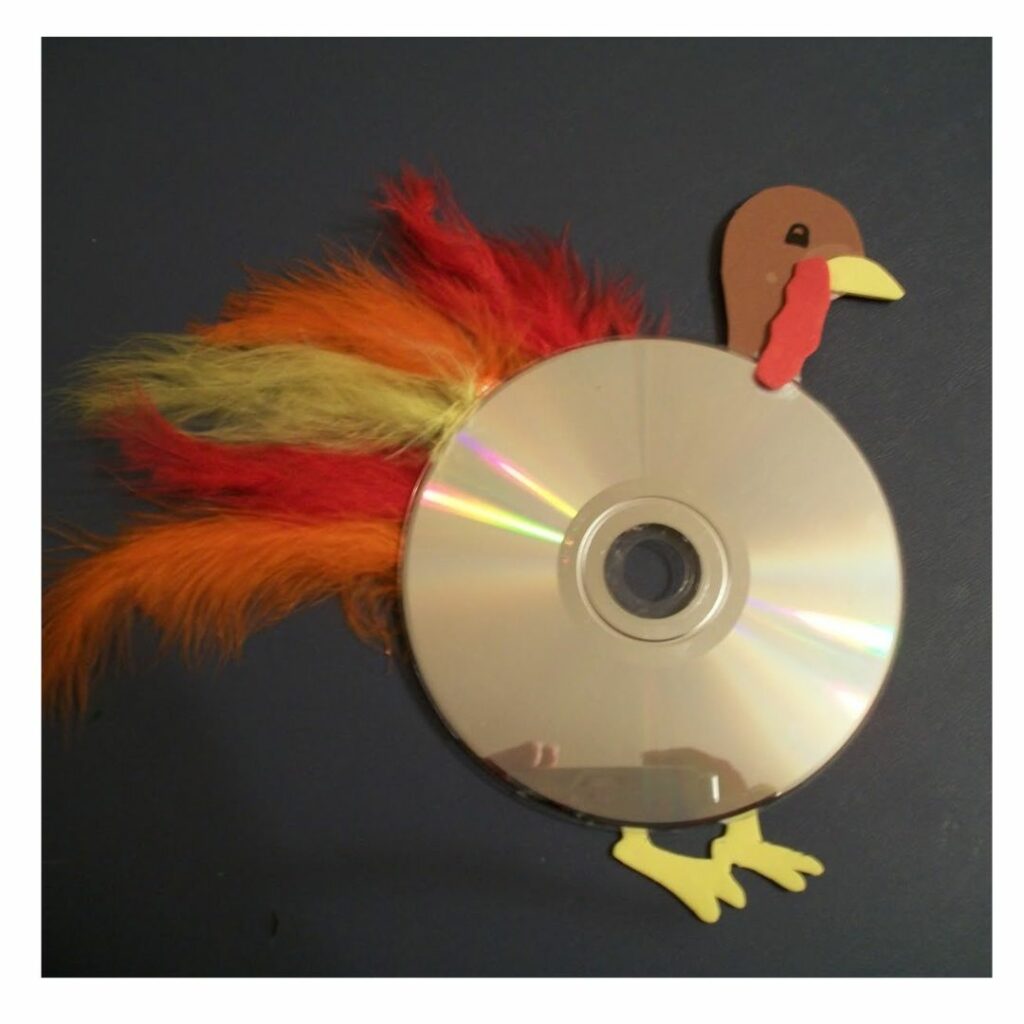 Now, if you want to be nice, you can add some useful things like feathers, construction paper, scissors, etc. Invite your guests to donate their box of crap as well. In my experience, nothing brings family closer than sharing your crap with each other!
Lego Turkey Contest
This is very similar to the "random crap contest," but instead of random items, it's time to pull out all those Legos! There is only one rule: Make a Thanksgiving turkey out of Legos. You can make this a timed contest or just let every build at their own speed. Decide how the winner is determined and under what circumstances, and let the fun begin! This is definitely an activity on Thanksgiving day that all ages will enjoy.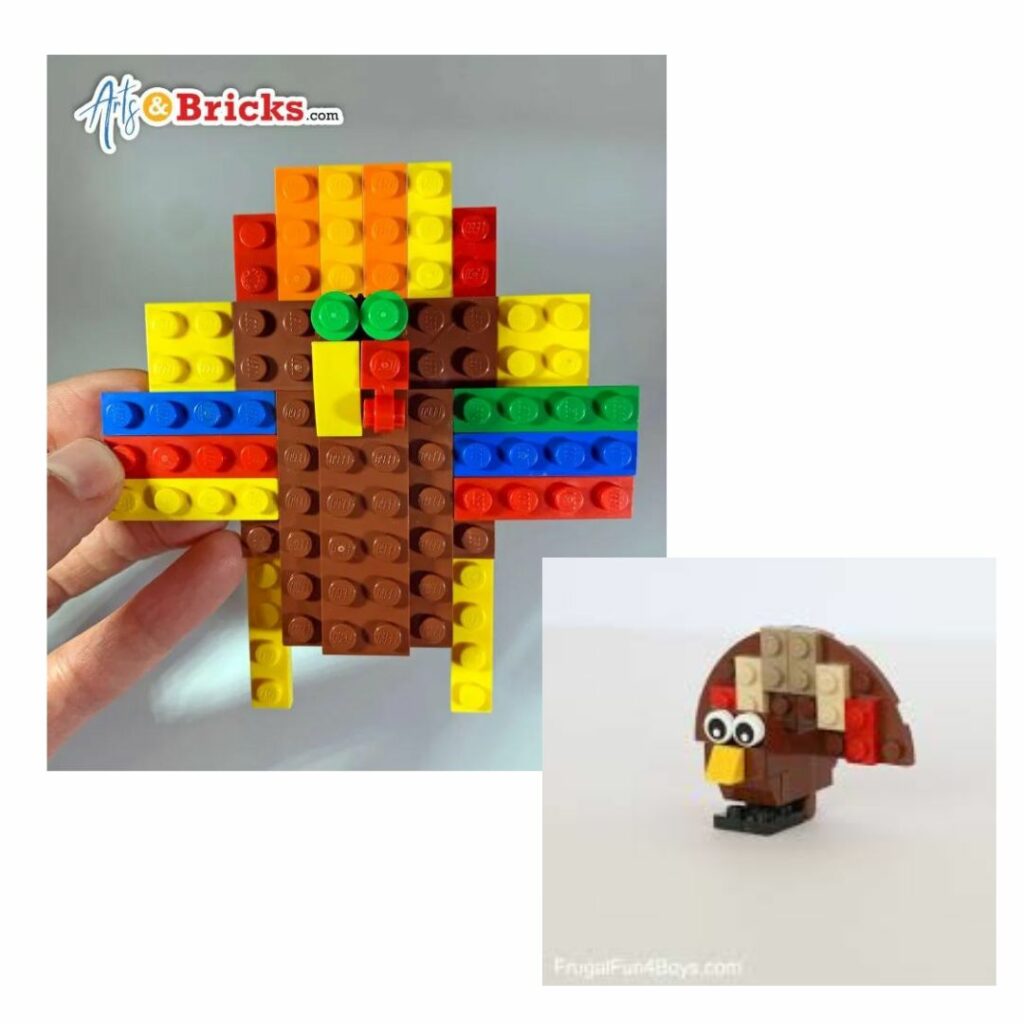 Pancake Art Contest
This is the game my family is playing this year! I grabbed a Presto PanGogh Cool Touch Electric griddle from Amazon, and it has everything we need except artistic talent! You don't need a PanGogh for this challenge, a regular griddle will do just fine. We have littles in our home, so a cool touch griddle was necessary.
What you need:
Pancake batter (You can use your favorite pancake recipe or a premade mix).
Food coloring: Gel-based food coloring works best for vibrant colors.
Squeeze bottles or condiment bottles: These are used to control the flow of pancake batter and make precise designs.
A griddle or non-stick skillet: Make sure it's well-heated.
Cooking spray or butter: To prevent sticking.
Pick a template (Google Thanksgiving images and print one), and let the contest begin! The person who creates the most accurate depiction wins. But really, everyone wins cause you end up with yummy pancakes! Grab some fresh fruit and whipped cream, and forget the Thanksgiving pies for dessert.
Focus on the FUN
Do you want to focus on the fun and not on the prizes? Set these games up as tournament play with a winning bracket and a losing bracket. The winner gets the "Thanksgiving Day" trophy and bragging rights for the next year. Do not spend money on a new trophy, visit a local second-hand store and buy one. Then, spruce it up with other items you find at the thrift store.
Check out the "Best Halloween Costume" trophy my family passes around year after year! It's hilarious how seriously everyone takes this contest, knowing that this is what they win😂!
The whole reason for these activities on Thanksgiving day is to make some fantastic memories with your family and friends and have a blast doing it! Feel free to tweak the games to match what everyone enjoys and soak in that Thanksgiving vibe of being together and thankful.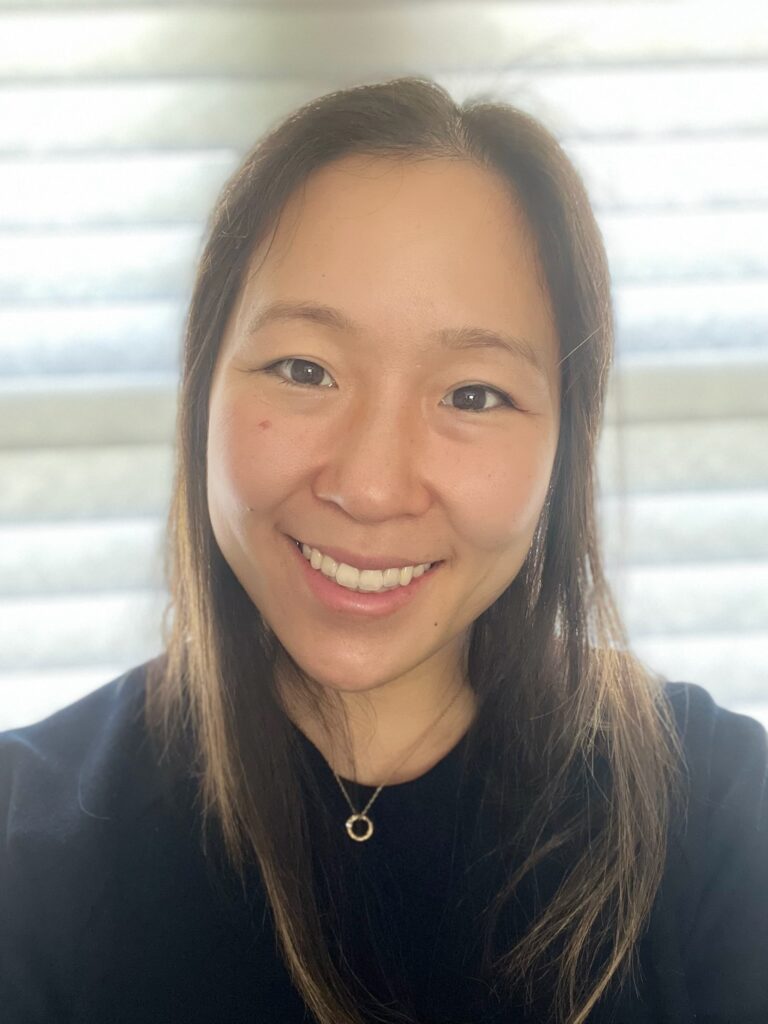 Stephanie Miller is the proud mom of twin cyclones Zach and Carter (20-month-old). Every day in the Miller house, you'll find rooms turned over, floors covered in bits of Lego and puzzle pieces (mind your step), and the sound of "Brown Bear Brown Bear" read over and over and over again. You'll typically find her being used as the seat to reading time for the two bookworms, covered in bubble solution as they try to excel in their Bubble Wand skills, or being the voice to command Alexa for their favorite tunes. She and her husband are working on their traveling skills cause she can't wait to show them the amazing world that is out there for them.
Latest Twiniversity Articles