Last updated on September 30th, 2021 at 10:10 am
Hey gang, we've got a great article for you today on flying alone with infant twins.
Be sure to check out Dr. Smith's products — in stores nationwide — to treat diaper rash and soothe little ones. The Twiniversity MoM Squad truly prefers Dr. Smith's as our #1 recommended diaper cream. Always be sure to keep plenty of Dr. Smith's Diaper Rash Ointment and Spray on hand to make summer diaper changes easy breezy!
Flying Alone with Infant Twins
When flying alone with infant twins, the key to success is in the preparation. Doing your research and planning ahead will do wonders to make the experience easier for you and more enjoyable for your sweet little babes.
Preparation Tips
Children under the age of two can fly for free on a parent's lap. However, it is the policy of all airlines that each lap infant must be accompanied by a ticketed adult. If you are traveling alone with twins you will need to buy one additional seat.
When purchasing tickets for an international flight you will be required to pay a fee per lap infant, typically 10% of a full price adult fare. Make sure that you personally contact any partner airlines that you are flying regarding your lap infants; the parent airline or online outlet will often not forward this information and it can hold you up at check-in.
Check in for your flight online and either print hard copies or save your mobile boarding passes to your phone. Your lap infant will have their own ticket.
If it's in your budget, you might want to consider buying two additional seats so you can strap them into their infant car seats and buckle them into the airplane seats. This makes for easy transfer on and off the plane.
Pack a diaper bag that includes a full set of fresh clothes for both you and each of your twins. Accidents happen a lot and there is nothing worse than sitting in soiled clothes for 3 hours. Dr. Smith's Diaper Rash Ointment is a must-have for traveling. It comes in 2 oz. and 3 oz. sizes, which are airplane approved, and is crucial to have on hand since the babies may have to sit in a wet diaper for longer than usual, which may lead to irritation and rashes.
Not all airplanes are equipped with a family restroom that has a changing table. Make sure that you check online and make other preparations if the plane does not have one. The 3 oz. rule for liquids does not apply to parents traveling with young children. You can pack baby food, liquid formula, liquid diaper sprays, and liquid medicines. They will need to be in a clear plastic bag or bags that you can remove from your luggage at the security screening checkpoint to go through the x-ray machine in its own bin. TSA will most likely do a test on one or more of the items (requiring you to open them) before letting you pass.
If you will need to pump on your flight make sure that you bring a battery or hand operated option since it is likely that your seat will not have an outlet. Airlines will not allow you to stand at the front or back of the plane to use one of the galley outlets.

At The Airport
Once you arrive at the airport check all of your luggage except your stroller and diaper bag. You will not have an extra hand to carry luggage around the airport or maneuver it on and off of the plane.
It's really convenient to check-in at a curbside luggage stations outside of the airport in the departure drop-off area. You give the porter your I.D. and boarding passes and they will check in your luggage and make sure that it gets to the plane. It is typical to tip them $1 per piece of checked luggage.
Note that some airlines have a weight limit for strollers. Always check in advance to make sure you won't have a problem with bringing your double stroller to the gate.
Once you get to security you will need to fold the stroller and put it through the x-ray machine. TSA agents will allow you to walk through the metal detectors instead of the x-ray imaging booth. They will not allow you to wear the babies in a carrier.
Go directly to the gate and get a gate check tag for your stroller from the gate agent. This helps you avoid the scramble that happens at boarding.
Make your way to the restroom to do final diaper changes and use the restroom yourself. Waiting for the handicap stall to be free so you can bring your stroller in with you is ideal. If the flight is 3 hours or less you may be able to avoid having to use the onboard restroom at all by doing this.

During landing and take-off
If your babies are strictly breastfed you are going to have to take them out and try to tandem feed them at take-off and landing in order to alleviate the pressure that they are going to feel in their ears. If they are strictly breastfed it may be advisable to get them used to occasionally taking breast milk from a bottle to make this whole thing easier. Pacifiers also work wonders for take-off and landing.
Changing diapers on the plane
It is never advisable to change a baby in your seat, regardless of whether or not you use a changing pad. Babies are prone to urinating (or worse) while being changed and this could result in the plane being shut down while it gets professionally cleaned when you land. If your plane has a family restroom the changing table folds open over the toilet. Trying to change two babies at once is a logistical challenge, but it absolutely can be done. Here's a quick tip: Pack full sets of diaper changing supplies for each baby in gallon zip-top bags so you don't have to bring the whole diaper bag into the restroom; then use the zip-top bags to contain the dirty diapers.
There are two methods of diaper changing in an airplane restroom depending on the size and age of your babies. I always packed a stack of disposable changing pads just for this purpose.
Option 1: Use disposable pads to cover the floor of the restroom, lay your changing pad and the babies on top of it, and change them right there on the floor while you crouch next to them.
Option 2: Place both babies on the changing table, side by side, and change them at the same time.
Don't forget to use the restroom yourself before heading back to your seats!
Every time you need to use the restroom you need to take your babies with you – don't ask a neighbor or flight attendant to watch them.

Deplaning
If you are at your final destination wait for all other passengers to unload before exiting. This not only gives the baggage handlers time to get your stroller off the plane and up by the exit door, but it means you won't be having to fight other passengers to get down the aisle. If you have a connection to your final destination pay the extra fee to have a seat closer to the airplane exit or to have early check-in so you are in the first boarding group. This lessens the stress of trying to get to the next plane in a short period of time.
Flying alone with infant twins isn't easy, but with a little planning and forethought it can be a stress and mess free experience.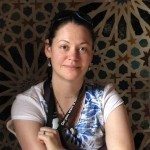 Destiny Effertz is a mother of 3 boys; twin 3 year olds and a 5 year old. She worked for many years as a civil litigation paralegal prior to having children. Now she spends her days formulating new pie recipes, throwing epic kid parties, planning family vacations, and planning and executing pirate adventures and trips to far away planets with her boys.
[gravityform id="232″ title="true" description="true"]