When execting parenting first realize they are expecting twins the excitement is unreal. I mean, two at the same time! A built-in playmate and BFF for your babies! How awesome is that? We all know the excitement and anxiety swap back and forth throughout pregnancy and (to be honest) even the next 17 years and counting).
One of the major sources of anxiety for new parents is how you will get anything done with two. Doing the laundry seems an impossible task. Bringing them out alone…let's not even think about it.
But, alas, sitting at home in your own filth isn't an appealing option for most of us. So we go out. We get the kids out of the house. It is good for them and good for us, too!
Have Your Twins Been To These Places By Their Third Birthday?
When my twins were little I was always wracking my brain to think of places that we could take them that would be fun for the whole family. Especially if your twins are your first kids, you might not know what you're missing out on. I've come up with some great ideas to get you started. These are all places that my twins loved when they were little and we've taken them to most of these places by the time they were three. Hope it helps!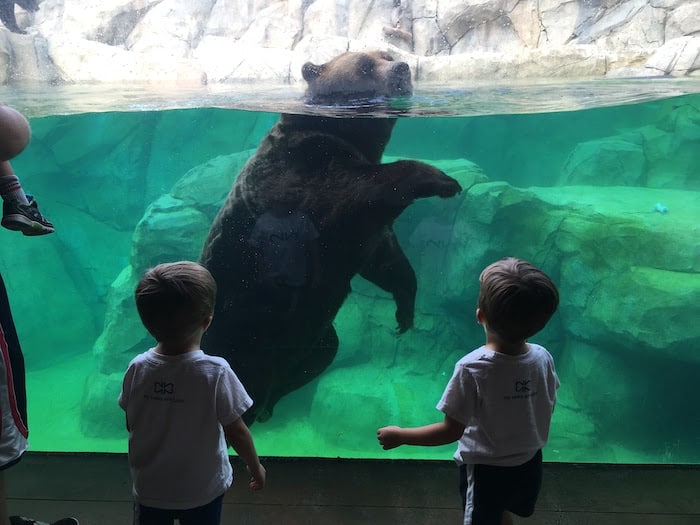 The Zoo
What child doesn't love the zoo? This is a great place to get some use out of that fancy pants double stroller. Load it up with snacks, drinks, and kids, and make sure to wear good tennis shoes. I recommend you arrive right when it opens to avoid the crowds and the heat. After seeing so many amazing animals and taking in the sights your twins will get tired within two hours so plan to leave before lunchtime.
Children's Museum
Kids love to touch anything they can get their hands on. What about a place where it's not only allowed but encouraged? A children's museum is a great way for your littles to get a hands-on experience without breaking anything. Most children's museums have exhibits on all your twins' favorite topics, such as transportation, food, shapes, colors, and music. Plan to bring plenty of hand sanitizer!
Aquarium
Out of all the "grownup" museums, aquariums are my favorite to bring little kids. What's not to like? Kids love watching fish swim around, ogling the sea creatures, and exploring the building. The lighting is usually on the darker side and if you go during the weekday it's often quiet enough for your kids to nap in their stroller if you want to make a full day out of it.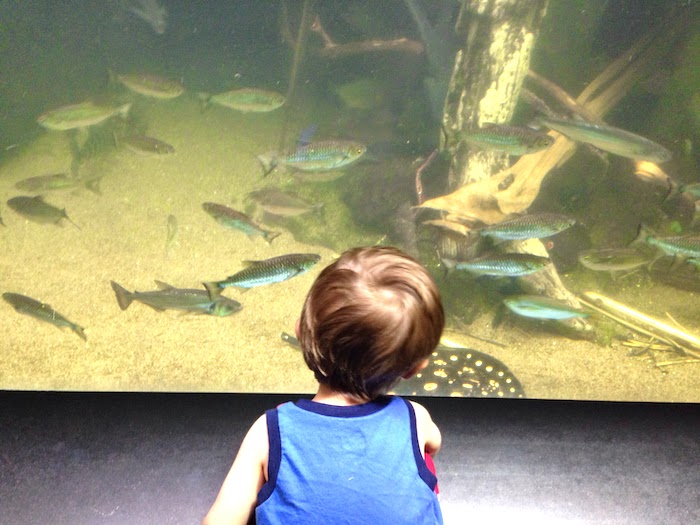 Library
We all know why libraries are great for kids. It has books that your twins can pick out themselves with lots of adventure tales to choose from! There are usually children's sections that have fun toys like train tables and games that keep your kids coming back again and again. Libraries also frequently host special events aimed at babies and toddlers like storytime sessions and sing-alongs; which are great ways to connect with other parents. And it's all free!
Nature Walk
Getting out of the house and into the fresh air is a great way to keep your kids occupied. A nature walk can be as simple as going for a stroll down your street, through a park, or a hike in a natural environment. Make sure to stop and explore nature as you go; a bug, a leaf, a rock — these things are fascinating to little kids. Point out the colors, the textures, and the shapes of items you find on your walk. Just make sure they don't put them in their mouths!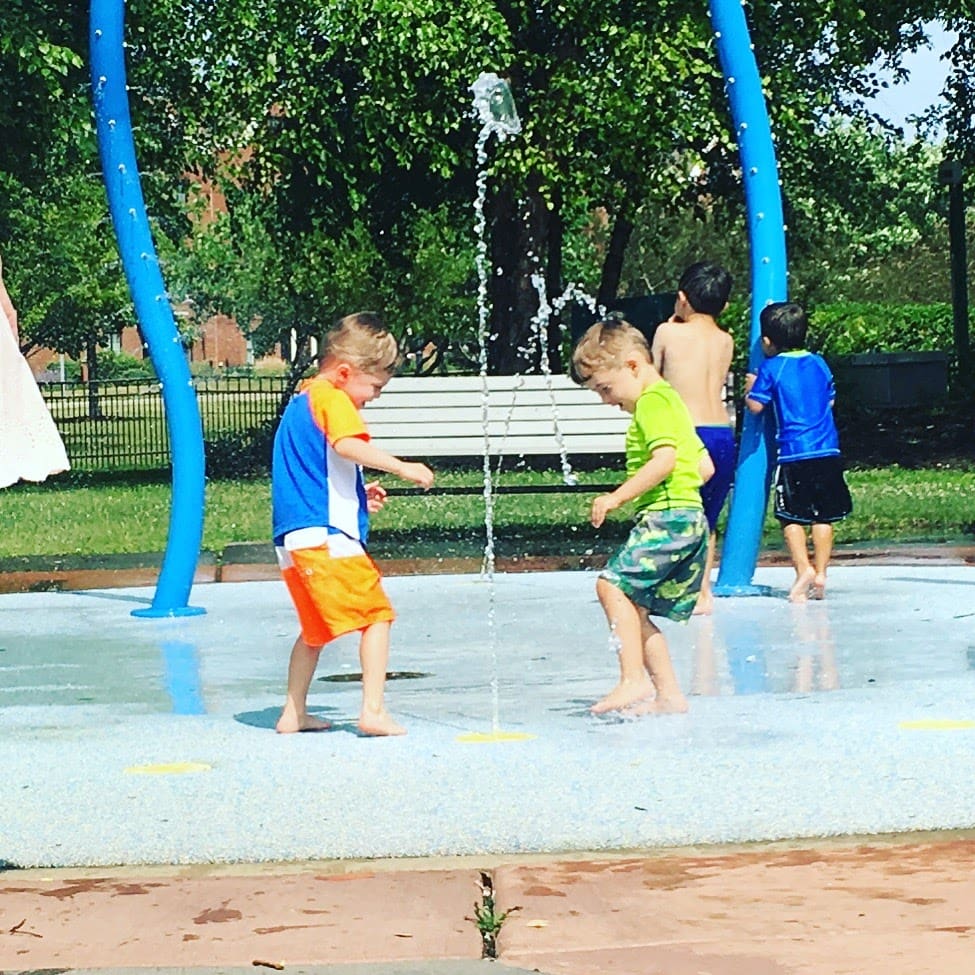 Splash Pad
If it's hot outside, nothing beats a splash pad. Splash pads are super fun for kids because it feels like they're playing in an adult-sized water park! This is especially fun for twins and for you. Your kids will love running around in the splash pad and you don't have to worry about safety like you would at a swimming pool. This is another budget-friendly activity, as many splash pads are found for free in public parks.
Pumpkin Patch
Pumpkin patches are beautiful in the fall season. This is great, low-stress outing to take with your twins. You can walk around and let your free-range babies explore all they want while you follow along at a leisurely pace. There are usually farm animals that your kids will love petting, hayrides, corn mazes, and play areas. You'll probably want to bring another adult for a pumpkin patch visit to make sure you can wrangle both twins running in two different directions.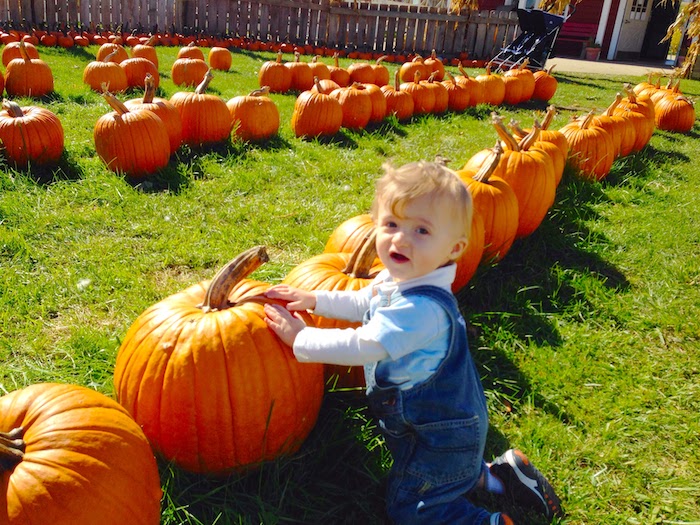 Beach
If the weather is right and you're living near a beach, then this can be a fun outing for you and your twins. I highly recommend bringing another adult if your twins are on the move and aren't great at following directions yet (which is most twins under age 3, you're not alone!!) Invest in a beach tent to give your kids a place to take a break from the sun (and even take a nap) and a beach cart or wagon will help you transport all the stuff you need. Bring plenty of snacks, drinks, sunscreen, and beach toys.
Fruit Picking
Fruit picking is a great activity for fall. You can make fruit picking as low-key or as high-energy as you like. If you go to a pick-your-own farm, then there's no telling what those kids will get into running around the field and digging up dirt! Apple picking, strawberry picking, and blueberry picking are great choices for fruit picking with your twins. Make sure to dress them in clothes that can get messy, because they likely will be smeared with fruit by the day's end!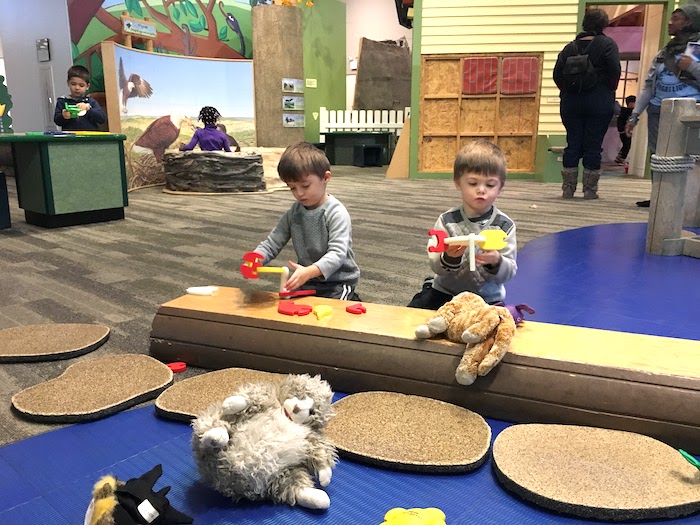 Petting Zoo
If you've never been to a petting zoo, it's definitely worth a trip. Most children love animals and your twins are no exception. The best part about the petting zoo is that there aren't usually any scary tigers and lions running around! Your kids can get up close with sheep, goats, pigs, chickens — all sorts of farm animals. Bring cash so you can buy some pellets to feed the animals right out of your hand.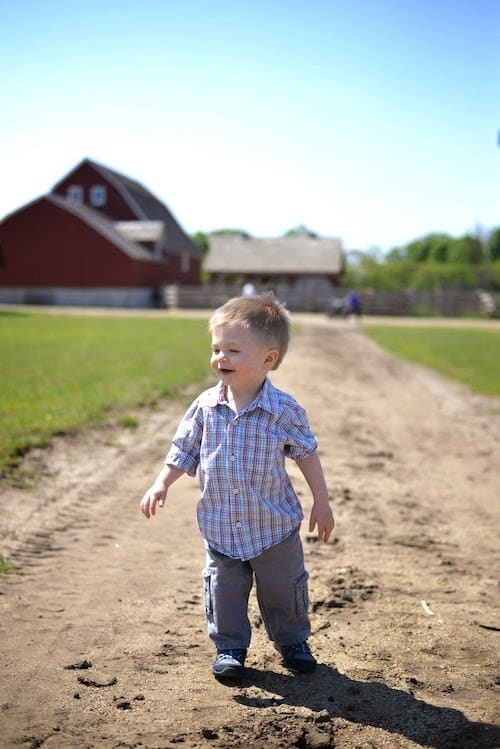 The Farm
Going to a farm is another great outing for kids. Farms are fun because you can see all sorts of animals, do some light hiking, and have good ol' family time in the country! Your twins will love watching a cow get milked, hens laying eggs, and watching baby goats play. It's a simple visit to a simpler time and your little ones will love every minute of it.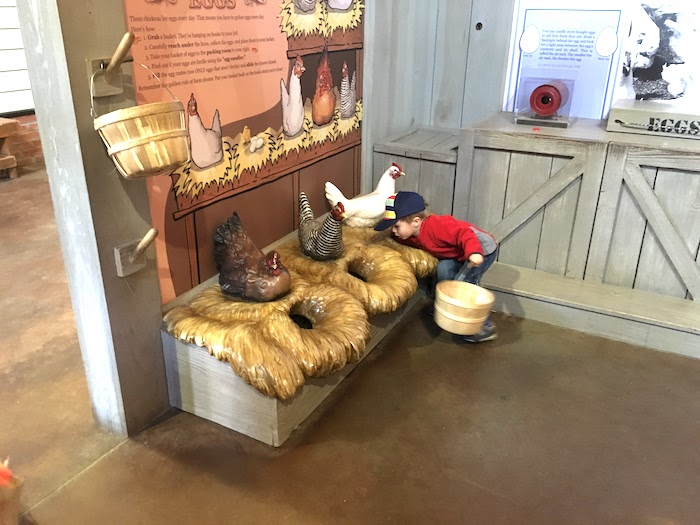 As you can see, there are plenty of fun things to do with your kids that don't involve electronics. Whether it's a nature walk or picking fruit in the fall season, these activities will give you and your twins quality time together without breaking the bank. Fall is an especially great time to enjoy outdoor activities like pumpkin patches and farm visits because everything starts changing colors and getting cooler outside as winter approaches. Have fun and enjoy your time with your twins
Have you checked out the Mountain Buggy® Carrycot Plus™ for Twins? This accessory allows your infant twins to lay flat and side by side in their Mountain Buggy® duet™ stroller, or use it as a twin bassinet in your home. It can convert to an inclined position, or use the included sling to parent-face your twins up to 33 lbs.
Carrycot plus™ for twins offers three unique parent-facing solutions in one bundle. Your twins can now continue their unique bond and lie close together in one shared, safe, and cozy environment – enabling that same sense of togetherness they had in the womb.
Incorporating thoughtful innovation that focuses on longevity, Mountain Buggy® ensures you get much more than just a lie-flat carrycot for your twins. The 'plus' delivers a safe, incline position for those newborns who suffer from reflux, and as twins get older; the included fabric sling seat allows parents to face their twins for up to 15kg / 33lbs capacity.
CARRYCOT PLUS™ FOR TWINS FEATURES
Approved for up to 33 lbs per twin (from Newborn to Age 3)
3 parent-facing modes with the Mountain Buggy® duet™
Lie flat or slightly incline for reflux babies
Breathable mattress material and ventilated base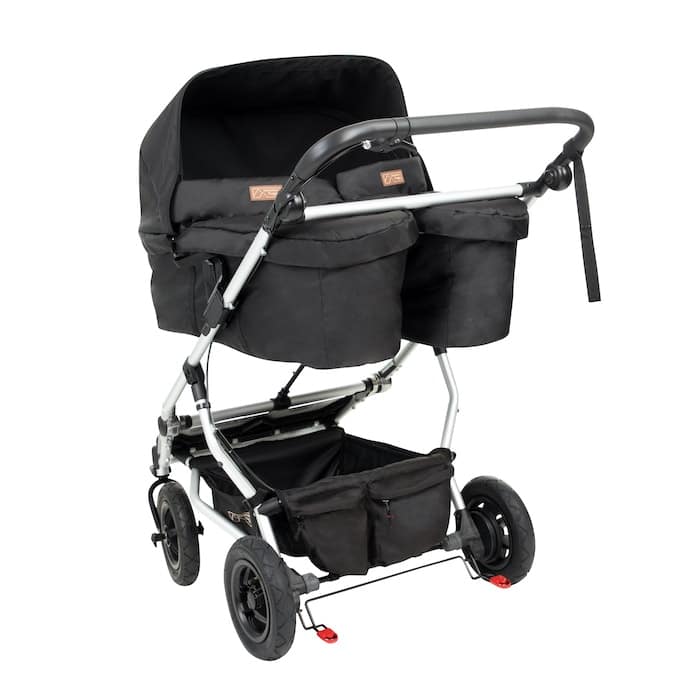 MOUNTAIN BUGGY® DUET™ FEATURES
Super narrow (25.5 inches) and Disney-approved
Full recline option for infants
Air-filled tires
Adjustable handlebar
Takes 2 infant car seats, 2 carrycots, 1 carrycot plus, 2 cocoons, or 1 cocoon for twins
Each seat holds 40 lbs
To learn more about the Mountain Buggy® Carrycot Plus™ for Twins and the Mountain Buggy® duet™, click here.
Sweepstakes Terms & Conditions
This post is sponsored by Mountain Buggy
This Contest is Now Closed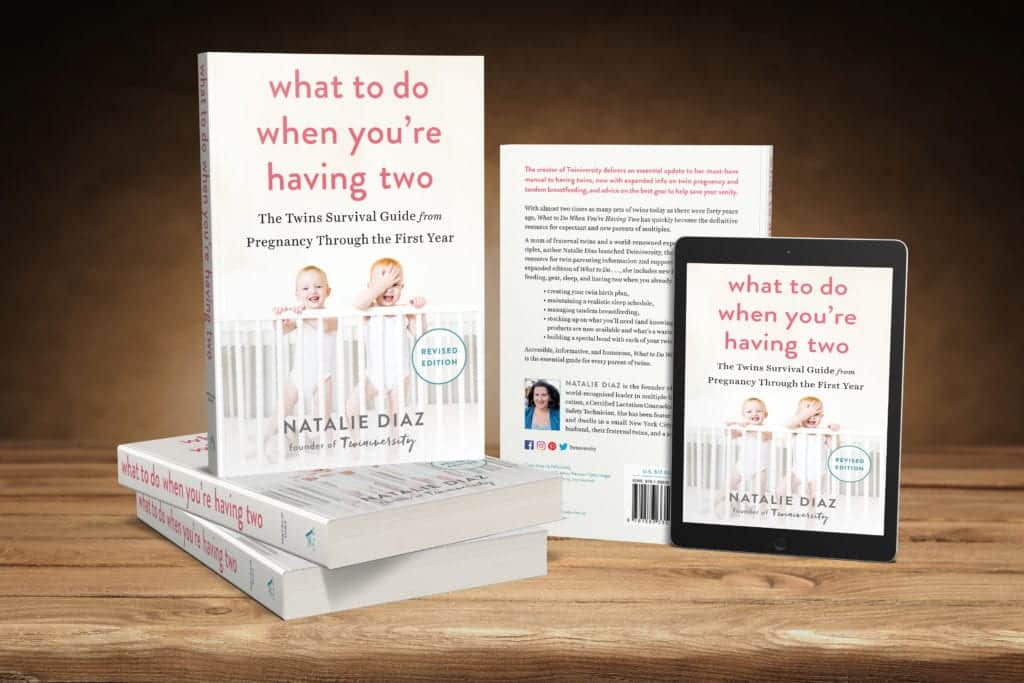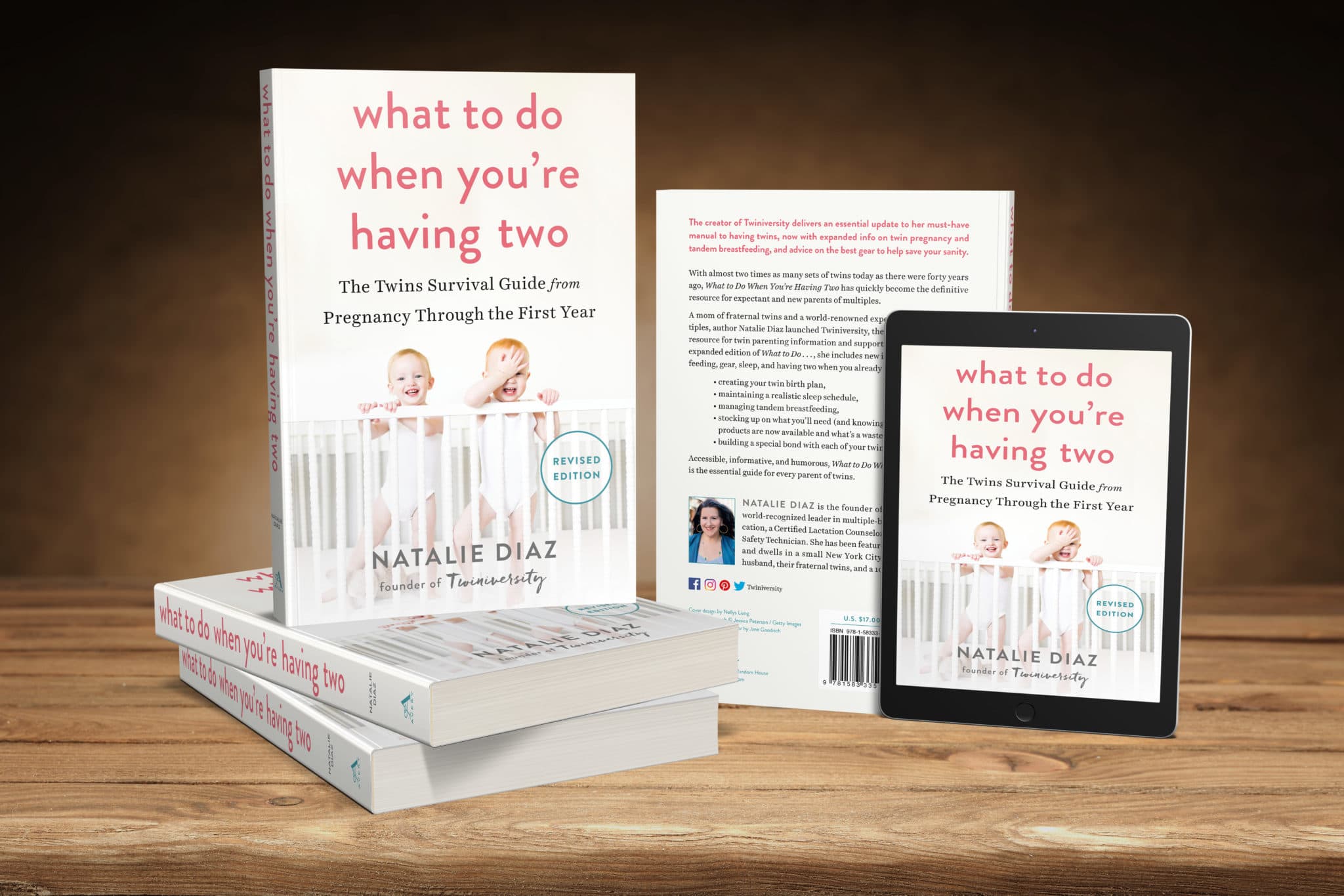 In What to Do When You're Having Two: The Twins Survival Guide from Pregnancy Through the First Year, national twins guru and founder of Twiniversity (and twin mom herself!) Natalie Diaz provides a no-holds-barred resource about life with twins, from pregnancy and birth all the way through your duo's first year of life. BUY NOW