A MoM recently asked:
I have two very fussy babies. They are 4 months old, 11 weeks adjusted. I haven't had the confidence to do days/nights alone yet, and haven't had to thanks to my husband's flexible work schedule and our family and friends' help. With my husband's work picking up again soon, and two babies on the exact same schedule how do other twin moms do it alone? What do you do when they need to (bottle) feed at the same time, or are hysterically crying at the same time, etc? I feel anxious just thinking about being alone with my twins and having to choose which baby to soothe/feed. Any tips?
Here's what our Twiniversity fans had to say:
– The Table for Two allowed me to feed the babies at the same time. I'm sure you could use a Twin Z pillow also. Honestly, it is NOT as bad as it seems! Once I started doing everything myself I preferred it that way. You will do great! ∼ MG
– Bouncy seats! You'll learn fast that you're only one person and sometimes someone has to cry and it might be you some days. ∼ LO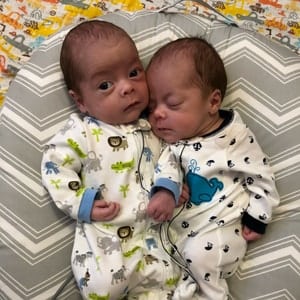 – My kids were on a schedule about 30 minutes apart. So I fed one, then the other. The bouncy seats helped out a lot. You will surprise yourself on what you can do. When I had to do the bedtime and night time without my husband there, due to his work schedule, I practiced prior to the change a few nights. My husband was there but I practiced to get into my own flow with them. That helped tremendously. When I moved away from my parents I was worried how I was going to make dinner and clean. I practiced prior to and surprise myself daily. I am also very anxious but I promise once you do it a couple times by yourself it will be easy peasy. ∼ AG
– I always have done it alone. You just tend to the baby with the most needs at that time. When I fed them I laid them side by side and fed them at the same time. They will cry at the same time, but crying won't hurt them. Many days I cried with them. My girls had colic and cried all the time. I made sure they were dry, fed and I put them in their swings. You can do it mama! ∼ MW
– Someone once told me "the fear is always worse than the reality." It's so true. I remember being nervous to be alone with my twins. But you figure it out. Try not to worry about what it might be like this will give you anxiety. Instead, just deal with any problems as they arise. It's hard to imagine doing it alone especially if you have help right now. But somehow, you will manage. And they will too. ∼ AB
– Take it from a single mom of twins, you learn to adapt. I have two boppy pillows and I'd place them both in theirs and bottle feed them that way then flip them over belly on the boppy and burp them at the same time. Some things you simply cannot do at the same time, so, one twin will have to wait. Use your best judgment. ∼ CH
– I used to put them in a bouncy seat on either side of me, fed them then both at the same time. You'll learn tricks along the way. My biggest tip is to believe in yourself. ∼ CA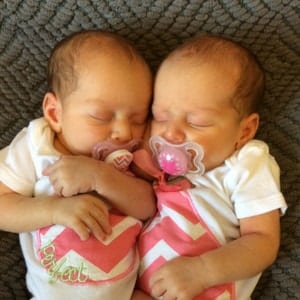 – I've been doing it alone since my girls got home from the NICU at 4 weeks old. My husband worked 13 hour days and we didn't have much family/friends in the state, so I understand your worries! They will learn to be patient. Just do your best to stay calm. It is so hard to hear your babes cry and only be able to soothe one at a time, but I really think we're raising some unbelievably patient kiddos! If I'm soothing one of my girls I try to be close to my other daughter and put my hand on her chest so she doesn't feel alone. And I talk to them a lot in a very calm voice. I think staying calm yourself helps them also stay calm. ∼ HA
– Two BabyBjorn bouncer seats saved me. I could sit on the floor leaning back against a big pillow up against the couch/wall and have them both sort of on either side of me. With other bouncers and the pillows, I could never get comfortable and my back just hated all the awkward leaning over. The Bjorns are expensive, but were great for us. ∼ MS
– You'll do great. The first couple of days were hard but I used the table for two, car seats, bouncers whatever was available to help me feed my twins. I would use a small blanket to prop their bottles. I kept them on the same schedule, when one woke up and it's was time for their feeding I would wake the other one up. Schedule is key! ∼ LW
– Sometimes they're both going to cry. And you'll be alone. And you'll be okay! Just pick whoever Is crying worse, get them soothed and move on to the next. They will be okay if they have to cry for a minute! It will get a lot better as they get older. Also, a Twin Z pillow was a lifesaver for us, whether you're breastfeeding or bottle, if they're both screaming just grab your pillow and feed them both! ∼ KAC
– Crying will not hurt them. Just start with one then the other for changing. Then sit in between two bouncy seats and feed them. Pick up one to burp then the other. It takes some adjustment and try not to stress if they have to cry for a little bit. ∼ CLG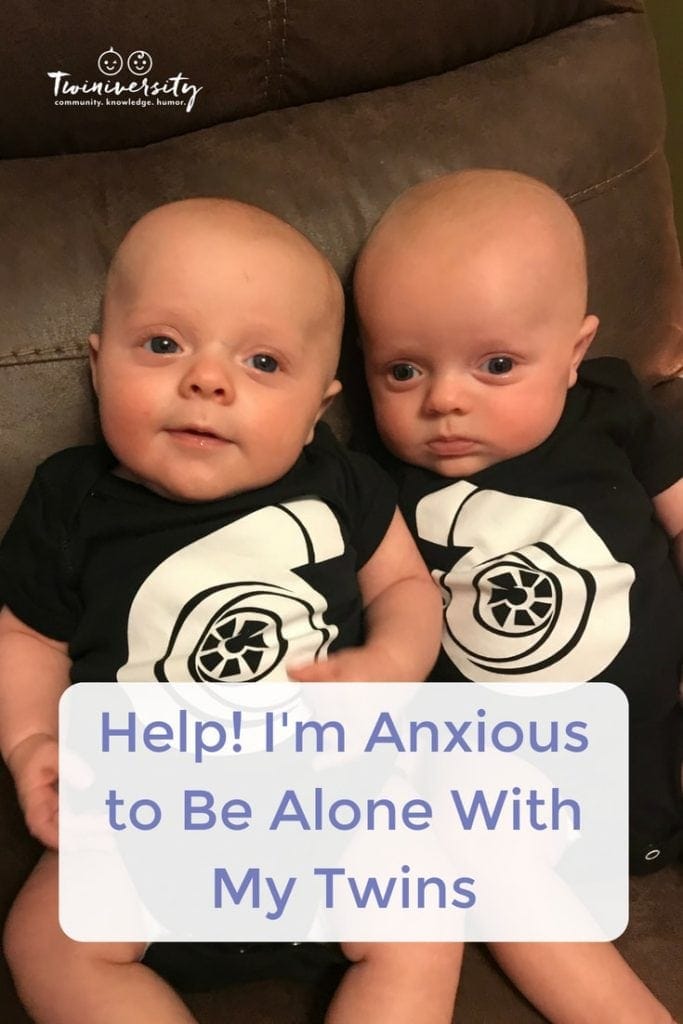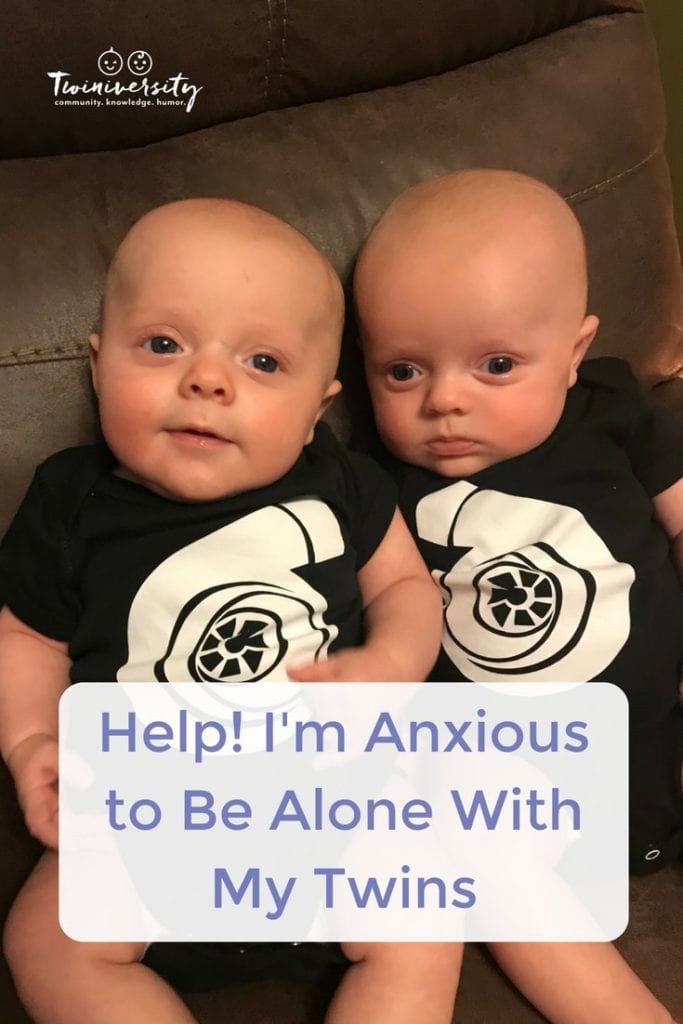 – Twin Z pillow and prioritizing "who needs mama more" at that very moment. It's hard at times but totally doable! ∼ EP
– You'll make it work. I was nervous at first to be alone with my twins too. My twins are now 23 months and we have our little routine. It's so much easier than when they were infants and we were still getting adjusted to everything. ∼ LBM
– I used the swing to buy time when both were fussy and I needed to feed one. That is pretty much the only time I use it so they enjoyed it the 15 or so minutes they were in it. ∼ KC
– Feed them in a Table for two! My twins still sit in at 6 months old. ∼ EC
---
Related Articles
5 Tips for Bottle Feeding Twins Alone
How Can I Carry My Twins to the Car Alone?
How I Managed Overnights Alone With Twins
---

Got twins? Us too! The Twiniversity Podcast with Natalie Diaz is created by parents of twins FOR parents of twins, from expecting times through the teenage years and everything in between. This podcast is all about parenting twins, offering plenty of tips, parenting hacks, and of course, humor. Just know that we are laughing WITH you every step of the way.
---

Are you looking to connect with an experienced parent of multiples who has been in your shoes? Do you want to feel supported, guided, and heard as a new parent of multiples*?
Or, do you love offering advice and tips to new parents of multiples*? Would you love to support, guide and listen to a soon-to-be or new parent the way you wish someone was there for you?
If you said, "YES!" to any of those questions, then the Twiniversity Parent-to-Parent Mentorship Program is perfect for YOU!
We are looking for parents of multiples from around the globe who want to be matched up with a parent mentor, or who want to BE a parent mentor. We'll be matching up moms with moms and dads with dads from all over the world to get personal support in this crazy life of multiples parenting!! All you have to do is complete a simple application form and we'll do the matchmaking! And the best part? The program is totally FREE! There are no fees to take part in this program.
---

The rate of twin births has risen 79 percent over the last three decades, and continues to increase. A mom of fraternal twins and a national guru on having two, Natalie Diaz launched Twiniversity, a supportive website with advice from the twin-trenches.
What to Do When You're Having Two is the definitive how-to guide to parenting twins, covering how to make a Birth Plan checklist, sticking to one sleep schedule, managing double-duty breastfeeding, stocking up on all the necessary gear, building one-on-one relationships with each child, and more.
Accessible and informative, What to Do When You're Having Two is the must-have manual for all parents of twins.